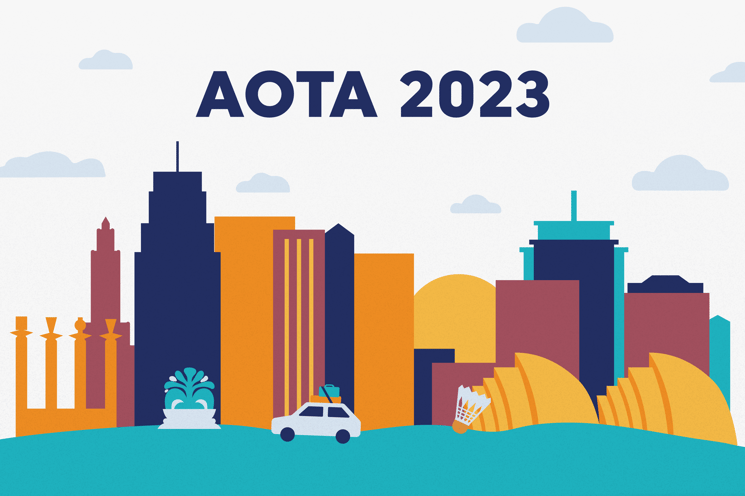 Did you know that the first American Occupational Therapy Association (AOTA) conference dates all the way back to 1917? And occupational therapy professionals have been meeting ever since. Couldn't make it to the AOTA INSPIRE conference this year? Don't sweat it, we're here to give you a full recap of AOTA INSPIRE 2023.
AOTA INSPIRE 2023 Recap with Fusion Medical Staffing
What is AOTA INSPIRE?
ICYMI, AOTA INSPIRE is the hottest healthcare conference in the U.S. for occupational therapy professionals like occupational therapy assistants (OTAs) and OTs. AOTA INSPIRE hosts more than 9,000 occupational therapy professionals and students, making it the largest OT-related gathering in the world. Not only does this annual event offer occupational therapy professionals the unique opportunity to expand their knowledge, but it also allows OTAs and OTs to network with each other and build meaningful relationships. According to the AOTA, INSPIRE is the "one-stop destination for professional learning and personal growth."
Attractions at AOTA INSPIRE 2023
Hosted in Kansas City, MO, this year's AOTA INSPIRE conference brought OT professionals together in the heart of the Midwest. In addition to the scenic views of downtown KC, AOTA INSPIRE came with a myriad of learning sessions and featured speakers. Here were some of the main attractions of AOTA INSPIRE 2023.
1. Educational sessions
The educational sessions at the AOTA INSPIRE conference are meant to help you fine-tune your knowledge so you can be the best OT professional possible. Even better, the information is spread out across multiple platforms to offer you more ways to engage. AOTA INSPIRE 2023 educational sessions included:
Poster Sessions for a chance to learn and discuss cutting-edge research and findings one-on-one with the presenter
Tech Labs for more details on the technology products that help you do your job better
Workshops, whether intermediate or advanced, for in-depth, focused learning
Short Courses to soak in small bursts of knowledge
Scientific Research Panels for multiple perspectives on scientific research
Student Sessions to learn the basics of OT
Conversations That Matter for facilitated OT talk
Pro tip for next year: look up the event schedule ahead of time to get an idea of what sessions will be offered. Then, you can decide before you get to next year's conference which ones you want to attend and reserve your spot in advance.
Like what you're reading? You may also like: Want To Grow Your Career From OTA to OT? Here's How!
2. Guest speakers
Each year, the conference invites several professionals to come and share their experiences, announce practice updates, and provide insights on how to elevate client care. This year, the keynote speaker was John O'Leary.
Author, podcaster, inspirational speaker, and husband of a school-based OT, O'Leary shared the story of how he was given a less than 1% chance to live after sustaining serious burns all over his body as a child. He addressed how his journey of survival encouraged him to "live inspired" and his AOTA INSPIRE 2023 keynote speech aimed to inspire the audience to do the same. Hear more about O'Leary's story on his podcast.
Of course, there were tons of other speakers who presented at this year's AOTA conference. To name a few: Sarah Thomas, registered occupational therapist (OTR); Mary Shotwell, PhD, OTR/L; and Mary Lawlor, ScD, OTR/L. Each AOTA INSPIRE guest speaker used their own perspective and expertise to educate the crowd on a variety of topics ranging from burnout to entrepreneurship to women in occupational therapy, and more.
3. The expo
Not only did AOTA INSPIRE bring together thousands of occupational therapy professionals and students, but it also featured hundreds of companies that offered OT-related products, services, and solutions. For example, Fusion Medical Staffing had a booth available with information and swag for prospective OT travelers! Other services offered at this part of the conference included face-to-face engagement with potential OT employers, hands-on interaction with OT technology, and exhibitor-sponsored seminars.
Conferences are such an enriching way for us to learn, grow, and network with other like-minded folks. That's what makes AOTA INSPIRE so special — there are chances to learn, social get-togethers, inspirational speakers, and professional networking opportunities. Don't worry if you missed this year's event, next year's conference is already planned so you can highlight, mark, and add stickers to that date in your 2024 calendar: March 21 to 24 in Orlando, FL. See you there!
Are you an OTA or OT ready to take the leap into travel therapy? Start traveling with Fusion Medical Staffing — there's no experience required to begin your travel journey! There are many perks of being an allied health traveler, but one benefit you won't find anywhere but Fusion Medical Staffing is the mentorship program. With Fusion Medical Staffing, you won't be left to fend for yourself. Instead, get paired with a travel therapy mentor who will help you navigate the transition from student life to professional travel life. Learn more about new grad travel and search for therapy travel jobs!