There's a lot to know when it comes to new graduate medical travel. The transition from student life to learning the ropes of healthcare travel can be as overwhelming as it is exhilarating. That's why we made this guide to help you get more familiar with the ins and outs of new grad medical travel.
New Grad Medical Travel Guide
How does med travel work?
There are many perks to becoming a professional travel nurse or allied health traveler. Think high-paying jobs, flexible work schedules, job security, and travel adventures across the country. Interested in expanding your healthcare career to include travel? Here's how medical travel works.
Healthcare travel consists of medical professionals who travel the country to fill staffing shortages in hospitals, clinics, and other healthcare facilities. As a med traveler, you'll work with a medical staffing agency like Fusion Medical Staffing and partner with a travel recruiter to find the best travel jobs for you. Typically, each assignment will last for an average of 13 weeks, however, you may be able to extend your contract and stay for longer if you like where you are.
Whether you're a nurse or an allied health professional, medical travel is a great opportunity for you to grow your healthcare career, as well as experience different U.S. destinations.
Travel requirements for new medical graduates
Now that you've graduated, you may be wondering how long you have to wait until you can embark on your medical travel journey. The answer will depend on your healthcare profession, like nursing, therapy, lab, et cetera.
For most therapy grads, you can jump right into the travel life you've always wanted as soon as you have your degree in hand. What degree that is will also depend on your therapy career. While physical therapists (PTs) require a doctoral degree, occupational therapists (OTs) and speech-language pathologists (SLPs) need their master's degrees. After graduation, PT grads and OT grads can start traveling professionally right away, but SLPs must complete a clinical fellowship year and get certified before traveling.
Related: How Much Experience Do I Need To Apply for Allied Health Travel Jobs
Nurses, medical lab professionals, and radiology specialists all require at least one year of clinical experience before you can add "Professional Medical Traveler" to your business cards. Additionally, no matter what your healthcare specialty is, you'll have to get the proper certifications and licenses before you can start traveling professionally.
"You want to travel?" asked Fusion travel nurse Mistry. "Great! It's a really cool way to learn and experience new things. After nursing school, the real learning comes in and you learn how to use those skills to be a nurse. Use that time to sharpen your skills. Travel nursing will still be there when you're ready!"
New grad travel with Fusion Medical Staffing
You know how med travel works. ✔️ You know the travel requirements for new medical grads. ✔️ Now let's talk about how you can get your travel career started with Fusion Medical Staffing.
Whether you're wrapping up your medical degree, are hot and fresh from the educational oven, or have a few days left of your clinical fellowship, Fusion Medical Staffing is here to help you kick off your travel career on the right foot.
When you travel with Fusion Medical Staffing, you gain access to the industry experts on the Student Outreach Team, including travel therapy mentors that will help you navigate your way through your first few travel assignments. Fusion Medical Staffing mentors are experienced physical therapy and occupational therapy travelers who are here to answer your questions, calm your nerves, offer advice, and help you perfect your interview skills, among other things.
"My mentor has helped me refine my interviewing skills so that I always have a full and clear picture of what to expect prior to accepting an assignment," said Fusion Medical Staffing traveler Rachel. "My mentor is also invaluable in helping me navigate other dilemmas while on an assignment. If something didn't seem quite right, I knew I could ask my mentor and she would guide me."
Don't worry if you're not a therapy traveler — Fusion Medical Staffing has resources for all new medical graduates. As a Fusion Medical Staffing new grad medical traveler, you'll have a personal travel recruiter to rely on, as well as the whole Clinical Team in your corner. These medical travel experts are like your very own cheerleading squad, inspiring and motivating you through the transition from student life to professional life and beyond.
Mentorship isn't all Fusion Medical Staffing has to offer to new grads. Even better, Fusion Medical Staffing also provides certified educational unit (CEU) reimbursement, as well as a new grad bonus of up to $5,000!
And that's not to mention the general traveler benefits, like comprehensive health insurance, 401k investment, and access to the LifeWorks employee assistance program (EAP).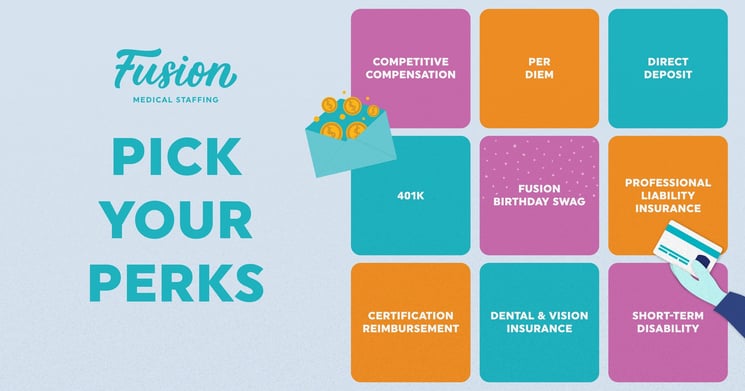 Get a strong start to your medical travel career and join forces with Fusion Medical Staffing. Have questions about Fusion Medical Staffing's new grad travel program? Reach out to studentoutreach@fusionmedstaff.com for more information!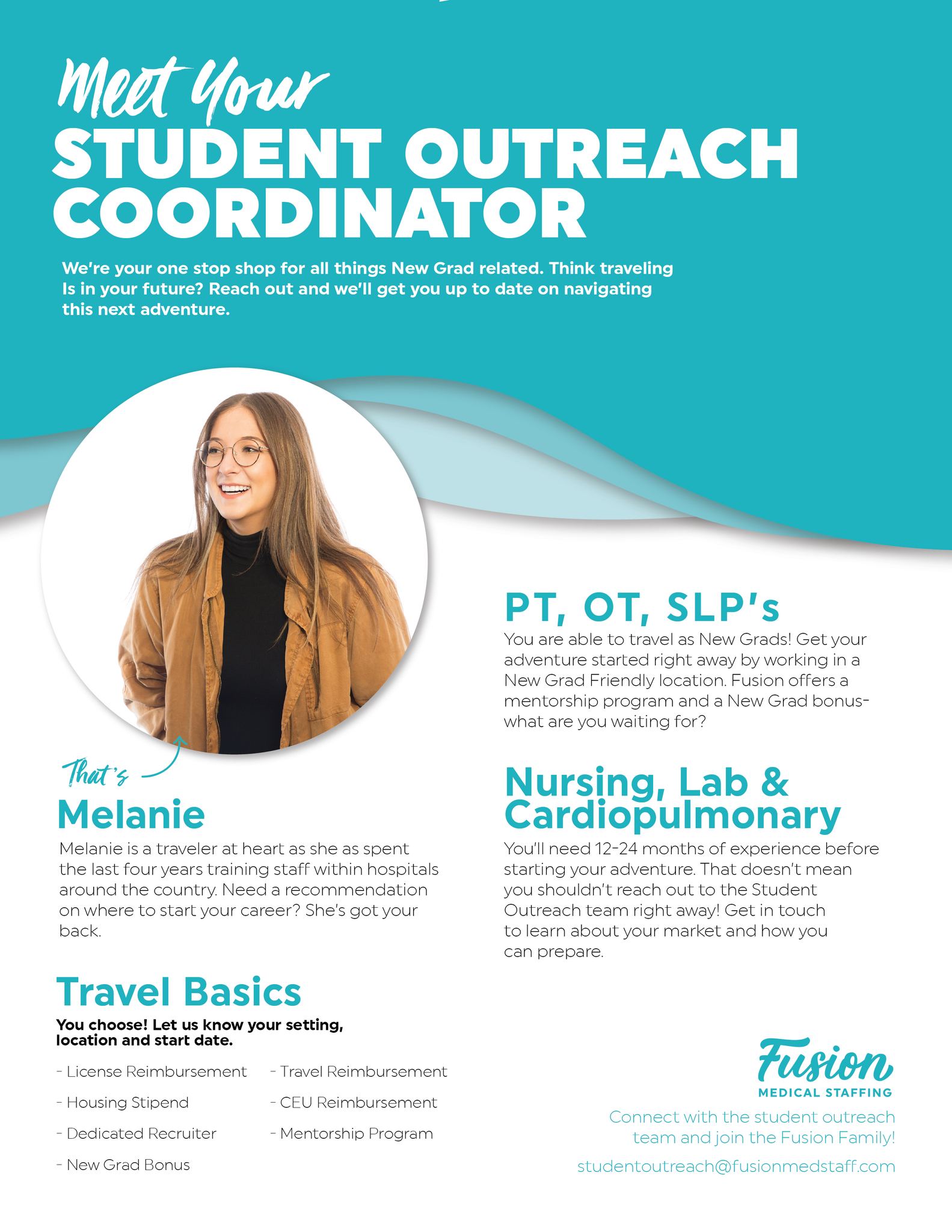 Frequently asked questions
Can new grads be travel nurses?
As a new nursing grad, you'll need at least one year of clinical experience before you can officially hit the road as a professional travel nurse. Travel nursing gives you the opportunity to gain hands-on experience in a variety of clinical settings, as well as the chance to explore different parts of the country while getting paid to do what you love. Browse Fusion Medical Staffing travel nursing jobs to get an idea of what to expect when your year of waiting is up!
How do I become a new grad travel mentor with Fusion Medical Staffing?
Want to become a therapy mentor for Fusion Medical Staffing? Email studentoutreach@fusionmedstaff.com to find out if you're eligible!
All Fusion Medical Staffing therapy mentors are hand-picked by the Student Outreach Team and each mentor must have extensive knowledge of travel, housing, and specific healthcare settings, as well as IRL hands-on experience. Once picked, mentors are matched with new graduates based on location, work history, setting experience, and availability.
When should I reach out about a new grad travel job with Fusion Medical Staffing?
It's never too early to start planning your travel career, even if you're still finishing your degree and medical training. When you feel the travel bug bite, connect with Fusion Medical Staffing via phone, email, or social media — it's up to you!
No matter what field you're specialized in, life as a new medical graduate is an exciting time. Once you've mastered your degree, the next thing to do on your list is gain the necessary experience needed to be the best med traveler you can be. Then, contact your friends at Fusion Medical Staffing (that's us!) and get ready for your healthcare travel journey to begin.