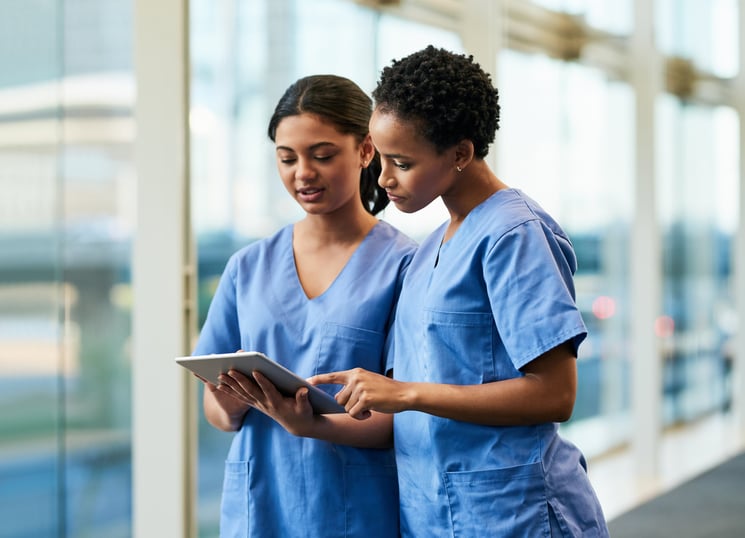 If you're looking for the perfect excuse to celebrate your nurse wins, you're in luck — Nurses Week 2023 is here! While there's no wrong time to revel in all your nursing awesomeness, National Nurses Week provides the ideal opportunity to be loud and proud about it. Even better, there are countless Nurses Week discounts to help you celebrate!
From discounted technology to retail therapy deals, there are plenty of ways for you to flex your spending power. Check out the best Nurses Week deals and freebies in these top categories:
Best Nurses Week Discounts and Freebies
Clothes and shoes
Looking to upgrade your wardrobe? Take advantage of these clothing discounts for nurses! From stylish 'fits to comfy loungewear, you can find something from top clothing brands to accommodate both your budget and your fashion needs.
30% off at Adidas — ID.me
You know Adidas as a leader in the sportswear industry, but did you know that they consider you a hero? As such, you're eligible for the Adidas heroes discount, which offers verified medical professionals an exclusive discount of 30% off your order!
20% off at Calvin Klein — ID.me
There's nothing quite like the feeling of peeling off your scrubs after a long day of work, whether you replace them with an outfit for going out or something comfy. Either way, Calvin Klein has you covered! To thank you for your extraordinary healthcare services, Calvin Klein is offering nurses 20% off your online order.
15% off at Levi's — SheerID
Did you know Levi's has been around since 1873? From high-quality jeans to trendy tops and jackets, Levi's has something for everyone. And during National Nurses Week, healthcare professionals like you can enjoy 15% off on all your favorite Levi's products!
15% off at Lululemon
If you're in the market for stylish and comfortable clothing, look no further than Lululemon. With a wide selection of activewear, athleisure, and everything in between, you're guaranteed to find something to fit your lifestyle. And to help fit your budget, Lululemon offers a 15% off discount for nurses!
Create or log in to your Lululemon account, enter your professional information, and you'll receive a confirmation email with an exclusive code — the last step is to treat yourself. 💇
15% off at Madewell
Whether you're dressing for a night on the town or a night on the couch, Madewell has you covered. Browse their wide selection of jeans, apparel, accessories, shoes, and more to find exactly what you need for any occasion.
Madewell also stands out with special discounts for nurses during National Nurses Week each year. Shop online or in-store to receive 15% off your Madewell purchases for a whole year! Take advantage of this nurse deal by creating or logging into your Madewell Insider account and verifying your status as a licensed nurse. If you're shopping in-store, simply show your valid ID to the cashier.
10% off at Nike — SheerID
From the Zoom Structure to the Air Vapormax, Nike has several supportive shoes for nurses that offer proper cushioning and stability. Shop during Nurses Week 2023 to get 10% off your order. You know what they say — "just do it."
Restaurants, food, and grocery
We all need to eat, so why not do it at a discounted rate during National Nurses Week? Healthcare professionals and nurses should take advantage of the many available restaurants, food, and grocery discounts. Whether you're going to a casual lunch with friends or cooking at home, these discounts for nurses and first responders can help you do so while saving money.
65% off at Green Chef — ID.me
When you work multiple 10- to 12-hour shifts a week, going to the grocery store can be too much. Green Chef provides fresh, organic, pre-measured ingredients and detailed instructions for quick and easy-to-make meals, making it the perfect solution for busy nurses. The meal delivery service also offers a range of specialty diets like vegetarian, vegan, keto, and gluten-free. Now, nurses like you can receive 65% off + free shipping on your first Green Chef box, plus an ongoing 15% off future orders for a whole year!
10% off at Outback Steakhouse
From delicious steaks to fresh seafood and other classic dishes, the fare at Outback Steakhouse is sure to please any palate. Even better, you can receive 10% off your entire check! To take advantage of this Nurses Week restaurant deal, show your waitstaff a valid medical ID, state ID, or federal service ID, and let them take care of the rest.
15% off at Soylent — ID.me
Soylent exists to provide nutritionally balanced drinks that are made from plant-based ingredients like soy protein, oats, rice, flaxseed oil, and other essential vitamins and minerals. Shop Soylent during Nurses Week 2023 and receive 15% off your online order.
Free membership at Thrive Market
Don't have time to go to the grocery store? Then bring the grocery store to you through Thrive Market. This online membership-based market offers a wide selection of high-quality, affordable food, beauty items, home essentials, and pet supplies that are all delivered right to your doorstep. Because of your awesomeness as a professional nurse, you're eligible for a free one-year membership!
Technology and electronics
Raise your hand if you're a fan of technology. 🙋 To celebrate nurses, enjoy discounts for nurses on items like laptops, tablets, and smartwatches from top tech brands.
40% off at HP — ID.me
Known for its reliable and innovative technology, HP is a trusted brand when it comes to tech solutions. Whether you're in the market for a gaming PC or new noise-canceling headphones, HP has what you need. And at a discounted price, thanks to your nursing status. Receive 40% off your online order!
15% off at iRobot — ID.me
Cleaning your living space doesn't have to feel like a chore. With help from iRobot vacuums, mops, and floor scrubbers, you can easily tackle any cleaning job without breaking a sweat. And now you can enhance your cleaning supplies without breaking the bank, too: you're eligible to receive 15% off.
30% off at Samsung — ID.me
With cutting-edge technology, reliable products, and competitive prices, it's no wonder why Samsung remains one of the world's leading tech companies. Shop Samsung online and find exactly what you're looking for, from an upgraded TV to smartphone accessories. When you sign up for the Samsung First Responder Program, you can get a nursing discount of 30% off your entire order.
Entertainment
It's no secret that you work hard. When you're off-duty, it's only fair to treat yourself to a night (or two or three or seven) of entertainment. And now you can do so at a discounted rate during Nurses Week. These are the best entertainment discounts for nurses.
25% off at Coco Key Water Park — ID.me
Working a travel nursing job near Orlando, FL? Check out Coco Key Water Park! Perfect for the whole family, Coco Key Water Park features a lazy river, a wave pool, activity pools with basketball hoops and other games, thrilling body slides, and tube slides ranging from mild to wild. You can enjoy this indoor water park for 25% off during Nurses Week 2023.
15% off The Dinner Detective — ID.me
Now playing nationwide, you can reserve a table at America's largest interactive murder mystery dinner no matter where you're working on a travel nursing assignment. Guests will have the opportunity to solve a crime while enjoying a delicious four-course dinner in a unique setting. Find a show near you and verify your nursing status to get up to 15% off your tickets.
30% of at The Escape Game locations — ID.me
The Escape Game offers a variety of exciting escape room experiences across the U.S. From historical monuments to ancient temples, each location has its own unique set of puzzles and challenges that will test your creativity and problem-solving skills. Plus, The Escape Game is the perfect experience for an evening out with friends or team building with nursing professionals. Get the most out of your experience and claim your nurses discount of 30% off.
20% off at the San Diego Zoo — ID.me
If you find yourself working a travel nursing job near San Diego, don't miss out on the San Diego Zoo while you're there. A treasured landmark in San Diego, this tourist attraction features thousands of animals from more than 600 species and subspecies. Use the 20% off nurse discount to get your tickets at a lower rate and spend the extra cash on a souvenir from the gift shop.
20% off at Six Flags — ID.me
Known for its thrilling rollercoasters and exciting water rides, Six Flags features attractions that anyone can enjoy. On your next day off, use your exclusive 20% off nursing discount to get tickets for the whole family and treat yourself to a hair-raising adventure.
Fusion Medical Staffing freebies for nurses
In addition to all the above deals and discounts for nurses, Fusion Medical Staffing gives away free stuff for nurses! If you're a nurse who likes free things, enter your name in the contest every day during Nurses Week 2023 for your chance to win free scrubs, medical apparel, shoes for nurses, and other nurse freebies. Pro tip: put your name in every day to increase your chances of winning prizes you can't find anywhere else!
Whether you lounge around the lazy river or spoil yourself with some much-deserved retail therapy, take time to celebrate yourself and your fellow healthcare heroes during Nurses Week 2023. As an added bonus, put your name in the running to receive ✨ EXCLUSIVE ✨ Fusion Medical Staffing freebies for nurses! No matter what fits your fancy, there's something for everyone this National Nurses Week.