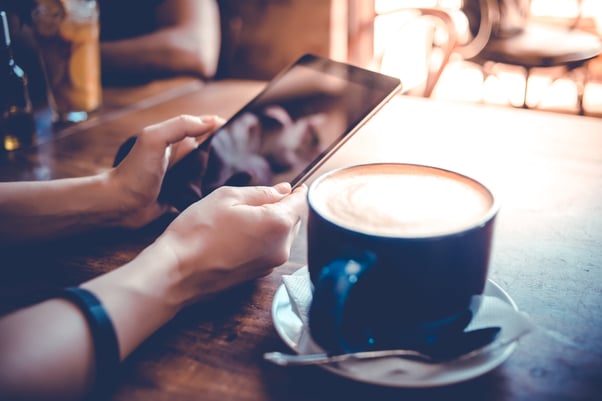 The iPad (and other tablet devices) are quickly becoming a useful tool for speech language pathologists. Apps can often be more affordable than paper materials, and they can be more engaging for children and adult patients.
As a traveling SLP, it can be difficult to choose which apps are best for your patients. Depending on the needs of each patient and the skills you are wanting to work on with them, there are a variety of ideas to choose from. These lists can change too, not only because the needs of the patient may change, but because of the increased or decreased demand for the app, an updated version of the app, or a new app that combines the needs of several apps into one.
Here are a few of our favorite SLP apps and how they can be used.
Top 9 iPad Apps For Speech Language Pathologists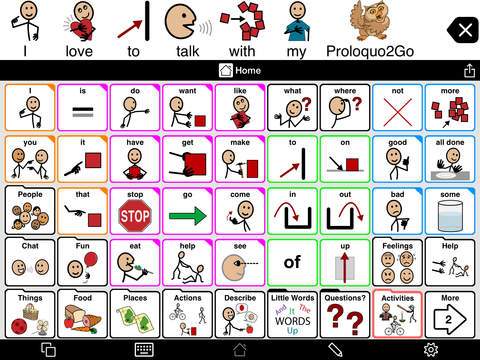 Proloquo2go
Proloquo2Go is an AAC (Augmentative and Alternative Communication) app used by people with autism, Down syndrome, cerebral palsy and other diagnoses. It brings 100 natural-sounding text-to-speech voices, up to date symbols, and powerful automatic conjunctions.
Crescendo™, a complete research-based core word vocabulary with 10,000+ fringe words
Quickly and easily customizable – everything from the vocabulary to the appearance
Designed for a range of fine-motor and visual skills with options like 23 pre-programmed grid sizes
Use your regional vocabulary and accent with British, Australian and American English, Parisian and Canadian French, Castilian and American Spanish, and Dutch and Flemish. The app also supports bilingual use, and you can even switch languages mid-sentence
100 natural-sounding free voices across all languages, including children's voices
Available in English, Spanish, French, and Dutch for iPad, iPhone, iPod touch and Apple Watch
$124.99, iTunes App Store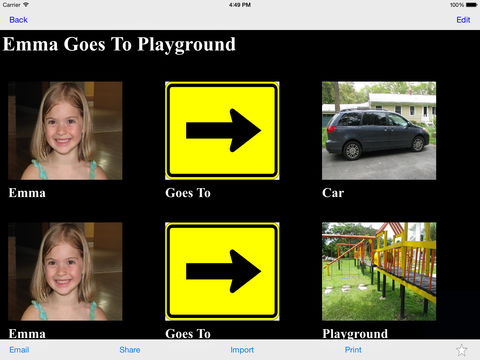 iCommunicate
iCommunicate lets you design visual schedules, storyboards, communication boards, routines, flash cards, choice boards, speech cards, and more.
Record your own audio for pictures and boards
Share pictures and boards thru email and iTunes File Sharing
iOS Text to Speech Voices include: Arabic - Saudi Arabia, Chinese - China, Chinese - Hong Kong, Chinese - Taiwan, Czech, Danish, Dutch - Belgium, Dutch - The Netherlands, English - Australia, English - Ireland, English - South Africa, English - United Kingdom, English - United States, Finnish, French, French - Canada, German, Greek, Hindi, Hungarian, Indonesian, Italian, Japanese, Korean, Norwegian, Polish, Portuguese - Brazil, Portuguese - Portugal, Romanian, Russian, Slovak, Spanish - Mexico, Spanish - Spain, Swedish, Thai, Turkish
Use your own pictures, take pictures in the moment, or online image search
Includes 10,000+ N2Y SymbolStix
Two type of boards: 4x10 - up to 4 pictures across by 10 down and Task Completion - one picture at a time
Print with AirPrint or email boards
Lock app from unwanted changes
$34.99, iTunes App Store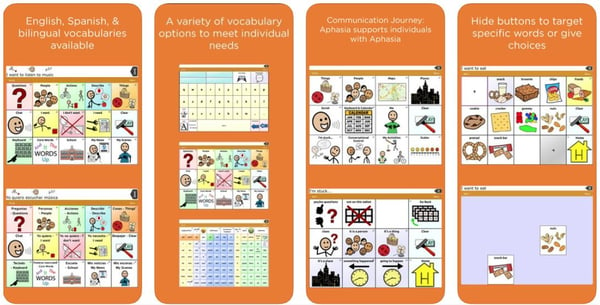 Touch Chat
TouchChat HD is a full-featured communication solution designed for individuals with Autism, Down Syndrome, ALS, apraxia, stroke, or for individuals who have difficulty using their natural voice. It allows those who can't speak to communicate by spelling or selecting icons from a visual display.
Tilt the device to expand message with large letters to communicate silently or in a noisy environment
Page sets are divided into buttons, which are programmed to speak a message, navigate to a different page, change the volume or clear the display
Page sets are included with TouchChat: VocabPC™, MultiChat15, Spelling, myQuickChat©, MyCore, Communication Journey: Aphasia, Sintaxis, Sin Sintaxis
In-app purchase page sets: WordPower™, Gateway©, Pixon™60
Text from TouchChat pages can be shared on social media or via iMessage® and email
Text can be copied to/from TouchChat and other applications so it can be spoken out loud
Fully customizable pages, grid layout, buttons, messages, and symbols
Over 45 button actions and nearly 40,000 Symbolstix® symbols
You can also choose to use an existing image or take a photo with the built-in camera. Additionally, gestures can be used to navigate to new pages, speak messages, etc.
Vocabulary files can be imported and exported to a computer through iTunes® file sharing, DropBox™ or Google Drive™
$149.99, iTunes App Store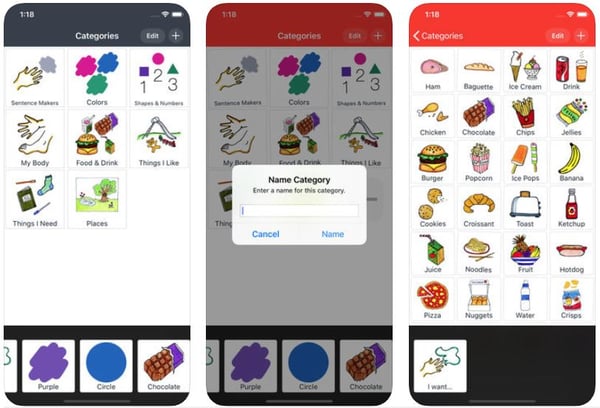 Grace
Grace App is picture exchange app designed to encourage independent communication by building sentences from relevant images. While created with and for people with autism, it can be used by anyone with a speech disability. Grace App is designed to build communication with minimum support from caregivers.
The default setting is for no sound, but you can select "Tap Card to Speak" if you prefer a vocal output.
3 card sizes for user preference and visual/mobility impairment.
Category folders have pre-loaded images and you can add your own images via camera or photo library
Images can be labeled, moved, deleted and new categories can be added to customize your folders
Guide includes therapeutic strategies for developing other communication goals
Grace App has been reviewed by senior speech and language therapists
$37.00, iTunes App Store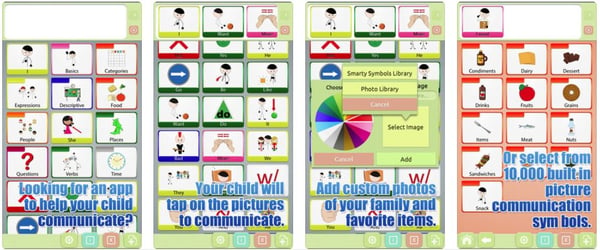 Expressive
The Expressive app was featured on the "Autism Hangout" Podcast and "TUAW.COM" as a learning and communication app for both children and adults with speech impairment or communication difficulties.
Symbol support for communication using 10,000 Symbols
4 built-in text to speech
Lock feature prevents modifications
Search button function finds images quickly
Completely redesigned graphics
Male and female text-to-speech options and speed of text to speech voices
Verb Agreement Support
Add your own images, change background color of folders or images, font style and customize with advanced optimizations
$20.99, iTunes App Store

Verbally
Verbally is the first free iPad app to provide a complete assistive speech solution for creative communication. Just tap in your phrase and the app speaks for you. Verbally is an argumentative and alternative communication (AAC) app for speaking unique thoughts and feelings, designed to minimize keystrokes and to maximize ease & speed. Unlike other AAC solutions, the simple design allows users to communicate quickly and effectively, with very little physical effort. It's intuitive, so you can have a conversation immediately.
Verbally has received recognition:
"The beauty of Verbally is that it works right out of the gate. There is no need to learn grids, import photos, or spend hours customizing." -The iMums
"The program is a dream for Speech/Language Pathologists. I use it in so many different ways with different ages and different disabilities." - Catherine Marchand, MSc, LCSP, Speech Pathologist
"Verbally is by far the best AAC app that I have seen." -Technology in (Spl) Education
"Priceless app! Patients will be able communicate without spending a fortune." - iTunes review, Dr NT
The Core Words Grid contains 50 essential words to save you over 50% of the taps required to input your sentences
The Core Phrases Grid gives you common phrases and enables faster conversation
Text Prediction feature learns the words you use
3 keyboard layouts options, plus a Bluetooth keyboard option
Speaking method choices offer "Speak Each Word" so the app speaks as soon as each word is completed or when you tap a phrase
Chime feature gets someone's attention
If you have limited fine motor abilities the Steady Hands feature makes it easier to type
Wi-Fi or 3G connection not required
Free, iTunes App Store

Speak For Yourself
Speak For Yourself is an AAC application for the iPad that was designed by speech pathologists based on research on vocabulary selection for AAC users. The main screen contains 119 preselected words that lead on to 14,000 built in Smarty Symbols.
Potentially access words with no more than two touches on the screen
Complex page navigation and scanning are eliminated
Powered by CereProc's speech system to give voices character, emotion, and personality
Choose to include voice options from Acapela Text-To-Speech from Acapela Group as an in-app purchase
$299, iTunes App Store

My First AAC
My First AAC offers icons organized by categories that reflect children's natural speech development. Scroll through theme-based category icons, such as greetings, food, or feelings, and access sets of over 250 related words and phrases to express frequently used ideas.
My First AAC has received recognition:
"Awesome app with so many features at an incredibly affordable price." -Technology in (Spl) Education
"A great beginner Augmentative Alternative Communication app for young children." -Megan Bratti, MS CCC-SLP
Chosen as "New and Noteworthy" – Apple's Education App Store
Intuitive and child-friendly design
Over 250 icons are organized by category
You have the ability to add customized icons, using your own images
You have a choice of boy or girl settings in voice and icons and child's voice used in all audio files
The animated icons feature concepts borrowed from sign language
The icons represent words and phrases that are most commonly used by children
Customizable screen layout with icon options: 2 large icons or 8 smaller icons per category
$24.99, iTunes App Store

Abilipad
Abilipad is a customizable keyboard and adaptive notepad, with word prediction and text-to-speech.
Quickly and easily create customized keyboard layouts
Customize fonts, letter sizes, and colors for grid, keys, letters and background
Assign each key any letter, word, sentence or picture
Create audio recordings
Use images from the image library or use your own pictures
The notepad allows you to add, duplicate and reorder pages and link keyboards to effortlessly shift between each one
Word Prediction is available in English, Spanish, French and German language settings
Text-to-speech speaks letters, words and sentences and words are highlighted as they are spoken
Automatically save your work and organize notepads and keyboards into folders
Export files via email or Dropbox
Share keyboards and lessons online with other Abilipad users
Download ready-made activities from the Abilipad Library
Enable Bluetooth to use with a wireless keyboard
Languages include: Arabic, Czech, Danish, Dutch (Belgium, Netherlands), English (Australia, Ireland, South Africa, United Kingdom, United States), Finnish, French (Canada, France), German, Greek, Hebrew, Hindi, Hungarian, Indonesian, Italian, Japanese, Korean, Norwegian, Polish, Portuguese, Romanian, Russian, Slovak, Spanish, Swedish, Thai, Turkish
$19.99, iTunes App Store
Engaging these speech therapy apps are a great way to help in your next SLP travel assignment. Bringing new tools into your session and recommending them to your patients outside of their sessions can go the extra mile to engage your patient and help them effectively communicate their needs. Which app is your favorite to use while you're in your travel SLP job?