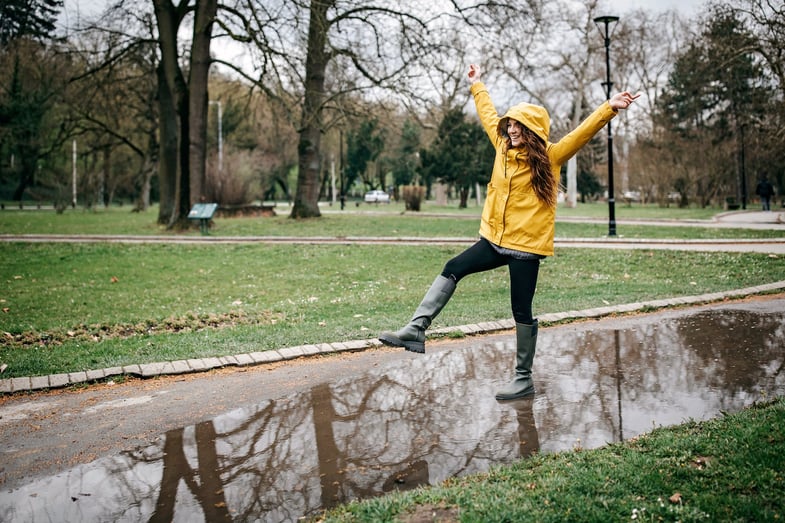 Imagine this: It's first thing in the morning and you awaken to the light, rhythmic pitter patter of rainfall. What do you do? Do you continue to lay in bed and use the sound to comfort you back to sleep? Do you spring up out of bed to the window to watch as rain streams down the glass? Do you energetically put on your rain boots and go outside to play in puddles?
If you answered yes to any of the above, there's a chance you could be a pluviophile!
Top 5 Locations for Pluviophiles
A what?! A pluviophile, aka a lover of rain, or someone who finds peace and delight in rainy days. Not sure if that's you? Take the test to find out!
If you're like "Dat me!", then you must be thrilled for April! Because April showers bring May flowers, of course. And since you have the freedom to work where you want, when you want, and how you want as a professional medical traveler, you can work your way through the rainiest parts of the U.S. Not sure where to go for your next med travel assignment? Let us offer our two cents.
No. 1: Mississippi
Photo from visitmississippi.org
When you think of Mississippi, first thing that comes to mind is probably the river. But did you know that Mississippi is one of the wettest states in the country? In fact, Mississippi was the no. 1 U.S. state in 2021 for precipitation with an annual amount of 66.84 inches, which exceeded the state's normal range of 50 to 65 inches. Holy rain, Batman!
This southern state features a subtropical climate that results in scorching hot summers, mild winters, and frequent rainfall. Typically, the annual precipitation increases from the northern parts of Mississippi down to the southern cities with locations like Biloxi and Pascagoula being some of the rainiest. On average, the Gulfport-Biloxi-Pascagoula Metro Area gets 103 days of rain each year. So, if you're one to dance in the rain like no one's watching, Mississippi just might be the place for you.
What to do in Mississippi
A landmark state known for its enlightening Civil War history, Mississippi boasts a unique culture that attracts visitors from all around the world. Lucky for you as a professional med traveler, you have the ability to live like a local in Mississippi while on working an assignment. And as a pluviophile, you'll thrive in the humid, wet climate. So, while you're there, check out these local attractions!
Elvis Presley Birthplace and Museum. Located in the quiet Mississippi town of Tupelo is the one and only Elvis Presley's birthplace. You know Elvis Presley, one of the most iconic musicians in the history of ever. Yep, that one! Step into his shoes and choose from several Elvis-themed tours and get a glimpse into who Elvis was before he became the man we know and love.


Biloxi Lighthouse. Known for being one of the first cast-iron lighthouses in the Southern U.S., Biloxi Lighthouse is a central landmark and a symbol of the city's strength in the face of hardship. Learn about the ins and outs of this lighthouse on a guided tour, and don't forget your camera! That view is something else. Especially on a rainy day.


The Mynelle Gardens Arboretum and Botanical Center. Take a stroll through an extraordinary collection of well-manicured gardens and relish in the beauty of nature. Or take a walk through the Westbrook House, a stately home that sits among the gardens.
Search for Mississippi travel jobs.
No. 2: Louisiana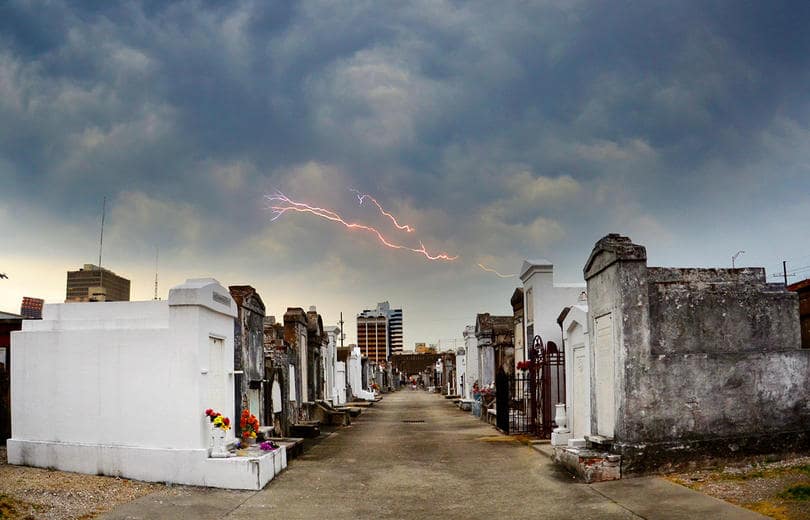 Photo from louisianatravel.com
With a climate super similar to Mississippi, it's no surprise that Louisiana also tops the list for rainiest U.S. states. In 2021 alone, Louisiana got a whopping 66.23 inches of precipitation. Of course, Louisiana's high humidity plays an important role in the amount of rainfall the state sees, but over the past year, the unusual influx of dry air from the north is triggering major downpours. On average, Louisiana sees about 102 days of precipitation each year—a perfect place for a pluviophile med traveler like you!
Be aware that another reason Louisiana sees so much rainfall is because of hurricanes. Between 2000 and 2021, Louisiana has been impacted by at least 28 tropical or subtropical cyclones. Hurricane season officially begins June 1, but it's not uncommon for tropical storms to arrive early.
"As the moist air collides with more dense dry air, the dry air burrows under, causing the air to rise and that gives us rain clouds," explained Barry Keim, Professor and Louisiana State Climatologist. "As temperatures warm, more moisture is stored in the atmosphere. When you wring that moisture out, you get more water on the ground."
There you have it: Science.
What to do in Louisiana
Home to the non-stop party city of New Orleans, Louisiana is a bopping state! But there's much more to the state than never-ending Mardis Gras celebrations. As you explore the second wettest U.S. state, make sure you add these destinations to your bucket list:
Royal Street. Obviously, we can't talk about Louisiana and not mention Royal Street. Strategically situated right next to Bourbon Street, Royal Street is a shopper's paradise. Lined with antique shops, local art, and countless fine-dining options, Royal Street is the place to be.


Preservation Hall. In 1961, the Preservation Hall was built to preserve and protect traditional New Orleans jazz music. Now, each night the hall hosts acoustic jazz concerts for locals and tourists to enjoy alike. Don't worry, you can purchase tickets at the door, but you should plan to arrive 30 to 45 minutes early to beat the crowd.


Global Wildlife Center. Raise your hand if you've ever wanted to feed a giraffe 🙋 Well, now you can come face-to-face with a giraffe, zebra, camel, and other animals at the Global Wildlife Center. As the largest preserve of its kind in the U.S., this wildlife protection facility sits at 900 acres!
Search for Louisiana travel jobs.
No. 3: Alabama
Who knew the southeast region of the U.S. is a magnet for rain? Alabama is yet another subtropical state with scolding summers, mild winters, and year-round rain. As the third wettest state, Alabama received 65.06 inches of precipitation in 2021.
But why? Similar to Mississippi and Louisiana, Alabama sits within the tornado-prone Dixie Alley of the southeastern U.S. Plus, the main things that influence the climate are the warm waters of the Gulf of Mexico, the latitudes close to the equator, and tropical systems. On average, the state experiences 106.5 days of precipitation, which gives you plenty of opportunities to get out there and soak it in! Just make sure you check the weather forecast if you're in Alabama between August and October—otherwise known as peak hurricane season.
What to do in Alabama
Alexa, play "Sweet Home Alabama" by Lynyrd Skynyrd. Alabama is a state well-known for its natural landscapes, deep historic roots, and America's favorite sport, football! Rain or shine, here are some popular things to do in Alabama:
Gulf Shores. With 32 miles of white-sand beaches, various water activities, and local attractions, Gulf Shores has a little something for everyone. Relax on the beach, go scuba diving, visit a museum and more in this prime Alabama attraction.


If you're looking for cool places by the sea and with history and a likelihood of rain, venture to Mobile, Alabama. Sitting on the Alabama Gulf Coast, Mobile is the rainiest city in the country! Annually, the city receives about 67 inches of rainfall and has about 59 rainy days a year! Mobile also provides southern hospitality with fun attractions and a plethora of historic districts to explore.


Cathedral Caverns State Park. Just southeast of Alabama's Woodville lies Cathedral Caverns State Park. The caverns are a consistent 60 degrees in temperature, which makes it perfect for gem mining, cave tours, camping, and picnicking!
Search for Alabama travel jobs.
No. 4: Tennessee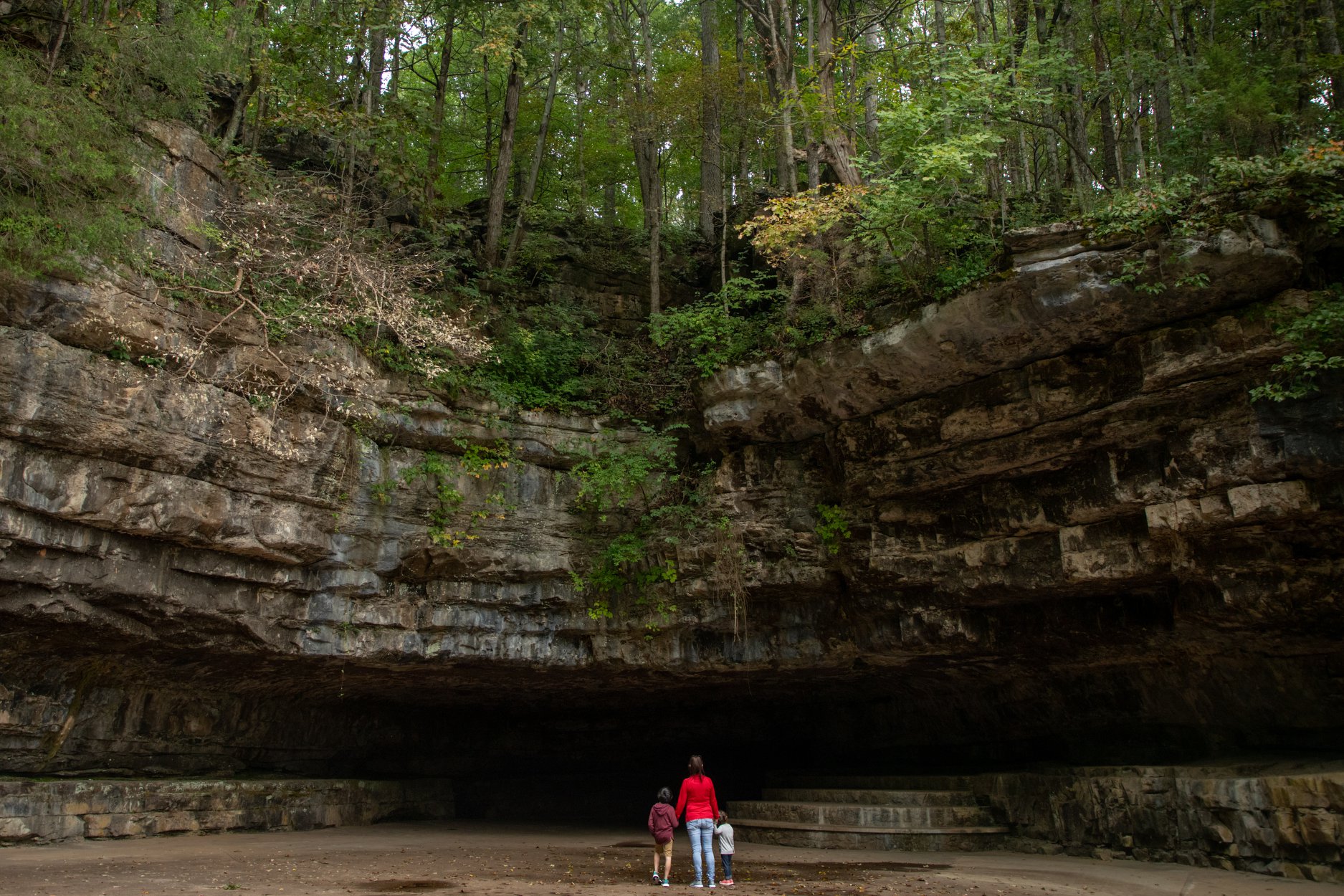 Photo from tnvacation.com
Between the Appalachian Mountains and the Mississippi River lies the beautiful state of Tennessee. The average 116 rainy days per year leave the state's landscapes in a picturesque "kaleidoscope of colors" that you can't get anywhere else.
Prone to extreme thunderstorms and tornadoes, Tennessee was the fourth wettest U.S. state in 2021 with 58.89 inches of precipitation. Typically, the rainiest months of the year in Tennessee are between December and April with the driest periods between August and October. Peak tornado season for this state lies within February, March, and April, so make sure to plan accordingly!
What to do in Tennessee
Besides the fact that Tennessee doesn't disappoint when it comes to rainfall, the state is also home to natural wonders of the world, exciting outdoor adventures, and attractions that beckon every kind of thrill-seeker there is. Here's what to do in Tennessee:
Great Smoky Mountains National Park. Nature-lovers from across the globe are drawn to the 552,000 acres of forest, waterfalls, and wildlife within the Great Smoky Mountains. It's the country's most-visited national park—fun fact. And when you experience the hiking trails, the thousands of animals and plant life, or the gorgeous valley, you'll understand why.


Titanic Museum Attraction. Live out your best Leonardo DiCaprio and Kate Winslet moment at the Titanic Museum Attraction in Pigeon Forge. Owned and curated by the same man who led the 1987 Titanic diving expedition, this museum brings the history of this infamous ship to life. Hop aboard to see more than 400 relics and memorabilia from the real-life Titanic ship and get a better understanding of what really happened that fateful night in 1912.


The Lost Sea Adventure. Venture 140-feet below ground to the largest underground lake in America. That's right, you can sign up for a 75-minute guided tour of the Lost Sea. Cue the ooh's and ahh's. Learn about the history of the cavern and geological factors that created this rare formation.
Search for Tennessee travel jobs.
No. 5: Georgia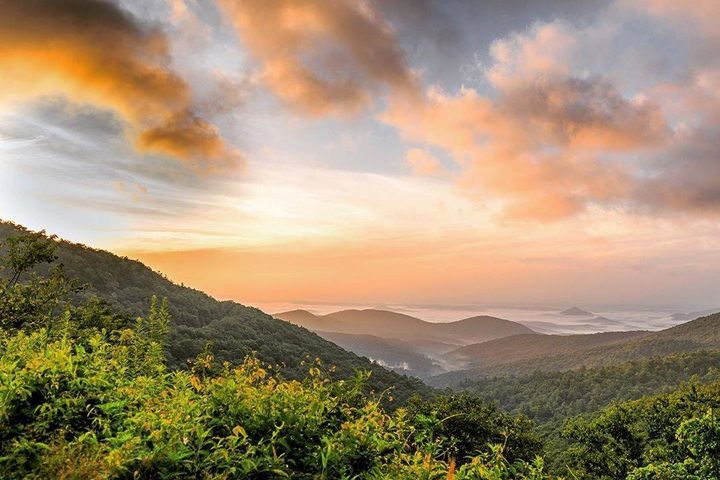 Photo from exploregeorgia.org
Georgia's humid subtropical climate with short, mild winters, and long, hot summers makes it ideal for persistent rainfall. On average, annual rainfall increases with elevation, so there's more rainfall on the southern Appalachian Mountains in north Georgia. Head to Clayton, Blairsville, or Helen in Northern Georgia for consistent rain showers.
n 2021, Georgia was the fifth wettest state in the country with 57.11 inches throughout the year. Frontal storms with high-density rainfall and cold fronts are more common during the fall, winter, and spring seasons in Georgia. I mean, the state is no stranger to severe storms and the aftereffects of hurricanes. Between 1950 and 2019, there were 26 named storms to cross within 100 miles of Atlanta, so beware of Georgia between the months of June and November—it's hurricane season.
What to do in Georgia
Did you know Georgia is the largest state east of the Mississippi River? As such, there's plenty for everyone to do! From major league sports to the Blue Ridge Mountains, Georgia is full of fun activities that are perfect to do no matter what the weather is like. Check out these top Georgia crowd-pleasers:
Atlanta Botanical Gardens. Opened in 1976, this 30-acre garden is a popular and peaceful way to spend your day. With several different themed gardens to choose from, you could easily spend the day getting lost in these woodlands.


Martin Luther King, Jr. National Historic Site. Celebrate the life and legacy of Baptist pastor, activist, and leader of the African American Civil Rights Movement, Dr. Martin Luther King, Jr. at this historic site. Spread across 35 acres, this top tourist destination contains the home where Dr. King was born, the church where he and his father were pastors, a visitor center with museum exhibits, and the tombs of Dr. King and his wife.


Taste of Thomasville. Treat yo'self to one of Georgia's top food tours! Experience the city's charming downtown during this three-hour culinary walking tour and sample delicacies from a variety of local food vendors and artisans.
Search for Georgia travel jobs.
Why does rain make some people happy?
Now that you've discovered you're a pluviophile, let's learn more about why. Well, there's a lot of debate on the topic, but it seems like just as people experience seasonal affective disorder (SAD) in the winter when there's less sunlight, others experience it during the summer months when there's less rain.
There's a bunch of psychological reasons why some of us crave the comfort of the rain. Some professionals argue that our brain craves sensory input, and the sound of rain or thunder can satisfy the brain's demands, which calms us down.
"Rain has a regular, predictable pattern," said Emily Mendez, MS, EdS. "Our brain processes it as a calming, non-threatening noise. Which is why there are so many relaxation and meditation videos that feature the sound of rain."
According to a recent study, nature sounds like birds chirping, wind, and rain can "make us feel better, improve health, increase positive effect, and lower stress and annoyance." Which leads us to the pink noise phenomenon.
You've heard of white noise. Now, get ready for pink noise. Pink noise is a "spectrum of frequencies that decrease in intensity at a rate of three decibels per octave," meaning higher frequencies are less intense to your ear. It's thought by some psychologists that pink noise gives sounds (usually found in nature) the ability to engage with your subconscious without distracting you. Think rainfall, ocean waves, wind blowing, leaves rustling.
Pink noise stimulates your brain without demanding your undivided attention. When there's silence or white noise, your brain can start to overthink and generate anxiety. But when you're exposed to pink noise, like the rain, your brain becomes somewhat stimulated, which can increase your productivity and boost your mood.
So, just like some people prefer sunshine and blue skies, others prosper with rain and thunderstorms. To each their own!
A career as a professional med traveler gives you full control over your career, so if you want to travel based on your love for rain, you can! If traveling by brewery is more your style, you can do that, too! At Fusion, we're not here to judge you on your travel journey, we're simply here to help you get where you want to go.