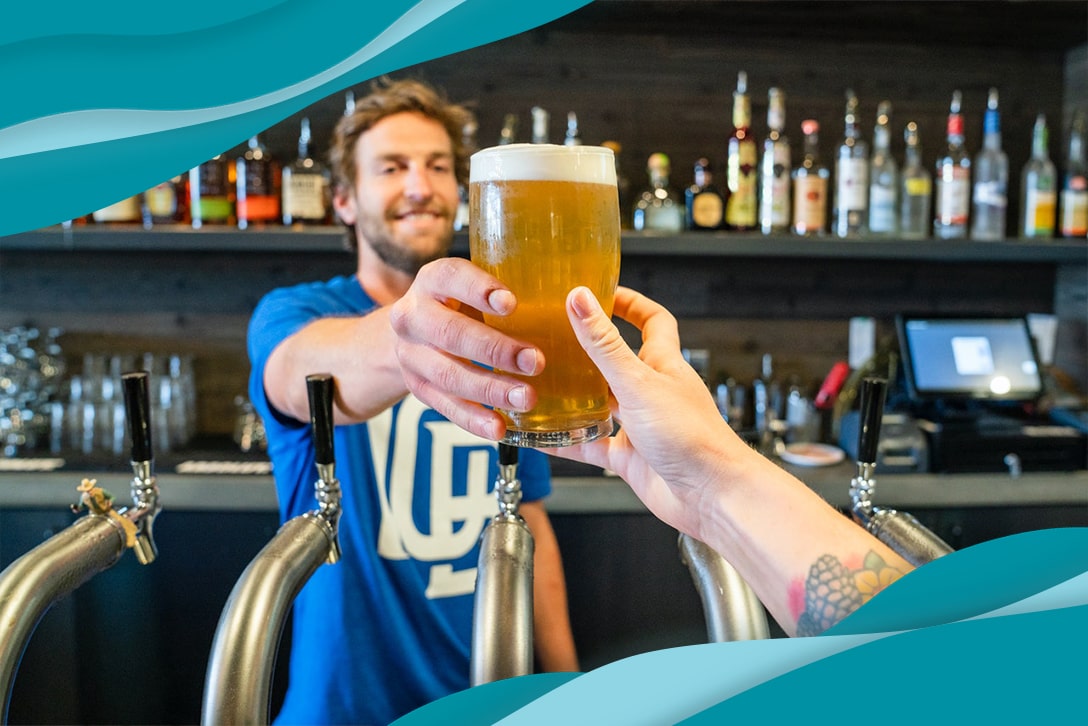 A wise Fusion traveler once told us, "The best way to live like a local on assignment is to talk to the local bartenders. They know the best places."
We think this advice also applies for knowing the best local beers. If you want to live like a local, then drink like a local, right? With craft breweries being such a big trend, you can find them all over the country. They're a great spot to visit on your day off or to tour, whether you are solo or with a group of your favorite beer buddies.
Travel by Brewery: A Med Traveler's Guide to A Good Beer
The history of craft brewing
Beer has been around for a long, long time. Think like, 5,000 years ago. It's one of the oldest drinks we have produced and has been recorded in history in Egypt and Mesopotamia. Also, we used to give receipts out on stones, apparently.
Take a look at this beer receipt from the city of Umma in ancient Iraq, which dates back to c. 2050 BC: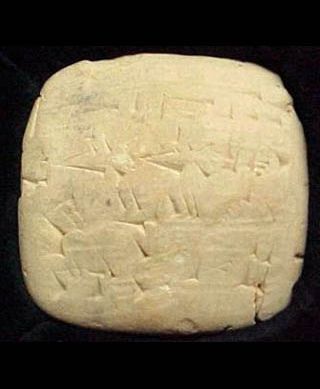 I mean, of course now we have a modern day printed paper receipt or an e-receipt when we hit the breweries, but the point is, the age of beer has preceded our monetary methods.
The earliest barley beer on record was discovered in the Zagros Mountains of Iran. Pieces of a jug coated in beerstone (a brewing by-product) were found. It is thought that, initially, beer was brewed and sold on a domestic scale, but during the Industrial Revolution (1760-1830s), beer went viral! Okay, not for real. The internet wasn't created, but machines were! So, naturally, brewing moved to manufacturer scale.
Over the years, new tools and techniques were developed to give the brewer more control over the process, and to increase the success of manufacturing. (Think: thermometers and hydrometers.) And now today, brewing is global. If there's one thing the world can agree on, it's beer.
Where do you brew?
According to recent data, as of 2020, there are nearly 9,000 breweries in operation in the U.S. In California alone, there are 958 beer companies and more than 1,200 active federal brewery permits. There are breweries aplenty around this nation, and there are more opening up each year as entrepreneurs hop on the brew wagon.
But where are today's delicious brews located? Don't worry, finding your best beer isn't like an Indiana Jones movie searching for the holy grail, and you don't need to knock on a secret door in an alley to find the best local craft beers. In fact, we've done all the hard work for you! We researched the best ways to get the inside scoop on your local lager. Now all you need to do is download an app, or scan through our personal recommendations list. Then, just kick back and take a swig of your fave pint.
Check out this great brewery map that lets you search each zip code for the best craft beer in each of the 50 states! They have an app for iOS and Android too. Here are some of the perks of BreweryDB: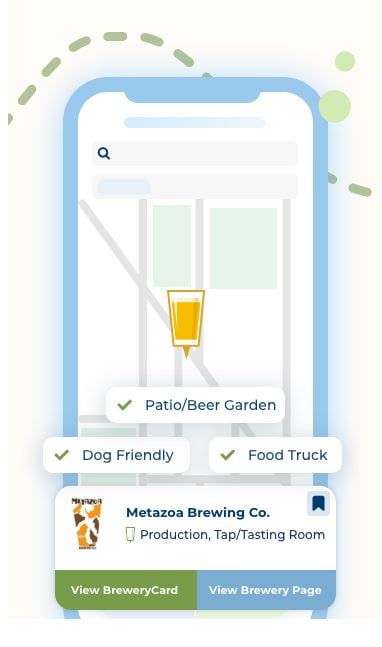 Search by location, brewery name, beer, or scan a beer's UPC code
Log your brewery visits with a personalized rating and notes
Save breweries you'd like to visit to a personal wish list
Create a road trip, choose from alternate routes, and bookmark your favorites
Export your wish list and visit data via email
Filter by only the location types that you're interested in
Hop Culture also came out with a list of the 11 Best Breweries to Watch. Looking for more than just craft beer? Here is a complete list of breweries in each state. Maybe you need an excuse to test out all the awesome breweries everywhere, but in any case, it gives you a pretty great excuse to add cool bucket list items to your plans.
Our awesome team at Fusion created a list of our favorite breweries across the U.S., too! If you like personal recommendations (and you trust us) and you think we know about craft beer (I mean, we do), check out our list below. We broke it out regionally to make the list easier to digest:
Pacific Northwest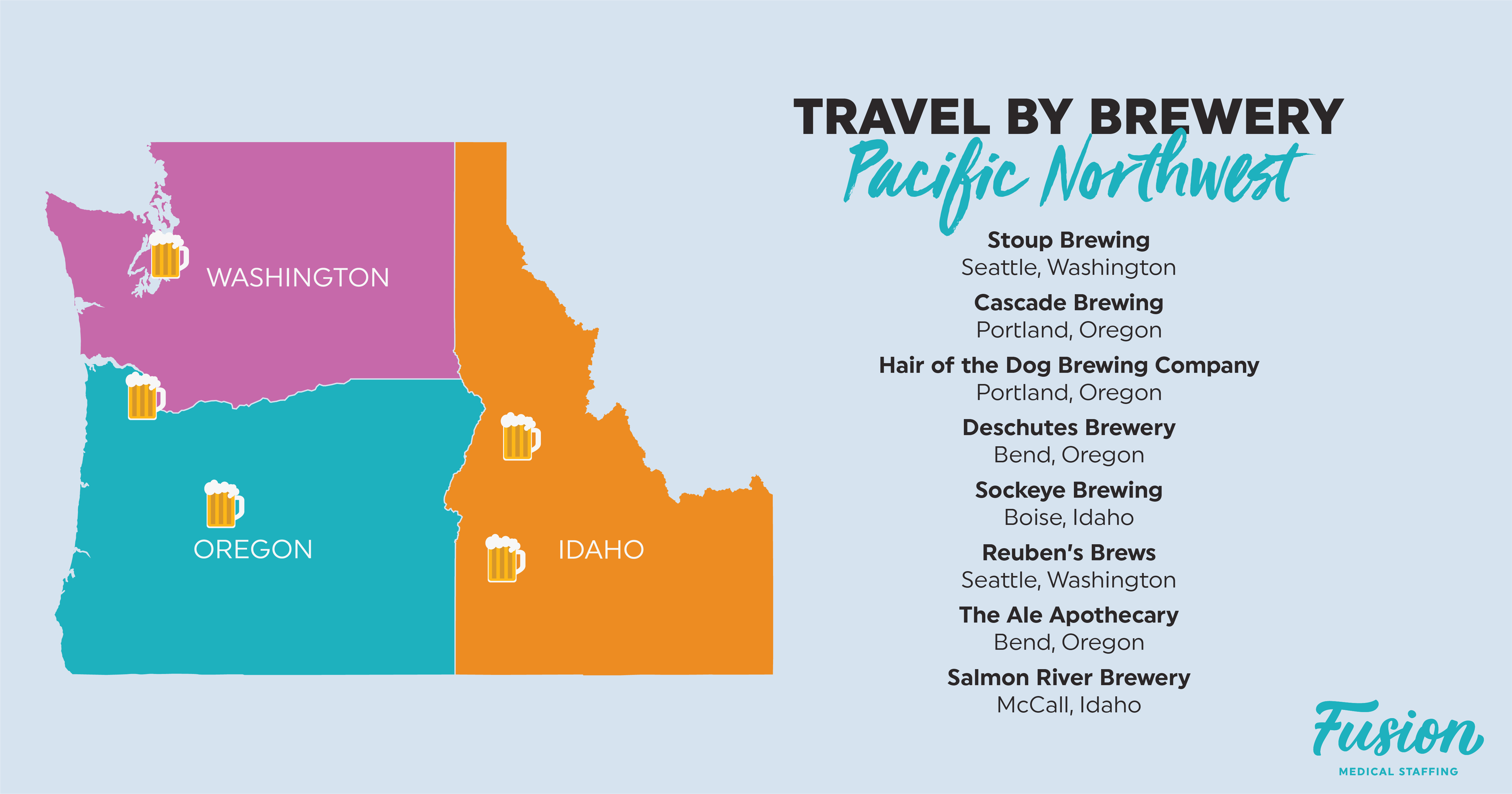 Stoup Brewing in Seattle, Washington. If you're into beaker-type glasses, a huge 10-foot bar made out of a walnut tree, and a signature drink that tastes like chocolate coffee, Stoup Brewing is the place for you!


Cascade Brewing in Portland, Oregon. You may know them as one of the country's premier sour breweries, but that's not all they're good for! Cascade Brewing also has a small release of brews aged in old wine and liquor barrels that are worth checking out.

Hair of the Dog Brewing Company in Portland, Oregon. Not only is their name fun and unique, but so is their selection of brew! Enjoy the company of beer enthusiasts from across the globe as you sip on complex-flavored beer.


Deschutes Brewery in Bend, Oregon. Deschutes Brewery has been a powerhouse in "Beer City, USA" (otherwise known as Bend, Oregon) since 1988. This classic brewery is home to the best-selling porter in the U.S. and is often rated as having Oregon's very best beer!


Sockeye Brewing in Boise, Idaho. With 132 medals under its belt, this award-winning brewery is known for seasonal brews and tasty cuisine.


Midwest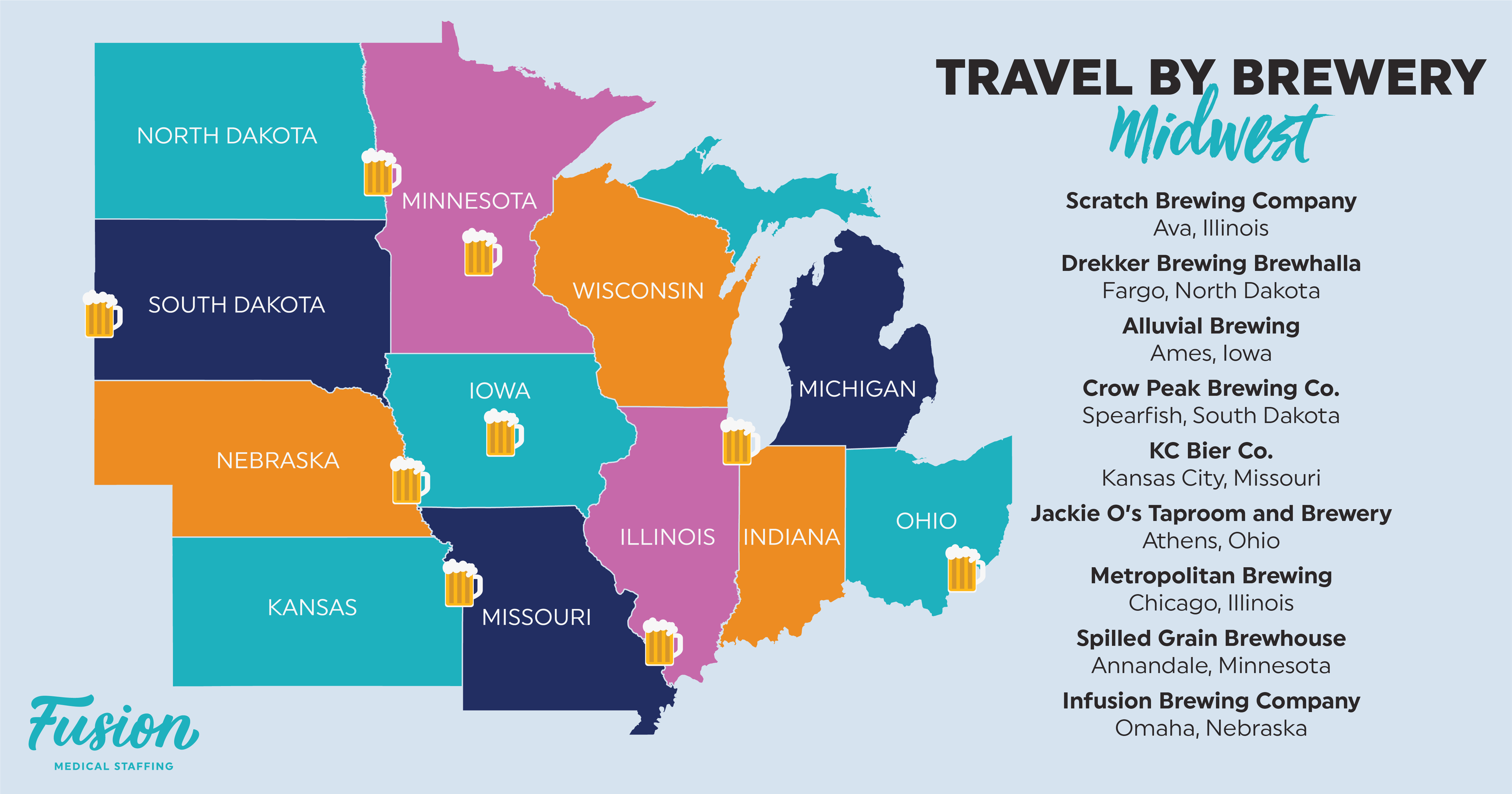 Scratch Brewing Company in Ava, Illinois. Have you ever had dandelion, nettle, hickory, and chanterelle mushrooms in a beer? Well, come to Scratch Brewing Company and you can experience the flavors first-hand!


Drekker Brewing Brewhalla in Fargo, North Dakota. Pay tribute to Scandinavian heritage in this beer hall fit for a Viking. Order a drink and set the high score on one of the pinball tables or hang out by the patio's firepit.


Alluvial Brewing in Ames, Iowa. Set across 40 acres of organic farm, you'll get a feel for rural Iowa as you sip on anything from milkshake IPAs to American pilsner on tap.

West Coast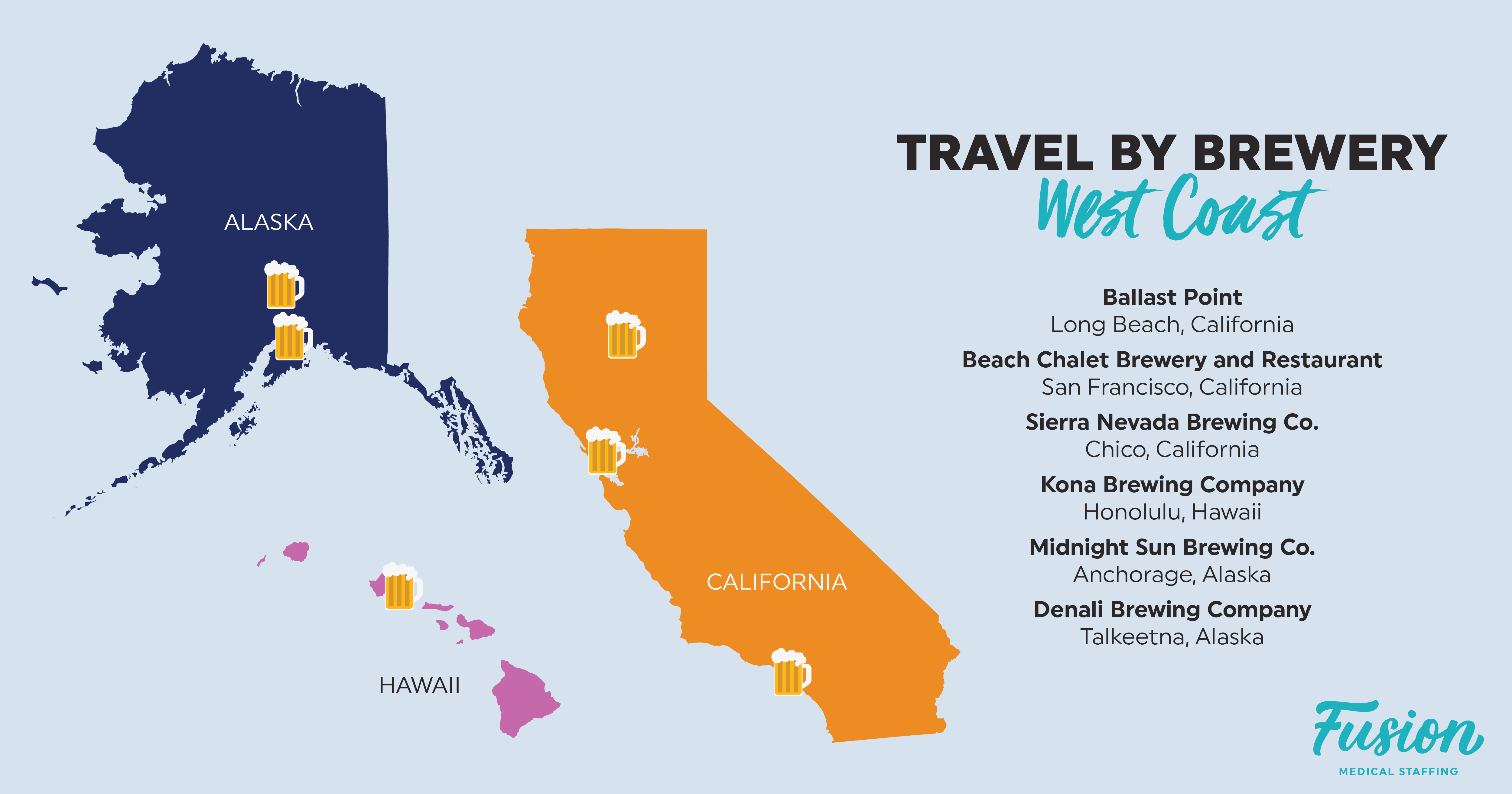 Ballast Point in Long Beach, California. If you're looking for a beachside brewery, head over to Ballast Point Long Beach for swaying palms and an Instagramable seaside view. Feel the beach breeze through your hair as you sip on one of the brewery's award-winning brews. Life can't get much better than that!


Beach Chalet Brewery and Restaurant in San Francisco, California. Accompany handcrafted ales and lagers with expansive views of the Pacific, European and American styles, plus a seafood-forward meal at this San Fran beach brewery.

Sierra Nevada Brewing Co. in Chico, California. Born as an at-home brew shop, Sierra Nevada Brewing Co. quickly grew to be one of the community's favorite breweries with visitors from all over the country! Visit the high-end taproom for brunch and craft beer and then go behind-the-scenes with a brewery tour.


Kona Brewing Company in Honolulu, Hawaii. Quench your thirst from the hot, Hawaiian sun with a Longboard Island Lager, Big Wave Golden Ale, Hanalei Island IPA, or other craft beer from Kona Brewing!


Midnight Sun Brewing Co. in Anchorage, Alaska. Producing more than 40 different ales and lagers each year, Midnight Sun Brewing Co. is praised for their delicious creations. Come and order your choice of beer and explore what food further elevates the flavors. Pro tip: You can't go wrong with the tacos.
Northeast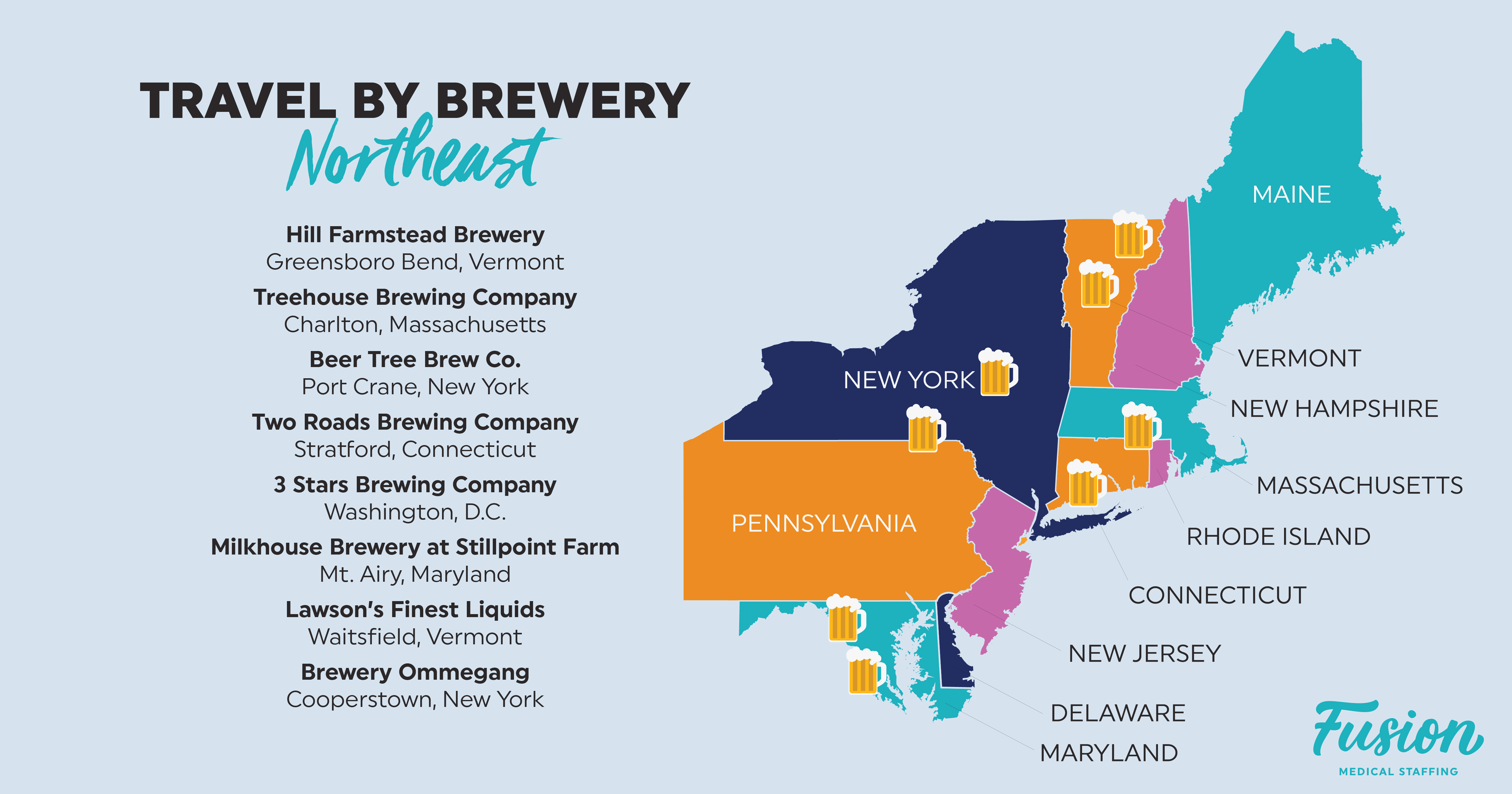 Hill Farmstead Brewery in Greensboro Bend, Vermont. Known as the "holy grail" of breweries in the Northeast, you won't want to miss out on beers named after Hill ancestors and philosophy texts. Try an Arthur, Anna and Vera Mae, and make a drinking game out of the family tree.


Treehouse Brewing Company in Charlton, Massachusetts. With 70 acres of pure woodland surrounding the brewery, Treehouse Brewing Company is every outdoor enthusiast's dream. Grab a pint and then meander through orchards, beehives, and an open pavilion.


Beer Tree Brew Co. in Port Crane, New York. Lined with picnic tables on what used to be a cornfield, this gorgeous brewery features a Beer Tree taproom and fruity brews. Sip on your choice of craft beer and enjoy scenic views of the farmland.

Two Roads Brewing Company in Stratford, Connecticut. You won't find pipes, hoses, or tanks in this handsome Connecticut brewery. Instead, the founders decided to repurpose the space to make it functional for visitors. Now you can visit and sample their beers! Might we suggest the Ol'Factory Pils, a German style with an American twist.


3 Stars Brewing Company in Washington, D.C. D.C. craft beer is making a buzz in the industry. And it could be because of the creative saison style of 3 Stars Brewing Company. Give your tastebuds a treat and try craft beers with fresh cranberries, basil, lime peel, and peppercorns.


Milkhouse Brewery at Stillpoint Farm in Mt. Airy, Maryland. You've heard of farm-to-table for restaurants. Well, get ready for farm-to-stout with this Maryland brewery. Located on a hop farm in Mt. Airy, Milkhouse Brewery won admirers with their balanced, British-style Best Bitter and the rich, full-bodied Dry Stout.
Southwest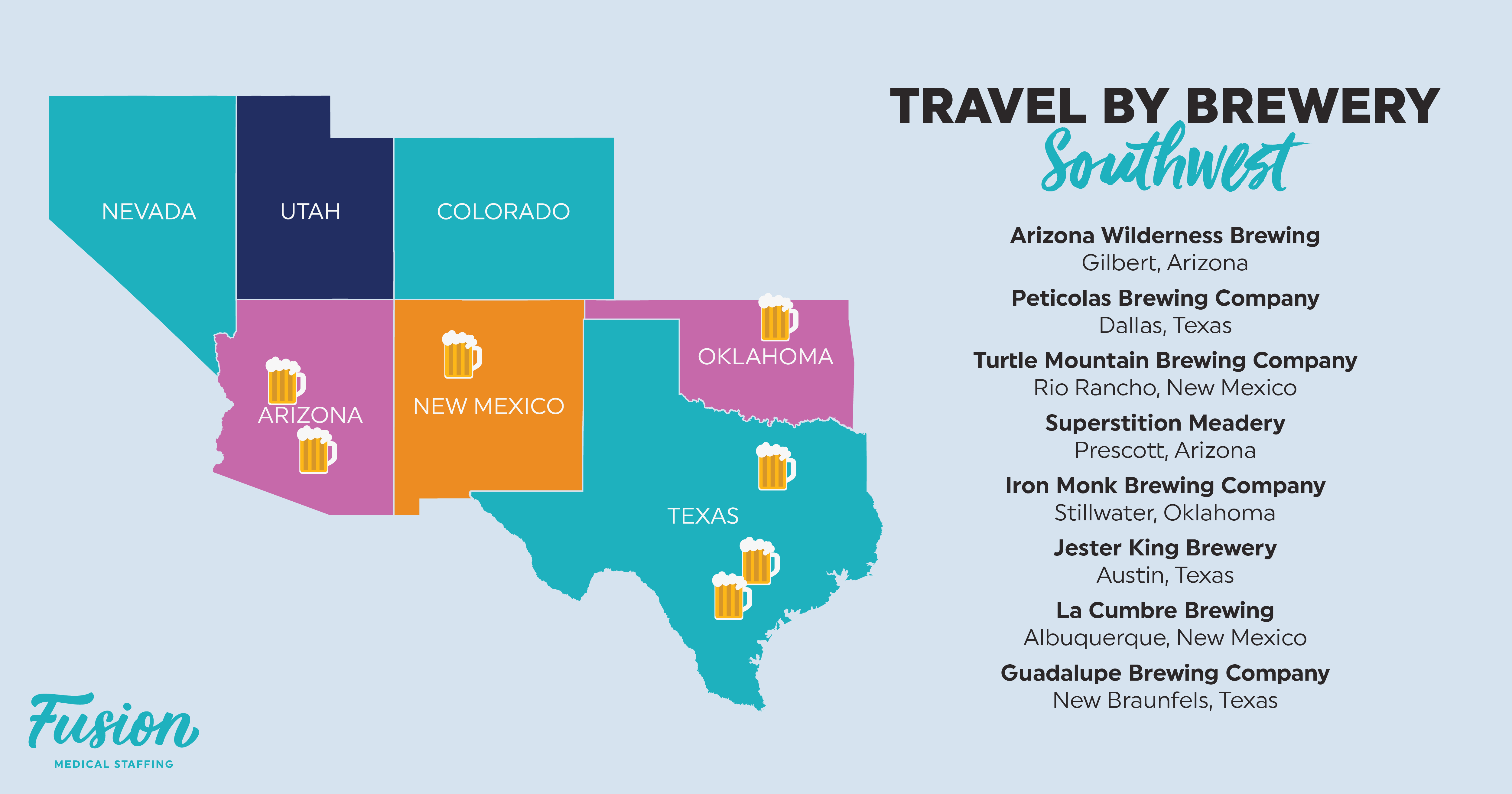 Arizona Wilderness Brewing in Gilbert, Arizona. Not to brag, but out of the 2,600 newly opened breweries in 2013, Arizona Wilderness Brewing was voted no. 1 for best new brewery in the world! Embracing Arizona agriculture and using regionally sourced ingredients, this brewery has created a beer and food menu that's uniquely Arizonan and supports local farmers!

Peticolas Brewing Company in Dallas, Texas. As one of the most well-known breweries in Texas, Peticolas has won more than 35 awards for its beloved beers. Complete with a tri-level taproom and light fixtures made from the first kegs ever purchased by the brewery, plus an open garage, there's plenty of room for you to spread out or play ping pong, foosball, board games, or ring toss!


Image from

newmexico.org
Turtle Mountain Brewing Company in Rio Rancho, New Mexico. With a goal to serve the surrounding community with high-quality, but affordable food and drinks in a comfortable, "Cheers-style" atmosphere, it's no surprise Turtle Mountain Brewing Company is a local hot spot.


Superstition Meadery in Prescott, Arizona. You don't have to be superstitious to fit in at this pub. Instead of serving your typical ales, Superstition Meadery serves Mead, otherwise known as honey wine. This beer is made from yeast-fermented water and honey with a cornucopia of optional ingredients thrown in. But the best part are the whimsical names of the brew—Blueberry Spaceship Box, Peanut Butter Jelly Crime, Flamingo Croquet, and more!


Iron Monk Brewing Company in Stillwater, Oklahoma. Believe it or not, but Iron Monk was the first brewery in Stillwater, opened in 2014. Since then, the 14 tap beers, live events, and rotating food trucks keep the people coming back for more.


Jester King Brewery in Austin, Texas. The name isn't ironic—this brewery truly is fit for a king. Equipped with an event hall, farm, kitchen, and brewery, Jester King Brewery entertains weddings, receptions, anniversaries, birthday parties, and everyday guests. People come for the beer but stay for the goats.
American South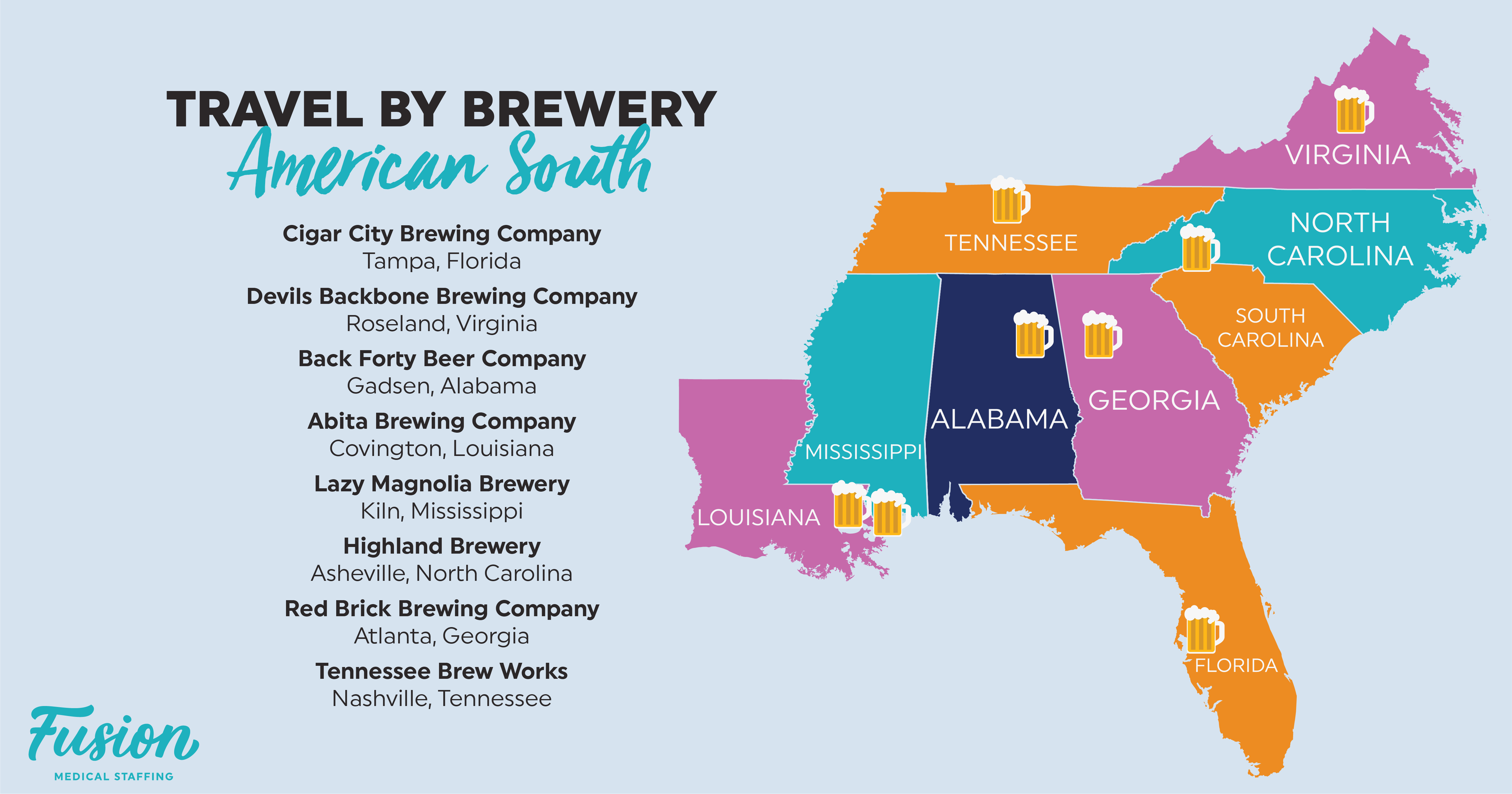 Cigar City Brewing Company in Tampa, Florida. Rated as the fourth best brewery in the world, the Cigar City Brewing Company celebrates Cuban culture with beers like Jai Alai IPA, the Florida Cracker, and the Cubano Espresso.


Devils Backbone Brewing Company in Roseland, Virginia. Complete with extensive beer flavors with both light and easy-drinking lagers, as well as stronger ales with global influences from Belgium, England, Austria, Scotland, and Ireland, this brewery has something for everyone. When you visit, make sure to notice the many awards on display!

Mountain states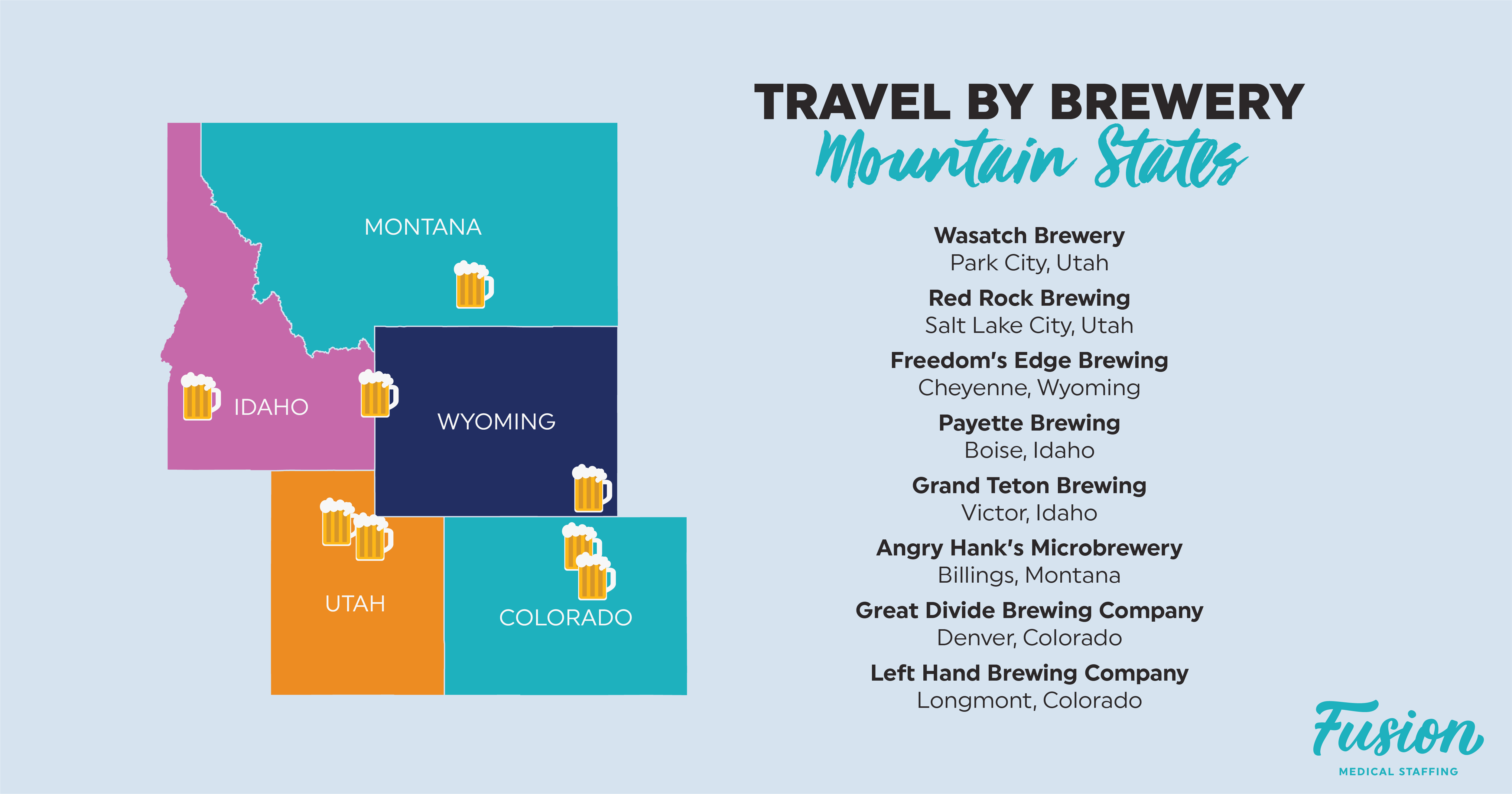 Angry Hank's Microbrewery in Billings, Montana. Despite the name, you're guaranteed to feel nothing short of joy when you enter Angry Hank's Microbrewery. Angry Hanks's produces a range of in-house brewed beers using the Montana-grown barley malted in Great Falls, yeast grown in-house, hops from Washington's Yakima Valley, and water sourced from the largest free-flowing river in the country.


Great Divide Brewing Company in Denver, Colorado. You don't just go to Great Divide for the nitro stouts, double IPAs, or seasonal beers. You also go for the artwork! As one of America's most decorated breweries, Great Divide offers tours and private party rooms. The best part? Their packaging is recyclable!


Left Hand Brewing Company in Longmont, Colorado. They started from the bottom, now they're here! Tired of the same bland and dated beer choices, the owners set out to create the kind of beer that makes your tastebuds dance. And did they!
As you can see, Fusion is all about connecting over a beer or two. I mean, our affiliation with PT Pub Night is proof.
...Hold up, what's PT Pub Night?
It's a community and event gathering where physical therapy (PT) students and professionals can get together and talk about their passion, ideas, and experiences in the field to help each other grow and bond in the PT profession. Beer isn't mandatory, but talking and problem-solving is. We find that our Fusion travelers and students get a lot of value out of these continual events.
Wanna check it out? Visit the PT Pub Night website and learn more!
If you're ready to travel the country one brewery at a time, then kick off your career as a professional med traveler! Not sure if you have the right experience to be a traveler? Find out what you need to do in order to hit the road and begin your adventure.