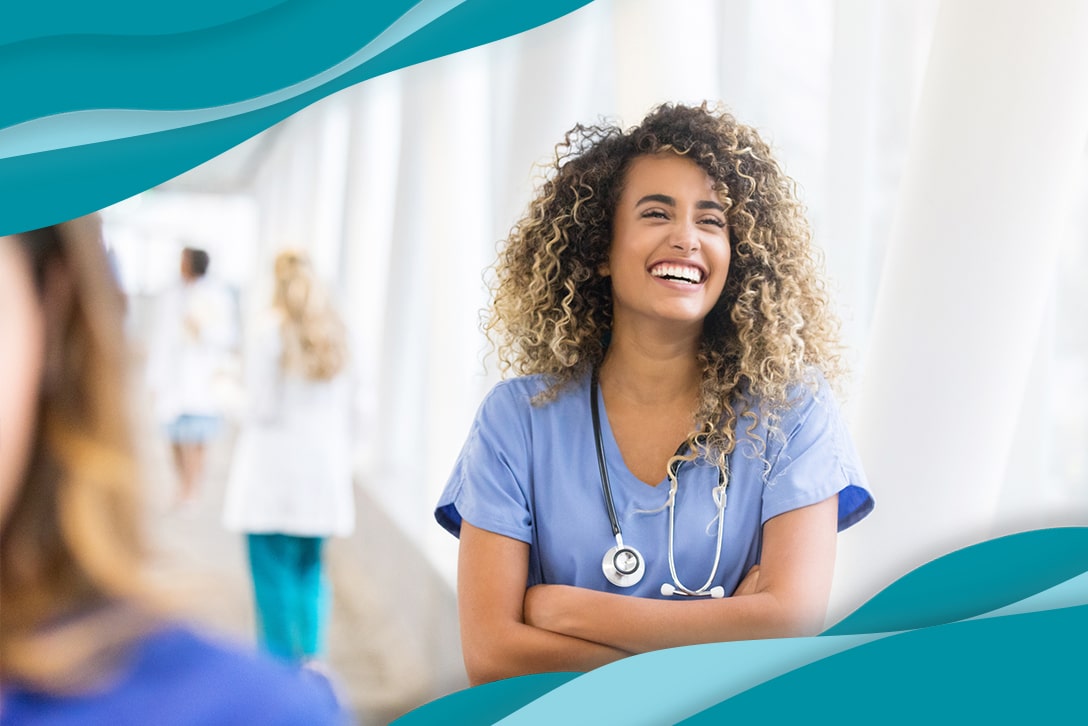 You already know the perks of being a professional medical traveler — competitive compensation, the chance to travel the country, and opportunities to increase your skill set. But did you know that you can receive even more benefits when you travel with Fusion Medical Staffing?
Traveler Benefits Breakdown 2023 | Fusion Medical Staffing
At Fusion Medical Staffing, we know that life is easier when you're covered. That's why we offer incredible benefits to give you peace of mind while you're working your medical travel job. Even better, your spouse, domestic partner, and children are also covered with Fusion Medical Staffing.
To gain access to Fusion Medical Staffing traveler benefits, enroll when you start working with the company. Otherwise, you can enroll during the open enrollment period or at the time of a qualifying life event, such as marriage, divorce, gain or loss of coverage, or birth or adoption of a child.
We have what you need from medical insurance plans to an employee assistance program (EAP) to 401k investment. These are the benefits you're eligible for when you travel with Fusion Medical Staffing.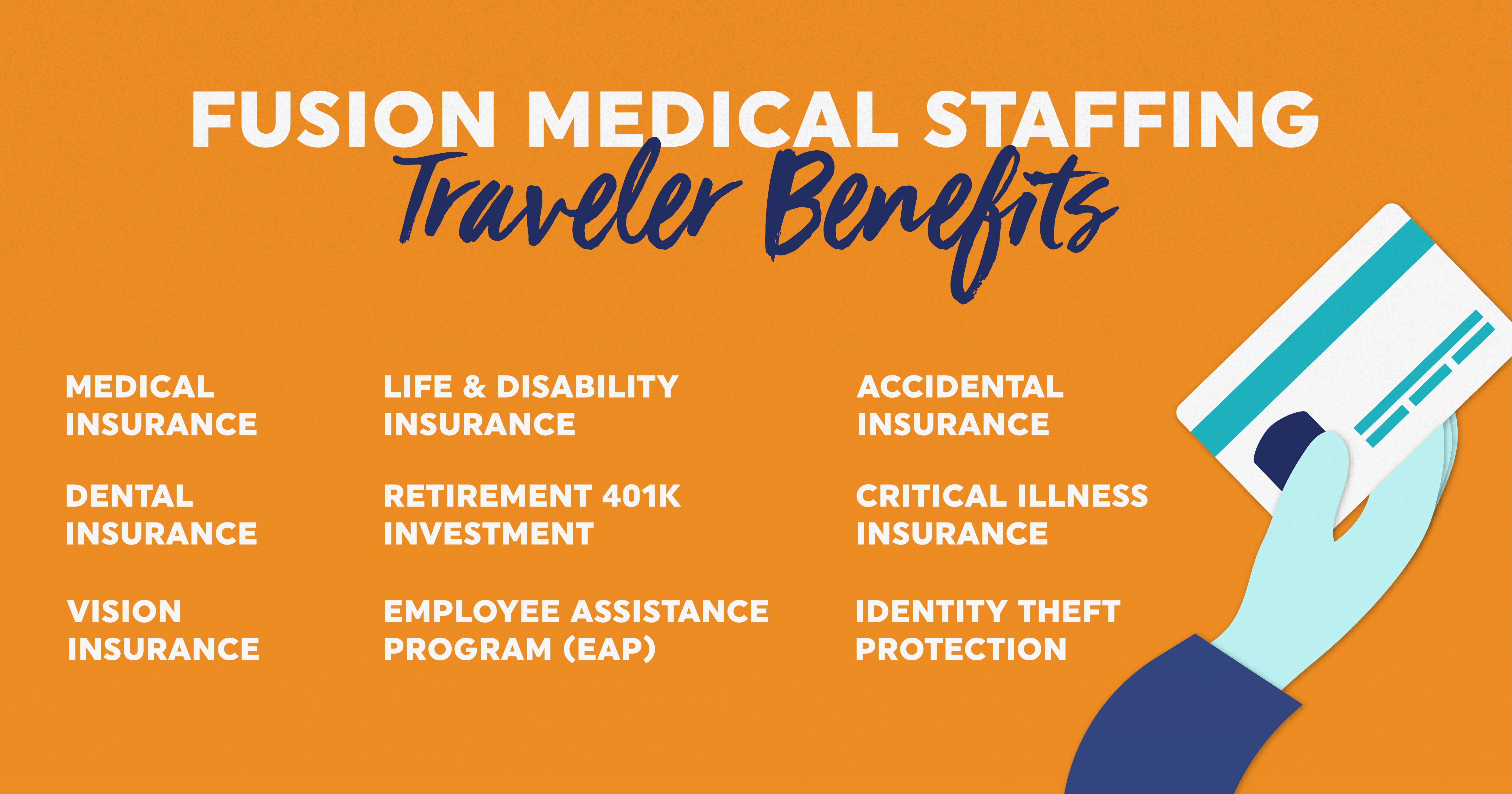 Medical plan options
Having health insurance is essential for professional travelers. With comprehensive medical insurance, you can be confident that any medical expense incurred during your travels will be taken care of without putting you into financial debt.
As a Fusion traveler, you have options when it comes to health insurance. Fusion Medical Staffing offers three preferred provider organization (PPO) medical insurance plans through Highmark BlueCross BlueShield: one low-deductible PPO and two high-deductible PPO plans.
Each PPO plan has a calendar-year deductible. What's a deductible? A deductible is an amount you pay for health services before insurance starts to help pay. So, how do you know which insurance plan you should sign up for?
Imagine this: you wake up one day feeling sick and decide to schedule an office visit. With the low-deductible PPO insurance plan, you'll pay a set copay for the visit. However, if you enroll in one of the high-deductible PPO plans, you'll be responsible for the full cost of services until the deductible is met. Once the high deductible is met, the plan will cover 100% of services. If you prefer to know the exact amount that you'll pay for each doctor's visit or medical expense, a low-deductible PPO plan may be right for you. But if you only go to the doctor for your annual visits and have no reoccurring medications, you may not be as concerned with having a copay and choose to go with a high-deductible plan.
Regardless of your chosen medical plan, you're eligible to access additional Highmark resources. These services include virtual telehealth visits, diabetes prevention education, and resources for expecting mothers.
Dental plan options
Having dental insurance is an important part of taking care of your overall health. Regular visits to the dentist are essential for maintaining good oral hygiene and preventing gum diseases, cavities, and other dental issues that can negatively impact your health and well-being. If you're wondering if investing in dental insurance is worth it, let us be the first to say yes.
When you travel with Fusion Medical Staffing, you can choose between two Ameritas dental plans: a high plan or a low plan. Both plans cover 100% of your annual exams, cleanings, and X-rays. However, only the high plan has orthodontia coverage.
Which plan is right for you? Let's say that you only visit the dentist for your annual exams, cleanings, and X-rays, and you don't foresee any dental procedures in the near future. In that case, a low plan may be the right fit. On the other hand, if you or your child needs braces, you may want to consider the high plan, which includes orthodontia services.
No matter which dental plan you go with, Ameritas offers additional rewards for its members. All you have to do to reap the added benefits is visit your dentist at least once a year and keep paid claims under your benefit threshold, then you could carry over up to $250 to the next year's maximum.
Vision plan
Seeing is an integral part of the job of a healthcare professional, so it's important to have vision insurance. Not only does it provide coverage for routine eye exams and corrective lenses, but it can also help with more serious health issues related to eyesight, like glaucoma or cataracts.
As a Fusion Medical Staffing traveler, you have the option to enroll in vision coverage through Ameritas VSP Choice Network. This vision plan offers an annual eye exam covered in full, as well as an allowance for new glasses or contact lenses with no copay for scratch resistance and UV coating.
Retirement 401k plan
Although retirement may seem like a long way away, future you will thank you for investing in a 401k. Having a 401k is an important part of your financial security because it allows you to save for retirement while also taking advantage of tax incentives and employer-matching contributions. Investing in a 401k now could mean more money available for retirement later on down the road.
Fusion Medical Staffing offers Roth and pre-tax retirement plans for medical travelers through Empower Retirement. Employees are eligible to start contributing to their 401k after 30 days of employment, which is also when Fusion Medical Staffing will start matching contributions. The matching contributions are calculated at 100% for the first 3% and 50% for the next 2% of employee contributions.
Employee assistance program (EAP)
Another perk of traveling with Fusion Medical Staffing is gaining access to the Lifeworks EAP. Through Lifeworks, Fusion travelers and their family members have access to free and confidential support. Whether you're in need of mental, financial, physical, or social resources, the Lifeworks EAP has what you need. Plus, Lifeworks offers 24/7 confidential support, five free counseling sessions, and a perks and discounts program when shopping online.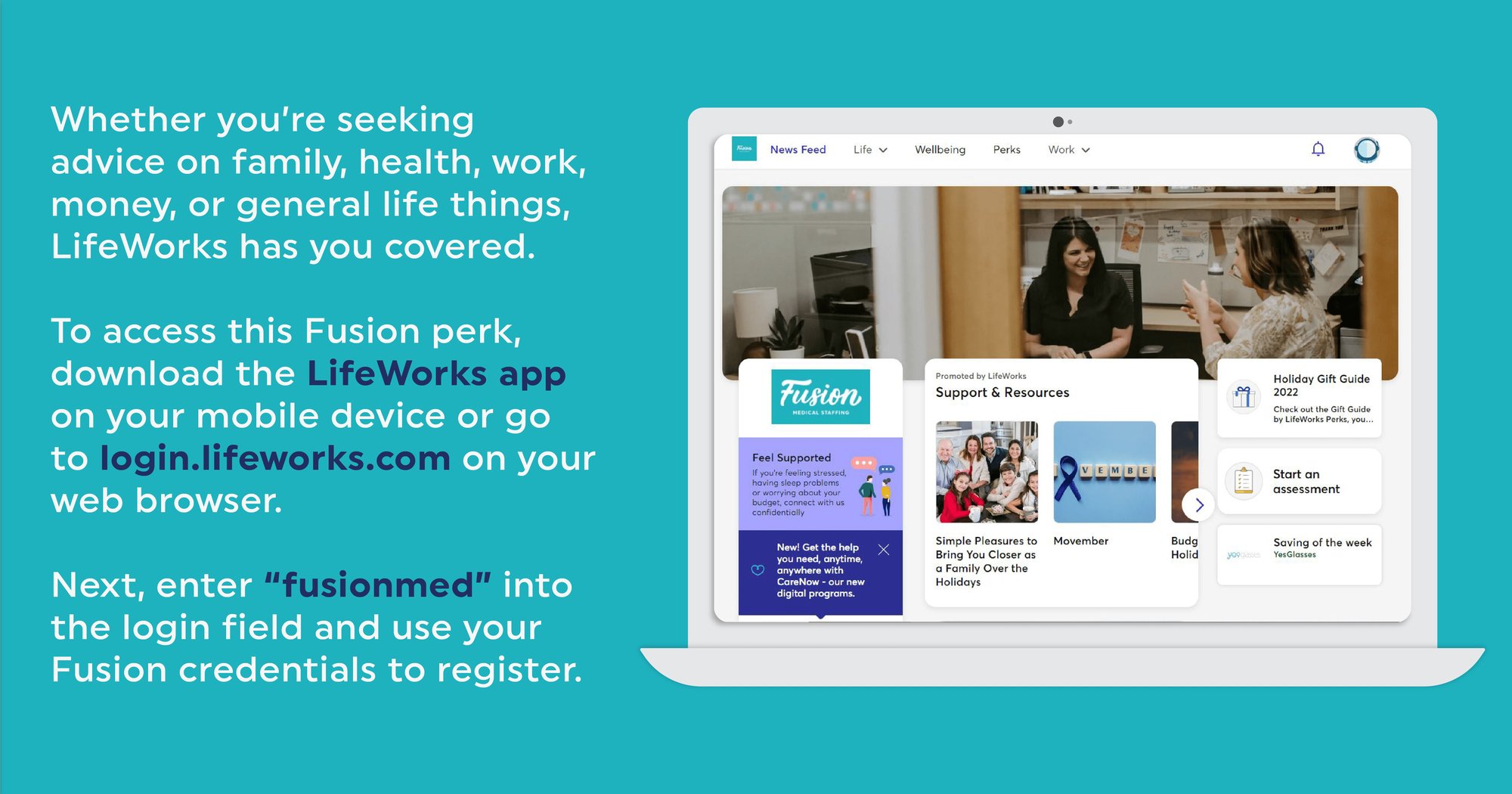 Voluntary benefits
In addition to health, dental, and vision insurance, Fusion Medical Staffing also offers voluntary benefits, including accident insurance, critical illness insurance, and identity theft protection. These added benefits are not meant to replace your medical insurance coverage, but to supplement what you currently have. Check out the pros of these voluntary benefits.
Accident insurance
Provides a cash benefit in the event of an accidental off-the-job injury
Payment can be used for everyday living expenses
Receive a $50 annual wellness benefit when you get your annual checkup


Critical illness insurance
Provides a cash benefit to help cover costs of covered critical illnesses
There is no exclusion for pre-existing conditions
Coverage is available to employees, their spouses, and their children


Identity theft protection
Offers identity and credit monitoring for yourself and your family members
Includes 24/7 remediation assistance
Provides a $1 million insurance policy
Fusion Medical Staffing has you covered. As a Fusion Medical Staffing traveler, you have access to top-tier benefits, including medical insurance coverage, vision insurance, and critical illness insurance. Plus, other perks like weekly per diems, housing assistance, and high-paying job opportunities. Become a Fusion Medical Staffing traveler and start reaping the benefits!
Have questions about your Fusion Medical Staffing traveler benefits? Contact the Benefits Team at Benefits@FusionMedStaff.com.