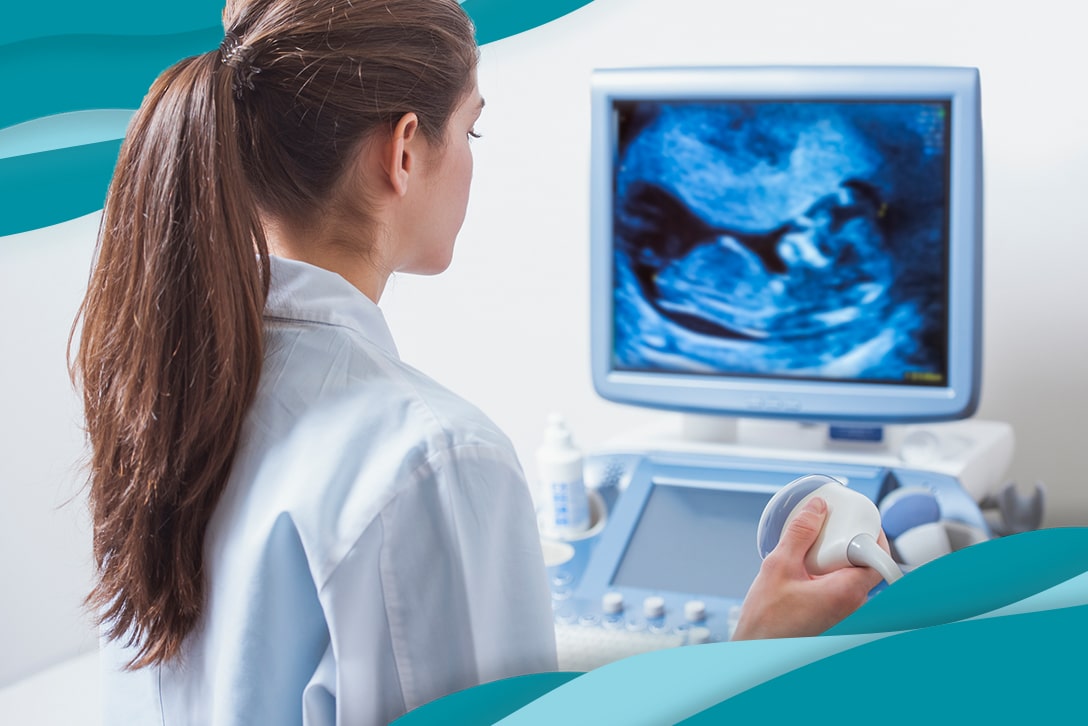 Have you ever wondered who operates ultrasound imaging equipment to get a better view of a patient's insides? The answer: diagnostic medical sonographers, also known as an ultrasound technician. Let's learn all about these medical professionals and their healthcare field and explore these different topics:
What Is a Diagnostic Medical Sonographer?
What does an ultrasound technician do?
Diagnostic medical sonographers are healthcare professionals who specialize in the use of diagnostic imaging technology. Sonographers use sophisticated healthcare machines, such as ultrasound equipment and other imaging technologies, to create images of a patient's internal organs and tissues. These images help physicians diagnose medical conditions, such as blood clots, pregnancy, and cancers.
In addition to operating the diagnostic imaging equipment, the listed responsibilities on a diagnostic medical sonographer job description may include:
🩺 Reviewing images to ensure they're good quality and helpful for diagnosis
🩺 Identifying normal and abnormal imaging results
🩺 Communicating a summary of the imaging results to the patient's care team
🩺 Preparing patients for procedures and educating them throughout the imaging process
🩺 Reviewing patient medical history, recording imaging results in patient files and coordinating additional care
How to become an ultrasound technician
Does sonography interest you? Perhaps it's time for you to become an ultrasound technician! These are the steps for how to become a registered diagnostic medical sonographer.
First, you must consider which educational path is right for you: an associate or bachelor's degree. Your decision may depend on whether you want to go to school for two or four years. If you already have a degree and want to transition into medical sonography, then you can earn a certificate in order to practice.
From there, it's time to enroll in an accredited ultrasound technician or sonography program from a school accredited by the Commission on Accreditation of Allied Health Education Programs (CAAHEP). During diagnostic medical sonography training, you'll gain hands-on experience by working in a hospital or healthcare clinic. Here, you'll be able to work alongside professional ultrasound techs and put the skills you learned in the classroom to the test in the real world.
After graduating from an accredited sonography program, you may consider earning certification through the American Registry for Diagnostic Medical Sonographers (ARDMS). While it's not required for every state, most employers require certification to practice healthcare. Plus, getting certified can help you secure sonography jobs in a competitive market.
Types of ultrasound techs
Ultrasound technicians have a variety of specialties within their field. Each specialized sonographer field requires different training in order to learn how to use the necessary equipment for that particular type of scan. These are the different types of ultrasound techs.
Obstetric and gynecologic (OB/GYN) sonographer
You've heard of an OB/GYN, now get ready for an OB/GYN sonographer. These medical professionals specialize in using ultrasound technology to diagnose and treat various conditions related to the female reproductive system. With their expertise, obstetric and gynecologic sonographers are able to create images to look at the uterus, ovaries, and other organs related to women's health or reproductive health. Doctors can identify potential problems such as fibroids or cysts through these images before they become serious issues.
OB/GYN sonographers must be knowledgeable about fetal development and anatomy so that they can accurately interpret the images for diagnostic purposes. Additionally, some OB/GYN sonographers monitor fetal health, provide prenatal care advice and support during pregnancy scans. These medical professionals play an important role in providing comprehensive healthcare solutions to women of all ages.
Abdominal sonographer
Are you curious about the liver, gallbladder, pancreas, kidneys, or spleen? Then maybe abdominal sonography is an option for you! Abdominal sonographers specialize in using abdominal sonography machines to generate images of the organs found in the abdomen.
This type of ultrasound tech is responsible for providing detailed images of the abdominal organs and helping physicians diagnose medical conditions or abnormalities. Abdominal ultrasound techs look for cysts, tumors, blockages, and blood clots.
Musculoskeletal sonographer
The musculoskeletal system is the body's central framework, consisting of cartilage, tendons, and ligaments. Musculoskeletal ultrasound technicians know the importance of this body system and use their strong technical skills to get a better view of how they function.
Using ultrasound technology, these diagnostic medical sonographers create detailed images of muscles, ligaments, joints, and tendons within the body. Musculoskeletal sonography provides diagnostic information that can help physicians diagnose musculoskeletal conditions like arthritis, tendonitis, and bursitis. By using cutting-edge technology, musculoskeletal ultrasound techs play a vital role in providing accurate diagnoses for patients suffering from musculoskeletal disorders.
Vascular sonographer
The vascular system, also known as the circulatory system, is made up of the vessels that carry blood and lymph throughout the body, including arteries, blood vessels, veins, and capillaries. To assess these parts of the body, we need vascular technology specialists.
Vascular technologists specialize in high-frequency sound waves to create images of veins, arteries, organs, and other tissues inside the body. By accurately capturing these images, these medical professionals can help physicians detect potential problems or irregularities within the cardiovascular system before they become serious health issues.
Cardiac sonographer
Did you know that heart disease is the leading cause of death in the U.S.? That's why cardiac sonographers, or echocardiographers, are so important to our healthcare system.
These medical professionals operate ultrasound equipment to diagnose and treat heart conditions. Echocardiographers capture detailed images of the heart to examine the heart's chambers, valves, and vessels. Then, they assist physicians in interpreting these images and developing a treatment plan depending on the patient's condition. Additionally, cardiac sonographers may also be involved in therapeutic procedures such as angiograms or catheterization.
Ultrasound technician job outlook
The future of sonography is bright. According to the U.S. Bureau of Labor Statistics, the demand for ultrasound techs will grow 10% between 2021 and 2031, which is much faster than the average for all occupations. This surge in demand can lead to a higher average salary and is due to an increasing emphasis on preventative healthcare and technological advancements that allow for more accurate and safer imaging.
What is a travel diagnostic medical sonographer?
Ultrasound technicians can take their careers to the next level by becoming allied health travelers. Most diagnostic medical sonographers travel from one location to another to offer their services where needed most. Oftentimes, these medical professionals are needed to fill staffing shortages in hospitals, clinics, and other healthcare facilities.
Life as a traveling ultrasound tech provides the opportunity to experience different parts of the country while doing meaningful work that improves the lives of others. As a traveler, you'll have the chance to work in multiple healthcare settings throughout the year and learn something new everywhere you go.
Plus, medical travelers typically make more than their perm counterparts. The average traveling diagnostic medical sonographer salary is around $86,787 but can vary depending on your education, certifications, additional skills, and years of experience. If you're looking for an adventure and a fulfilling career, consider traveling as an ultrasound tech.
Start your travel diagnostic medical sonography career with Fusion Medical Staffing
Are you ready to take the plunge into a travel career? Start traveling with Fusion Medical Staffing! With years of experience in the staffing industry, Fusion Medical Staffing knows how to help you find the travel job you want, considering location preferences, salary requirements, and other factors important to you. As an added bonus, Fusion Medical Staffing also offers competitive pay, comprehensive benefits, and personalized support from healthcare professionals like you. Ready to start your travel sonography career? Fill out the Fusion Medical Staffing skills checklist!
Search for travel sonography jobs
Frequently asked questions
Diagnostic medical sonographers vs ultrasound technicians: what's the difference?
Now, you may be wondering, what's the difference between an ultrasound technician and a diagnostic medical sonographer? To keep it simple, ultrasound tech and sonographer are mostly interchangeable terms. However, the more complex answer is that sonography is the full study of ultrasound technology, and ultrasound can refer to the final product or the act of creating that product.
Where do ultrasound techs work?
Ultrasound techs and medical diagnostic sonographers often work in hospitals and other healthcare facilities where physicians rely on sonographic images to diagnose and develop treatment plans for patients. In this setting, these medical professionals may work with diverse individuals with a variety of conditions, including illness, disease, injury, and abnormal conditions in the body.
How much do sonographers make?
A career as a medical sonographer offers a competitive salary, with most professional ultrasound techs making an average annual salary of $77,740. According to the Bureau of Labor Statistics, the top states for sonographers include California, Texas, New York, Florida, and Ohio.
Diagnostic medical sonographers are part of a rewarding career path that makes a real difference in people's lives. As an ultrasound technician, you can provide patients with essential information about their health and give them the care they need. Plus, as technology advances and more sophisticated tools become available for sonographers to use, your job prospects will only continue to grow.