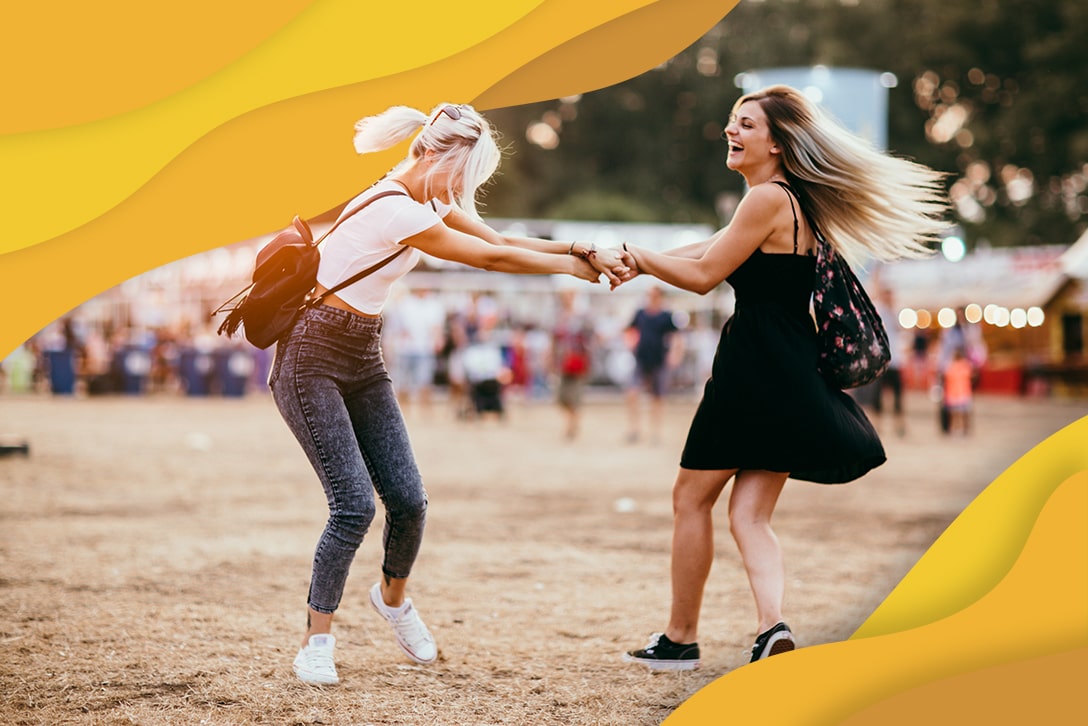 Raise your hand if you're ready for sunshiny days, green grass, and warm weather. 🙋 No matter where you're working your medical travel job, springtime brings all these things. And what better way to enjoy the great outdoors than at a festival? From art shows to food festivals to live music, spring festivals have something for everyone. Use this guide to help you find the best springtime festivals near your travel destination!
Your Guide to the Best Springtime Festivals in the U.S.
Spring food festivals 2023
From fresh produce and artisanal foods to unique flavors from around the world, food festivals offer up plenty of deliciousness for all types of eaters. As an added bonus, many food festivals also include live music performances! If you're ready to take your taste buds on an adventure, consider attending a food festival during your time off. Can't find a festival near you? Check out the full list of 2023 U.S. food festivals.
Taste Washington
The Taste Washington Food Festival is an opportunity to sample some of the best local cuisines in the Pacific Northwest. Held annually in Seattle, this festival brings together chefs from across Washington state, as well as wineries, breweries, and distilleries. Attendees can enjoy delicious dishes such as oysters on the half-shell, Dungeness crab cakes with sweet chili sauce, and wild salmon tacos with mango salsa. There are also plenty of opportunities to learn about food production methods and get tips for cooking at home from expert chefs.
Search for Washington travel jobs
SoCal Taco Fest
The SoCal Taco Fest is an annual event that takes place in the spring to celebrate tacos and other Mexican-American food. This popular event attracts thousands of people from all over California who come to indulge in taco-inspired dishes, tequila tastings, and craft beer. From tacos to burritos, enchiladas to taquitos, and everything in between, you'll find a taco-inspired creation to satisfy your cravings.
Search for California travel jobs
Bacon Festival
The Bacon Festival is one of the most unique spring festivals around. Every year, thousands of people flock to this small town for a weekend full of bacon-centric fun and festivities. From bacon-eating contests to live music performances featuring local bands playing their own original songs about bacon, there's never a dull moment at the Bacon Festival. Whether you're looking to sample some creative new recipes or just want an excuse to indulge in some good old-fashioned bacon goodness, the Bacon Festival is sure to please even the pickiest eaters!
Search for Tennessee travel jobs
Spring music festivals 2023
There's something about music that brings people together on another level. Not only are music festivals a great way to celebrate springtime, but also to enjoy a wide range of live music performances from some of your favorite artists in an exciting atmosphere. Music festivals allow people to escape from the everyday stresses and worries of life and instead immerse themselves in a lively environment full of energy and positivity. So if you're ready to get your groove on this spring season, be sure to check out what's happening at your nearest music festival. These are our top picks, but you can find more 2023 music festivals here!
Get Lucky Festival
Dance your way into the spring season on the shores of the Great Salt Lake at the Get Lucky Festival. This two-day festival features electronic dance music from artists including Griz and Gryffin. Attendees can look forward to an electrifying atmosphere at the Great Saltair venue. Whether you're looking to get down on the dance floor or just soak up some great vibes, the Get Lucky Festival will satisfy your needs.
Beyond Wonderland
Take a leap down the rabbit hole for this "Alice in Wonderland" themed music festival. The festival features some of the biggest names in EDM, as well as up-and-coming artists from all over the world. Beyond Wonderland brings together a vibrant atmosphere and electrifying energy for two days of nonstop fun. The event is held at the National Orange Show Events Center in San Bernardino and includes multiple stages with a variety of musical genres ranging from trap to house music.
Search for California travel jobs
Sunfest
The Sunfest Music Festival in West Palm Beach is Florida's largest waterfront music and art festival. This three-day event celebrates the arrival of spring with an eclectic mix of musical acts. Held at the beautiful Downtown West Palm Beach, this popular festival draws thousands of music fans each year who come to hear top names in rock, pop, country, and more.
Search for Florida travel jobs
Spring art festivals 2023
Did you know that viewing art releases dopamine, aka the happy chemical? If you're looking for a mood booster, visit a spring art festival! With sculptures, paintings, photography, mixed media installations, and more, art festivals provide visitors with a unique opportunity to explore the world of art in all its forms. Whether you're looking for something traditional or edgy, something is sure to appeal at an art festival near you.
Affordable Art Fair NYC
The Affordable Art Fair NYC (AAF NYC) showcases a diverse range of artwork from around the world, with pieces ranging from painting and sculpture to photography and prints. Prices are kept low so that everyone can enjoy this unique experience, regardless of their budget. Each year, artists come together to showcase their work in one convenient location for all to explore. From emerging talent to established names, AAF NYC offers something for everyone interested in discovering new art and celebrating the season's vibrant colors and energy.
Search for New York travel jobs
Tempe Festival of the Arts
The Tempe Festival of the Arts celebrates the diverse culture and artistry of the city with a variety of creative activities for all ages to enjoy. You can peruse works from local artists as well as national ones, shop handmade crafts and jewelry, take part in interactive workshops led by professional artists, watch street performers, and enjoy tasty treats from a wide array of vendors. With so much fun packed into one weekend it's no wonder why people come back year after year to experience the unique atmosphere created by this special celebration.
Search for Arizona travel jobs
Waterway Arts Festival
Going to the Waterway Arts Festival is a great way to explore the creative spirit of Texas. With interactive activities for children and live performances by local musicians, it's an unforgettable experience for all ages. Plus, you can also enjoy delicious food from a variety of food trucks throughout the day. Whether you're looking for unique artwork or just want to listen to some great music while enjoying the sunshine, head down to the Waterway Arts Festival.
Spring festivals are a great way to celebrate the warmer weather, get together with friends, and experience cultural traditions from around the world. No matter if you're looking for an outdoor adventure or simply want to enjoy some local food and good music, there's sure to be something that suits your interests at these springtime festivals. So don't miss out! Find a medical travel job that will put you in the same town as one of these spring festivals.