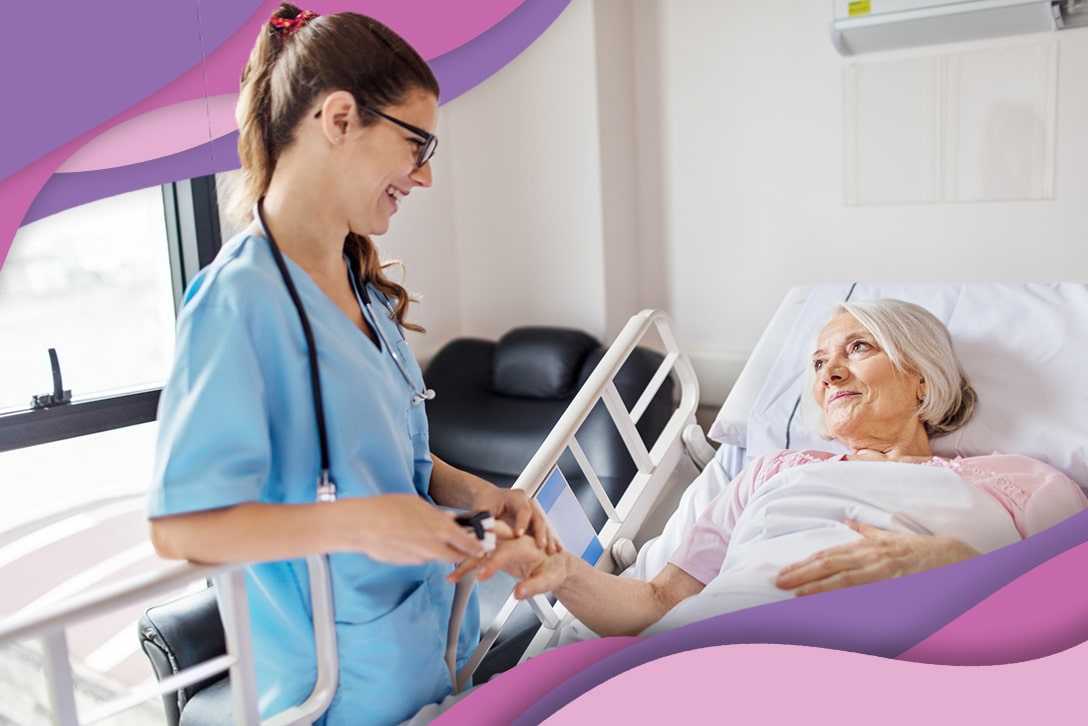 If you've ever wondered about medical-surgical nursing, then you've come to the right place. In this overview, we'll start by exploring what is a med-surg nurse, what a med-surg nurse does, and how to become a med-surg nurse! Here are all the topics we'll hit:
Med-Surg Nursing Overview
What does a med-surg nurse do?
Medical-surgical nurses, or med-surg nurses, are registered nurses (RNs) who specialize in providing care to patients before, during, and after medical procedures, as well as patients recovering from surgical procedures, serious illness, an emergency-department stay, or patients who don't require specialized care. In other words, med-surg nurses care for patients who aren't well enough to go home but aren't sick enough to need specialized nursing care.
Providing care to a variety of patient populations ranging from newborns to the elderly, most med-surg nurses spend their days in the med-surg unit assessing and monitoring vital signs, administering medications, and performing diagnostic tests like imaging studies to help improve patient outcomes.
Medical-surgical nursing responsibilities
At the forefront of a med-surg RN's job responsibilities are patient safety and patient care. While the specific job duties might vary, medical-surgical nurses typically have the following responsibilities on the med surg floor:
🩺 Administer medications
🩺 Perform patient assessment including check vital signs
🩺 Provide family and patient education on care
🩺 Collaborate with patient care teams to track progress and patient care
🩺 Operate various equipment, like catheters, feeding tubes, IVs, and oxygen tanks
🩺 Provide wound care
🩺 Performing tests and assessments
🩺 Update patient records with patient care, needs, and progress
🩺 Respond in life-saving situations
Medical-surgical RNs use their nursing skills to promote overall health, improve patient outcomes, prevent disease, and provide support to patients and their families as they cope with illness and medical issues.
What is a med-surg care unit?
Typically, you'll find these nurses in medical-surgical units in hospitals. A med-surg unit is a specific area of a hospital or healthcare facility where a medical team of healthcare professionals provides medical-surgical care to multiple patients. The medical-surgical unit team may include nurses, surgeons, physicians, physical therapists (PTs), occupational therapists (OTs), and additional patient advocates.
Med-surg units are often fast-paced because they see a high volume of patients transferred from other care units, including acute care centers or emergency rooms. On the med-surg floor, patients might be treated with various medical conditions such as advanced infections, chronic obstructive pulmonary disease, amputations, congestive heart failure, diabetes, hip and knee replacements, traumatic brain injuries, and urinary tract infections (UTIs).
How to become a med-surg nurse
Interested in stepping into the spotlight as a medical-surgical registered nurse? To become a med-surg RN and provide care in a med-surg care unit, you must first receive either an associate degree in nursing (ADN) or a bachelor's degree in nursing (BSN) from an accredited nursing school. Once you've completed your ADN or BSN program, you must pass the National Council Licensure Examination (NCLEX) to get licensed as a registered nurse.
Now that you're a licensed RN, it's time to gain experience in the medical surgical field. Start by applying for med-surg internships where you can develop your skills and clinical knowledge under the supervision of a seasoned medical-surgical nurse. If you are already an experienced nurse, you might be eligible to complete a nursing specialty training program and transfer to the med-surg unit to gain clinical hours.
Many med-surg nurses choose to pursue additional specialty nursing certification or advanced degrees in clinical knowledge areas such as critical care, wound care, and emergency nursing to expand their knowledge base and gain more expertise in the field. Additionally, you can increase your earning potential by getting a certified medical-surgical registered nurse (CMSRN) or a medical-surgical nursing certification through the American Nurses Credentialing Center.
How much do medical-surgical nurses make?
On average, the salary is about $74,000 a year for med surg nursing positions. However, a med-surg nurse salary may vary based on several factors, including your level of education, experience, certifications, geographic location, and employer. Here's a chart to show the average med-surg RN salaries by state.
| | |
| --- | --- |
| State | Med-surg RN salary |
| Alabama | $64,870 |
| Alaska | $68,336 |
| Arizona | $68,856 |
| Arkansas | $59,688 |
| California | $78,947 |
| Colorado | $63,544 |
| Connecticut | $70,115 |
| Delaware | $63,405 |
| Florida | $62,604 |
| Georgia | $66,423 |
| Hawaii | $71,820 |
| Idaho | $74,375 |
| Illinois | $59,365 |
| Indiana | $68,415 |
| Iowa | $63,743 |
| Kansas | $64,011 |
| Kentucky | $60,806 |
| Louisiana | $64,901 |
| Maine | $73,007 |
| Maryland | $67,840 |
| Massachusetts | $73,893 |
| Michigan | $59,626 |
| Minnesota | $66,923 |
| Mississippi | $59,972 |
| Missouri | $63,085 |
| Montana | $69,571 |
| Nebraska | $66,745 |
| Nevada | $67,798 |
| New Hampshire | $79,763 |
| New Jersey | $69,149 |
| New Mexico | $63,492 |
| New York | $82,317 |
| North Carolina | $54,327 |
| North Dakota | $67,895 |
| Ohio | $66,446 |
| Oklahoma | $62,033 |
| Oregon | $64,929 |
| Pennsylvania | $70,320 |
| Rhode Island | $68,900 |
| South Carolina | $63,754 |
| South Dakota | $65,912 |
| Tennessee | $66,932 |
| Texas | $59,021 |
| Utah | $65,471 |
| Vermont | $75,359 |
| Virginia | $65,870 |
| Washington | $71,962 |
| West Virginia | $71,530 |
| Wisconsin | $66,808 |
| Wyoming | $73,528 |
Med-surg nursing job outlook
According to the Academy of Medical-Surgical Nurses, med-surg nursing is the largest nursing specialty in the U.S., meaning there are plenty of jobs for med-surg nurses available. Even better, the U.S. Bureau of Labor Statistics expects registered nursing jobs to grow by 6% between 2021 and 2031 creating more than 200,000 RN jobs across the country each year. Many of these openings are due to the nursing shortage, as well as medical professionals who transfer to different occupations or retire from nursing.
Where do med-surg nurses work?
Although you might find medical-surgical registered nurses in a variety of medical settings, acute care hospitals are the most common. You may also find these specialty nurses in outpatient surgical centers, inpatient clinics, home healthcare organizations, nursing homes, and schools. Increased opportunities are available for experienced nurses, like working independently in private practices or becoming nurse managers in various departments within hospitals.
What is a travel med-surg nurse?
If you think being a medical-surgical nurse sounds exciting, then get ready to learn about travel med-surg nursing. Traveling med-surg RNs travel across the country to fill staffing needs in healthcare facilities, such as hospitals, nursing homes, and outpatient facilities.
As a travel nurse, you'll get the chance to immerse yourself in different cultures and landscapes while doing rewarding work that makes a difference in people's lives. You'll have the flexibility to work in multiple locations throughout the year, allowing you to gain valuable experience in a variety of healthcare settings. Plus, the added bonus of higher pay makes travel med-surg nursing an attractive option for many nurses. So, if you're looking for the chance to combine adventure with meaningful work and great compensation, then look no further than becoming a travel nurse.
Benefits of becoming a travel med-surg nurse
The lives of travel med-surg nurses are exciting and come with numerous benefits. Not only do you get to explore new cities and cultures, but you can also gain valuable experience to help your med surg nursing career. Other perks include higher pay, more freedom and flexibility, and the chance to grow your career. Find out why travel nursing is worth it.
Pay
One of the major benefits of being a travel nurse is the potential to earn higher pay than staff nurses. Travel med surg nursing jobs, especially nursing specialty jobs, often come with attractive salary packages, and many travel nursing companies offer additional incentives and bonuses such as housing stipends, completion bonuses, and referral bonuses that can help boost your income even further.
Location
Another perk for travel med-surg RNs is the chance to travel the country and live life in multiple locations. Travel nursing provides an amazing opportunity for those looking to explore new places, experience other cultures, and gain valuable experience in the medical surgical setting.
Flexibility
Travel med-surg nursing is an incredibly flexible career path. For those looking for a life full of adventure and change, travel nursing may be the perfect option. Travel med-surg nurses have the freedom to choose when and where they work, allowing them to explore different parts of the country while still earning a living. With travel nursing, you can take med-surg unit assignments for as short or long as you want, giving you the opportunity to make your own schedule based on your own needs. Whether you're looking for something more stable or just want to experience new places around the country, being a travel med-surg nurse offers many advantages that staff nurses don't get.
Career growth
By taking on travel nurse assignments in different states, travel med-surg nurses are able to develop a variety of skills that may not be available at one particular facility. In addition to this, travel med-surg nurses attend patients from various backgrounds and perspectives which can add invaluable knowledge and insight into their practice.
Start your travel med-surg nurse career with Fusion Medical Staffing
Interested in starting your career as a traveling med-surg RN? Start traveling with Fusion Medical Staffing! With competitive pay, excellent benefits, housing assistance, personalized support, and other unique perks, Fusion Medical Staffing has what you need for a successful travel career. Get your travel career started and fill out the Fusion Medical Staffing med-surg skills checklist.
Search for med-surg travel jobs
Frequently asked questions
Is it difficult to become a med-surg nurse?
Becoming a med surg nurse can definitely be challenging, but it's so worth it. It takes a lot of hard work and dedication to make it through the rigorous education and medical surgical nursing certification process, and even more to stay on top of the ever-changing technologies in nursing practice and medical care. But at the end of the day, nothing beats that feeling when you know you've made somebody's life better.
Plus, with the incredible support of your fellow experienced nurses and physicians, you know there's someone there alongside you every step of the way. If you're looking for something worthwhile to aim toward, consider becoming a med-surg nurse.
Is med-surg nursing hard?
Med-surg nursing is a hard profession, no doubt about it, especially for a new med-surg nurse. But if you are up for the challenge of making a difference in people's lives and seeing them through some of their darkest days, then it is well worth the effort. Working in the medical surgical specialty can be incredibly fulfilling as you get to witness firsthand the impact you have on the well-being of your med surg patients. While it can be a difficult job, it is one that will leave you with an amazing sense of purpose and satisfaction. Additionally, no two days are ever the same so there's never a dull moment. If you're looking for an exciting nursing career path that will give you both professional and personal growth, the med-surg nursing specialty is a great option.
What kind of patients go to medical-surgical units?
Patients with a wide variety of medical and surgical needs are seen in the med-surg unit. These can range from those recovering from major surgical operations such as joint replacements to those receiving chemotherapy for cancer, or even patients who need help managing chronic conditions like diabetes or hypertension.
Being a med-surg nurse is a meaningful career that can provide you with the opportunity to make a difference in people's lives every day. It requires dedication, knowledge and empathy but it also provides an invaluable experience which will help you grow both professionally and personally. Take your med-surg nurse career even further and start traveling with Fusion Medical Staffing.