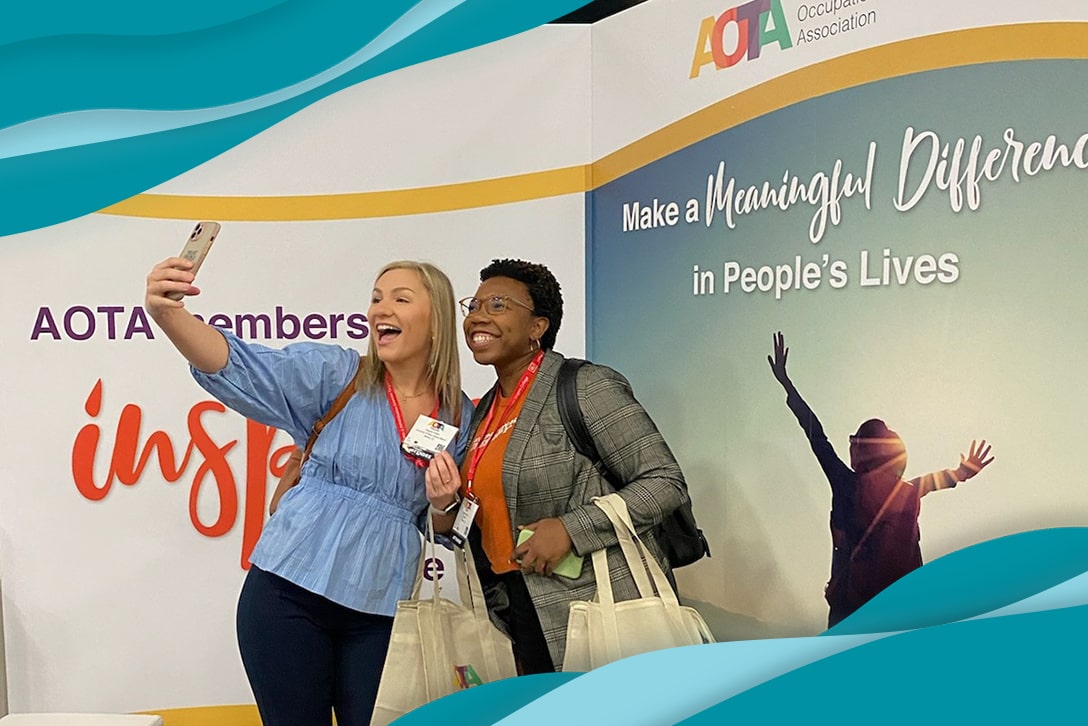 You know how med travelers from all modalities and divisions come together in Las Vegas each year for the Traveler's Conference (more lovingly known as TravCon)? Or how physical therapists (PTs) meet annually for the American Physical Therapy Association's (APTA) Combined Sessions Meeting (CSM)?
What OTs Can Take Away from AOTA INSPIRE
Well, get this: There's a specific conference for professional occupational therapists (OTs) held by the American Occupational Therapy Association (AOTA). It's called INSPIRE, and spoiler alert: It is, in fact, inspiring.
What is AOTA INSPIRE?
If you Googled "What is AOTA INSPIRE?", here's what you would find, courtesy of the INSPIRE event site: "AOTA INSPIRE is the place to expand your knowledge of the latest updates on practice, professional issues, and trends."
Now, if you asked us "What is AOTA INSPIRE?", we'd say something similar to the all-knowing Google. But we'd add that it's also the chance of a lifetime to meet and bond with fellow OT enthusiasts. I mean, who else will get excited about the nitty gritty of the OT profession with you and actually know what you mean? This annual conference is the largest OT-related gathering in the world, so you're bound to find at least one other person who gets you.
Of course, if you've never heard of or been to the AOTA conference, then you must be dying to know what there is to do once you're there. Answer: A ton!
Things to do
Hosted near the heart of downtown San Antonio, this year's AOTA INSPIRE conference came complete with Texas sights and attractions, in addition to the learning sessions and featured speakers. Here's some of what there is to do while you're at the conference:
No. 1: Fine tune your knowledge
Sure, you might already be a super cool and confident OT traveler, but guess what? There's still information out there for you to learn. And the AOTA INSPIRE conference is here to help you find out what you don't know. Even better, the information is spread out across multiple platforms, offering you more ways to engage. While at the AOTA conference, check out the:
Poster Sessions for a chance to learn and discuss cutting-edge research and findings
Technology Panels and Labs for more details on the technology products that help you do your job better
Workshops, whether intermediate or advanced, for in-depth, focused learning
Short Courses to soak in small bursts of knowledge
Scientific Research Panels for multiple perspectives on scientific research
Student Sessions to learn the basics of OT
Conversations That Matter for facilitated OT talk
Pro tip: Look up the event schedule ahead of time to get an idea of what sessions will be offered. Then, you can decide before you get to the conference which ones you want to attend and reserve your spot in advance. Bada bing, bada boom.
No. 2: Get inspired by speakers
When you're not bettering yourself in educational sessions, get inspired by the guest speakers! Each year, the conference invites several professionals to come and share their experiences, announce practice updates, and provide insights on how to elevate client care.
This year, the keynote speaker was Bertice Berry, PhD. Sociologist, best-selling author, award-winning lecturer, Comedian and Entertainer of the Year, and all-around inspiration, Bertice is overflowing with passion. She believes that everyone serves a unique purpose in life and that it's up to us to figure out what that is and use it not only be a better person, but also to create opportunities for others. You don't have to take our word for it when we say she's cooler than sliced bread. Take a listen to her keynote address and find out for yourself:
Of course, there are tons of other speakers who present at the AOTA conference—Lisa Mahaffey, PhD, OTR/L, FAOTA, Content Lead; Arameh Anvarizadeh, OTD, OTR/L, FAOTA, Content Lead; Kristie Patten, PhD, OT/L, FAOTA; and Katie Jordan, OTD, OTR/L, FAOTA, Content Lead to name a few. Each with their own perspective and expertise, there's a lot to learn from the AOTA speakers.
No. 3: Do as the locals do
Everyone knows that all work and no play makes [INSERT YOUR NAME HERE] a dull person. So, take advantage of your surroundings and think of the AOTA conference as a mini vacay: Do as the San Antonians do. Because what happens in San Antonio stays in San Antonio, right?
Lucky for you, there's a never-ending list of fun things to do in San Antonio. Even luckier, we narrowed down the list to make it more digestible. These are our fave things to do in San Antonio, in no particular order:
San Antonio is a city rich in diverse culture, mouth-watering cuisine, and thrilling attractions. So, there's plenty to keep you busy during AOTA down time.
Q&A with OT traveler, Dijah Guy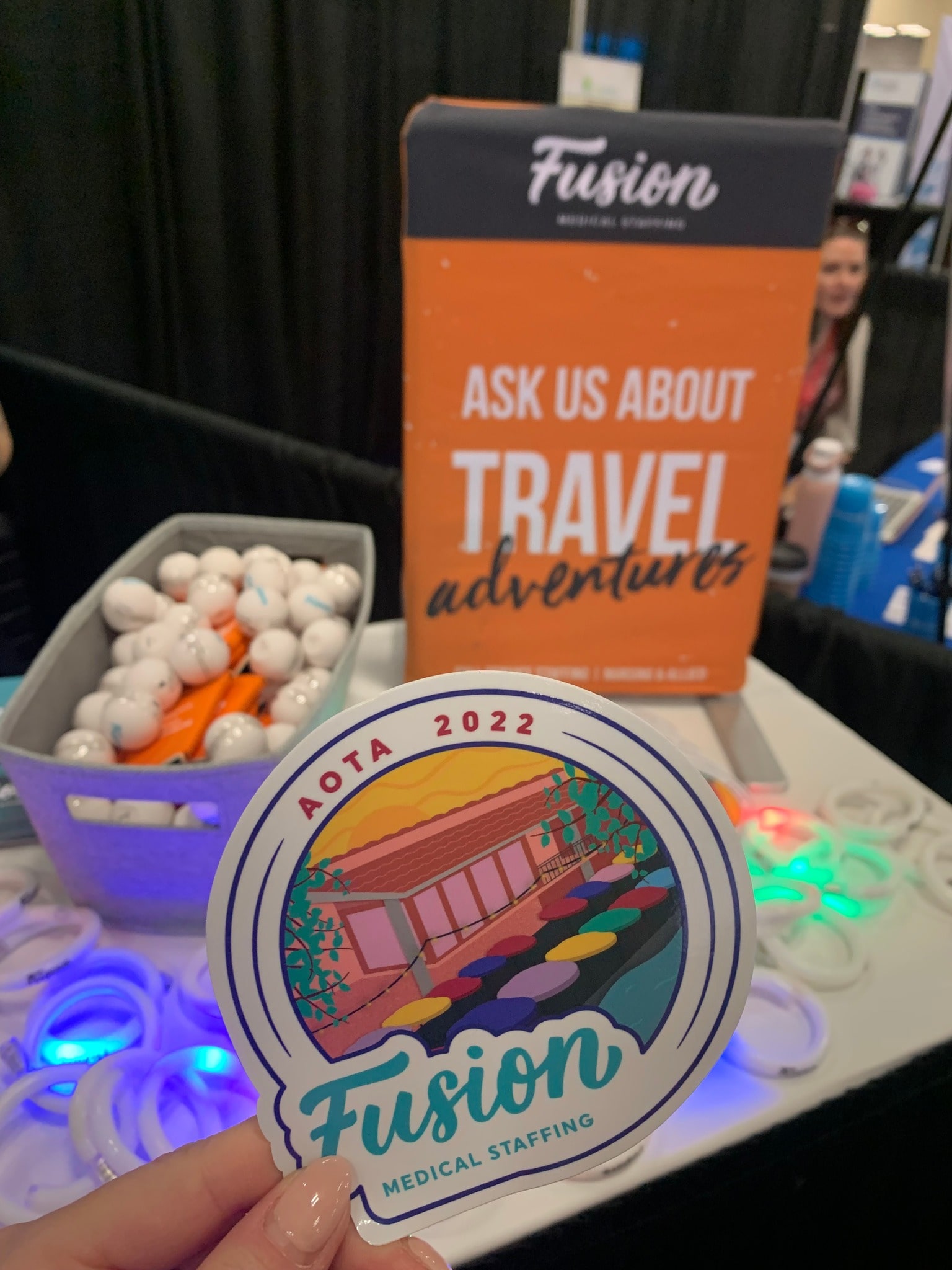 Trying something new, like going to a conference you've never been to, can be scary. But a lot of times, things that seem scary or intimidating are actually well worth the struggle. Here to prove it is Fusion traveler and AOTA attendee, Dijah Guy, OT.
Megan Bebout: Hi there! Thanks so much for sharing your AOTA conference experience with us. To get started, why would you recommend OTs attend AOTA INSPIRE?
Dijah Guy: Yes, thank you! I love conferences and anything related to furthering myself in the profession, so I'm happy to speak on my experiences. The annual AOTA conference is a time for networking, refreshing your view on the profession, learning about ways you can advocate for your profession and patients, and witnessing great speakers and testimonies as to why you should be proud to be a therapy practitioner. Being that it's a conference specific to our profession, I encourage going at least once in your time as a practitioner, student, faculty member, etc. to get some inspiration!
MB: That sounds like a great way to get a new outlook and learn more about the industry. There are thousands of medical conferences held each year, so what makes the AOTA conference different from other conferences?
GD: Specifically speaking, the AOTA conference is a national conference held just once per year. You can attend as an OT or as a healthcare practitioner. Various smaller conferences around the country are all year long but may not pertain to specific focus areas and specialty practice areas that interest you. They are usually smaller, depending on the entity or organization that hosts. AOTA is specifically for OT-based persons (faculty, students, practitioners, assistants, etc.), but they are courteous enough to invite or have the ability to host other professions.
MB: That's neat they invite other professions to find out more about OT! What was your favorite session at the conference?
GD: Personally, I felt very moved and encouraged after the Keynote Speaker, Dr. Bertice Berry, spoke. She gave her testimony and thanked our profession for "not giving up on her" and being "her advocate." She sustained a brain injury and lives with multiple sclerosis (MS), so she's received OT interventions and treatments throughout her adulthood.
MB: Oh, we've heard such great things about her! Other than listening to incredible keynote speakers like Dr. Berry, what do you, as an OT, get out of attending the conference?
GD: You gain the ability to network and meet OT practitioners, students, academic faculty, and inspiring people from all walks of life at the conference. You can attend a workshop, go to a Short Course tailored to your liking or specific practice, buy new books that have been published by our press, and so much more. I personally like to go to refresh my educational aspects of practice, learn about new research that's coming out, and try to develop a new research question for myself to work on and for completion of any systematic reviews that pique my interest. I also love the Poster Sessions, seeing old faculty of mine from Creighton University, and the Expo Hall for discounts and deals on stuff I use in-clinic day-to-day.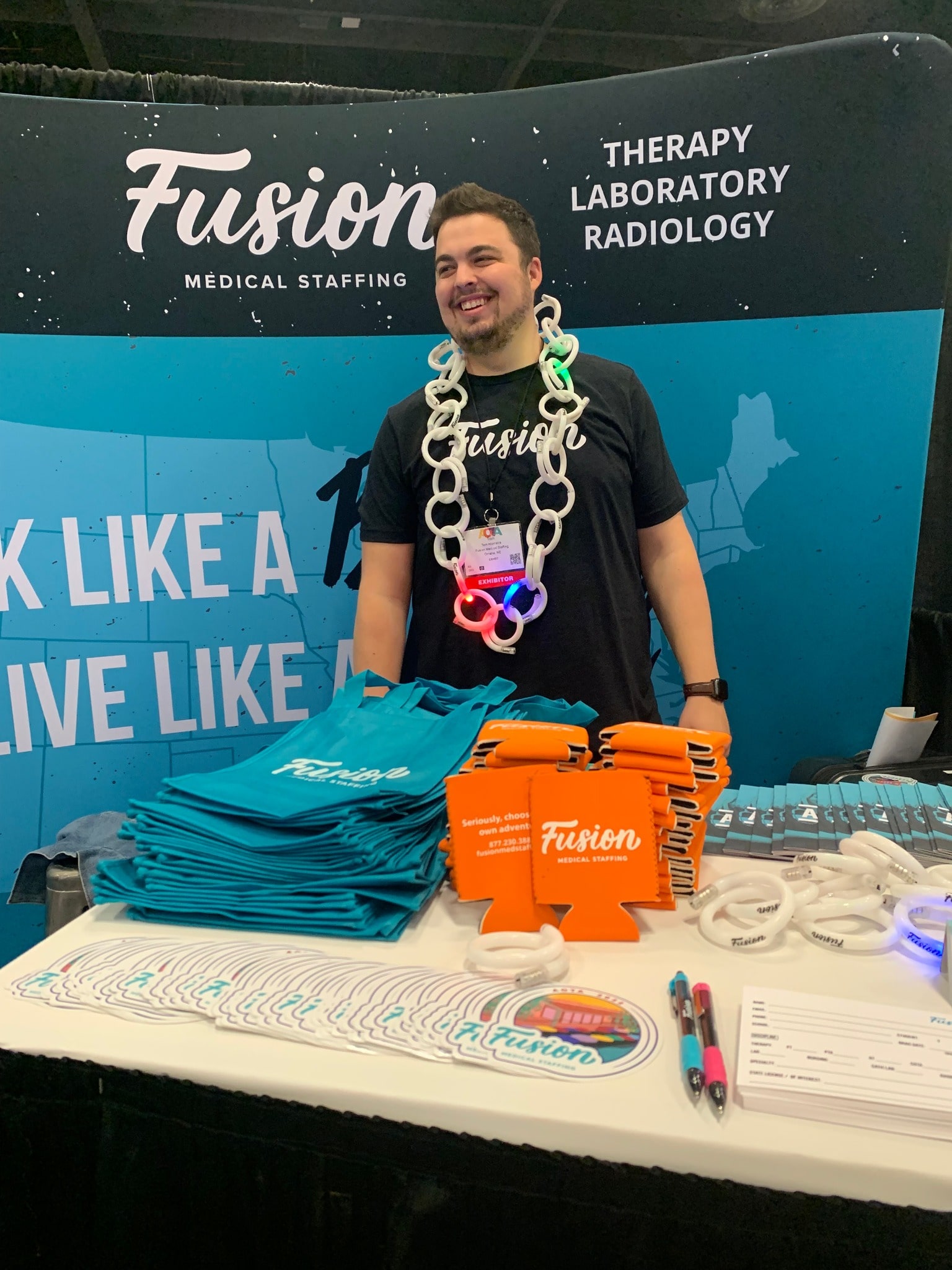 MB: Ooo, we love a good deal. For those who have never been to the conference, what can they expect from the conference?
GD: It can be a little overwhelming with the influx of OT people from all over the country and world, but the first thing I would encourage for first-time attendees is to attend the Keynote Address and listen to what the current President has to inform us on as a profession. Go to the Expo Hall for some stress-relief and fun and try to attend at least one course during the week/weekend that challenges you because we're all lifelong learners, and there's always someone looking at an area of OT that you may have never thought existed.
MB: Right on. Last q: What were you most looking forward to about the conference this year?
GD: Definitely getting to catch up with and see my mentor, but also to attend with my super close friend who's a certified occupational therapy assistant (COTA)! We have been to three conferences together now, non-consecutively, and each one has been very different in their own ways. I was also excited for the Short Courses, as they were cut to an hour's length this year, which allowed me to go to more. The topics were amazing, the speakers were very friendly and encouraged staying in touch, and now I feel empowered to take on the rest of the year!
MB: Thank you so much for sharing, Dijah! We so appreciate it!
Conferences have been around since the early 1800s, dating all the way back to 1814 in Vienna. Nowadays, they're one of the most financially successful industries in the U.S. at $95.3 billion, according to Allied Market Research. And it makes sense because conferences are such an enriching way for us to learn, grow, and network with other likeminded folk.
That's what makes AOTA INSPIRE so special—there's learning opportunities, social get togethers, inspirational speakers, and then some. Don't worry if you missed this year's event, next year's is already planned so you can highlight, mark, and add stickers to that date in your 2023 calendar: April 20 to 23 in Kansas City, Missouri! We'll see you there!