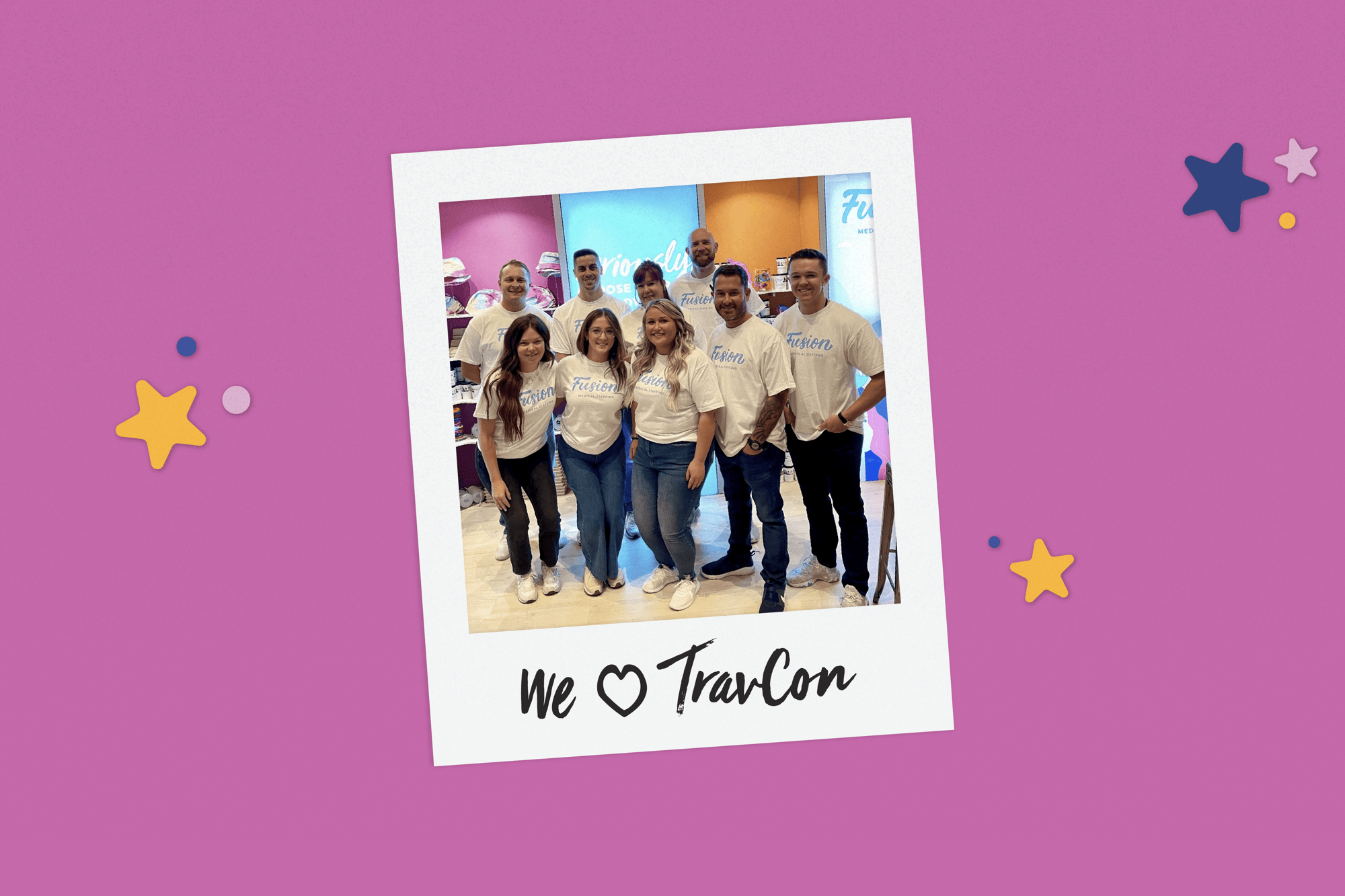 Wanna be part of a community where people truly understand what it means to be a travel nurse or allied health traveler? Do you have a desire to learn and earn more professional certifications? Thinking about how to network with others in the medical field?
You're in luck! You can accomplish all these goals at the annual Traveler's Conference, aka TravCon. Hosted at the Paris Hotel in Las Vegas, NV, TravCon provides an opportunity to get social, learn something new, collect exclusive swag, and make lifelong memories. Mark September 17 to 20 on your calendar — here's what you need to know about TravCon 2023.
5 Reasons You Should Attend TravCon 2023
What is TravCon?
TravCon was created in 2007 by medical travelers for medical travelers. Known as the "epicenter of the healthcare travel industry," TravCon gives you a space to gather and celebrate with your fellow medical travelers of all different specialties and divisions.
Here, all are welcome — travel nurses, as well as allied health travelers including (but not limited to) physical therapists, occupational therapists, lab professionals, radiographers, and more. This annual event brings upwards of 1,700 traveling healthcare professionals together each year in Las Vegas to provide "community, knowledge, and inspiration."
Full of educational sessions, experienced guest speakers, and people who genuinely get you, TravCon is the place to be for travel nurses and allied health travelers alike. Plus, you can connect with nationwide medical staffing agencies (like Fusion Medical Staffing!), universities, housing services, and other businesses related to the medical travel industry to help build your professional network.
Why you should attend TravCon 2023
On the fence about attending this year's Traveler's Conference? Here are the reasons you should get your ticket today.
1. To network with a variety of medical professionals
Get ready to spread your wings as a social butterfly and build connections at the largest traveling healthcare conference in the U.S. Surrounded by thousands of fellow medical professionals, TravCon provides the perfect opportunity for you to network with travel nurses and allied health travelers from across the country.
"Expect to meet lots of other travelers, as well as gain experience and knowledge on traveling," said Fusion Medical Staffing travel nurse Cindy Dyson. "It's also a family reunion, so to speak, specifically for travelers! There may be [people there] that you have met on previous assignments and others that you may meet on assignments in the future. Plus, meet those in your agency — make connections!"
From best practices to travel challenges to helpful tips and tricks, you can learn a little something from others in the healthcare field. With a focus on networking and professional development, TravCon is the perfect setting to meet new people, exchange ideas, and learn from one another.
2. To earn continuing education units (CEUs)
Not only is TravCon the place to connect and network with like-minded folk, but it's also a great opportunity to learn and earn CEUs. Attend educational sessions and workshops that are approved by major organizations like the Joint Commission on Accreditation of Healthcare Organizations to stay up to date on the latest industry trends, technology, products, and services.
"Don't forget to earn those CEUs," said Cindy. "My favorite part of TravCon [last year] was the learning. I love the CEUs that we get for each class. It's such a great opportunity to learn!"
Join in on event topics to expand your knowledge on certifications and licensing, employment opportunities, travel nurse and allied health traveler taxes, and travel hacks. By attending these sessions, you can gain valuable insight that will help you advance your healthcare career.
3. To tune into guest speakers
Deepen your knowledge and gain a new perspective by soaking in the stories told by the many guest speakers at TravCon. This year, the keynote speaker is Terry Foster, RN, MSN, FAEN, CCRN, CPEN, TCRN, CEN, and healthcare humorist.
Foster is an experienced registered nurse who has dedicated his career to helping others learn about the field of nursing. With more than 45 years of experience in various roles including an LPN, critical care RN, and pediatric nurse, he has a wealth of knowledge that can help other medical travelers find success in their fields. As a regular guest speaker at conferences around the country, Foster's passion for empowering healthcare professionals through education is unparalleled.
Other guest speakers featured at TravCon 2023 include Brian Payne, housing expert and CEO of Furnished Finder; Sulayman Nyang, an Edward Jones financial advisor; and Fusion Medical Staffing's very own Norma Bivona, traveling medical lab scientist (MLS).
Attending guest speaker sessions at TravCon allows you to hear from some of the leading professionals in the medical industry. Additionally, the experience gained through hearing first-hand accounts from those who have been in your shoes is invaluable when it comes to making decisions about your own travel lifestyle.
4. To collect freebies for nurses and allied health professionals
Raise your hand if you're into free things. 🙋🏽 With more than 100 exhibitors, including Fusion Medical Staffing, TravCon 2023 is guaranteed to have some sweet freebies for nurses and allied health professionals! Take it all in as you hop from booth to booth, making connections with staffing companies, financial advisors, medical facilities, and housing agencies, collecting promotional t-shirts, pens, and other sweet swag along the way.
5. To connect with Fusion Medical Staffing
The best part about TravCon is the chance to connect with Fusion Medical Staffing IRL! You can find Fusion Medical Staffing recruiters at booth #440, along with travel nursing and allied health travel resources and fun giveaways. Whether you're a current Fusion Medical Staffing traveler or simply interested in learning what Fusion Medical Staffing is all about, stop over at booth #440 to get your questions answered in real time.
But the conference isn't the only place you can meet your Fusion Medical Staffing friends. Keep the party going and join recruiters and staff at the Fusion Medical Staffing-hosted traveler events! Here's a clip from last year's event.
Stay tuned for more details about this year's exclusive traveler's event, hosted by the one and only Fusion Medical Staffing!
Regardless of your experience level, specialty, or division, TravCon is a place that welcomes all traveling medical professionals. As Nicole Roper, a previous TravCon attendee, said, "Where else can you be around people who actually understand what you do and why?" Avoid FOMO and get your TravCon 2023 tickets today!