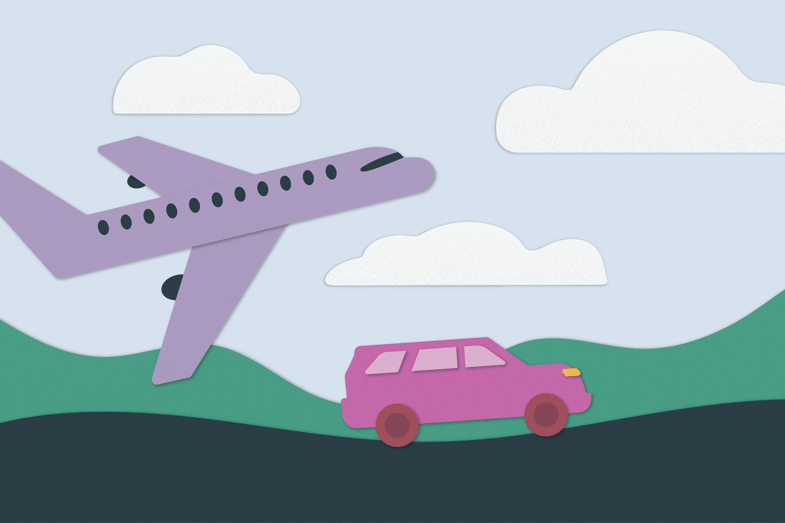 You already know that a major perk of being a travel nurse or allied health traveler is the unique opportunity to explore new places across the U.S. Of course, that brings the challenge of how you get to your medical travel job destination. The most popular transportation methods for long-distance traveling are driving and flying. But should you fly or drive? Let's find out.
Driving vs Flying: Should You Drive or Fly to Your Medical Travel Job?
Driving vs flying: things to consider
There are a few things to consider when it comes to a road trip vs flying — the time, the cost, and the risk. Weighing these factors carefully before each healthcare travel job will help you make an informed decision on the safest and most time- and cost-efficient transportation method for you.
Drive vs fly: the time
Did you know that commercial airplanes travel at upwards of 500 mph? When you compare that to the speed of your personal vehicle, it seems obvious that flying is faster than driving to your next travel nursing job or allied health travel assignment.
However, it's not just about the length of the flight. You should also consider potential flight delays, plus the time it takes to get to the nearest airport, find airport parking, check your bags, and go through security, as well as the time it takes to deboard the plane, pick up your luggage from baggage claim, and find a ride from the airport. When you add it all up, you could be clocking in at anywhere between four hours and 14 hours, depending on where you're traveling to/from.
On the flip side, if you're planning a long-distance road trip, padding the drive time for potential road construction and traffic delays is helpful. You might be able to miss rush-hour traffic if you start your drive early in the morning or late at night when there are fewer people on the road, but for longer drives you might need to figure out where you'll be when everyone's getting off work.
The time it takes to fly or drive can be affected by the distance of your travel journey. For example, if you're traveling a short distance like 200 miles, it may make more sense to drive to your next assignment. But for longer trips, flying might be faster. Before you lock in one way or the other, use a fly or drive calculator to compare the exact amount of time it will take you to get to your destination for driving and flying.
Drive vs fly: the cost
So, you need to get from point A to point B without breaking the bank? What's more cost-efficient: driving or flying? The answer may depend on how many people you're traveling with.
If you're traveling solo, it may be cheaper to fly since you only have to pay for flight costs like plane tickets, parking costs, and maybe baggage fees. But if you're traveling with your family or traveling with a group of friends, you could shave off a few hundred bucks from the driving costs by splitting the travel cost between the large group. Driving costs can quickly add up when you consider gas prices and then add on things like toll fees or meals along the way.
"I would say kind of the easiest rule of thumb is the more people that are going on the trip, the more that you can usually save [money by driving]," said Kaleigh Kirkpatrick, founder of The Shameless Tourist travel agency. "Fuel economy peaks at around 50 mph on most cars, then drops off as speeds increase. Reducing highway speeds by 5 to 10 mph can increase fuel economy by as much as 14%."
Now, what if you have air miles available to spend? In that case, you may save more with plane tickets. Collecting air miles allows you to earn free flights and discounts on a hotel room and other travel services. With the right strategy and planning, you can stay within your budget when traveling from one assignment to another.
Drive vs fly: the risk
When it comes to transportation safety, flying is regarded as much safer than driving. According to a 2021 study by the National Safety Council, the chances of getting injured or dying as an airplane passenger are "too small to calculate."
While it may statistically be safer on paper, if you're not a fan of flying, it could ultimately be safer for you to drive to your next travel nursing job or allied health travel job. When driving, you have complete control over your car and can stop at any point during your trip for a little R&R. So, if flying isn't your jam, driving could be a great alternative that allows you to get to where you're going without feeling anxious or uncomfortable while in transit.
Pros and cons of flying
Flying pros
✈️ Enhanced safety
✈️ Often a faster commute than driving
✈️ Opportunity to take advantage of points or reward programs for frequent fliers
✈️ Access to entertainment, food, snacks, and other accommodations
✈️ May be more eco-friendly since the flight will use the same amount of fuel with or without you there
Flying cons
✈️ Potential flight delay and cancellation
✈️ Can be more expensive with airfare, airport parking, and baggage fees
✈️ Long waits in security lines
✈️ Luggage restrictions/limitations
✈️ Limited space inside the aircraft
Pros and cons of driving
Driving pros
🚗 Enhanced privacy
🚗 Increased comfort in your own car or the car of someone you trust
🚗 More flexibility and control with the ability to take breaks when needed or update the driving route
🚗 May be cheaper, depending on the location you're going, and the distance traveled
🚗 The chance to experience new destinations and cultures along the way
🚗 Ability to pack more of your belongings
Driving cons
🚗 Potential exposure to bad weather conditions during the drive
🚗 Tiresome long hours behind the wheel
🚗 The risk of getting lost
🚗 Car repairs and maintenance
🚗 Gas prices
Alternative transportation options
What if your thing isn't driving or flying? We hear you. Luckily, there are alternative modes of transportation outside of road trips and commercial flights. Here are some other options to consider.
Bus
In search of an affordable and reliable way to get to your next healthcare travel job? What about a bus? Buses are often cheaper than other forms of transportation like flying or renting a car. Plus, they provide access to many areas that may not be easily reached via air or ground travel.
Additionally, buses are generally more comfortable than cars because of their spacious seating arrangements and amenities such as TV and Wi-Fi. Taking a bus or a series of buses to your next travel nursing job or allied health travel job gives you time to relax during your journey while still getting to your destination quickly and safely.
Train
Want a cool and fun way to see different parts of the country on your way to your assignment? Treat yourself to a train ticket! While the U.S.'s national rail operator Amtrak won't get you everywhere, with 30 routes that travel to over 500 destinations, it can get you where you need to go. Not only does train transportation get you to your destination, but it also helps reduce carbon emissions and provides an eco-friendly travel choice.
Even better, trains offer comfy seats, plenty of legroom, and a variety of food options, making long-distance travel more pleasant. With no responsibilities and no need to worry about traffic or roadblocks, all you have to do is enjoy the ride. Traveling by train allows you to savor a stress-free journey and arrive at your new home with plenty of energy for your work ahead.
RV or trailer
Rather be behind the wheel but want more room to store your belongings? Maybe RV or trailer travel is right for you.
The best thing about allied health travel and travel nursing in an RV or trailer is that you get the best of both worlds with a vehicle and a home all in one, offering the ultimate combination of convenience and comfort. That way, you can enjoy the familiarity of home wherever you go without having to worry about finding new housing accommodations with every new travel job.
Related: How To Get Your RV Ready for Travel
Frequently asked questions
Can healthcare travelers rent a car?
Reserving a rental car for road trips can be extremely beneficial for travel nurses and allied health travelers. By renting a car, you can eliminate maintenance and repair costs on your own car and take advantage of different vehicle options that may be more suitable for a long-distance drive.
Additionally, you can redeem airline points and miles to cover rental car costs or make the most out of allied health traveler and travel nurse rental car discounts to ensure you stick to your budget. With advanced planning, it's easy to find an affordable rental car no matter where you're traveling.
Is it worth it to ship my car to my travel assignment destination?
There are both pros and cons to shipping your car. While shipping your car can be expensive, it may also be the best or most convenient choice for you. On one hand, shipping your car could save you time and energy in the long run. On the other, driving your own vehicle or a rental car could be more cost-effective and give you greater freedom as you make your way to your allied health travel job or travel nursing assignment.
Do allied health travelers and travel nurses get reimbursed for travel costs?
Traveling from place to place every 13 weeks or so can get pricey, fast. Luckily, when you travel with Fusion Medical Staffing, you get reimbursed up to $300 for the mileage you travel to your next healthcare travel job to help you save money. And that applies to both flying and driving. Either way, the reimbursement funds are built straight into your pay package.
Wondering what other benefits Fusion Medical Staffing has for travel nurses and allied health travelers? Check out all the perks and find out why medical travelers love their Fusion Medical Staffing recruiters!
Next time you ask yourself, "Should I fly or drive?", think about the time, cost, and risk of each, as well as alternative transportation options such as buses, trains, car rentals, or an RV or trailer. While all have pros and cons, it's ultimately up to you to decide which method of transportation is best for you.