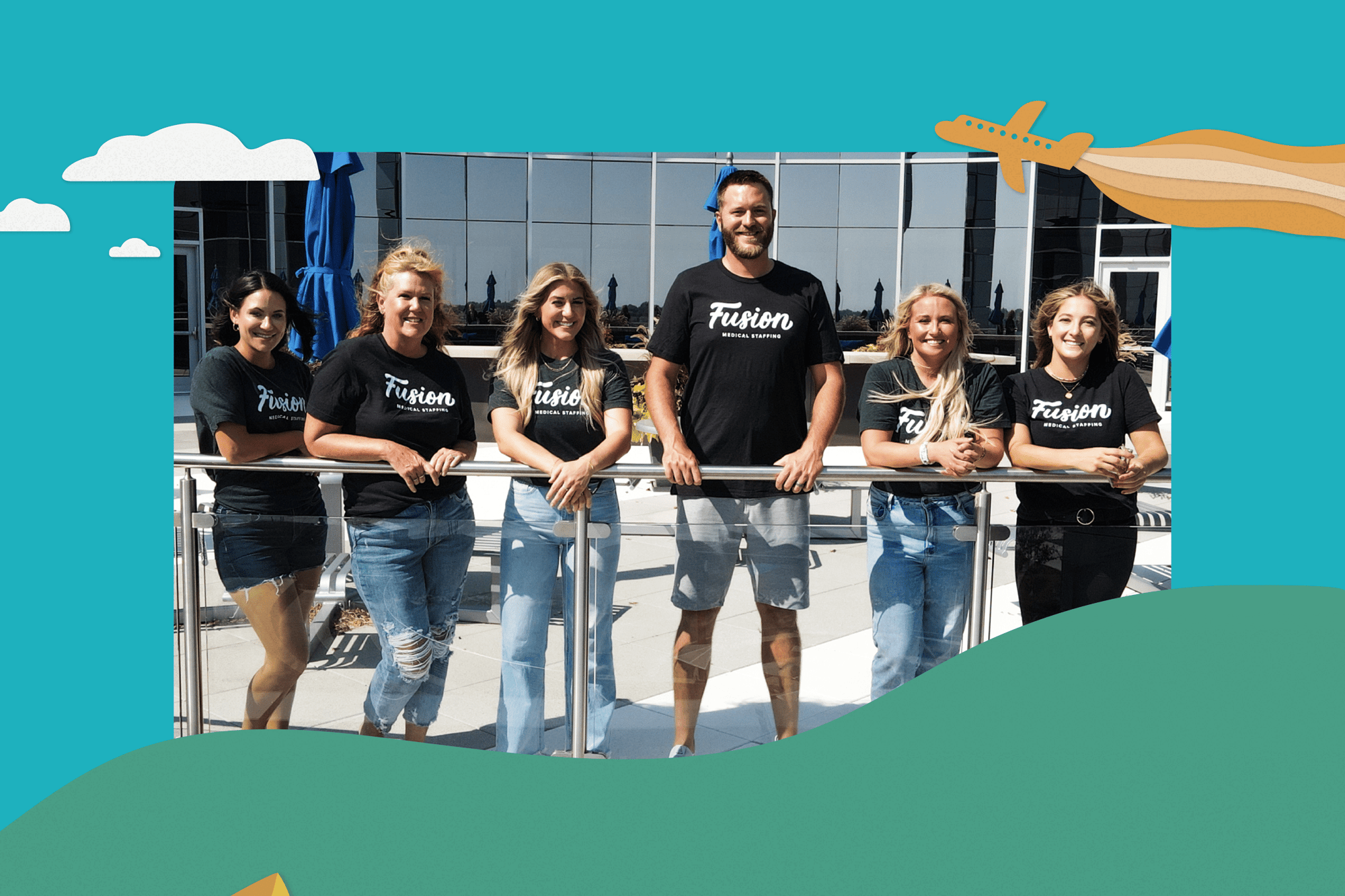 Need a reason to attend the Traveler's Conference, aka TravCon? Here's one: connecting with the kick-ass Fusion Medical Staffing team at booth 440! These are the shining stars waiting to meet you in Las Vegas.
Going to TravCon 2023? Find the Kick-Ass Fusion Medical Staffing Team!
Meet Mitchel
Nearly six years ago, Mitchel joined Fusion Medical Staffing as a nursing recruiter and quickly worked his way up to division manager. His passion for empowering his recruitment team and enhancing the mark you make in the lives of others is unlike anything you've ever seen. Lucky for you, he and his radiant glow will be waiting for you at TravCon 2023!
"I'm excited to meet new medical professionals and tell them all about Fusion Medical Staffing!" Mitchel said. "I look forward to our team being a great resource for them, whether they're looking at traveling for the first time or have been traveling for years. Having an impact on the overall process is truly inspiring and is what makes me show up to work every day."
Check out Fusion Medical Staffing's booth (440, in case you missed it 😉) and make a new friend! No sign of Mitchel at the booth? As an avid card-player, you may bump into him at the blackjack table. Like Mitchel said, "When in Vegas — go big or go home!"
Say "Hey" to Kayla
Even after five years as a Fusion Medical Staffing nursing recruiter, Kayla still lives for the rush of matching travelers with positions in their dream destinations, and you can tell just by talking with her. Experience her shine and introduce yourself to Kayla in Vegas.
"It's my second year in a row going to TravCon and I'm so looking forward to getting to see some of the travelers I got to meet last year, and also all of the first-time TravCon attendees this year!" Kayla said. "If you've never been to TravCon or even if you have, enjoy every minute of it and meet as many people as you can."
Can't find Kayla at booth 440 in the exhibit hall? Peep her absorbing the remarkable talent and entertainment showcased at Las Vegas shows.
Reach out to Riley
If there's one thing you should know about Riley, it's that her favorite part of being a recruiter is getting to help healthcare professionals like you find an assignment where you'll feel fulfilled. She knows the positive difference you make, and she's humbled to be a small part of it. Ask her all about it at TravCon 2023.
"I'm so excited to meet travelers, learn about their experiences, and find at least one person I can help with what I do best!" Riley said. "I'm hoping to spread the why about what makes Fusion Medical Staffing so great at TravCon. Come connect with us and ask questions — we're both there for a reason!"
A one-of-a-kind experience, Riley can't wait to attend her first TravCon. Catch her making new friends at the Fusion Medical Staffing booth or sipping a spicy margarita at the bar.
Bump into Brady
A registered nurse and former Fusion Medical Staffing travel nurse himself, Brady can relate to you on a whole 'nother level. Nowadays, Brady makes a positive impact in the lives of others as a travel nurse recruiter.
Related: How Nurses Make a Difference: Stories From the Frontlines
His first time at TravCon (and in Vegas!), Brady is most excited to connect with travelers and share nursing stories. He said he's "stoked" to hear what you think about travel nursing and to learn how he can better serve his travelers.
"Please come talk to us!" Brady said. "Fusion Medical Staffing is the greatest, hands down. We have a great team that's traveler-focused and being on both sides, I can tell you that's true."
If Brady's not at the Fusion Medical Staffing booth, he's probably wherever the party is, whether that's cheering on a friend at the gambling table or nursing a beverage at the bar.
Introduce yourself to Becki
For eight years, Becki has been kicking ass in Fusion's radiology recruitment division. When it comes to TravCon, Becki is no newbie — she's attended on behalf of Fusion Medical Staffing and was even a guest speaker at a previous year's TravCon event. Back this year at TravCon and better than ever, Becki can't wait to meet you and help make your travel dreams come true.
"TravCon can be a little overwhelming," she said. "My suggestion is to come with an open mind and really feel out who would be a good fit for everything you're wanting out of a travel career. And know you're going to get A LOT of swag!"
When Becki's not at booth 440 networking with travelers like you, it's because she's working on her tan poolside with a cold drink in hand. Don't be afraid to follow her lead. 😎
Connect with Chiara
Chiara might be new to the fun of TravCon but she's no slouch when it comes to recruiting. With eight years of recruiting experience under her belt, including three years at Fusion Medical Staffing, Chiara knows all the intricacies of healthcare travel and she's eager to share her knowledge with you.
"I can't wait to learn and to see everyone come together at the conference," she said. "I hope travelers can take the time to get the full experience and take some time to relax, too."
While in Vegas, Chiara plans to do the same. With a plan to spend as much downtime as she can in the sun getting more vitamin D, you may see Chiara by the pool, on a rooftop bar, or exploring the strip.
Make friends with Melanie
For three-and-a-half "glorious years," Melanie has spearheaded the student outreach efforts at Fusion Medical Staffing. You may have met her during one of her travel adventures to college campuses or at conferences like TravCon. Haven't yet met Melanie? Now you can at TravCon 2023!
"This is my second year at TravCon and I'm hoping to meet lots of amazing people and hear about some of their great journeys," Melanie said. "Travelers can expect great swag and a good freakin' time, especially at the Fusion Medical Staffing traveler event at Top Golf!"
Of course, Vegas is the perfect atmosphere to let loose and TravCon provides many opportunities for attendees to kick back. Outside of building connections with medical students and new grads, Melanie's idea of a good time is a nice long nap in the sun by the pool.
Get to know Bre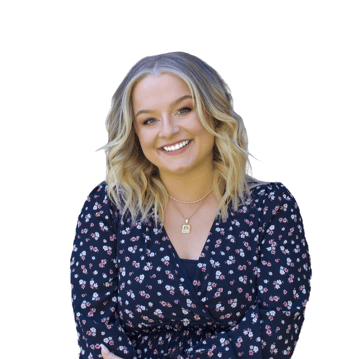 As social media strategist, Bre's on a mission to document all the fun of TravCon 2023 festivities, so flash your biggest smile when you see her! Her second year attending, Bre can't wait to witness the relationships grow between travelers and Fusion Medical Staffing recruiters and for you to see all the hard work the marketing team put into the conference.
"It's such a cool experience when travelers get to meet their recruiter in person and put a face to a name instead of only being on the other side of the phone," Bre said. "My biggest piece of advice for travelers is come prepared to meet our Fusion fam and stock up on all the Fusion swag! The conference is also full of opportunities for travelers to learn more about the ins and outs of travel from agency reps and get advice from fellow travelers that they can take into their next assignment."
When she's not capturing the moment, Bre is likely off exploring the Vegas food scene. A self-proclaimed foodie, Bre can't wait to check out the amazing Las Vegas restaurants and cross some new places off her bucket list.
Link with Liz
Two years ago, Fusion Medical Staffing was changed for the better because Liz joined the team. As a former Fusion Medical Staffing applications specialist, Liz understands what it takes to be a travel nurse or allied health traveler. Now, as marketing coordinator, Liz is taking Vegas by storm to ensure your TravCon experience is one for the books.
"I can't wait to meet our travelers and tell them all about what we have coming next!" Liz said. "It will be awesome to meet travelers face-to-face and see how all our hard work affects them."
In-between distributing swag and educating attendees about Fusion Medical Staffing, you can find Liz at the pool! She said she never misses an opportunity to soak up the sun.
Where to find Fusion Medical Staffing at TravCon 2023
Pumped and ready to celebrate with your favorite healthcare staffing company (that's us!)? If you're not already, you sure will be after jamming out to the Traveler Power Playlist and crossing off your to-do's that help you prep for TravCon.
The fun starts as soon as you arrive in "The Entertainment Capital of the World." In addition to booth 440 in the exhibition hall, you can spot Fusion Medical Staffing reps proctoring for continuing education units, on panel sessions, and at select traveler events like the Expert Lunch & Learn and the Fusion Medical Staffing traveler happy hour at Top Golf. Whether it's your first time meeting the Fusion Medical Staffing dream team or your hundredth, we're jazzed to see you!
You don't always get to bump into the Fusion Medical Staffing power squad IRL, but when you do, it might be thanks to TravCon. Experts in travel nursing and allied health travel, the kick-ass Fusion Medical Staffing TravCon team are locked and loaded, ready to help you get where you want to go in your healthcare travel career — all you have to do is come say hi!