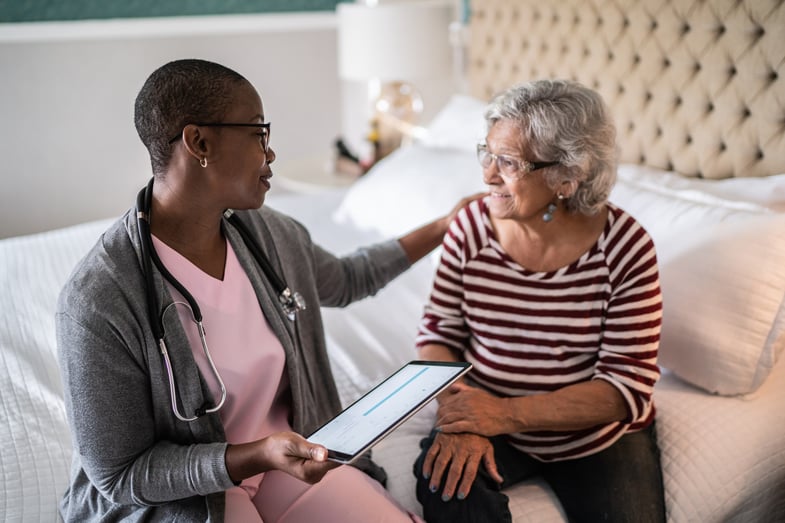 Home health care and long term care are two distinct types of medical care that help patients manage their physical and emotional needs. While both of these services involve providing extended care support to individuals, they're not the same. Let's explore the differences between home health care and long term care to get a better idea of which may be the right career choice for you.
Home Health Care vs Long Term Care: What's the Difference?
What is home health care?
Turns out, home health is exactly what it sounds like: personal healthcare services provided in the homes of patients. Oftentimes, this type of medical service is offered by skilled home health professionals, such as registered nurses (RNs), therapists, and aides who work for home health agencies. Other medical professionals who may get certified in home health care include licensed practical nurses (LPNs) and hospice nurses.
The goal of home health is to help individuals recover from an illness or injury so they can return to their usual daily living activities ASAP. Benefits of home health care include greater patient independence, relief and support for family caregivers, and a decreased chance of patient hospitalization.
What does a home health care professional do?
Home health care professionals provide a vital service to those who are unable to fully care for themselves. Depending on a patient's needs, this type of healthcare can include medical care and non-medical care. For example, home health RNs may monitor vital signs, provide wound care, as well as help with activities of daily living such as bathing, dressing and grooming, providing meals, managing medications, and assisting with mobility. Other home health job responsibilities may include:
Assess and chart observations of a patient's condition
Complete patient evaluations, review medications, and monitor vital signs
Dress and redress wounds
Educate patients and their families on home health care procedures
Coordinate with physicians and other home health professionals on the patient's care plan
In addition to these duties, home health nurses may also offer emotional support and companionship for those who are isolated from family and friends. With expertise in home health services, these healthcare professionals provide quality care to those in need in the most intimate setting: a person's own home.
Home health job outlook
With an aging U.S. population, there's an increased demand for home health care services. According to the Bureau of Labor Statistics, employment in this field is projected to grow by 25% from 2021 to 2031, which is much faster than the average for all occupations. Home health professionals like home health nurses, therapists, and aides can also expect competitive salaries and a rewarding career path with ample opportunities for personal and professional growth.
What is long term care?
Long term care, also known as LTC, is another important part of healthcare that offers a range of medical, social, and personal care services to individuals who need ongoing assistance because of a disability, illness, or aging. While the services provided may differ by patient, LTC helps people perform activities of daily living so they can retain their independence for as long as possible.
This type of healthcare is often provided by RNs and LPNs and is available in a variety of settings such as nursing homes, assisted living facilities, and in patients' homes. Like home health care, long term care allows individuals to maintain their independence and ensures they're able to stay in their homes or communities, as well as improves their quality of life.
What does a long term care nurse do?
Long term care RNs are responsible for providing comprehensive and compassionate care to individuals with chronic illnesses, disabilities, and other special needs. While the specific duties of an LTC nurse will depend on the type of healthcare facility and individual patient needs, general responsibilities may include:
Recording vital signs
Administering medications
Developing, coordinating, and implementing patient care plans
Operating medical equipment
Monitoring and assessing patient status
Assisting patients with daily living activities
Educating and supporting patients, families, and caregivers
Additionally, long term care nurses may help coordinate other services like medical appointments or medication management, educate patients on topics such as nutrition and safety, and serve as an advocate for those unable to speak up for themselves. Ultimately, the goal of long term care is to ensure clients receive compassionate healthcare every step of the way.
Long term care RN job outlook
Similar to home health, an aging population increases the demand for nurses with specialized training in geriatrics and long term care. The U.S. Bureau of Labor Statistics projects a 13% growth for all healthcare occupations between 2021 and 2031 and a 6% growth for registered nurses during the same time period. As a long term care RN, you enjoy job security while also making a positive difference in people's lives every day.
The difference between home health care and long term care
Home health care nurses and long term term care RNs both provide highly skilled nursing care, but the main difference is that they serve different populations. A home health nurse typically works with patients who need short-term treatment where the primary focus is to help the patient regain their independence and return to their normal activities.
On the other hand, a long term care nurse specializes in providing ongoing medical attention for those who require more extended periods of care. Nurses in this field may specialize in topics like geriatrics, mental health, hospice care, and end-of-life care.
No matter what type of nurse you're working as, home health nurses and long term care nurses make a positive impact in the lives of others. Each of these healthcare professionals provides comfort, support, and medical care. If you're looking for a rewarding career where you can help others regain independence in their own community, becoming a home health nurse or long term care RN may be the perfect choice for you.