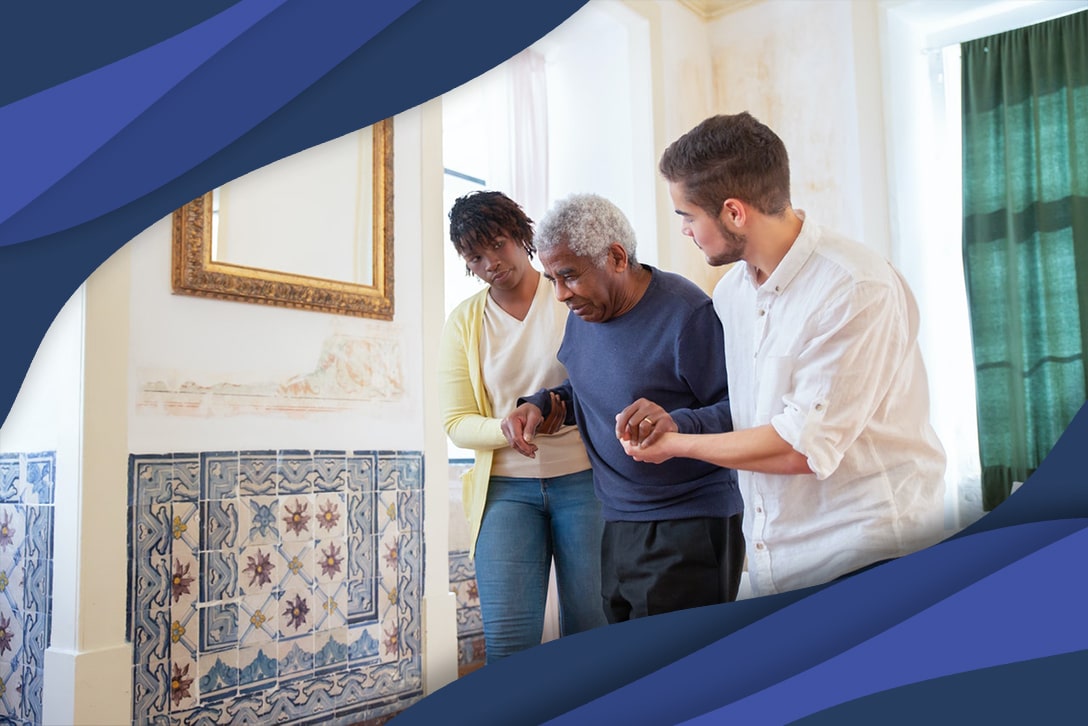 The concept of home health is not a new one. In fact, home health dates all the way back to the world's OG nurse, Florence Nightingale. Around the mid-1800s, Florence Nightingale and William Rathbone, a wealthy businessman and philanthropist, worked together to establish a school in England to train visiting nurses in how to care for the "sick poor" in the comfort of their own homes. And just like that, home health care exploded to other countries across the globe, including yours truly, the U.S.A.
Now, in the midst of the 21st Century, home health care is poppin' with popularity. A 2021 study by Moving Health Home found that 70% of American adults prefer in-home medical care and reported that it helps reduce anxiety and improve provider communication.
So, if you're wondering how you can be part of the fun and make a positive impact in the homes of patients, then keep calm and read on! We're going to get into the nitty gritty of home health—what it is, what certifications are needed, what careers are out there, what the job outlook is, and more. *In my best Martina McBride voice,* "Let's go, y'all."
How to Get Certified in Home Health
What is home health care?
Sure, home health care may seem self-explanatory. I mean, it's health care…at home, right? Right! But it's also much more than that.
Typically, when we think "home health," we think of older adults who require at-home care to help them live independently. However, according to Medicare, home health care is "a wide range of health care services that can be given in your home for an illness or injury." For example, these services can include:
Wound care
Patient and caregiver education
Intravenous or nutrition therapy
Injections
Monitoring serious illness and unstable health status
And more
At-home health allows medical providers to come up with specialized and individualized holistic care patient care plans without the hassle or risk of patient travel. That way, patients get what they want: To heal and/or age in place, and you get to grow your skills as a medical professional in the meantime!
3 benefits of home health care
Along with patients having the option to stay, heal, and age within the confines of their own homes, there are many benefits to home health care. As a home health provider, you could be part of making these perks come to life.
No. 1: Reduced risk for patient falls
There are always risks when it comes to recovering from surgery or a medical illness. For instance, what if a patient falls and reinjures themselves? The truth is, despite the best efforts of medical staff, falls resulting in injury are oddly common in care facilities. As it turns out, patients are much less likely to suffer a serious health event at home compared to an acute care setting. The more ya know.
No. 2: Increased patient safety and comfort
I don't know about you, but my home is my safe space, and many patients feel the same. In fact, there's research that shows elderly adults recover faster and with fewer complications when they do so from home versus a hospital. Having the option to recover at home gives patients the freedom to stick to their usual routines in familiar surroundings and maintain a sense of normalcy.
No. 3: Enhanced patient autonomy
It can be frustrating to feel like you have no or little control over your body. And that's how some patients feel as they recover from injury or illness. Home health care is a great way for patients to enhance their autonomy and regain some independence over everyday tasks like walking, bathing, dressing, and meal prep.
Home health care careers
Because home health encompasses so many different services, it requires a village of medical professionals. According to recent data, more than 71% of licensed medical professionals have considered a career shift to home health care. Moreover, 67% of Americans have thought differently about their own health care options or those of a loved one with 65% agreeing that they would have considered home health as an alternative to a past hospital stay if they knew it was an option. If you're interested into getting into the home health sector, consider these medical careers.
Home care aide (HCA)
As the title suggest, HCAs are medical workers who provide at-home care for those who are ill, injured, or disabled. However, because HCAs aren't medically trained, they work under the supervision of a nurse, and may not be able to perform certain medical procedures like injections or intravenous therapy. The services of HCAs include patient assistance with bathing, dressing, eating, grooming, moving from place-to-place, toileting, and cleaning up.
Licensed practical nurse (
LPN
)
LPNs, or licensed vocational nurses (LVNs), work closely with registered nurses (RNs) to determine individualized patient care plans. When it comes to daily responsibilities, LPNs/LVNs work hands-on with patients to monitor health signs, refresh bandages, administer medications and injections, and more.
To become an LPN, complete a Practical Nursing Program to learn the ins and outs of the LPN profession. Once your program is complete, it's time to pass the National Licensure Examination (NCLEX-PN) to gain your license and start practicing.
Registered nurse (
RN
)
RNs are often known as the backbone of nursing because they wear so many metaphorical hats. Not only do RNs perform patient care in a various of medical settings (including a patient's home), but they also help develop other medical professionals like HCAs and LPNs/LVNs through education and experience training.
If you're interested in becoming an RN, you'll need either your associate degree in nursing (ADN), associate of science in nursing (ASN), or a bachelor's degree in nursing (BSN). Once you've finished RN education requirements, it's time to get hands-on experience with patients IRL, under the supervision of a licensed RN, of course. And when you've gained the necessary amount of experience, you'll get licensed, and be the one in charge.
Average salary: $77,600
years of higher education: 2 to 4
Job outlook:👍👍
Physical therapist (
PT
)
Like the ring-tailed lemur in the "Madagascar" movie, PTs like to move it, move it. Physical therapists are movement experts who help improve a patient's quality of life through exercise, hands-on care, and patient education. The goal of physical therapy is to help individuals enhance their movement ability, reduce/manage pain, restore function, and prevent disability.
Becoming a PT takes time and dedication, but it's well worth it. To practice physical therapy, you first must earn a Doctor of Physical Therapy from a Commission on Accreditation in Physical Therapy Education-accredited program, plus pass a state licensure exam. After you graduate and receive your license, you can start traveling right away!
Average salary: $95,620
years of higher education: 3 to 8
Job outlook:👍👍
Occupational therapy (
OT
)
Similar to PTs, OTs use movement to help treat and heal patients. However, OTs focus more on helping individuals regain the ability to engage in everyday activities, such as walking from place-to-place, dressing, eating, bathing, and more.
The road to a career in occupational therapy starts with a bachelor's degree in a related field. Think: Biology, Occupational Sciences, Kinesiology, or Health Science. Next, you'll decide between an MOT and DOT, aka a master's or doctorate in occupational therapy. Of course, like any medical profession, as an OT, you'll need to pass the national board exam and obtain state licensure. Then, you're off to bigger and better things as a professional occupational therapist.
Average salary: $85,570
years of higher education: 3 to 4
Job outlook:👍👍
Speech-language pathologist (
SLP
)
Where PTs and OTs are movement experts, SLPs are communication specialists. SLPs work with patients of all ages and in all stages of life to help them with speech sounds, language, literacy, social communication, voice, fluency, cognitive communication, as well as feeding and swallowing.
If you want to be an SLP, you need a bachelor's degree in a related field, plus a Master of Science in Speech-Language Pathology. Once your education is complete, it's time to pass the Praxis Exam, complete a clinical fellowship, and obtain licensure.
Average salary: $79,060
years of higher education: 6 to 8
Job outlook:👍
Search for home health travel jobs.
How to get your home health care certification
Now that you know most of what there is to know about home health, it's time to answer the million-dollar question: How do I get certified for home health care? The answer: OASIS. I'm sorry, OASIS? What is OASIS certification?
No, we don't mean you get home health certified on a tropical oasis vacation, but rather through OASIS training. OASIS stands for the Home Health Outcome and Assessment Information Set (OASIS) and it's your ultimate tool for success as a home health medical professional. But what exactly is it?
OASIS is an assessment comprised of nearly 100 fields of patient information (like clinical condition, physical and psychological state, function levels, care needs, living situation, and demographic data) that home health professionals collect during patient admission, discharge, and transfers. The data gets used for insurance reimbursements, as a tool to measure the quality of home health care, and as a foundation for home health planning.
OASIS information helps Medicare and Medicaid calculate the proper reimbursement amounts for a home health patient by measuring the level of care they need. This measurement determines a patient's Home Health Resource Group (HHRG), which serves as the baseline for the math behind a patient's reimbursement rates.
In addition, OASIS monitors the quality of home health care and ensures the patient needs are being met. Plus, OASIS can predict patient outcomes by tracking their health statuses over time and analyzing the care process and methods for success. According to the Centers for Medicare and Medicaid Services (CMS), home health quality is evaluated by specifics like effectiveness, efficiency, equity, patient-centeredness, safety, and timeliness.
So, now that we understand what OASIS is, how do you get certified? Surprise, surprise, it's through an exam called the Certificate for OASIS Specialist-Clinical (COS-C) Exam. But here's the good news: There are several ways for you to prep for your OASIS exam!
Enroll in online training courses
There are loads of online OASIS training options floating around on the Internet. All you have to do is find the one that works best for you! Here are some suggestions: MedBridge Education, RNventing Nursing, or Relias Academy.
Find a practice test and give it your best shot! The real exam gives you two-and-a-half hours to complete a series of 100 multiple-choice questions. Remember to thoroughly read the questions and prompts all the way through before submitting your answer!
Sometimes, the best way to learn is just by getting out there and doing it yourself. Gain some real-life home health experience under the supervision of another medical professional, and once you feel confident in your skills, get out there and put them to good use.
As well as becoming OASIS certified, you may also require certification from the National Association of Home Health Care and Hospice (NAHC). However, many communities, college, nonprofit organizations, skilled nursing facilities, and home health agencies may offer their own home health certification, too, so check that out! It's good to have options.
If you're reading this, it's probably safe to say that you have an innate desire to make a positive impact in the lives of others. And if that's true, then a career in home health could be the right move for you! Whether you're an RN, LPN/LVN, home aide, PT, OT, SLP, or another type of bad*ss medical professional, being a home health medical provider allows you to make a difference in the lives of patients and their families and loved ones.
As Debra Blank, certified home health aide, said: "Even if I only change one person's life, it makes me feel so good to know I've done something to help someone, because there are so many people out there who need help."