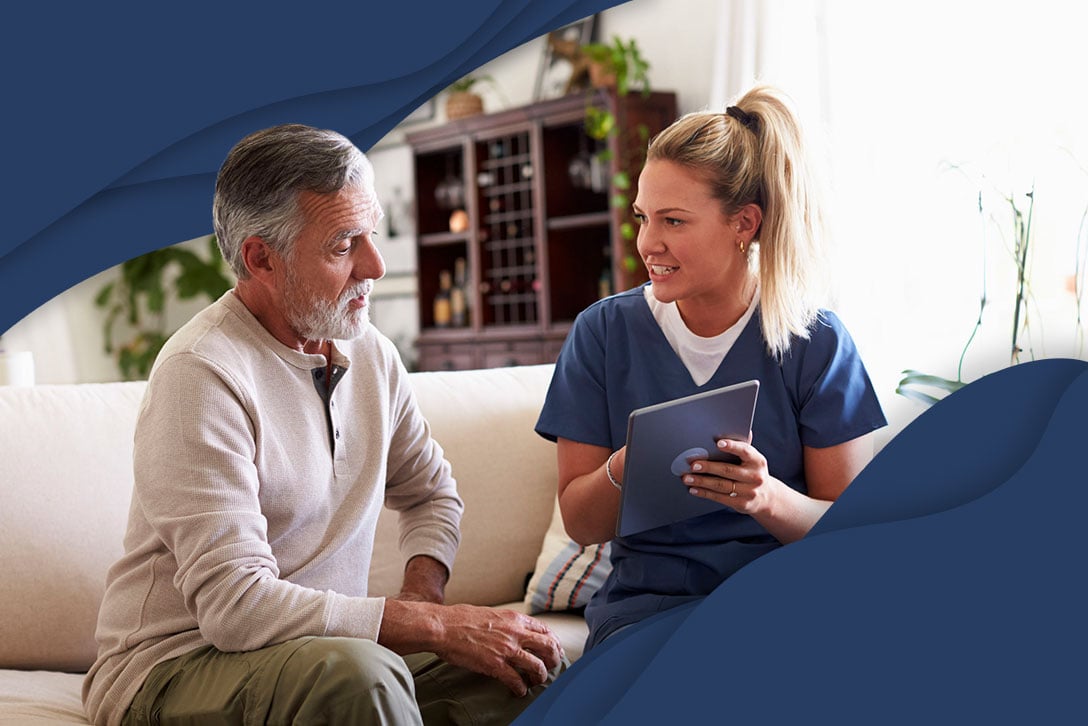 While both long-term care and home health nursing involve a variety of services to help people live as independently and safely as possible, there are differences between these careers, the demands for positions in these fields, and different ways the pandemic has affected their outreach.
How Home Health is Different From LTC
The pandemic has changed the course of home health
From the beginning, COVID-19 has changed the course of home health. Home health has been affected drastically, increasing the demand for these types of services, from perm staff to travelers. Elective surgeries were paused in March all over the U.S. with the objective being to reserve hospital resources and beds for the torrent of patients who contracted the virus. At the same time, without a clear idea of where this pandemic would lead us, planning was an estimate at best.
Now that we've all been living in a pandemic world, the long-term trends in healthcare have been seen. Some of them will shape the course of home health, including increased opportunities for telehealth and the need for telehealth leadership. And further, telehealth which was once seen as a deterrent to the success of home health has turned out to be a positive. Telehealth has helped high-risk patients. In an article from mHealth Intelligence, Mandy Johnson, senior manager of Banner Home Care says, "People are getting comfortable with home care, and they're realizing they're more than can be done at home than in the hospital. Besides, every time you have to go back to the hospital, we have to start all over again."
With how home health has embraced the use of telehealth, the high number of healthcare providers using this technology, and the way healthcare providers are preparing to ramp up virtual healthcare to avoid crowded hospitals and clinics during the pandemic, policy makers may consider giving home healthcare providers more freedom moving forward.
COVID-19 outbreaks in long term care facilities
Recent reports show outbreaks in long term care facilities across the Midwest, from Madison County in Iowa to Lebanon, Indiana, but the Midwest isn't the only area of the U.S. heavily affected by COVID infections. and Vanderburgh County. Places like Muskingum County in Ohio are opting to suspend visits to long term care facilities until the pandemic is under control.
The Midwest isn't the only area of the U.S. heavily affected by COVID infections, but there are a lot of rural areas in the Midwest, compounding the fact that LTC assistance is needed in rural areas.
LTC help is needed in rural areas
Some of the most needed LTC help is in rural areas, which has increased even more since COVID-19. It's hard to keep staff and funding alive in rural facilities. The pandemic simply amplified the issue.
From a recent Iowa Gazette article: "It's just a bit ironic that it took a pandemic to really provide some additional stimulus and support for hospitals that were losing money on a normal business day," said Curt Coleman, President of Genesis Health System. "And it took a pandemic and it took some stimulus to, kind of, stabilize that out."
Working LTC in a rural area means facing challenges like lower facility options due to scarcity and low staffing rates due to location, but it can also lead to more traveling healthcare opportunities and the chance to really make a change in the lives of patients and residents at these facilities. Get a traveler's perspective on working in direct patient resident care during the pandemic and how Fusion's Workplace Safety Solutions are helping to keep healthcare staff and residents safe during surges of COVID.
Working in home health vs LTC
So what's the difference working as a healthcare professional in home health vs working as an LTC nurse? Besides the different qualifications needed to work in these positions, both home health and LTC are two areas of healthcare deeply affected by the pandemic and in need of traveling medical professionals to help.
When you work as a home health travel nurse, you're caring for your patients within the margins of their home. You're in charge of providing care and evaluating the situation while following protocol of the home care agency you work for. A patient's home is a personal and intimate setting to work within, so adding a level of care and respect to your work is needed.
Home Health Travel Nurse Qualifications:
One year experience as a RN or LPN
At least 6 months recent home health experience
Current RN or LPN license
Current BLS Certification
Must have a valid, unrestricted driver's license
Other certifications or licenses may be required for this position
Critical thinking, service excellence and good interpersonal communication skills, ability to read/comprehend written instructions, ability to follow verbal instructions, PC skills
Charting experience
Home Health Specialties:
Home Health RN
Home Health LPN
Hospice RN
Hospice LPN
Find your next travel assignment in home health
As a traveling LTC nurse, you provide care for people who are living in assisted living facilities and other specialized care facilities. Assisting with daily tasks and constant supervision are important for the routine care of your patients who may have chronic illnesses, disabilities, or be elderly. This job requires a high level of compassion and determination, as well as knowledge to provide patient education to family members.
Long Term Care Specialties:
Clinic LPN
CNA
Director of Nursing
EKG Technician
LTC LPN
LTC RN
Medical Assistant
Medication Aide