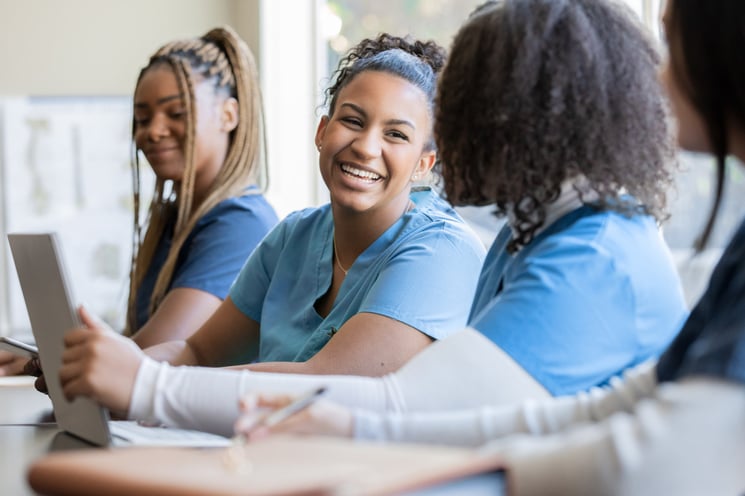 If you have an innate talent for helping others around you, it's no surprise that you've chosen a career in nursing. But what if we told you that since you've collected a year of nursing experience, you can expand your reach and explore the country as a travel nurse? Plus, get paid handsomely while doing it. Here are the deets.
I Have One Year of Nursing Experience — Now What?
What is travel nursing?
A travel nursing career is for highly skilled thrill seekers who have a deep passion for patient care. Sound like you?
Like staff nurses, travel nurses work in hospitals, long-term care (LTC) units, outpatient clinics, and other healthcare facilities. However, travel nurses jump from location to location working short-term contracts to fill staffing shortages in medical establishments across the country. Travel nursing contracts last for 13 weeks on average, but they can be extended depending on the facility's staffing needs.
One of the biggest perks of travel nursing is that you can choose when and where you work, giving you the opportunity to steer your career in the direction you want. With enhanced flexibility and freedom, being a travel nurse allows you to gain valuable experience while also having the chance to explore new places, meet new people, and help those in need. Interested?
Travel nurse experience requirements
Before you can officially hit the road as a professional travel nurse, you must first gain IRL nursing experience. But how much experience do you need to be a travel nurse? To become a travel nurse, you need at least one year of nursing experience under your belt, specifically in the nursing specialty you wish to work in. If you already have that, you're halfway there.
Travel nursing with one year experience ensures you have the skills and knowledge needed to provide quality patient care while on travel nursing assignments in various medical facilities. Even better, having one year of experience may qualify you for travel nursing jobs with more desirable benefits, like higher pay.
Additionally, travel nurses need to be licensed in each state they want to travel to and work in before they can start an assignment. To streamline this process, we'd recommend you look into a compact state nursing license. This is a multi-state nursing license that allows you to practice in 37 states, plus Guam and the U.S. Virgin Islands, under one license. That way, you don't have to get individual state licenses in each location you want to work.
Why you need experience to work as a travel nurse
You've already graduated from nursing school, studied for your medical boards, and passed the National Council Licensure Exam (NCLEX). Now, you might be wondering why you need at least a year of nursing experience before you can travel. The main reasons are to help protect your license, beef up your healthcare resume, and facilitate a successful travel nursing experience.
Travel nurses are expected to dive head-first right into the deep end at each new assignment. Oftentimes, travel nurse orientation is quick and leaves you just enough time to get familiar with new charting systems, hospital protocols, and simply find your way around a new workplace. Now imagine trying to master basic nursing techniques on top of all of that. Woof, right?
The year of nursing experience required before professional travel is meant to help strengthen your clinical skills and build your confidence so you're ready for action no matter where you are.
How to start travel nursing with Fusion Medical Staffing
So, you have a year of nursing experience — now what? Take your skills nationwide and start traveling with Fusion Medical Staffing!
To start travel nursing with Fusion Medical Staffing, you'll need to cross a few items off your to-do list. First, submit an online application (or a quick app), as well as your nursing skills checklist. Next, be ready for a call from one of Fusion Medical Staffing's Application Specialists. During this initial phone interview, an App Specialist will ensure you have the right education, qualifications, and licensure to travel. Once you get the green light from an App Specialist, you'll be matched with a nursing recruiter who will help build your traveler profile and learn more about you.
After you've identified your traveler preferences with a nursing recruiter, your profile will be sent to a Fusion Medical Staffing Client Manager. From there, the Client Manager works their magic to find you travel nursing job options. When they find a good match, they'll set you up for a phone interview with the facility's hiring manager (check out these interview tips on how to wow your interviewer!). Now that the hard part is behind you, all you have left to do is wait for a job offer. Whether you accept or not is up to you!
When you travel nurse with Fusion Medical Staffing, not only are you gaining valuable nursing experience, but you're also getting sweet benefits like a competitive salary and comprehensive insurance plan options. Set yourself up for success and start travel nursing with Fusion Medical Staffing.
Frequently asked questions
Can you do travel nursing as a new graduate?
The idea of traveling to different places to help others is an exciting prospect for new nursing graduates. However, there are some hoops that must be jumped through before you can take on a contract as a travel nursing newbie, especially if you're fresh out of school.
The main reason why new grads have to wait to start travel nursing is because you need to build up your clinical skills, knowledge, and familiarity with a variety of healthcare systems. While it may be frustrating to have to wait to start your travel nursing adventure, the year-long wait is well worth it in the long-run for both you and your patients.
How many years does it take to become a travel nurse?
Becoming a travel nurse has many overlapping steps with how to become a staff nurse. Generally, the process of becoming a nurse takes between two and four years, depending on the type of nursing program and the level of education. Add on another year for clinical experience and you're looking at a total of between three and five years (including nursing school) before you can put "Travel Nurse" on your business cards.
How much money do travel nurses make?
It's common for travel nurses to have a higher salary than their permanently staffed counterparts. Why? Because travel nurses are eligible for additional income through housing stipends, referral bonuses, and other per diems. According to data from Indeed, the average yearly salary of a travel nurse is $108,770, give or take depending on what kind of nurse you are, your employer, and your geographic location.
The world of travel nursing is full of excitement and adventure, but it also requires a certain level of nursing experience. With at least one year of nursing experience, you're well on your way to becoming a professional travel nurse. When you're ready to take the first step into a travel nursing career, reach out to Fusion Medical Staffing or search online for travel nursing jobs!