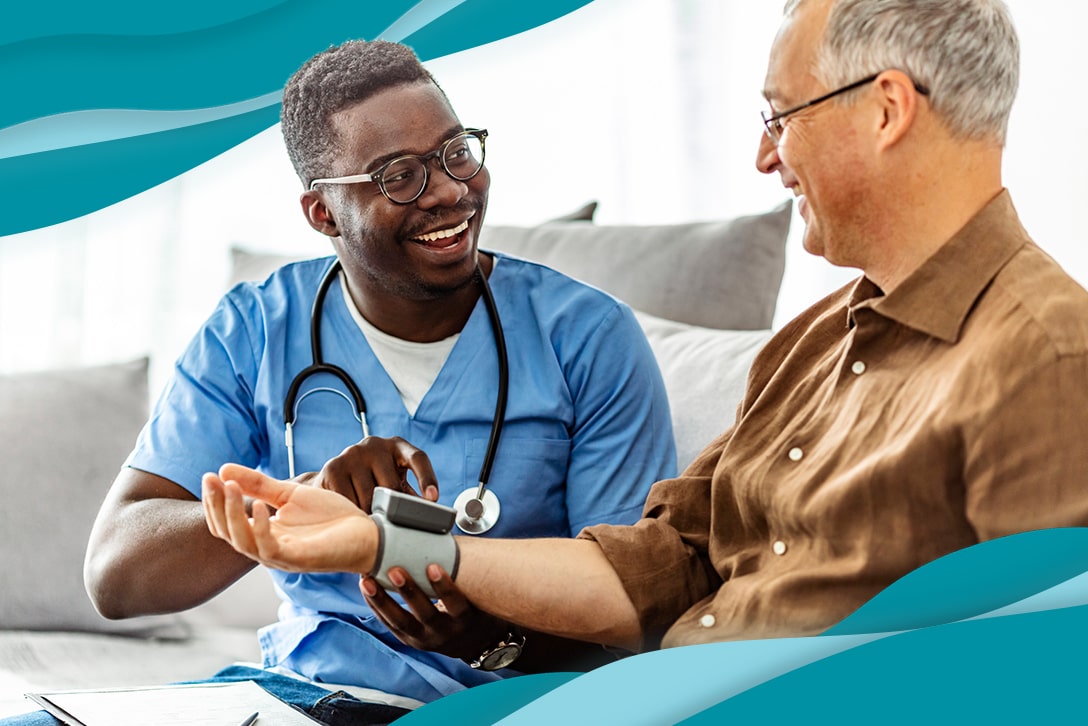 You already know what a registered nurse (RN) is. But what do you know about a telemetry nurse? Buckle up, we're going to tell you everything you need to know about telemetry nursing. Here, we'll discuss what is a telemetry RN, how to become a telemetry nurse, and what is a telemetry travel nurse, as well as:
Telemetry Nursing Overview
What does a telemetry RN do?
First things first, what is a telemetry nurse? Telemetry nurses are specialized progressive care healthcare professionals who monitor, assess, and treat patients using a variety of medical equipment. With the help of technology, telemetry RNs collect real-time data about their patient's vital signs like blood pressure and respiratory rate. This data is then used to provide individualized treatment to each patient and monitor any changes in their condition.
Telemetry RNs also work closely with other medical providers to ensure that all treatments meet their patients' needs. Additionally, these registered nurses educate patients on managing their health conditions while offering emotional support during difficult times.
Telemetry nurse responsibilities depend on the healthcare facility's telemetry nurse job description. In addition to standard nursing duties, common telemetry nurse responsibilities may include:
📝 Assessing patients and recording medical histories and symptoms
📝 Checking vital signs and monitoring changes in patient health
📝 Using medical equipment like electrocardiograms to monitor cardiac activity
📝 Monitoring and recording vital signs like temperature, heart rate, respiratory rate, and blood pressure
📝 Administering intravenous (IV), oral, and other medications
📝 Providing patient education on their health condition, treatment plan, medications, and other health-related information
📝 Assisting physicians in bedside procedures
📝 Completing diagnostic testing
What is a telemetry unit?
A telemetry unit, also called a telemetry step-down unit, is a specialized department within a hospital that provides continuous monitoring of vital signs and other medical data for patients. This type of care is often used for those who have acute or chronic health conditions such as heart failure, stroke, and diabetes. Telemetry units in a hospital are staffed by telemetry RNs who use advanced technology to track patient information in real time. As a result, patients in these progressive care units receive more personalized attention than they would in another hospital setting.
How to become a telemetry nurse
Interested in becoming a telemetry RN? Here's how you can make that happen. The steps on how to become a telemetry nurse start the same way as becoming a registered nurse. First, you need either an associate of science in nursing (ADN) or a Bachelor of Science in Nursing (BSN) from an accredited nursing program.
Once you've graduated, you need to take the National Council Licensing Exam for RNs, affectionately known as the NCLEX-RN. And after you've passed the NCLEX with flying colors, it's your time to shine and gain real-world experience in a hospital or other medical facility. You can apply to work in a telemetry step-down unit and collect knowledge on cardiac conditions, liver and renal transplants, neuro/trauma and strokes, pediatrics, and oncology.
After one-to-two years of IRL telemetry nursing experience, you can become certified as a telemetry RN through the National Telemetry Association or get your Progressive Care Certified Nurse (PCCN) certification. Getting nursing certifications can enhance your job opportunities, lead to an increased salary, and build specialized nursing skills.
How much does a telemetry nurse make?
According to data from ZipRecruiter, the average telemetry nurse salary is $120,512. However, a telemetry nurse salary varies widely from state to state and can depend on the cost of living, availability of nursing jobs, and the type of facility where you work. For example, states with higher costs of living typically pay more for nursing positions than states with a lower cost of living. These are the top 10 highest-paying states for telemetry RNs.
| | | |
| --- | --- | --- |
| Ranking | State | Average telemetry RN salary |
| 1 | New York | $124,401 |
| 2 | District of Columbia | $113,387 |
| 3 | California | $108,071 |
| 4 | Pennsylvania | $101,444 |
| 5 | Michigan | $99,722 |
| 6 | Delaware | $99,282 |
| 7 | Alaska | $96,842 |
| 8 | Ohio | $92,284 |
| 9 | Massachusetts | $92,108 |
| 10 | West Virginia | $85,764 |
Telemetry nursing job outlook
Like other nursing specialties, the job outlook for telemetry nurses is bright. According to the U.S. Bureau of Labor Statistics, the job outlook for RNs is expected to grow by 6% between 2021 and 2031. With an aging population and a growing need for healthcare professionals, the demand for specialized nurses like telemetry RNs will continue to increase. Plus, telemetry nurses are highly sought after because of their expertise and knowledge of medical technology.
What is a telemetry travel nurse?
Interested in taking your telemetry nursing career to the next level? Start travel nursing! Telemetry travel nurses have similar duties to perm staff, but they travel the country to fill staffing shortages in hospitals, clinics, and other healthcare facilities. By working as a travel nurse, you can experience life in different locations while making an impact on the lives of others. As an added bonus, you'd have the opportunity to work with a variety of medical teams and boost your telemetry nurse resume.
Another perk is the telemetry travel nurse salary. Since travel nurses are eligible for tax-free stipends for housing, meals, and travel expenses, they typically make more than staff nurses. And depending on your education, years of experience, certifications, and location where you work, you could make even more.
Start your travel telemetry nursing career with Fusion Medical Staffing
When you're ready to start your travel nursing journey, look no further than Fusion Medical Staffing. As a Fusion Medical Staffing traveler, you not only benefit from competitive pay rates, flexible scheduling options, and a personal travel nurse recruiter, but you also receive comprehensive benefits for you and your whole family. Here's a snapshot of what Fusion Medical Staffing has to offer.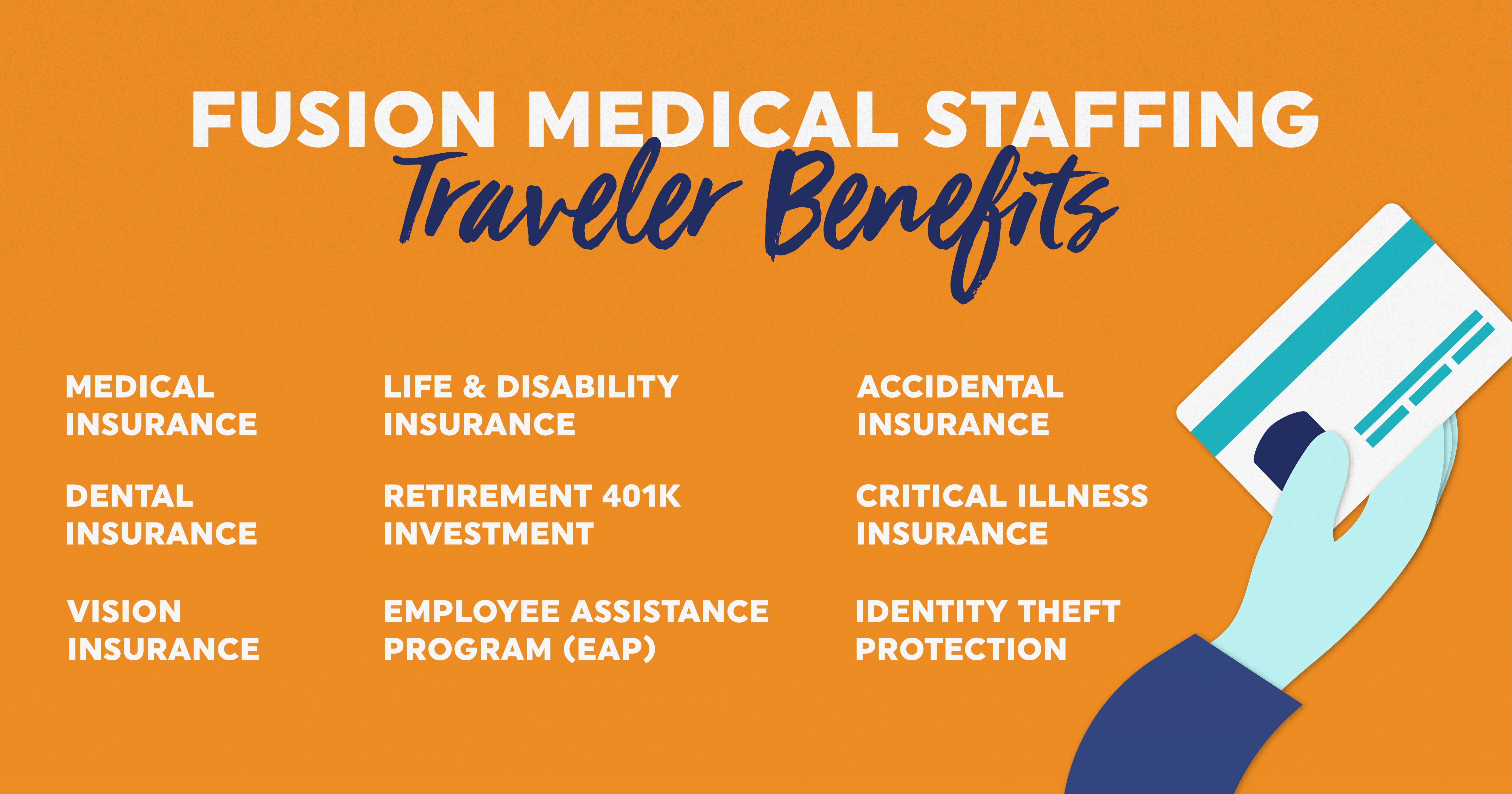 The first step to travel nursing with Fusion Medical Staffing is to complete an application (✨ pro tip ✨ save some time and fill out the quick app!) and submit a telemetry nurse skills checklist. From there, your telemetry nurse resume will be reviewed, and a travel nurse recruiter will reach out to learn more about you. That way, they can best match you with telemetry nurse jobs that have what you're looking for, whether that's a specific location, shift type, or something else. If you're ready for an experience of a lifetime, start travel nursing with Fusion Medical Staffing!
Search for telemetry travel nurse jobs
Frequently asked questions about telemetry nursing
Telemetry unit vs ICU: what's the difference?
The telemetry unit is part of the progressive care unit, or PCU. Typically, patients in the PCU are stable enough to avoid the intensive care unit (ICU) but require more care than those on other hospital floors. Many times, PCUs are used for monitoring patients during or after cardiac events.
The ICU is one of the most critically functioning operational environments in a medical facility. ICUs often include specialized and technical monitoring equipment for critically ill patients, such as heart monitors, artificial ventilators, dialysis machines, and intravenous infusions. Patients admitted to the ICU have the most severe and complicated medical conditions including traumatic injuries, heart attacks, strokes, and severe respiratory issues.
What equipment do telemetry nurses work with?
Telemetry nurses use a wide variety of medical equipment to monitor and assess patients. Some common technology includes telemetry monitors, electrocardiogram machines, defibrillators, pacemakers, pulse oximeters, and cardiac output monitors. Using the latest technology and their specialized expertise, telemetry nurses can monitor heart rhythms, breathing rates, and other vital signs in real time.
What types of patients do telemetry nurses work with?
Oftentimes, telemetry nurses provide specialized care to patients who require constant monitoring because of cardiac conditions. However, telemetry nurses are trained to work with a variety of medical conditions, including those related to the heart, lungs, and circulatory systems. By monitoring patient vital signs, telemetry nurses are able to help diagnose various medical conditions and provide guidance on treatment plans.
Being a telemetry nurse is a fulfilling career that requires a special blend of technical knowledge and compassion. If that sounds like you, a career in telemetry nursing may be in your future. And when you're ready, you can enhance your telemetry nursing skills and start traveling with Fusion Medical Staffing.