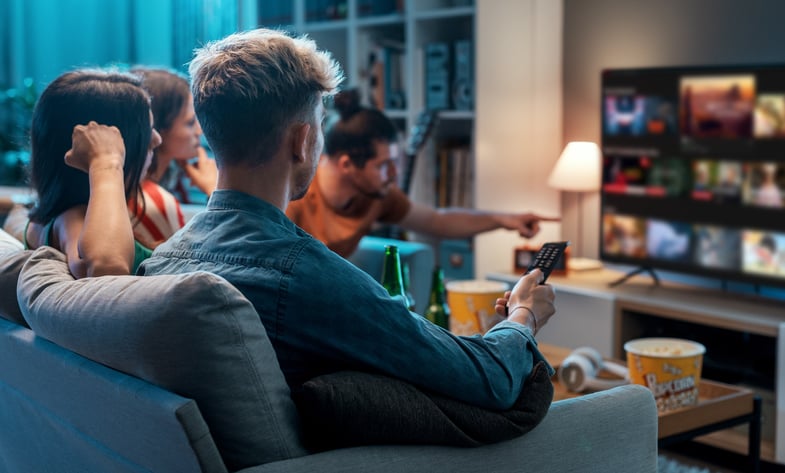 ICYMI: Netflix has been cracking down on password sharing for a while now. In 2022, the multi-billion-dollar streaming site began testing its new "paid sharing" plan in Chile, Costa Rica, and Peru, which charges account holders an additional fee to add "subaccounts" for anyone using Netflix outside of their homes. On February 8, the same rules rolled out to Canada, New Zealand, Portugal, and Spain. And now, the policy is making its way to the U.S.
Here's the scoop on what the new Netflix password-sharing restrictions are and what they mean for you as a professional medical traveler.
What Netflix Password Sharing Restrictions Mean for Medical Travelers
What is changing with Netflix password sharing?
Remember in 2017 when Netflix tweeted, "Love is sharing a password"? Well, the company seems to have renounced that statement by announcing new password-sharing restrictions that are set to hit the U.S. in "early 2023." On February 8, the company published an update with new details on its ongoing plan. Here's the gist.
Netflix password sharing outside of one home gets harder
Under these new rules, Netflix will require the account holder to set their home location in their account. By using a combination of IP addresses, device IDs, and account activity, the streaming service can determine if an account is being used in the primary account holder's household. If Netflix detects that an account is being used on another IP address outside of the home, the user gets a two-week pass of streaming before the site shuts them down.
As a solution, Netflix has introduced new "subaccounts" that can be added to an existing account for up to two additional users that fall outside of the home base. The pricing is different per country, but currently, we're seeing about $2.13 per month in Peru, $2.99 in Costa Rica, and $2.92 in Chile, based on exchange rates.
"If you've got a sister, let's say, that's living in a different city, you want to share Netflix with her, that's great," said Chief Operating Officer Greg Peters. "We're not trying to shut down that sharing, but we're going to ask you to pay a bit more to be able to share with her so that she gets the benefit and the value of the service, but we also get the revenue associated with that viewing."
Netflix has also implemented a new way to easily transfer a profile to a new account so that the user can keep their personalized recommendations, viewing history, My List, and saved games. The idea behind this is to help encourage people who are password-sharing to create their own accounts.
You'll be asked to verify your devices
To ensure Netflix is getting the most buck for their bang, account holders and users will be asked to verify their devices more frequently. They'll need to a four-digit code sent to the account owner's email or phone number into the streaming site within 15 minutes. According to Netflix password-sharing rules in Chile, Costa Rica, and Peru, users must renew those credentials (aka log into their home network) every 31 days.
"If your account is accessed persistently from a location outside of your household, we may ask you to verify that device before it can be used to watch Netflix," the Netflix website says. According to the streaming site, the overall goal is to give users a "little bit of nudge" to transition to their own accounts.
Netflix will be watching users more closely
In the past, Netflix used your IP address, device IDs, and account activity to sling you algorithm-approved TV shows and movies. Now, it's using this information to sniff out password-sharing offenders. That's a promise, they say. And because of the added scrutiny on IP addresses and how they interfere with your account, you may also run into issues if you're frequently using a virtual private network (VPN) to stream content from different locations.
How Netflix password-sharing restrictions impact medical travelers
So, if the new Netflix password-sharing policy says you have to be connected to a home location and you only get two weeks of streaming if you're not, how are you supposed to watch your favorite TV shows and movies on a 13-week+ travel assignment? The good news is you have options; the bad news is they may cost you. Here's what you can do.
1. Reset your home location with each contract
As a travel nurse or allied health traveler, the likelihood of you being able to go home every 31 days to verify your devices on Netflix is slim. Instead of jumping through hoops to verify your devices, you can reset your home location in your Netflix account with every travel job assignment. For example, if you're currently on a travel assignment in Omaha, NE, you'll reset your Netflix home location to Omaha, NE. Then, once you're done with that contract, you'll reset your home location in the next place. Rinse and repeat.
To set your home location for your Netflix account, you must be connected to your home network. From a TV that's connected to the WiFi or wired internet network of your home location, sign into your Netflix account, and access the home screen. From there, go to the menu and select "Get Help," then "Manage primary location." On this page, you'll be able to set or update your primary location and decide how you want to receive the verification code. When you receive the code, you'll enter it into your account, and then you're free to stream.
2. Upgrade your Netflix plan
Alternatively, you can upgrade your Netflix plan to add subaccounts for yourself. Members on the Netflix Standard or Premium plan can add extra subaccounts for up to two additional households, so you could use those subaccounts for yourself while you're on an assignment. The downside to this is there will be an added monthly fee to your Netflix plan. These are the current pricing options for the different Netflix plans without the added subaccount fees:
📺 Basic with ads: $6.99/month
📺 Basic: $9.99/month
📺 Standard: $15.49/month
📺 Premium: $19.99/month
3. Switch to alternative streaming sites
According to Netflix, more than 100 million households are using a shared password, including 30 million across the U.S. and Canada. However, 80% of Americans that use someone else's account don't plan to get their own Netflix accounts once the company starts cracking down on password sharing and many with their own accounts are now considering canceling them to avoid added monthly fees. If you fall into one of these categories, consider using alternative streaming sites. These are some of our favorite streaming sites for travelers:
📺 HBO Max: starting at $9.99/month
📺 Hulu: starting at $8/month
📺 Disney Plus: starting at $8/month
📺 Apple TV Plus: starting at $6.99/month
📺 Peacock: starting at $4.99/month
📺 Amazon Prime Video: starting at $14.99/month
Netflix is just one of many paid sharing services in the U.S., and you should know about its new rules. Meant to deter password-sharing outside of individual households, these new policies may impact frequent travelers like travel nurses and allied health travelers who live outside of their home network for more than 31 days at a time. If you want to stream your favorite Netflix shows and movies wherever your travel job takes you, you may have to make some adjustments to your plan - or consider other streaming options.