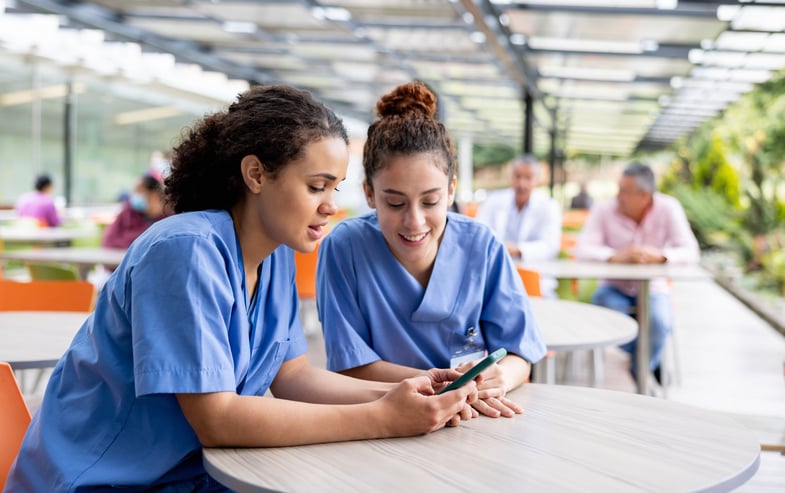 Are you an aspiring travel nurse with a desire to make a difference in the lives of others? Are burning questions the only thing stopping you from jumping head-first into a travel nursing career? You've come to the right place. Here, we'll cover all things travel nursing so there are no unknowns when you take your first step into a travel nurse lifestyle.
Answers to Travel Nursing FAQs
How does travel nursing work?
If you're not familiar with travel nursing, you may need some details before you understand the process. This type of nursing career involves working in different locations across the U.S. for short-term assignments. Instead of being employed at an individual hospital or healthcare facility, travel nurses work for medical staffing agencies, like Fusion Medical Staffing!
The way travel nursing works can vary depending on the staffing agency you work with. At Fusion Medical Staffing, the travel process can be broken out into three quick, easy steps.
1. Submit a travel nursing job application
The first step to travel nursing with Fusion Medical Staffing is to submit a travel nursing job application. (✨ Pro tip: ✨ you can submit a quick app to save yourself a little time in the application process!) And don't forget, when you submit a job application with Fusion Medical Staffing, you're also required to complete a nursing skills checklist.
Once you've shared your professional details, a Fusion Application Specialist will review your resume and application to make sure you're qualified with the proper licensing and education. If they like what they see, they'll give you a call to get to know you better before connecting you with a travel nurse recruiter.
2. Get matched with a travel nurse recruiter
Once you're matched with a travel recruiter, it's time to break the ice. Your personal recruiter is your BFF, biggest cheerleader, unofficial therapist, and partner in crime (metaphorically speaking, of course). During that first phone call with your recruiter, they'll ask you a bunch of questions to build your Fusion Medical Staffing traveler profile, learn more about your job and travel preferences, understand why you want to start traveling, and find what you're looking for in a recruiter. Once they know all there is to know about your travel nursing goals, hopes, and dreams, it's time for them to promote your awesomeness to get you a job offer.
3. Accept a travel nursing job offer
Here's the thing, when you travel with Fusion Medical Staffing, you can feel confident that a job offer is in your future — our travel nursing recruiters are really good at what they do. When that offer comes, it's up to you to decide if you want to take it or pursue another opportunity. It's important to be straightforward with your recruiter; at the end of the day, they're there to support you during your travel nursing journey.
Can I become a travel nurse as a new grad?
The short answer is: no. How long to be a travel nurse may vary depending on the medical staffing agency you want to work with, as well as your nursing specialty. However, the current travel nursing industry standard is that travel nurses should have at least one to two years of in-hospital or in-facility experience to be hired as a travel nurse.
Before you can start pumping up your resume with clinical experience, you must first pass the National Council Licensure Examination (NCLEX). This mandatory exam tests your knowledge of nursing, as well as your skills and abilities to ensure you're able to provide the highest-quality patient care. Here are some study tips to ensure you get a passing grade.
What is the average salary for a travel nurse?
It's true that travel nurses often make more than their permanently staffed counterparts. Travelers receive tax-free stipends and per diems that help them pay for temporary housing, continuing education units (CEUs), and other travel expenses that may accrue while on a nursing assignment.
Additionally, travel nurses can earn even more through company bonuses and other income. For example, when you travel with Fusion Medical Staffing, you'll get bonus money for referring a traveler friend to the Fusion fam. You can also earn extra cash by becoming a social media influencer for Fusion Medical Staffing.
Are there travel nurse health insurance options?
Another common travel nurse question is: do travel nurses get benefits like health insurance? Since travel nurses work for independent staffing agencies, this depends on the medical staffing company. The good news is most staffing agencies offer travel nursing benefits, including us!
Fusion offers a slew of benefits for our travel nurses and allied health travelers to ensure you're covered and taken care of no matter where you are. That way, you can enjoy peace of mind while conquering your travel nursing goals and providing the best patient care with each travel assignment. Here's all you need to know about Fusion Medical Staffing traveler benefits.
Alternatively, you can find your own health insurance plan through the Affordable Care Act (ACA) or a private health insurance provider. To learn more about health insurance options for travel nurses, check out this helpful insurance guide.
How does travel nurse housing work?
Temporary housing is a hot topic in the travel nursing community and it's important to understand your medical traveling housing options. When it comes to travel nurse housing, you have two options.
1. Find your own housing unit using your housing stipend, or
2. Ask your travel nursing recruiter to find a place for you.
Related: Stipend vs company housing: which is right for you?
If you decide to find your own lodging, you'll receive a tax-free stipend to help cover the costs. If your housing exceeds the stipend amount, you're required to pay the difference, but if you don't use the full stipend, you can pocket the rest.
Alternatively, mobile living is becoming more and more popular through the travel nursing community. Statistics show that 57% of travelers prefer RV and van living because of the freedom it allows while on an assignment. Learn more about what medical travelers like about van life and find out what you need to do to get your RV ready for travel.
Can I do travel nursing with family and pets?
One common misconception is that travel nurses can't bring their families or pets while on an assignment. We're happy to debunk that myth and say that you can, in fact, travel nurse with family including kids, spouses, and pets.
Whether your travel partner is a fellow travel nurse, an allied health traveler, or a professional outside of the medical field, they're more than welcome to come along on your travel journey. The main challenge you may face is finding housing that accommodates everyone in your travel party. If you're traveling with pets, you'll need to at the very least find pet-friendly housing.
How long does a travel nurse stay in one place?
To answer this question, think about whether you want to extend your current assignment to stay longer. On average, the travel nursing contract length is about 13 weeks. However, you can extend your assignment for up to a year without losing your traveler benefits, such as stipends and per diems. Extending is a win-win for you as a professional travel nurse and the facility you're helping. Not only are you already credentialed and familiar with the facility protocols and working environment, but you've also completed onboarding and orientation so you can get right to treating patients.
If extending isn't for you, then it's time to move on up and out after your travel nursing contract ends. According to one of Fusion's nursing senior nursing recruiters, Aubrey Foley, the ideal timeline for finding another job is "about four to six weeks after the start date of your current assignment." This will give your support team plenty of time to research, find, and present you with new travel nursing job options.
Which travel nurse specialties are in high demand?
Travel nurses are wildly in demand, especially as our country struggles with a national nursing shortage. A recent study shows the demand for travel nurses has increased 284% since the start of the U.S. coronavirus pandemic in 2020.
While travel nurses in general are in demand, different nursing specialties are also in demand. The top in-demand nursing specialties include critical care nurses, certified registered nurse anesthetists (CRNAs), home health nurses, labor and delivery (L&D) nurses, and medical-surgical nurses. So, if you're interested in becoming a travel nurse, now's your time to shine!
Do travel nurses need a license in each state?
Travel nursing licensure can be complex. When it comes down to it, you'll need a new license for every state you work in — unless you have what's called the nurse licensure compact (NLC).
The NLC is a license developed to help RNs, licensed practical nurses (LPNs), and licensed vocational nurses (LVNs) travel to and practice nursing in many states. Not all U.S. states participate in the NLC, but the good news is that most do! Currently, there are 39 states that have enacted NLC legislation, meaning you can work in any of those states under one compact license, as opposed to getting 39 individual state licenses.
What are the perks of being a Fusion travel nurse?
Being a Fusion travel nurse comes with many perks! And there's more to Fusion Medical Staffing's benefits than health insurance, retirement matching, and referral bonuses. Other perks to being a Fusion travel nurse are direct access to high-paying travel nursing jobs, enhanced flexibility to decide where you work, and some of the best travel nursing recruiters in the business.
Plus, Fusion Medical Staffing has many mental health benefits available to travelers like you to help with your overall well-being. One of the mental health resources available to travel nurses is access to the LifeWorks Employee Assistance Program (EAP). Through LifeWorks, you have 24/7 access to mental, financial, physical, and emotional support whenever you need it.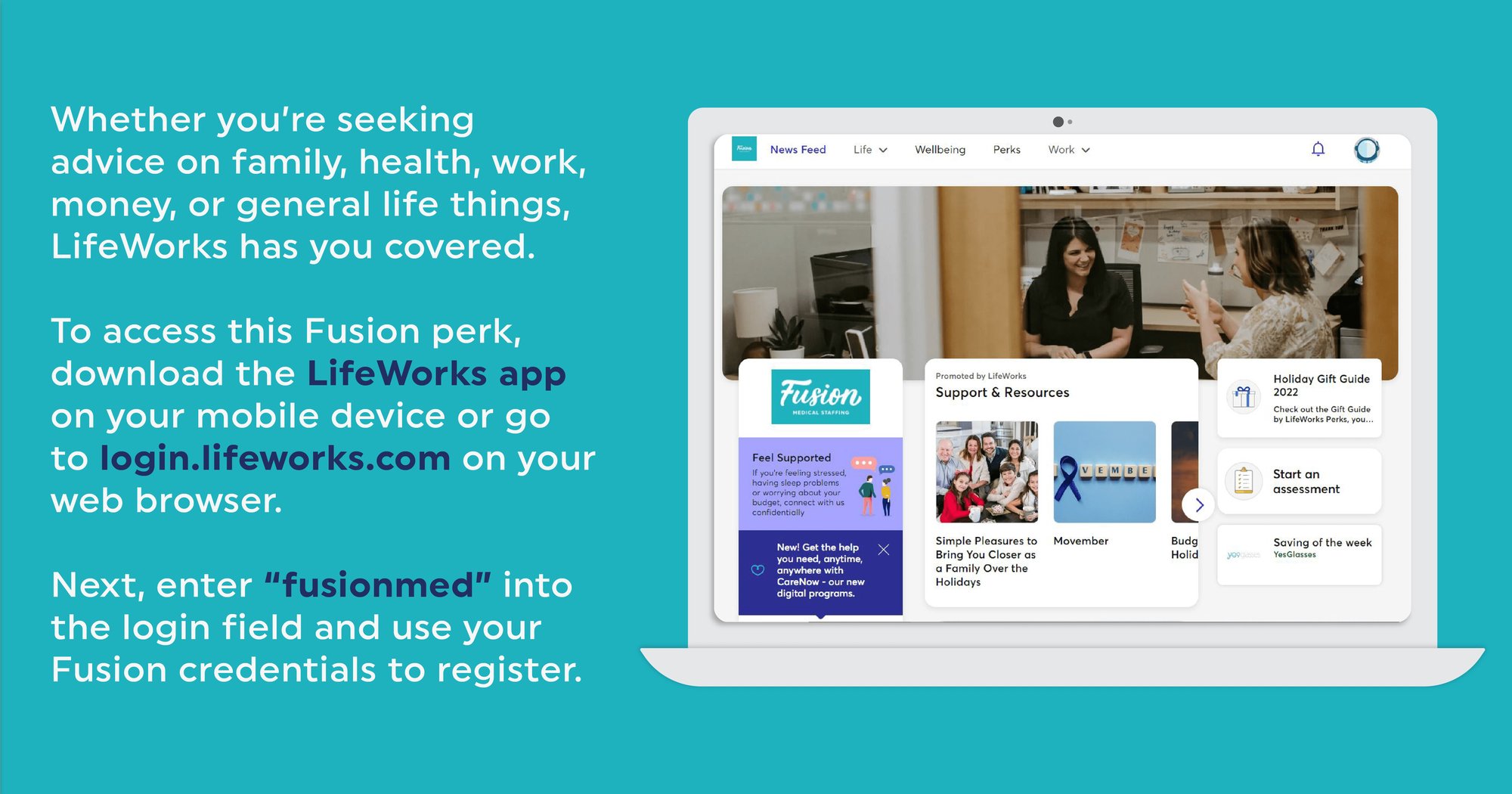 There are a million reasons to become a travel nurse, but you only need one. Whether you're in it for the experience, the travel, the money, or something else entirely, travel nursing is a rewarding and unique career. Now that you know all there is to know about travel nursing, come find out if it's the right move for you!