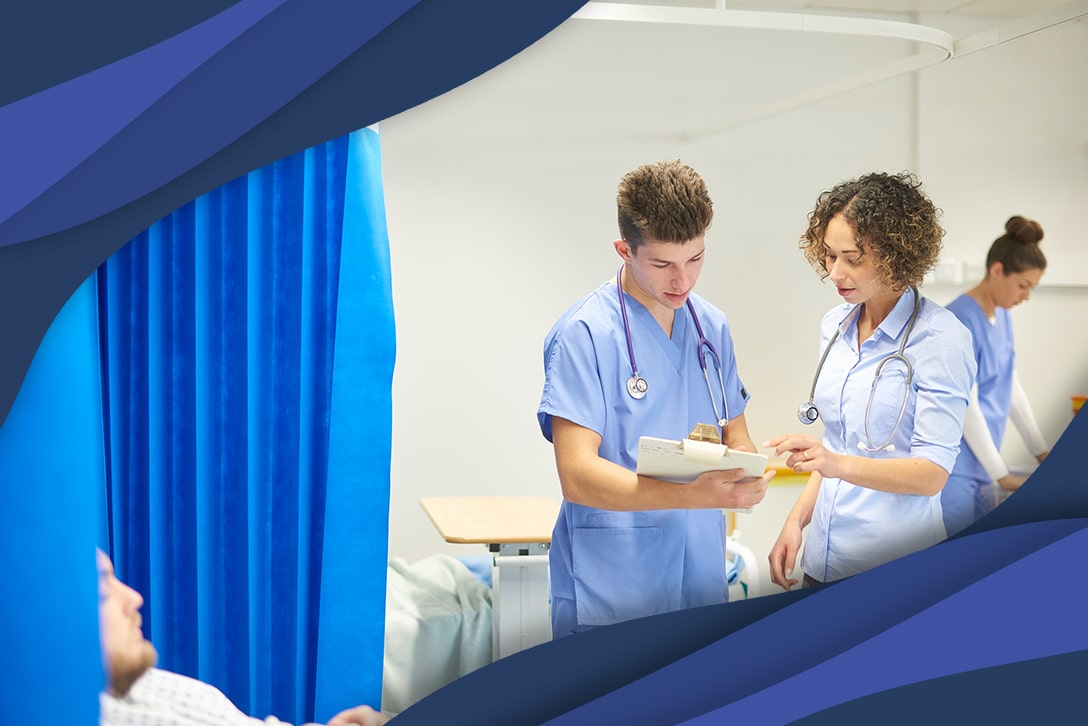 Do you thrive in fast-paced environments? Would you consider yourself a creative problem solver? Do you want to help people and improve lives?
If you answered yes to any of these questions, then you may be ready for a career as an emergency room nurse, also known as an ER RN.
Why You Should Become an ER Nurse
What do ER RNs do?
If you've ever visited an emergency room, chances are you've met an ER RN. These special nurses are skilled in providing (sometimes life or death) patient care in emergency room settings. Individuals who seek emergency care are usually suffering from an injury, severe illness, or trauma which requires immediate medical attention. So, nurses in this role need the ability to respond quickly in crises. Life as an ER RN can be stressful, and it takes an advanced skill set to get the job done.
As an ER RN, you'll have general nursing duties like monitoring patient vitals and administering medications. You'll also have duties unique to the emergency department. Emergency room RN responsibilities may include:
Leading emergency response teams
Assessing/triaging patients' needs
Prioritizing care in chaotic environments
Assisting with diagnostic procedures and tests
Using advanced equipment to monitor and treat patients
Managing complex situations
Discharging stable patients from the ER
You never know what you're going to get in the ER. Since patients come in with a wide variety of ailments like chest pain, abdominal pain, sprains and strains, upper respiratory infections, massive trauma or superficial injuries, ER RNs must be prepared to care for anyone who steps through the emergency room doors.
Like many areas of medical care, emergency nursing has its own subcategories for further specialization. Emergency-related specialties are offered by the Accreditation Board for Specialty Nursing Certification. And ER RNs have options:
Trauma
Stroke
Cardiac
Burn
Neurology
Disaster response
Pediatric
Adult
Geriatric
Finding your specialty within emergency room nursing means asking yourself if there is a specific population you want to help, what environment you'd most like to work in, and which ER/ED nursing certifications you find most interesting.
Now that we know (some of) the badass-ery of ER RNs, here's how to become one!
How to become an ER RN
Step one: Earn a degree in nursing
Before you can start working your nursing magic, you must first earn a nursing degree — either a Bachelor of Science degree in nursing (BSN) or an associate degree in nursing (ASN). Pro tip: whether you choose a two-year (ASN) or four-year (BSN) program, graduate from an accredited nursing program to get the most bang for your buck.
Step two: Become a registered nurse
Once you've earned your degree in nursing, the next step is to pass the National Council Licensure Examination for Registered Nurses (NCLEX-RN) to officially become an RN. Spoiler alert: expect to be tested on promoting and maintaining health, psychosocial and physiological integrity, and creating a safe and effective care environment.
After you've passed the NCLEX-RN with flying colors, you need to be licensed by the Board of Nursing in the state where you plan to practice. Since requirements vary by state, your state's licensure board will have details on qualifications.
Instead of getting a single state nursing license, consider applying for the Nurse Licensure Compact (NLC). This multistate license allows you to practice nursing in all compact-participating states without having to obtain licensure in each individual state.
Step three: Gain hands-on experience
Here you are, licensed and ready to rumble. But before you strut your stuff to the emergency room, you'll need to gain IRL hands-on nursing experience. The amount of experience you'll need before you can get specialized will depend on the hospital or emergency room that you work in. For example, some hospitals require two or more years of bedside nursing before moving to the ER.
Step four: Get certified in your specialty
So, you've gotten your degree, you've been licensed, and you've completed your experience requirements — what now?
To become specialized in emergency room care, you'll need to get certified. The certification options developed by the Emergency Nurses Association are open to RNs, preferably with at least two years of emergency-related experience. Emergency-related certifications include:
Certified Emergency Nurse (CEN)
Certified Flight Registered Nurse (CFRN)
Certified Pediatric Emergency Nurse (CPEN)
Certified Transport Registered Nurse (CTRN)
Trauma Certified Registered Nurse (TCRN)
Critical Care Registered Nurse (CCRN)
There are emergency rooms all across the country constantly in need of talented, passionate, and capable ER nurses. Now that you know how to become an ER RN, you could be one of them.