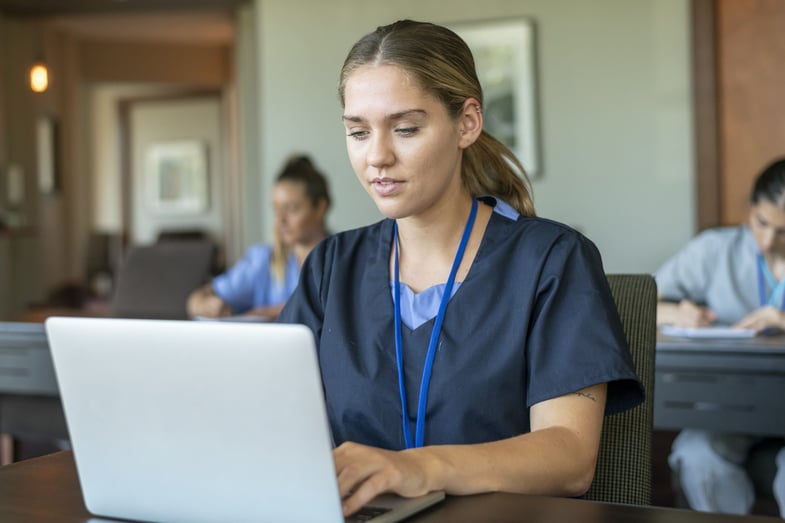 Have you ever considered changing health care specialties? Maybe you want to want to work in a new medical setting or feel like you need a new challenge. Either way, if you're wondering how to change your specialty, it may be time to try something new.
A Quick Guide on How to Change Your Specialty
Don't panic—we know you spent a lot of time, energy, and money to get to where you are now in your career. And we're not going to lie, depending on your current specialty and what you want to switch to, you may have to go back to school and hit the books, gain more clinical experience, or participate in other relevant work experience. To make it easy on you, we've done some research to find out:
Things to consider before switching specialties
So, you think you might want to switch your specialty? Before you do anything, it helps to be confident in your decision. To make sure a new specialty is what you want (what you really, really want), consider these four questions.
No. 1: How much contact do you want with patients?
While some people thrive in a patient-provider setting, others prefer something a little more behind-the-scenes. So, ask yourself: how much contact do you want with patients? Do you want constant patient contact? Would you rather only work with patients for short periods of time? There's no right or wrong answer! But your first response could help you determine your next career move.
Wondering what medical careers require little patient interaction? Here's a few:
Here's the flip side of the equation — medical careers with lots of patient contact:
No. 2: What type of health care setting do you want to work in?
The next thing to think about is what kind of health care setting you want to work in. And as you know, there's quite a few to choose from.
🏥Hospitals
One of the most popular medical settings to work in is hospitals. Hospitals specialize in many areas of medicine including acute care, critical access, psychiatric care, and children's services, meaning many different types of medical professionals work here.
🏥Clinics and medical offices
Typically, medical clinics and offices specialize in one or more areas of medicine and provide outpatient treatment for patients in need. Some common clinics and medical offices include mental health clinics, community health clinics, and physical therapy clinics.
🏥Nursing homes
If you want to work in a medical facility that offers 24-hour care to residential patients, a nursing home may be the right setting for you. Nursing homes specialize in different levels of treatment and care based on an individual patient's needs. Generally, the conditions treated in nursing homes are not severe enough for hospitalization but are too serious to be treated at home.
🏥Hospice care facilities
The point of hospice care is to improve the quality of life for people with advanced and end-stage illnesses, as well as the lives of their families and caregivers. While most health care institutions only provide medical care services to patients, hospice care facilities have a diverse group of medical providers to help care for the patients' emotional, spiritual, and social needs.
🏥Imaging and radiology centers
Familiar with diagnostic imaging services like ultrasounds, CT scans, MRIs, and X-rays? These types of scans often take place in imaging and radiology centers. Of course, patients can undergo diagnostic imaging at a clinic or hospital, but a specialized imaging center typically provides the most cost-effective treatment option.
🏥Orthopedic rehabilitation centers
Specialized in offering rehabilitation to patients recovering from injury, orthopedic rehab centers focus on a wide range of potential musculoskeletal issues from athletic injuries to physical disabilities.
🏥 Long-term care (LTC) facilities
Working at an LTC facility means working with patients who suffer from serious conditions which require constant treatment. This can include positions in nursing homes, assisted living facilities, long-term rehab centers, home health, and covers a range of diverse medical needs.
🏥 Home health
Home health is, you guessed it, when you travel to a patients' own homes to provide assistance to an individual or small group of patients. Home health medical professionals have many specialties, but often focus on building relationships with their patients.
No. 3: Do you want to be part of a team or work solo?
Everyone has their own preferences for how they like to work. Perhaps you work better solo, maybe you live for the collaborative effort of a team — or heck, maybe you love both! No matter what your preference may be, there's a medical career that can accommodate your needs.
For example, medical lab techs, rad techs, and surgical techs all work more individually to help diagnose and treat their patients, whereas RNs and other nursing professionals team up to provide patient care.
No. 4: Do you have time for additional education or training?
While a fresh, new career may seem super fun and exciting in theory, it could actually be a lot of work, depending on what specialty you want to switch to. Of course, a lot of work doesn't mean impossible. In fact, it's totally possible! It's more of a question of time, as in do you have time for additional education or professional training?
If you've answered yes, then it's time to determine what specific type of additional education and training you need. Is it a couple day-long workshops, a certification course, getting an advanced degree, or something completely different? The answer will depend on what type of specialty you're switching to.
For example, if you're an RN and want to become an intensive care unit (ICU) RN, then you may need to take an additional certification course and gain clinical hours before you can start officially working as an ICU RN. However, if you're an RN and want to become a PT, then chances are you'll need to go back to school for your doctorate in physical therapy.
Ultimately, it's up to you to decide what's best for you and your career. If you're ready for a new challenge, perhaps it's time to consider changing your specialty. And here's how to do it in three easy steps.
Like what you're reading? You may also like: A Quick Guide to State Licenses for Medical Travelers
How to change your specialty (in three easy steps!)
Okay, so, you've made it this far. You know you want to spice things up and switch your specialty. But how do you do that? First, research what's out there. Then, gain hands-on experience. And lastly, get licensed in your new specialty. Easy peezy.
Step no. 1: Research what's out there
Now that you've evaluated what you want from your new specialty, it's time to decide what medical specialty is the best fit for you. Which means it's time to do some research! Here are some things to ask yourself:
What health care division do you want to work in? (Ex: Nursing, radiology, therapy, lab, etc.)
What additional education is needed?
What certifications are needed?
What's the highest paying specialty?
What's the job outlook?
Is there a good work/life balance?
When you begin your research, start with your recruiter. Your travel recruiter is your number one cheerleader and is there to support you throughout your career. Plus, maybe they have some super secret recruiter insight that could help you decide what specialty you want to work in! Either way, it's helpful to keep your recruiter in the loop with your career decisions.
After you talk with your recruiter, take to the internet! Do some online research to learn more about health care specialties. Try reading industry publications, news articles, reputable blogs (*cough* like us!), relevant journals, and other trustworthy sites.
If you still feel like you need more before you can make a final decision, we get you. So, see if there are any medical conferences or job fairs around that you can attend. Here, you can meet colleagues and recruiters experienced in the day-to-day of the specialty you're interested in. Aka, they know things and can help educate you!
Research will look different for everyone; the important thing is that you do it. Find out all you can about your future specialty before jumping into the next step: getting licensed.
Step no. 2: Gain hands-on experience
Alright, so you think you know what you want to do, now what? Now it's time to get into the action and gain hands-on experience.
Of course, depending on your current specialty and the specialty you're switching to, the scope of your hands-on experience may vary. But at the very least, you can shadow a colleague to get an inside scoop of their day-to-day. After all, doing is one of the most effective methods to learn new things. So, don your scrubs and get ready to get your hands dirty!
Well, right after this last step.
Step no. 3: Get your license and certifications
Before you can get licensed, you'll need to make sure you meet the educational requirements of your new specialty. Like we mentioned earlier, every specialty has different educational requirements, so make sure you know what they are and check all the boxes.
Now it's time to get licensed. Whether you're a travel nurse or allied health traveler, chances are you'll need a state license before you can start practicing IRL. Luckily, most modalities have some sort of compact licensure that allows you to practice your specialty across multiple states with one license. If that's not an option, you'll more than likely need individual state licenses in the states you want to travel to and work in.
You know what they say—first comes licensure, then comes certification. While some specialties don't have specific certification requirements, there are some that are extremely helpful to have. You know, ones such as basic life support (BLS) or advanced cardiac life support (ACLS). Again, the certification needed will depend on your specialty, so make sure you do you research to find out what's required for you.
Top in-demand medical professions
It can be a big decision to change career specialties. Still not sure what to switch to? Here are eight of the most in-demand medical professions in the U.S., as well as their core responsibilities, job outlook, and average salaries.
No. 1: Registered nurse (RN)
If you've ever worked in a hospital, physician's office, or clinic, then chances are you've worked with RNs. RNs provide most nursing care for patients, as well as offer emotional support for patients' families. Often, RNs act as a liaison between the patient and their medical team.
No. 2: MRI technologist
Like you may have guessed, MRI techs operate magnetic resonance imaging, aka MRI, machines to scan patients' bodies. These medical professionals work closely with doctors to diagnose a wide range of conditions. In addition to administering the scans, MRI techs also prepare the patient, monitor them, and review the images to capture every detail on the scan.
No. 3: Physical therapist (PT)
Movement experts, PTs help patients recover mobility and function after an injury or illness. PTs help patients increase mobility and reduce pain through stretches and exercises. On the day-to-day, PTs consult with patients, teach exercises, and provide therapeutic massages to injured areas.
No. 4: Occupational therapist (OT)
OTs are another type of movement expert. While PTs focus on mobility and functionality, OTs focus on helping patients restore skills and abilities to help them with daily living. Plus, OTs show patients how to build strength safely and efficiently in weakened areas of the body. Oftentimes, OTs work with patients after accidents and injuries or patients with neurological conditions.
No. 5: Speech-language pathologist (SLP)
SLPs, or speech therapists, assess, diagnose, and treat swallowing, speech, and communication disorders. SLPs work with patients of all ages who are struggling with speech and language disorders.
No. 6: Home health aide
Home health aides assist in patients' own homes and help with daily personal tasks, as well as household tasks. Many times, home health aides help with bathing, dressing, laundry, washing dishes, vacuuming, and organizing a client's schedule.
No. 7: Sonographer
Diagnostic medical sonographers use imaging equipment, like ultrasounds, to form images of many parts of a patient's body. These images are then analyzed by both a sonographer and doctor to diagnose and treat a wide variety of medical conditions.
No. 8: Respiratory therapist
Respiratory therapists care for patients who have trouble breathing or who suffer from conditions like asthma or chronic obstructive pulmonary disease (COPD). Basically, these medical professionals are experts in all things heart and lungs.
There are many reasons to change your specialty. Maybe you're looking for something different, or a new learning opportunity. Now that you've thought about the career you really want and you know how to change your specialty, it's up to you to decide what's right for you. No matter what you decide, your Fusion family, including your travel recruiter, is here to support you. Simply use this quick guide to navigate your next career move!