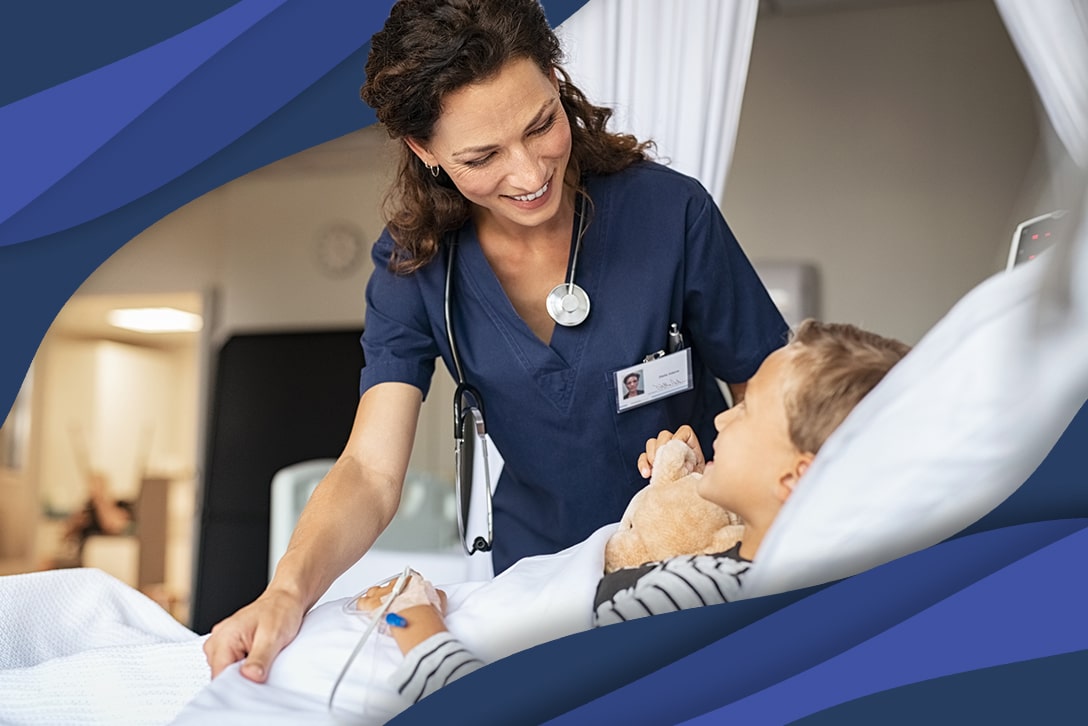 Are you a registered nurse (RN) exploring specialty options? In the market to change your specialty? Or maybe you want to step into a career path that's particularly meaningful to you? We've got just the thing: let's talk about pediatric nursing.
Now, you might have some questions. Like "what is pediatric nursing?" and "what does a peds nurse do?" No sweat. We've got answers for you that are more in-depth than just "a nurse who works with kids." Plus, a whole lot of other useful info about why you might want to become a pediatric nurse in 2023.
Top Benefits of Being a Pediatric Nurse
What is a pediatric nurse?
Pediatric nurses are nurses who specialize in providing care to infants, children, and teens. Peds RNs work closely with doctors, family members, and other healthcare providers as part of a child's clinical care team.
Since pediatric nurses work with many age ranges, they also have a wide range of responsibilities. Common duties may include:
Administering medications
Assisting children before and after surgery
Monitoring pain levels and notifying physicians of changes
Giving vaccinations and developing immunization schedules
Examining patients for condition changes
Communicating with patients and family members about treatment plans
Caring for chronically ill kids or those in emergency situations
In addition to general nursing care, pediatric RNs may also specialize in specific areas of nursing including pediatric oncology, neonatal intensive care (NICU), pediatric intensive care (PICU), labor and delivery, and more.
Pediatric nurses often find creative ways to build relationships and communicate with their patients. A toddler isn't able to explain their experiences the same way as an adult, which can be deeply rewarding to problem solve.
Like what you're reading? You may also like: How to Become a NICU Travel Nurse with Nurse Tori
Major benefits of being a peds nurse
Considering a career as a peds nurse? You'll be happy to know that there are many pros to being a pediatric RN. Check out these benefits to determine if this is the right nursing specialty for you.
Working with children
One of the main perks of being a peds nurse is the ability to work with kids. Since pediatric RNs work with children of all ages and at various points in their development, they get to watch the kids grow into healthy young adults. Plus, it feels good to offer support and a reassuring presence to children who are going through medical treatments, exams, or surgeries. If the idea of saving a child's life is even more appealing to you than doing the same work with adults, pediatric nursing may be a uniquely meaningful career path for you.
Wide range of job responsibilities
Being a pediatric RN means there's never a dull moment. Many of the duties of a peds nurse depend on the age of the child they're treating and caring for. An infant with an infection will have a different treatment plan than a teen with the same illness. Because of this, pediatric nurses must have a broad knowledge of childhood development and medical conditions to complete their duties.
Career satisfaction
Being a pediatric RN can bring immense career satisfaction and fulfillment. It feels good to make an impact on healing sick or injured children. And in emergency situations, peds nurses save lives. As a pediatric nurse, you can find satisfaction in maintaining and improving a child's health.
Job security
You already know there's a nursing shortage, which has created a demand for more RNs like you. According to the U.S. Bureau of Labor Statistics, employment for registered nurses is projected to grow 6% between 2021 and 2031. Within that time, it's expected more than 200,000 RN job openings will become available each year.
Plus, there will always be children in need of medical care. Depending on the hospital or medical facility you work in, you could be one of the only peds nurses around, making you even more valuable.
High salary
Money may not be the main reason you got into pediatrics, but it sure doesn't hurt. According to Indeed, pediatric RNs make $68,915 on average per year. However, when you travel as a peds RN, you could earn even more! Salaries vary based on geographic area, employer, and level of experience. If you're interested in making more, consider additional certifications or postgraduate education and training.
With so many options, it can be tough to decide on a nursing specialty. But if you love working with children, want to make a big impact, and earn a high salary, consider a career as a pediatric nurse. After you've gained some real-world experience, take your career to the next level and start traveling!