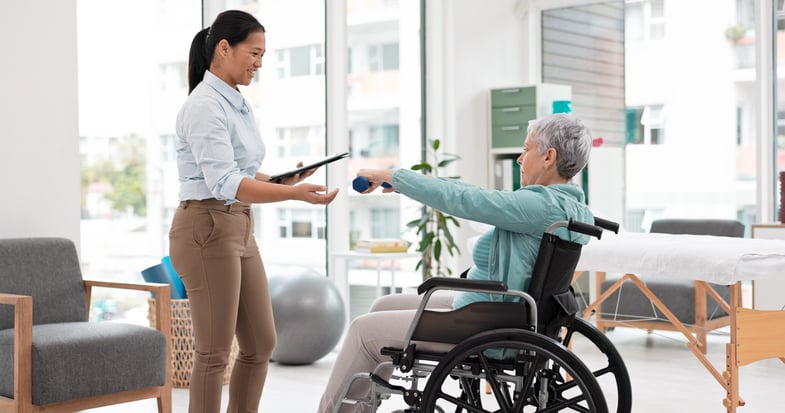 In the busy world we live in, it seems like there is an app for everything. And why shouldn't there be? We all always have our electronic devices on us, frequently checking them and using them during our day-to-day routines. If used wisely, mobile apps can be helpful tools for average Joe's like me, as well as for health care professionals like yourself, plus your patients!
10 Best Physical Therapy Apps
Welcome to the 21st century, where technology is your friend and information is limitless. Including information about how to best serve your patients as a physical therapist (PT)! The best part is there are several physical therapy apps that are available for free, so you don't even have to break the bank to provide the highest level of care to your patients. Check out the top 10 free mobile apps for physical therapists.
Clinical reference apps for physical therapy
You PTs are smart cookies, but sometimes you just need a refresher or a quick reference when treating your patients' musculoskeletal and orthopedic disorders. That's what these free clinical PT apps are for!
No. 1: Pocket Anatomy
The human body is complex, but you already know that. When you need a quick refresher on human anatomy, open the Pocket Anatomy app!
Experience the human body in 3D with just the simple swipe of your fingertips through this helpful app. Within the Pocket Anatomy app, you can sift through the thousands of structures and system layers of human anatomy like the skin, skeleton, connective tissue, muscle groups, circulatory system, digestive tract, reproductive system, lymphatic, respiratory, urinary, and more. With this 3D anatomy app, you can help patients target specific pain points and suggest exercises and care routines that offer patients sweet relief.
No. 2: ICD10 Consult
You've heard of the ICD-10-CM, aka the tenth edition of the International Classification of Diseases, Clinical Modification. Now get ready for the mobile version, the ICD10 Consult app.
The ICD-10-CM is the all-knowing and powerful system used by health care professionals to code all diagnoses, symptoms, and procedures. The ICD10 Consult mobile app is a free online version that, among other features, finds the perfect coding for you. With this app resource, you can search and find information on specific codes, plus customize code notes so you don't have to flip through a 30-pound book every time you need coding reference.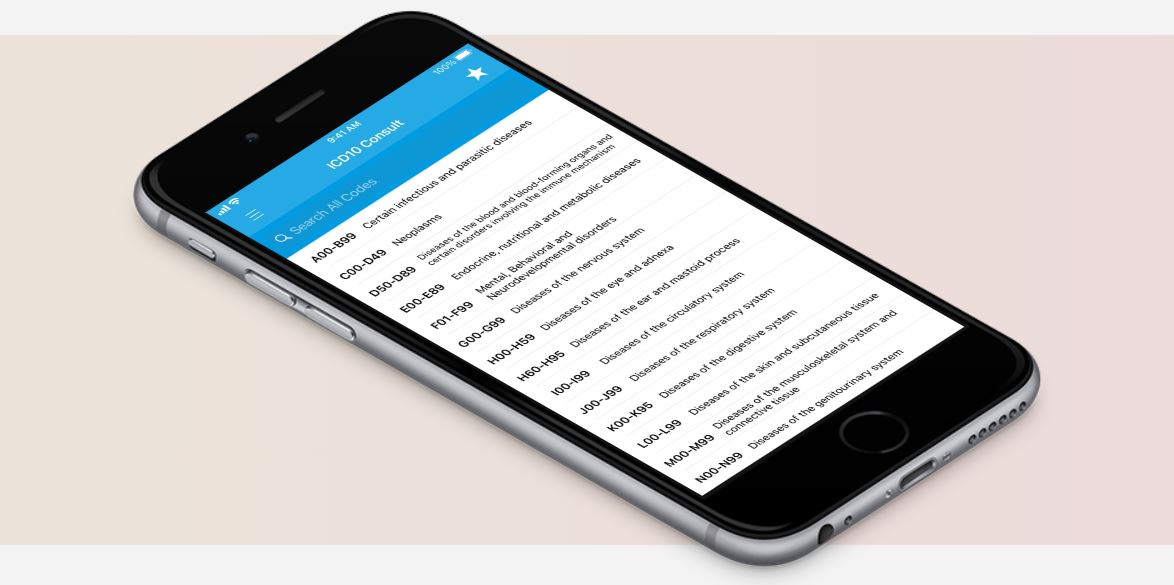 No. 3: Omada Joint & Muscle Health
Created by PTs for PTs, this physical therapy app is the perfect resource when creating an exercise care routine or personalized workouts. With over 100 different exercises and descriptions, the Omada Joint & Muscle Health app is perfect to help out when you're looking to spice up treatment routines.
Whether you're treating a patient's joint injury or someone with back, hand/wrist, knee, hip, neck, shoulder, foot/ankle, elbow, or arthritis pain, the Omada Joint & Muscle Health app is here for you. Use this mobile app to search home physical therapy practice exercise programs, and brainstorm new and customizable stretch and exercise routines that are unique to your patient's physical needs. Omada Joint & Muscle Health offers a better way to prevent and treat a patient's pain.
No. 4: iOrtho
Work smarter, not harder when it comes to physical therapy treatment techniques. And lucky for you, the iOrtho app is complete with evidence-based knowledge that you can access any day or night!
Download the iOrtho app and take advantage of the 450+ clinical tests and 120+ manual techniques to expand your PT knowledge. Not only does iOrtho provide the information you need, but it also explains the purpose and technique for each test, plus includes images and video demonstrations to help guide you through the process.
Easy to use, all you have to do is select the area on the skeleton you want more information on. From there, sub-categories of clinical tests and manual techniques are organized by location and body tissue so you can quickly and easily find what you're looking for.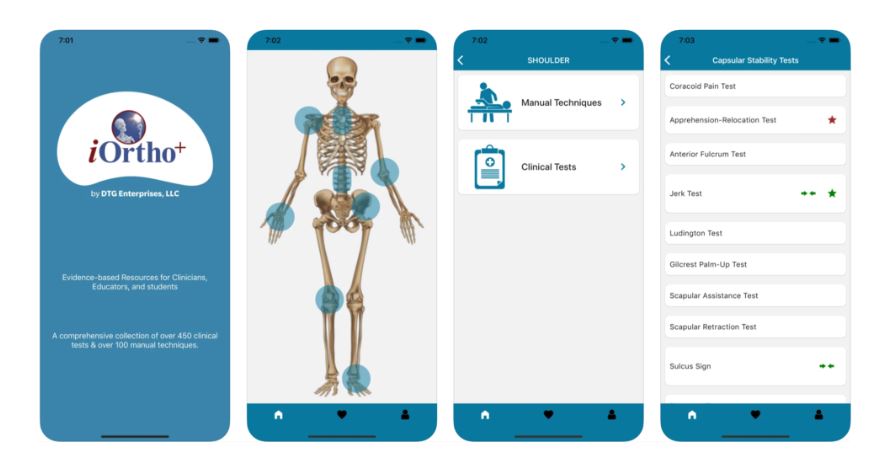 Educational physical therapy apps
Whether you're a therapy student or a seasoned PT traveler, there's always wiggle room to learn and grow. When you have a craving for knowledge, download some of the best physical therapy apps for education!
No. 5: PT Pal Pro
Ever wonder what your patients are doing when they're not at physical therapy with you? With the PT Pal Pro app, you don't have to wonder!
Although this app is more for patient education, it also gives you all the information you need to tailor exercises and treatments to a patient's range and needs. With PT Pal Pro, you can send exercises, treatment plans, and reminders to patients' mobile devices, plus track their progress at home. That way, you can save time catching up at physical therapy appointments and instead, be more focused on what works and what needs improvement.
No. 6: NPTE-PT Pocket Prep
If you're a PT student prepping for the National Physical Therapy Exam (NPTE), then you'll definitely want to download the NPTE-PT Pocket Prep app to help you study. You can thank us later.
Gone are the days of lugging around heavy textbooks wherever you go. Thanks to technology, PT students can use the NPTE-PT Pocket Prep app anywhere, anytime right from your mobile device. Challenge your knowledge as a future physical therapist through this exam prep app with easy access to NPTE practice questions, detailed answers with supporting medical references, and a rotating question of the day (QOTD).
With the NPTE-PT Pocket Prep app, you can personalize how you study to ensure that you study how you learn best. Choose your preferred study mode, set study reminders, and start the countdown to exam day all through this handy dandy mobile app. Next thing you know, you'll be prepped and ready to go for the big exam day! The NPTE-PT has nothin' on you.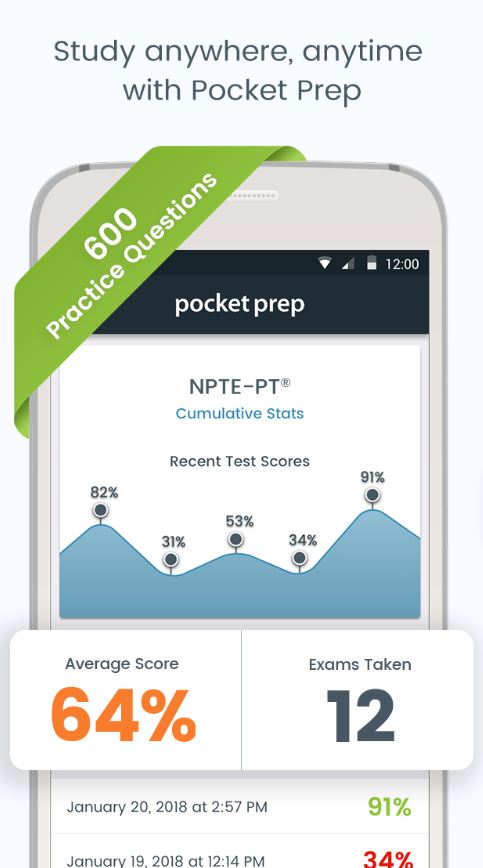 No. 7: PT365
You know how people take daily vitamins to strengthen their bodies and immune systems? Well, PT365 is the mobile app version of a physical therapist's daily vitamins.
Experienced physical therapists can download the PT365 app and get your daily fix of information. This mobile physical therapist app provides a unique QOTD about physical therapy to challenge what you know. And as a bonus, it gives you a complete explanation of both the correct and incorrect options to take your learning to the next level. The best part is you can track your progress and performance over time!

Pediatric care physical therapist apps
Have you ever looked at a child and been jealous of their radiating positive energy? Because I have. There's something special about kids that adults just don't have, so you might have to get creative with pediatric treatments for younger patients. These are the best pediatric apps for physical therapists:
No. 8: Jump Jump Froggy
Remember the old-school video game, Frogger? Jump Jump Froggy is kind of like that but made specially for kids in physical therapy!
Developed for children ages four and up, this mobile app helps engage kiddos in PT through mind and body home exercise programs with Flip the Frog and his froggy friends. Jump Jump Froggy reels kids in with its fun, engaging games and features four mobility areas including jump up, 30-second speed hopping challenge, sit ups, and pushups to help get the little ones moving. When the kiddo jumps, Flip the Frog jumps, too, making this app fun and interactive for kids in physical therapy.
*Not available for Android
No. 9: Toca Dance Free
When in doubt, dance it out, am I right? The Toca Dance mobile app knows what we mean. And when you download it, you'll get it, too.
Made for children aged six and up, this free, simple app gets users up moving and grooving. The best part is there is no dancing experience required, so even if you were born with two left feet, you can still use this app to create and choreograph dance routines for your patients. The Toca Dance app incorporates physical therapy motions like squatting, jumping, and crossing midline steps to help kids work on their PT goals at their own pace.
*Not available for Android
No. 10: Super Stretch Yoga
Stretching is great for our bodies, science says so. But kids may not always agree. Thankfully, Super Stretch Yoga can convince them otherwise.
This child-friendly app for mobile devices makes yoga and PT exercises a fun part of every kid's day with the neighborhood superhero, Super Stretch. With animated videos and boppin' music, Super Stretch Yoga is a great app to get kids moving in a fun and engaging way and allows you to get creative with physical treatment plans. Not only does this mobile app provide physical therapy exercises for kids, but it also helps increase flexibility and coordination, teaches body awareness, aids concentration, reduces stress, and develops confidence in children so they can reach their recovery goals.
Is there an app for that? The answer is: Probably! Apps are a part of our everyday life—we use them for almost everything including grocery shopping, entertainment, and health care like physical therapy. In today's technological world, apps are helpful tools and resources that can help us help others, and that's the case with these, which are some of the best physical therapy apps available. Whether you're in need of a clinical reference guide, an educational experience, or a little help with the little ones, just know there's an app for that.