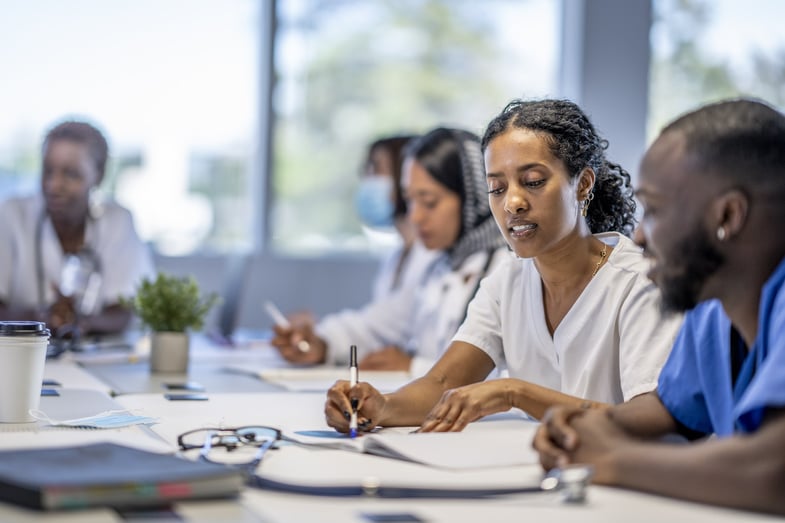 Here you are, little caterpillar, ready to graduate your therapy program and spread your wings in the real world! As you transition into the life you've always dreamed of living, there are some things you ought to know before you officially hit the road as a professional therapy traveler.
What Therapy Students Need to Know
It takes a special kind of someone to pursue a career in travel therapy, but you obviously already know that. As a professional travel therapist, you have the freedom to work when you want, where you want, and how you want. But first, you need to graduate, knock your exams out of the park, and holla at us for all the deets on elite travel jobs!
The 4-1-1 on travel therapy
Has anyone ever told you that you have impeccable timing? Now is the perfect time to enter the world of travel therapy! Physical therapists (PTs), occupational therapists (OTs), and speech-language pathologists (SLPs) are wildly in demand as the baby boomer generation gets older and more and more people require assistance with mobility, speech, and other conditions.
As a matter of fact, the U.S. Bureau of Labor Statistics estimates an average therapy job growth rate of 20 percent by 2029. To put it in perspective, the typical growth rate for all occupations is between 5 and 8 percent—so, to say that you're needed would be an understatement.
The beauty of a career as a travel therapy worker is you don't have to wait to start your adventure! All you need is a relevant degree in your therapy division and specialty, an affinity for travel, and a passion for helping others. If this sounds like you, prepare for your travel journey as a new therapy grad with these pro tips from experienced professionals:
Collect all the information you can about the travel life. Join community groups on social media, increase your professional network, attend a medical conference, request a lunch and learn, listen to podcasts, read articles or e-books, and learn everything possible about your future career path.


Like Rihanna, you, too must work work, work, work, work. One of Fusion's Therapy Recruiters, MacKenzie, said that the biggest favor you can give yourself is to gain as much experience in as many different therapy settings as possible—private offices, clinics, large hospitals, nursing homes, and more. There are multiple ways you can experiment in the real medical world, like with an internship or clinical rotations—it's up to you to decide what works for you and make the move.


Study sooner than later. Whether you're a PT, OT, or SLP, there is an exam in your future. Depending on the state you practice in and your therapy specialty, you may have to take the Jurisprudence (JD) Exam, a national exam like the National Physical Therapy Exam, or become certified by a Medical Board amongst other possible requirements. Regardless of the test you take, be ready and start studying well in advance.


Establish your travel support system. Therapy travelers work with independent staffing agencies (like us!) and have personal recruiters to offer guidance and a listening ear, and you should start making those connections a month or two before you graduate so you can get the nitty gritty details worked out before you start your first assignment.

At Fusion, recruiters are much more than talent scouts—they're your friend, advocate, and partner. Fusion recruiters genuinely care about you, your career goals, travel bucket list, personal life, and everything in-between. Not only do Fusion travelers have an MVP recruiter, they also have an entire clinical team available to answer questions, update you on licensing requirements, and make your travel life easier altogether. Plus, there are experienced Fusion therapy travelers ready and willing to mentor you through your first few assignments. Make a special request if you already have someone in mind!


Be kind to yourself. Life changes and big accomplishments are scary and exciting. Be mindful of your mental and physical needs. Don't be discouraged if you find yourself riding the struggle bus—we all have those days. The important thing is you pull yourself back up and keep moving forward. You got this!



PTs, OTs, and SLPs alike have the knowledge, medical skills, and resiliency to be successful in the life of travel therapy. Take your abilities to new places across the country and share them with patients who need you.
F you? No, FU!
Beginning your travel career as a new grad is exhilarating, but also intimidating. Luckily, we have good news, graduate! You're not alone on this twisty-turny travel therapy rollercoaster ride. Better news—there are hundreds of medical and allied travelers and students who get you and who have done it all before. Connect with them (and us!), share your knowledge, expand your expertise, and make new traveler friends through Fusion-U (FU), part of Fusion's Student Outreach Program.
No matter what field you're in, Fusion-U is full of helpful new therapy grad guides, student outreach events, and other informative content from professionals who understand the ins and outs of being a med traveler. Don't miss out on exclusive gift giveaways, newly posted therapy travel jobs, and the chance to win sweet prizes!
If you have burning travel questions, an event you where you want to see us, or general curiosity about Fusion's travel process, the team is always ready for you! Reach out to StudentOutreach@FusionMedStaff.com for all the hot info on travel life.
You already have what it takes to be successful in the therapy world. Take your career a step further and add travel into the mix for more professional independence, traveler benefits, and the chance to cross off incredible destinations on your bucket list!
Make the transition easier on yourself with a helping hand from Fusion-U, your therapy mentor, and your recruiter. The Fusion fam is here to get you started and make sure you end up in your ideal placement every time because let's be honest, there are too many adventures to be had for only one assignment. Enter your therapy travel career on the right foot and travel with Fusion Medical Staffing!