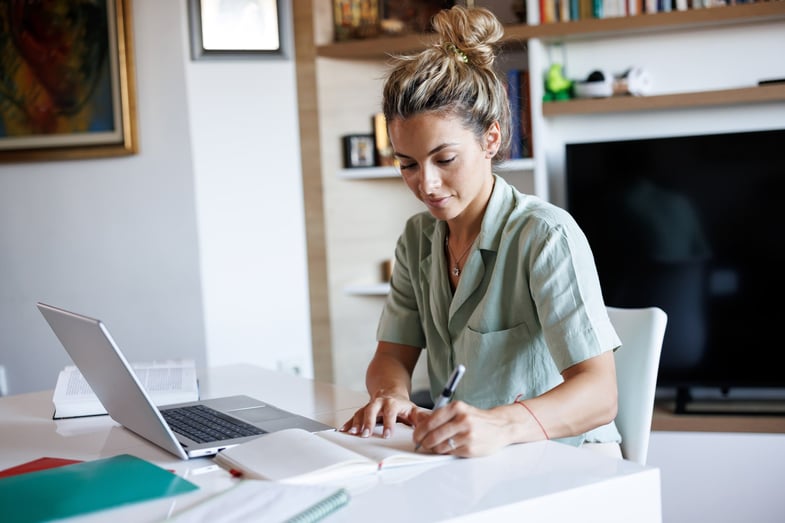 For a lot of us, we thought that our days of test-taking were over when we got that good ole' college education. But for you, sweet medical traveler, your test-taking days end when you pass the medical board examination.
What to Expect After You Complete Your Medical Boards
What is this board exam, you ask? Well, in short, it's a comprehensive test that challenges you to be the best medical professional you can be. If you want to practice medicine as a physician, nurse, or therapy professional, you'll have to first ace the exam and earn your license. Let's take a look at the different types of board exams.
Medical boards explained
Have you ever been treated by a medical professional? The odds are you have. So, imagine if that professional had no formal training, no licensure, and practiced medicine willy nilly. Chances are if that were the case, you wouldn't recommend that person to any of your friends (or enemies).
The medical board exams test a person's medical knowledge in their field to ensure that they're able to provide top-quality patient-centered care. Let's take a peek at what boards mean for travel nursing and therapy.
Nursing
There are 4.5 million nurses in the U.S. currently. So, how did they get to where they are now?
To become a licensed registered nurse (RN) or practical nurse (PN), you must first complete your nursing education, which means you need a relevant nursing degree from an accredited institution. Once you have your degree in hand, it's time to apply for the National Council Licensure Examination (NCLEX)-RN or NCLEX-PN.
Pro tip: If you want to expedite the application process, you can register for the NCLEX before you graduate. Even though you won't be licensed until after you pass the exam, turning in paperwork early only gets you one step closer to becoming a professional nurse!
The purpose of the NCLEX is to protect the public from any harm by setting minimal qualifications and competencies for safe entry-level nurses. Essentially, this test gives nurses all the information they need to successfully treat patients. The National Council of State Boards of Nursing are the proctors of the exam with the final say on your score.
The unique thing about nursing boards is all 50 states have the same standard for passing, but some states still have their own individual practicing rules. For instance, states that participate in the compact licensure allow travel nurses to work their medical magic on patients in other participating states without having to get a new license or retake the NCLEX. Compact states make it easier for you to travel across the country and provide medical care for patients in need. However, you will need individual licenses to practice nursing in non-compact states, like Washington or New York. If you plan to take your career to the road and begin your life as a professional traveler, it would be a good idea to obtain a compact nursing license.
Now that you know you need to apply for the NCLEX, you should know the eligibility requirements, as well. Of course, these requirements may vary by state, so make sure you know what your specific state requires from you.
Disclose any legal or professional issues
Complete a fingerprint-based criminal background check
Share any medical conditions that may impair practice
Obtain a notary signature
When sharing your personal information, be open with your past. If you have something on your record, it doesn't automatically disqualify you, but withholding the information could have consequences to your career.
After you've successfully registered for the NCLEX, spend quality time with your textbooks and the Internet and make sure you know your stuff. To get a feel for what the NCLEX has in store for you, check out online practice tests and give them your best shot! That A+ is waiting for you!
Physical therapy
Just like nurses, physical therapists (PTs) must pass an exam before they can start improving lives. For PTs, it's the National Physical Therapy Examination (NPTE).
Administered by the Federation of State Boards of Physical Therapy (FSBPT), the NPTE is the bridge that leads to a professional career as a physical therapist. But why do I have to take the NPTE? I already took the ACT and/or the SAT—isn't that enough?
Unfortunately not, sweet aspiring PT. See, the NPTE is important because it assesses your basic competence after graduation. Plus, the NPTE sets the overall standards for physical therapy treatment and ensures that the standards are comparable from jurisdiction to jurisdiction for continuity.
Like nurses and the NCLEX, future physical therapists take the NPTE after they've completed school. However, unlike the NCLEX, it's up to the accredited institution to help keep you on track for graduation and introduce you to the necessary steps that lead you to the NPTE. No more than 150 days before graduation, your school will create your FSBPT profile. Then as you near graduation, your program will validate that you're in the fast lane towards graduation, and you'll be able to register for the NPTE.
After you've registered for the exam, you can track the status of your application on your customer dashboard within your profile. Once you've been approved to schedule your test, you'll be notified via email. Then, all that's left to do is study hard and pass the NPTE. No pressure.
Lucky for you, there are tons of study and prep material available online. Like the online practice exam and assessment tool or random helpful tips. Check out the NPTE candidate handbook to learn all there is to know about the exam, how it's administered, and what to do after you've taken the NPTE.
Now, the worst part—waiting for the results. Of course, we know that you passed with flying colors, but you can get your proof about five business days after your exam date by logging into your FSBPT profile. And when you know for sure that you passed, give yourself a loving pat on the back from your proud friends at Fusion Medical Staffing.
Occupational therapy
The future is calling you and it's luring you towards occupational therapy (OT). But before you can claim your rightful throne as an OT, you must first pass the National Board for Certification in Occupational Therapy (NBCOT) exam.
Like the NCLEX and NPTE, the NBCOT exam is meant to protect the public by certifying only qualified candidates with the necessary knowledge of occupational therapy to practice. To ensure you're one of those people in the know, it's important that you prepare in advance as much as you can. To help you study, the American Occupational Therapy Association offers a slew of learning materials that you can access anytime you want.
When you're ready to give the NBCOT exam your best shot, simply create a MyNBCOT account, pay the application fee, and submit your application. Once your application is successfully submitted, you'll need to ask your school registrar to send an official transcript or Degree Verification Form (DVF). Be aware that if you try to submit your transcript before applying for the exam, your time will be delayed, so it's best to wait until after you've submitted your formal application.
After your application is approved, you'll receive an Authorization to Test (ATT) letter via email and in your MyNBCOT account. Then, you can schedule the date of your exam and get ready to put your best foot forward. Your results will be posted automatically in your MyNBCOT account, or you can find them on the score release date schedule.
So, now that you've completed your boards, what happens next?
Start your travel career
Congratulations on passing your boards, you smarty pants! We knew you had it in you. So…now what?
Now it's your time to shine and decide what you want to do with your degree and newfound license. Of course, you could always apply for a perm job at a local hospital, outpatient center, or other medical clinic. Or you could take a walk on the wild side and start your travel career with Fusion Medical Staffing.
Life as a medical traveler opens career avenues you may never knew possible. Do you dream of exploring breathtaking U.S. destinations? Or of healing people in need? And all while getting paid a premium salary? If you answered, "yes" to any of those questions, a career as a professional med traveler may be in your future.
But how do you get started as a medical traveler? Well, it depends on your field of medicine. For example, nurses who have a desire to travel professionally must complete at least one year of clinical experience before they can officially take to the road. However, therapy med workers can jump into the travel life right after graduation!
Once you're ready to start your new life as a professional med traveler, all you have to do is submit a quick application to Fusion Med Staffing. From there, an Application Specialist will reach out to get to know you a little bit better before they assign you your own personal recruiter. After you've been matched with a recruiter, they'll build your traveler profile complete with information on where you want to go, why you decided to travel, what you hope to gain from the experience, and then some. It's your recruiter's job to help guide you during your travel journey so you'll always have a friend wherever you go.
In addition to a guaranteed friend, there are many perks of being a travel nurse or travel therapy professional—especially when you travel with Fusion Med Staffing. Fusion gives you the benefits that give you peace of mind knowing you're taken care of so you can focus your attention on your thriving travel career. Let us take care of you with:
Competitive compensation
Weekly tax-free per diem
401k matching investment
Professional liability insurance
Certification reimbursement
Short-term disability
Worker's comp
Health, dental, and vision insurance
When you travel with Fusion, you become part of the Fusion family. And that means we take care of you because we know life is less stressful when you know you're covered. So, what are you waiting for? Hit the road as a med traveler and live out your lifelong dreams of being a traveling medical superhero.
You already knew you were an uber-talented medical guru—that's why you chose this profession. But what will you do after you pass the boards and become a licensed medical professional? You have options, but perhaps the best one is medical travel, in our completely unbiased opinion. After you pass your board exam, gain real-world experience, and get ready to set off on your first travel assignment!