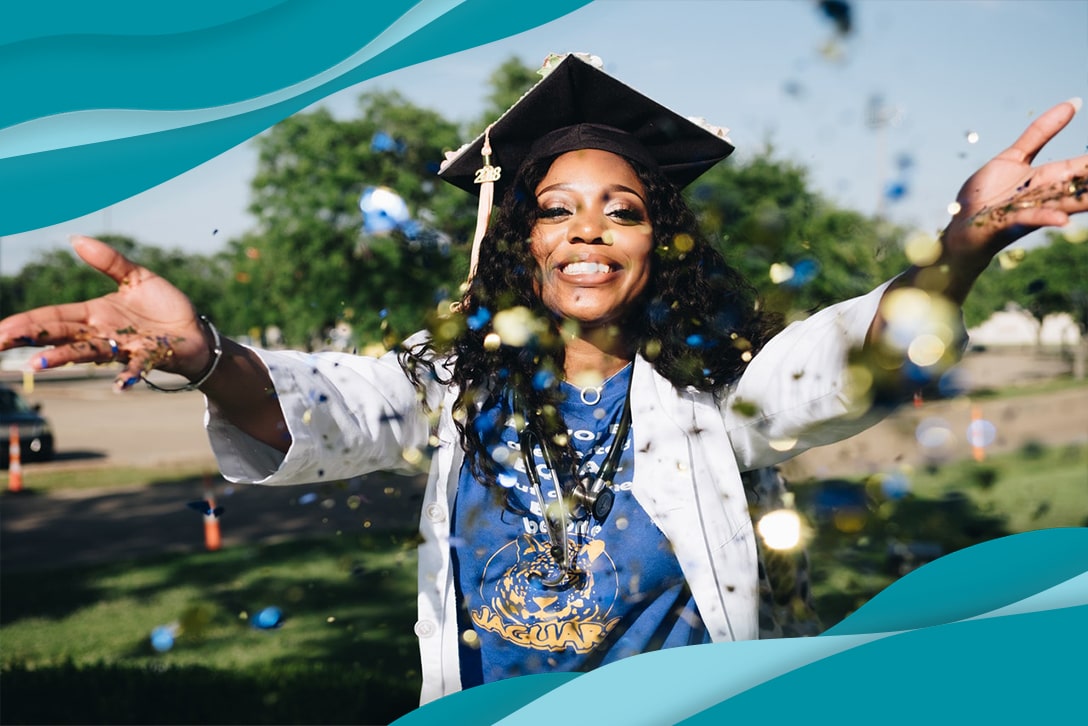 Hey you. Yeah, you! Are you ready to claim your title as a badass medical traveler? Then you've come to the right place.
Fusion Medical Staffing's student outreach coordinator, Melanie Sallas, is here to answer all your burning questions on how to get started as a new traveler. Fear not, you're not alone on this wild ride, young grasshopper—we got you.
Q&A with Fusion Medical Staffing Student Outreach
Q: How do I start traveling?
A: You can start right now! It's never too early to start traveling. You can apply online or if you have some questions, you can reach out to me ! I can answer all your travel questions before you start chatting with a recruiter!
Q: What do I need to know to be a successful med traveler?
A: Our best travelers go where the jobs are and good communications is key, especially with your recruiter.
Q: How much experience do I need to travel?
A: Nursing, LTC, radiology, lab, cath lab, cardio, home health all require about one to two years of experience depending on the market. BUT! In the therapy field you can start right after graduation!
Q: How do I get paired with a recruiter?
A: I can help you with that! That's one of the reasons Student Outreach will stay in touch for so long. I want to get to know you as a person, pick up on your personality, and communication style. I'll personally match you with a recruiter, someone who I think you'll really get along with. You'll have the same recruiter for your entire career at Fusion.
Q: Where does Fusion staff?
A: We staff nationwide! The better question is where don't we staff?
Q: Can I travel with my family and/or friend(s)?
A: Absolutely! Whether they're a healthcare worker or work remotely, you can travel with anyone.
Q: Can I work close to home as a traveler?
A: You can! The current market has definitely made it easier on travelers to stay close to home. You will receive more perks as a traveler when traveling 60 miles away from your perm address.
Q: How do I prepare for my first travel assignment?
A: Your relationship with your recruiter will be key. You can also join our Fusion Traveler's Facebook page to meet some Fusion family members. Here you can ask questions and get tips and trick from some experienced travelers.
Q: Do I need a license for each state I work in?
A: Yes. You need a license in each state you work in. The process is fairly simple! After passing boards you'll just go in and apply for that states license. It will come with a wait time and a fee. We'll reimburse that fee for each assignment you take with us in new states.
Q: Where do I live while on assignment?
A: You have two options with housing. You can use our housing department to find you a one bedroom apartment or extended stay hotel OR you can take the housing stipend. The housing stipend is the cost of living in the area you're traveling to. Your recruiter will be a big help with that, as well!
Q: What if I don't like my travel assignment?
A: That's totally fine and it happens! After the 13 weeks, you can move on to your next assignment.
Q: What benefits are offered at Fusion for travelers?
As a traveler you get all the same benefits as I do…
Insurance: We offer medical, dental, and vision. All are through nationwide providers so should be easy to find clinics if you're crisscrossing around the country.
401k: You can start adding into your 401K after 30 days of service and Fusion will match after 1 year (another perk to staying with the same company!). We'll match 100 percent of the first 3 percent and 50 percent of the next 2 percent. So, if you put in 5 percent, Fusion will match 4% percent of that.
CEUs: We open that $300 reimbursement to any classes or certs you want to use. Each year, you'll get another $300 to add towards new CEU's.
Q: Why should I travel with Fusion Med Staffing?

A: We don't want to be the biggest, we just want to be the best in c

ommunication, c

ustomer service, c

ompany culture (we hold out culture very high internally and externally! And you will see that in our social media and with talking with our team). We're a

lways transparent on how we do business and how we can reach your goals.

Choosing a staffing company is a personal choice and we think you should see what is out there to find the best fit for you!

Q: Why should I work with Student Outreach?
A: With Student Outreach, I like to really get to know you and I will reach out quarterly to discuss any questions on travel and u

pdate you on the market. We'll get you more familiar with Fusion and our culture.

Thanks to Mel, now you can feel prepared as you take the first steps towards the adventure of a lifetime. As a new med traveler, it's a comfort to know you're not alone—Fusion is here to support you and cheer you on during the entire ride.

Have more questions for Fusion's student outreach team? Shoot us an email at StudentOutreach@FusionMedStaff.com!