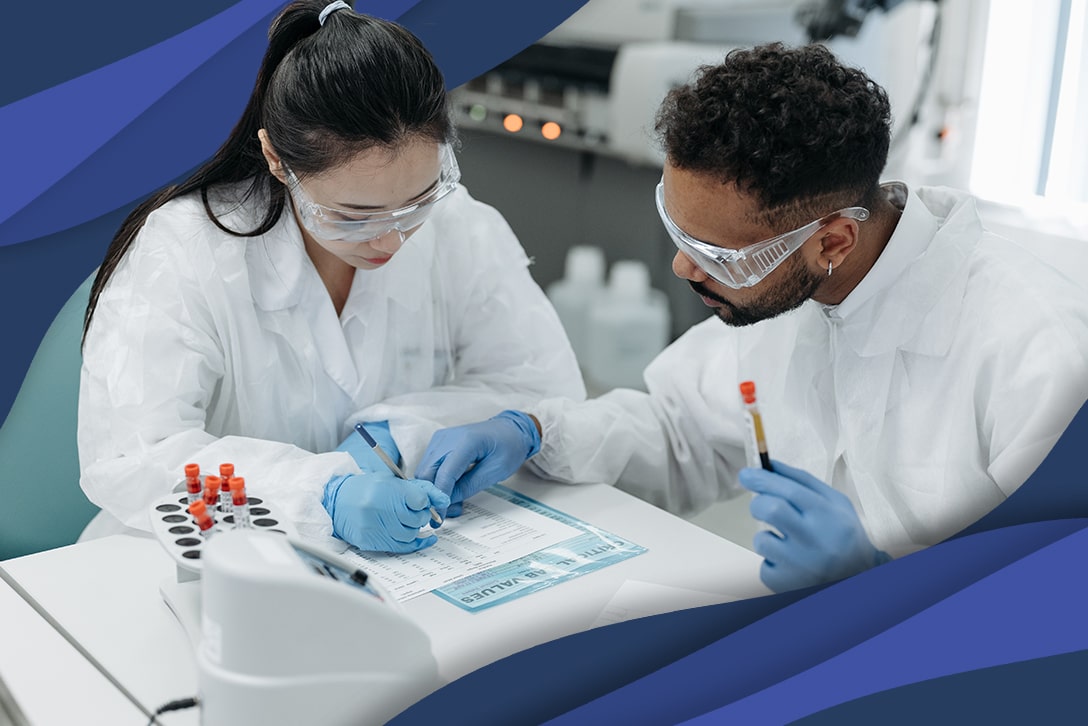 Have you ever wondered what happens once you provide a specimen sample at the doctor? Or thought about who does all those laboratory tests or even who analyzes the results to tell you that you have high glucose levels or who knows what your blood type is?
If your mind is now wandering and considering who these mysterious medical workers may be, you might be surprised to learn they're medical laboratory professionals, more commonly referred to as a medical lab scientist (MLS) or a medical lab technician (MLT).
There's a lot that goes on behind the scenes of a career in medicine and we don't always see the full picture. A lab technician helps patients and other medical professionals connect the dots to uncover patient diagnoses, treatments, and managements. Although you may not always see them in the immediate medical environment, medical lab scientist and medical laboratory technology travelers are heavily involved in day-to-day patient care and recovery.
MLS vs MLT: What's the Difference?
The major differences between an MLS and an MLT
Okay, so a medical lab scientist and medical laboratory technician are similar, but not the same? You got it, traveler. Sure, the two professions have a lot in common like utilizing medical laboratory equipment to analyze patient samples and lab test results, educating others in the medical field on patient lab results, plus collecting a patient's medical information.
On the flip side, MLS and MLTs have some major differences. For starters, in order to become a medical lab scientist, you need at least a four-year bachelor's degree, whereas a medical lab technician is only required to complete a two-year associate's degree program.
"One of the great things about the medical laboratory profession is that there are many different ways for people to become a part of the profession," said Stephanie Noblit, MLS. "In addition to the associates and bachelors level, our profession also recently expanded to include a doctorate program in clinical laboratory science (DCLS). MLSs and MTs work in similar environments; the difference between them is the complexity of testing they're able to perform."
Responsibilities of a medical lab technician:
Analyze bodily fluids from patients (i.e. blood, urine, or tissue samples)
Examine blood samples for transfusions to identify blood type and compatibility
Calibrate and sterilize medical laboratory equipment
Enter patient information into medical history file
Responsibilities of a medical laboratory scientist:
Analyze lab findings and verify results
Examine biological specimens and blood samples
Inform other medical workers like physicians and researchers on lab results
Oversee lab techs and train others
Regardless of your professional title, all lab workers alike support overall patient care and wellbeing. Jessica Salamy, MLS, agrees and said the clinical laboratory sciences profession is made of "highly-skilled scientists" who support medical facilities, medical professionals, and patients.
"The Mayo Clinic estimates that 60 to 70 percent of all decisions regarding a patient's diagnosis and treatment, hospital admission, and discharge are based on laboratory test results," said Jessica.
It goes without saying that medical lab technicians are important to the overall structure of the U.S. healthcare industry. Between 2019 and 2029, the job market for medical technologists is projected to grow 7%, adding 24,700 new jobs for Americans. As the demand continues to grow for medical lab technician travelers, more and more job growth opportunities for lab techs will become available to help counterbalance the lab shortage.
"We like to help and explain what we do," said Jessica. "Everybody cares so much about each specimen we touch. It's not just a sample we're holding—it's someone's life. Even though we're in the background, we're invested in the care of our patients."
Plus-sides of lab life
Lab life comes with many perks, and we know some people who would agree—like Monica Branom, BS, MLS.
"What I love most is being a major part of a puzzle for our patients," Monica said. "I can look at a slide and test result and can compare that with a patient's clinical symptoms and discover what's wrong with them. To be able to give a patient an answer is a huge thing."
Aside from giving patients an answer, traveling lab workers also reap some unique career benefits including:
First-rate salary
Career stability
Flexible working hours
Opportunities to travel the country
Diverse specializations and career options within the lab field
Rewarding work helping others
"I get to make a difference every day," said traveling med lab professional Chrysa Zachary. "Laboratorians are such a vital part of the healthcare team and many decisions cannot be made without us. A doctor can't look at a patient and know their blood type, their platelet count, if their sodium is low, etc. They need us to tell them that and we should be proud of what we do and our roles in helping the patient."
"The best perk of being an MLS is knowing that I am an important part of how a patient is treated and cared for," said long-time travel MLS, Norma Bivona. "Knowing that without my work as an MLS, the doctors can't do their job is very humbling to me, and this drives me to have a positive outlook about my job."
Search for lab job opportunities
Q&A with Norma Bivona, MLS
(ASCP)
Megan Bebout: How long have you been a medical lab scientist? Why did you choose the lab division?
Norma Bivona: I have been an MLS for 21 years now. I chose the lab because I enjoy learning new ways to help doctors to be able to treat their patients.
MB: What medical professionals do you work with as a labbie? (i.e. nurses, physicians, radiographers, etc.)
NB: We work with pretty much all the other medical professionals in the hospital. We are in constant communication with nurses calling critical results so that they can pass it on to the physician so they will know how to treat the patient. Other professionals sometimes can't continue their duties with a patient because they may need a result from the lab before further being able to test (i.e. radiology). So bottom line, it is just a big team we work with because without us, physicians would not be able to treat their patients.
MB: Can you walk us through a typical day as an MLS? What are your common tasks and responsibilities?
When I arrive at work, I first check and see what is going on and check with my coworkers to see what help they may need. I am responsible for receiving the specimens that are sent down to the lab, plus preparing them for the instruments I need to place them on. After the specimens run, I have to result them in the computer so that the nurses can get the results to chart for the doctors. I am also responsible for the maintenance on the instruments and the running of the quality control materials to be sure the instruments are in working order and giving correct results.
Every day is a little different depending on the workload. I sometimes have to go up to the floors and draw the blood from the patients for the tests the doctors order. Each department has their own routine. Chemistry, Hematology, Blood Bank, Urinalysis, Micro, Coag are the departments and workload varies each day in each department. The workload is everyone's responsibility, so teamwork is essential.
MB: What advice would you offer to individuals interested in the lab field?
Some advice I would have to offer would be remembering you are there for the patient and the patient comes first. Be a team player and no matter what department you may be scheduled to work in, always know that you should pitch in to help another co-worker if things start getting rough. Again, I can't stress it enough that as a labbie, your first responsibility is to the patient. Communication is a key factor also. Do your job to the best of your ability and don't get caught up in drama.
MB: How has Fusion helped shape your travel career?
Fusion has given me multiple opportunities to express the love I have for my job. I love what I do and do what I love. As I see what Fusion does for their travelers and for the community, it makes me want to give back even more. Fusion has taught me to be humble, driven, and positive, not only in the workplace but in my personal life, too.
MB: What are some fun locations you've traveled to for a travel MLS job?
I have been traveling for 14 years now and have experienced many wonderful places and met many wonderful people. Traveling in California was probably where I had the most fun because I was able to frequent Disneyland—I love me some Mickey Mouse! Utah was my most favorite state because of the beauty of the state. To quote Dr Seuss, "Oh the places you can go" with your career and Fusion has helped me do this.
Even though we don't always see them face-to-face, lab workers play a key role in the healthcare industry. At the end of the day, both MLS and MLT professionals have the same goal: to provide exceptional patient care and treatment.