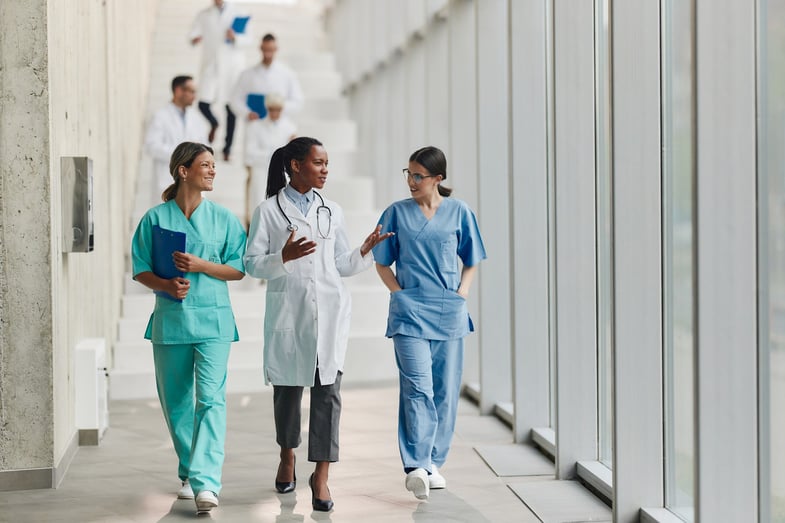 Congratulations, traveler! You've finished school, selected your specialty, gained at least one year of experience in a clinical setting, and accepted your very first travel nursing job—EXCITING! Before you embark on this new adventure, check out these pro tips to guarantee you ditch your job jitters and leap into your very first travel nursing assignment with confidence.
Tips for First-Time Travel Nurses
For a long time, our society has had caregivers and healers that go from town to town to help the ill and disabled. Nowadays, these patrons are more commonly known as travel nurses. As the epicenter of the healthcare industry, nurses advocate for their patient's health and wellbeing; listen, support, and connect their patients to additional resources, as necessary; make sure patent families are seen and heard; fight for improved healthcare policies and legislation; and more.
Hot tips for your first travel nursing job
Before you take the initial step towards your travel placement, peruse these top ten tips for first-time travel nurses:
No. 1: Work with a solid, trustworthy medical staffing agency
Your first step as a new traveler is to find a reputable staffing company and recruiter to work with. Although technological advancements have replaced the traditional recruiting process, some things can't be replaced with technology. Find an agency that fosters human-to-human connection, authentic and essential support, plus personalized knowledge of your career goals.
No. 2: Establish your career goals
Now that you've connected with a staffing company and a personal recruiter, it's time to determine your travel career goals. Take control of your career and remember what inspired you to become a travel nurse in the first place.
No. 3: Secure state-specific licenses and certifications
Because each specialty has their own requirements, you should research state-specific licenses and certifications that allow you to practice medicine well in advance of your travel job start date. If you're lucky, the staffing company you've signed with will reimburse the cost of these requirements—Fusion does!
No. 4: Roll with the punches
There are a lot of unknowns that come with your first travel job—roll with the punches as they come. Matt Duncan, RN, said that new travelers can expect the "good, bad, ugly, and beautiful."
No. 5: Be flexible
Even though your recruiter is working their butt off to find your perfect travel job, you may not always get what you want. When that happens, be flexible and adaptable. After all, your assignment is only 13 weeks long—you can do anything for 13 weeks.
No. 6: Pack wisely
It may feel natural to shove all of your belongings into bags, but here's a plot twist: you don't need it all. When packing for your travel nursing placement, bring one or two of your cherished items that make you feel comfy and at home—these could be a cozy blanket, calming candle, or something else that centers your chi. Then, pack your scrubs and other not-work outfits to venture around the town in, and any other must-haves that you can't live without. Save space in your suitcase and purchase toiletries and hygiene products once you've arrived at your destination.
No. 7: Plan your housing situation in advance
As a med traveler, you have housing options: accept the tax-free stipend or leave it to your agency to hook you up. Whatever you decide to do, make a plan in advance so you have sustainable living and a place to rest your head as soon as you get to your new home away from home.
For most of his travel jobs, Matt stays exclusively in his travel camper. "RV is my preference because it's my space and I don't necessarily feel like all my money is being thrown away on a hotel room," Matt said. "Everything doesn't require packing when I head home between workdays. And someday, I may have the occasion to spread my wings a little further and stay in the camper full-time."
No. 8: Don't be afraid to ask questions or take notes
It's an outdated saying, but one that rings true in the medical world: there's no dumb question. Don't be afraid to ask for clarification when needed and take notes to help you remember facility policies, treatment plans, etc.
"Take notes, we always love it when travelers take notes!" said perm nurse, Lacey Brown Contreras. "Chances are you've worked with their analyzers or processes, but every place is different so just do things as they like it, even if it's different than how you've done it in the past. Definitely ask questions and get contact numbers for where/who to call if you're sick and someone you can reach out to for help on rare cases."
Matt agreed. He said: "Relax. Learn their methods, terminology, protocols, etc. Don't assume the way you know or have done for however long is better. By listening and showing respect to their ways, you show respect to them and will earn their respect."
No. 9: Stay positive and trust your medical skills
The first few days in your new job will be jam-packed with robust information—don't panic. The facility won't expect you to become an expert in their ways overnight. Stay positive and trust yourself.
"Your broader experience will be able to shine," Matt said. "You won't do everything perfectly, but you will learn, grow, and be a better nurse and a better person with a greater sense of reward."
No. 10: Get ahead of the game
Unless you extend your travel assignment, you'll be back on the road before you know it, headed to another nursing job. Start to collaborate with your recruiter and apply for travel jobs three to six weeks in advance. That way, you'll never worry about getting paid or where your next paycheck comes from.
What people think travel nursing is vs what travel nursing actually is
There are lots of ideas about travel nursing floating around. Don't let common myths and misconceptions fool you—a career as a travel nurse opens new avenues that may not have been available to you otherwise. Travel nursing gives you the opportunity to meet new professionals and strengthen your network, all while working in remarkable locations around the country. How many people get to say that?
Many people will tell you that travel nurses move every 13 weeks. Okay, this is sometimes true, but not always! The full truth is you have lots of options—you can choose to pack up and head out once your travel contract expires, you may have the chance to extend your assignment, or you and your recruiter could find a new placement nearby your current one. The beauty is the power is in your hands so it's up to you when and where you move.
If you hear that travel nursing isn't a career for established medical professionals, don't buy it. Aside from the fact that travel nurses are established medical professionals, the average age of registered nurses (RNs) in the U.S. is 51 years old. Because many older adults have established their medical careers in one location, they have a wide breadth of experience that makes them some of the most valuable candidates for travel nurses.
Lastly, you may be told that travel nursing doesn't offer a stable income. The irony with this myth is that a career in travel nursing may provide increased pay since you're offered tax-free stipends, travel reimbursements, continued education resources, plus other one-of-a-kind perks. The U.S. Bureau of Labor and Statistics estimates the need for 1.1 million new nurses by 2022, so the opportunities for travelers are almost endless.
In reality, a career as a travel nurse gives you the chance to change the lives of others in a variety of settings and locations. Whether you're a long-term care nurse, certified nursing assistant, or expert in another nursing specialty, travel life allows you to meld your professional career with your personal life experiences.
"Traveling can bring joy back to nursing when you're close to burning out," Matt said. "I work to live, not live to work."
Being a new traveler is a learning curve—that's why Fusion Med Staffing is here to help you navigate your path throughout your whole career. As a Fusion traveler, you'll have the same recruiter for every job assignment and destination, an internal clinical support team ready to answer questions and address concerns, as well as access to free 24/7 phone counseling with mental health professionals.
So, off you go, badass new travel nurse. Your adventure starts now.