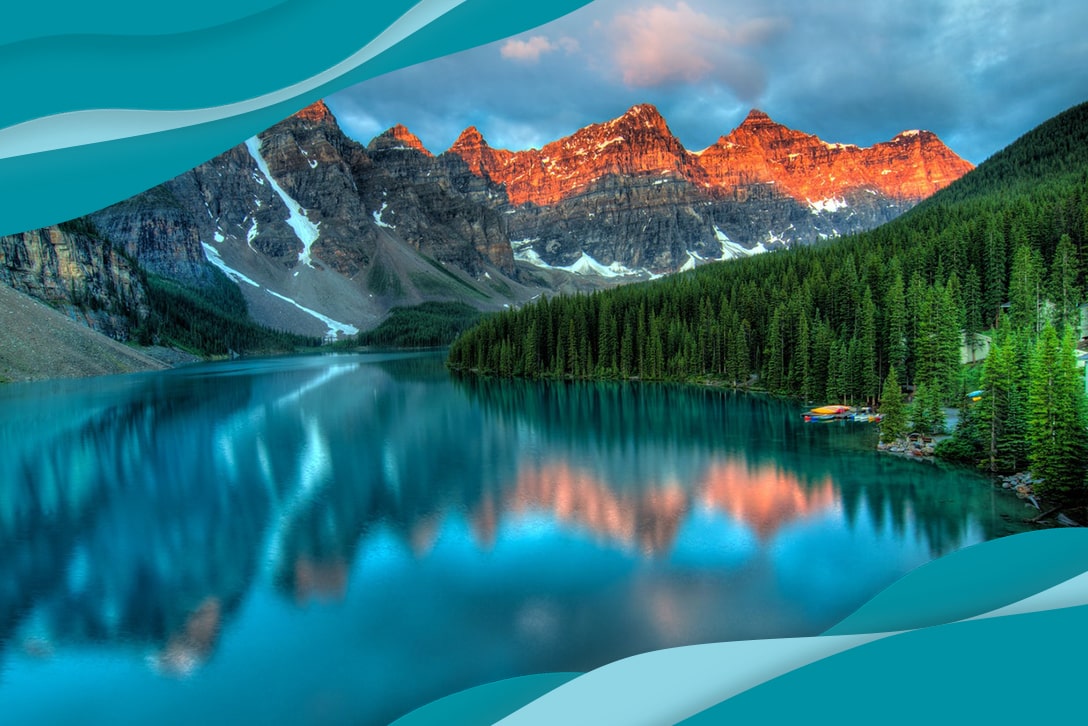 Hey you! Why did you decide to become a professional med traveler? Was it the opportunity to improve countless lives? Is it because you love to learn and want to expand your medical skills? Or maybe the real sell was the chance to travel the U.S. and explore new places?
Top U.S. National Parks to Explore
Unlike other professions, med travel allows you to work where you want, how you want, and when you want. So, if you want to travel the country by brewery, you sure can. (And get paid while doing it!) Or if you're on a quest to visit every national park in the U.S., like traveling interventional radiologist, Kailey, then you're welcome to do exactly that!
We've put together a comprehensive guide of U.S. national parks to explore by region. With more than 297 million national park visits on a given year, it can be tough to narrow down which ones to tackle first, so we thought we'd help a homie out. You're welcome!
*Pro tip: If you do decide to travel by national park, consider buying an Entrance Pass to cover park and amenity fees. That way, you can instantly gain access to more than 2,000 federal recreation sites with one single pass.
What makes a national park a national park?
What do you picture in your mind when you think of a national park? Is it never-ending fields of wildflowers? A dense forest? Vast mountains that remind you of how small you are? Is it crystal clear alpine lakes that mirror the sunrise and sunset?
According to the National Parks Service (NPS), a national park is to be "reserved for units that contain a variety of resources and encompasses large land or water areas to help provide adequate protection of the resources." But then when you add national monuments, lakeshores and seashores, memorials, parkways, preserves, reserves, recreation areas, rivers and riverways, battlefield sites, battlefield parks, national historical parks, national historic sites, and international historic sites, you get 423 national park sites in total.
On August 25, 1916, President Woodrow Wilson signed the "Organic Act" to create the National Park Service, a federal government bureau that was made responsible for maintaining national parks and monuments. However, becoming a national park usually requires an act of Congress and always requires the area to be nationally significant either naturally, culturally, or recreationally.
But, oddly enough, national monuments don't need the same level of government support. The President of the United States has the authority under the Antiquities Act of 1906 to declare national monuments on lands that are already under federal jurisdiction. To be a national monument, the object must be of historical, cultural, or scientific interest. Think: massive natural areas like Devil's Tower, Lady Liberty, and even historic homes in your town.
Pacific Northwest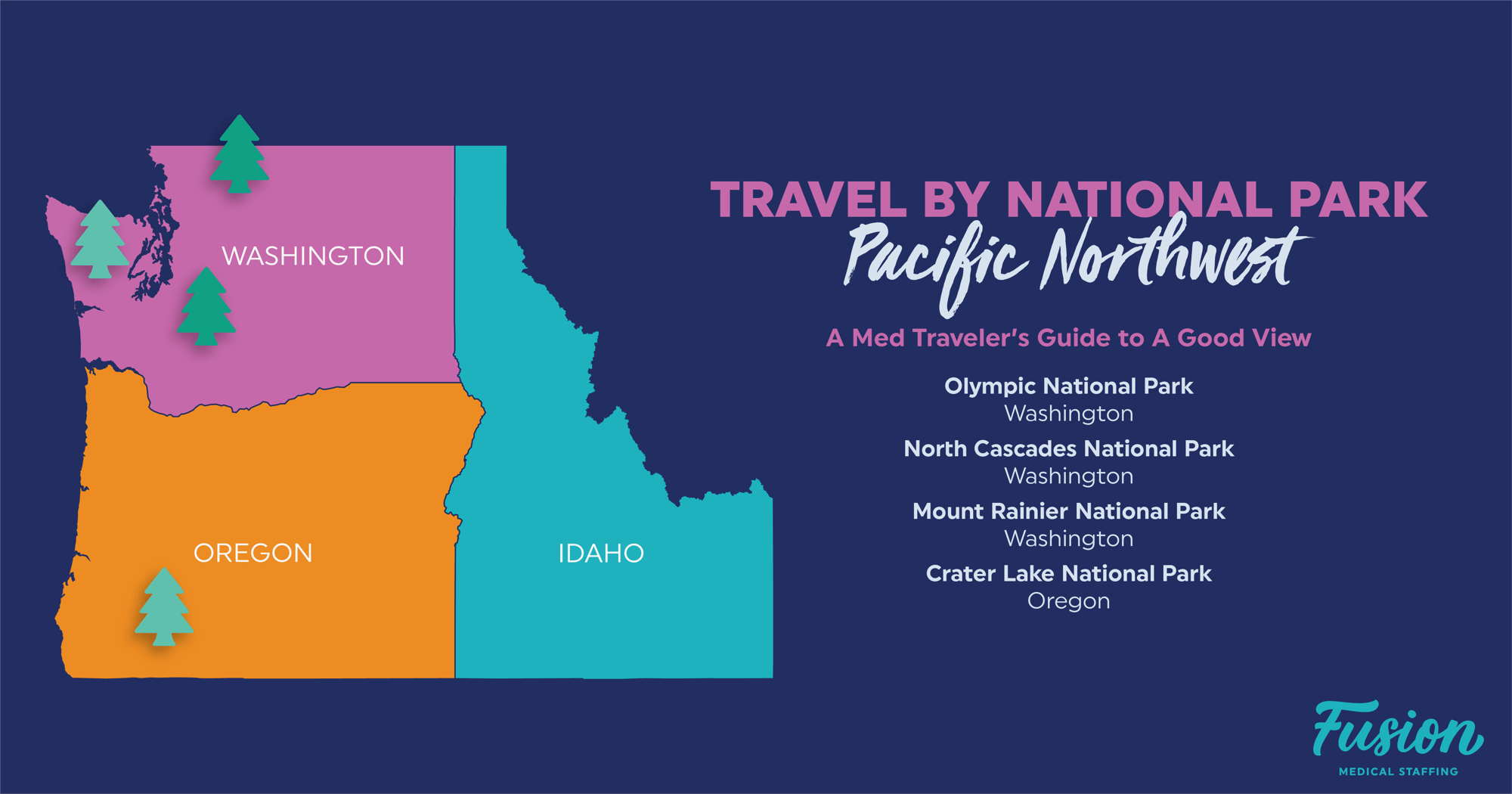 Known for its picture-perfect coastline, rainy weather, and spectacular mountains, the Pacific Northwest is a popular destination many avid travelers are fond of. And it gets better! There are 14 total national parks, monuments, and forests nestled within the Pacific Northwest region of the U.S. just waiting to be explored. Check out these top three:
No. 1: Olympic National Park in Washington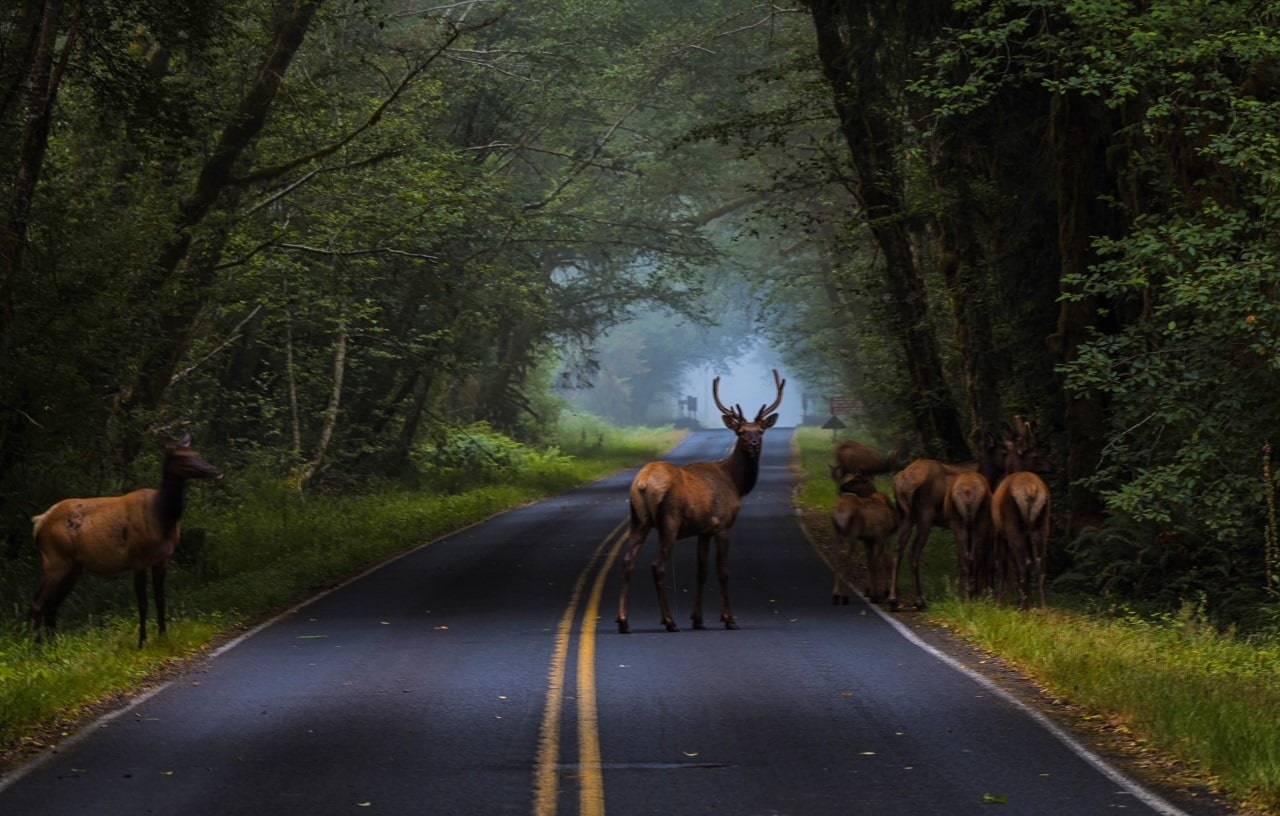 Image from nps.gov
If it's scenic wonders, outdoor adventure, and natural beauty that you're after, then look no further than Olympic National Park in Washington state. Full of glacier-topped alpine peaks, temperate rain forests, rugged coastal scenery, waterfalls, lakes, and an abundance of wildlife, Olympic National Park has a little something for every kind of nature enthusiast.
Known as the "three parks in one," Olympic National Park boasts three different ecosystems: Glaciers that feed rivers and waterfalls, dense rain forests with carpets of ferns, and the 73-mile-long strip of wild Pacific Northwest coast. So, it makes sense that this national park is both an International Biosphere Reserve and a UNESCO World Heritage Site.
Also lovingly referred to as "The Wilderness Coast," the strip of coastal forests, sandy beaches, huge sea stacks, tidepools, and headlands is one of the longest undeveloped stretches of coastlines in the contiguous U.S.!
Get ready to enjoy the fresh air at Olympic National Park. From biking to hiking to boat tours to soaking in the hot springs, this national park has a little bit of everything. Plus, the area is home to wildlife you may not otherwise see, like Roosevelt elk, black bears, bald eagles, and marmots—oh my!
Search for Washington travel jobs.
No. 2: North Cascades National Park in Washington
Image from nps.gov
Next, also in Washington, is North Cascades National Park. With only 30,000 visitors a year, this national park is perfect for the traveler who prefers peace and solitude.
Only a three-hour-drive from downtown Seattle, North Cascades National Park is full of beautifully diverse landscapes. From towering mountain peaks to thundering waterfalls and old-growth forests, this national park is full of natural beauty just waiting to be explored.
Encompassing over 300 glaciers, this Washington national park is home to a third of all glaciers in the lower 48 states! These massive ice mounds feed countless rivers, lakes, and streams through the valleys.
North Cascades National Park is also one of a few national parks in the lower 48 states that have grizzly bears! The population is really small, and sightings are super rare, but hey, it could happen. Otherwise, keep your eye out for gray wolves, black bears, mountain lions, elk, and mountain goats.
While you're visiting this national park, sign up for one of the guided tours or enjoy horseback riding in the mountains. If you're more one with nature, find the perfect spot to bird watch and view wildlife in their natural habitat.
Search for Washington travel jobs.
No. 3: Crater Lake National Park in Oregon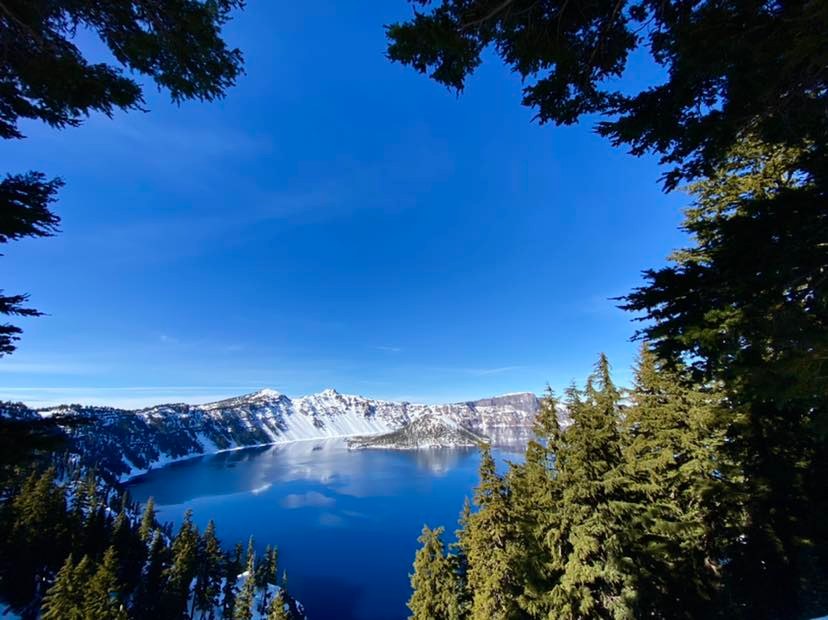 Image from nps.gov
Believe it or not, but Crater Lake National Park is Oregon's only national park. This national park is centered on the legendary Crater Lake, which was created after the enormous volcano eruption and collapse of Mount Mazama about 7,700 years ago. Although it had a violent beginning, this lake is now a prime getaway destination for peace and tranquility.
Not only that, but Crater Lake has some of the cleanest and clearest water of any North American lake because rainfall and snow melt are the lake's only water sources. And as a cherry on top, it's the deepest lake in the country with an average depth of 1,943 feet. Its stillness constantly reflects the blue sky, making it "the bluest lake on earth."
For those avid adventurers, Crater Lake National Park offers access to viewpoints and hiking trails so you can become one with the great outdoors. There's also boat and trolley tours available for explorers who are more along for the ride. Or hop in the car, throw on some good tunes, and venture across the entire lake on Rim Drive. You can't go wrong with whatever you decide.
Search for Oregon travel jobs.
Midwest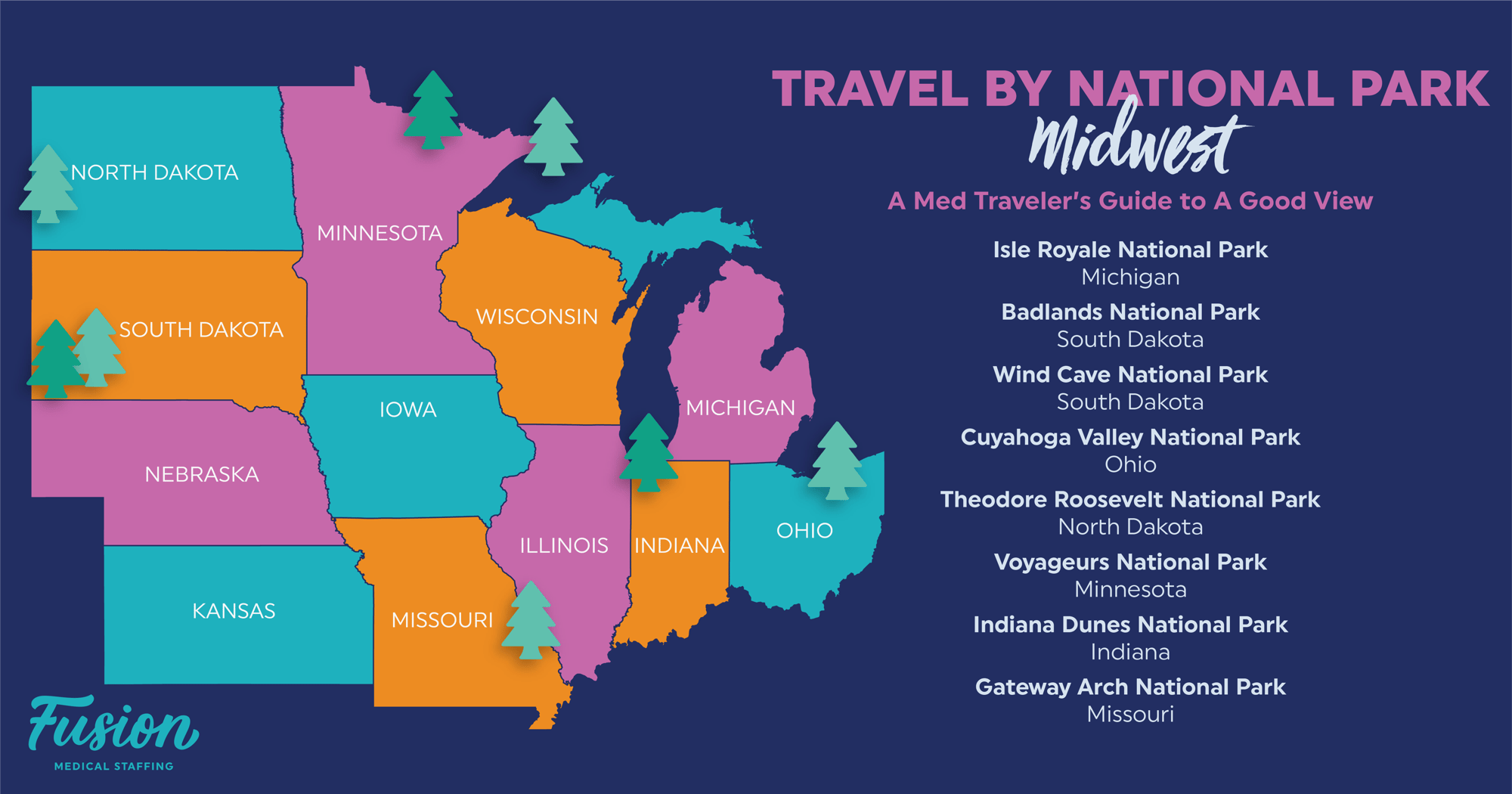 Centered smack-dab in the middle of the U.S. lies the good 'ole Midwest. And within the Midwest is countless national parks, preserves, monuments, historic parks, heritage areas, trails, rivers, and then some. While you're off living your best life as a professional med traveler, take a break to explore these Midwestern beauties:
No. 1: Isle Royale National Park in Michigan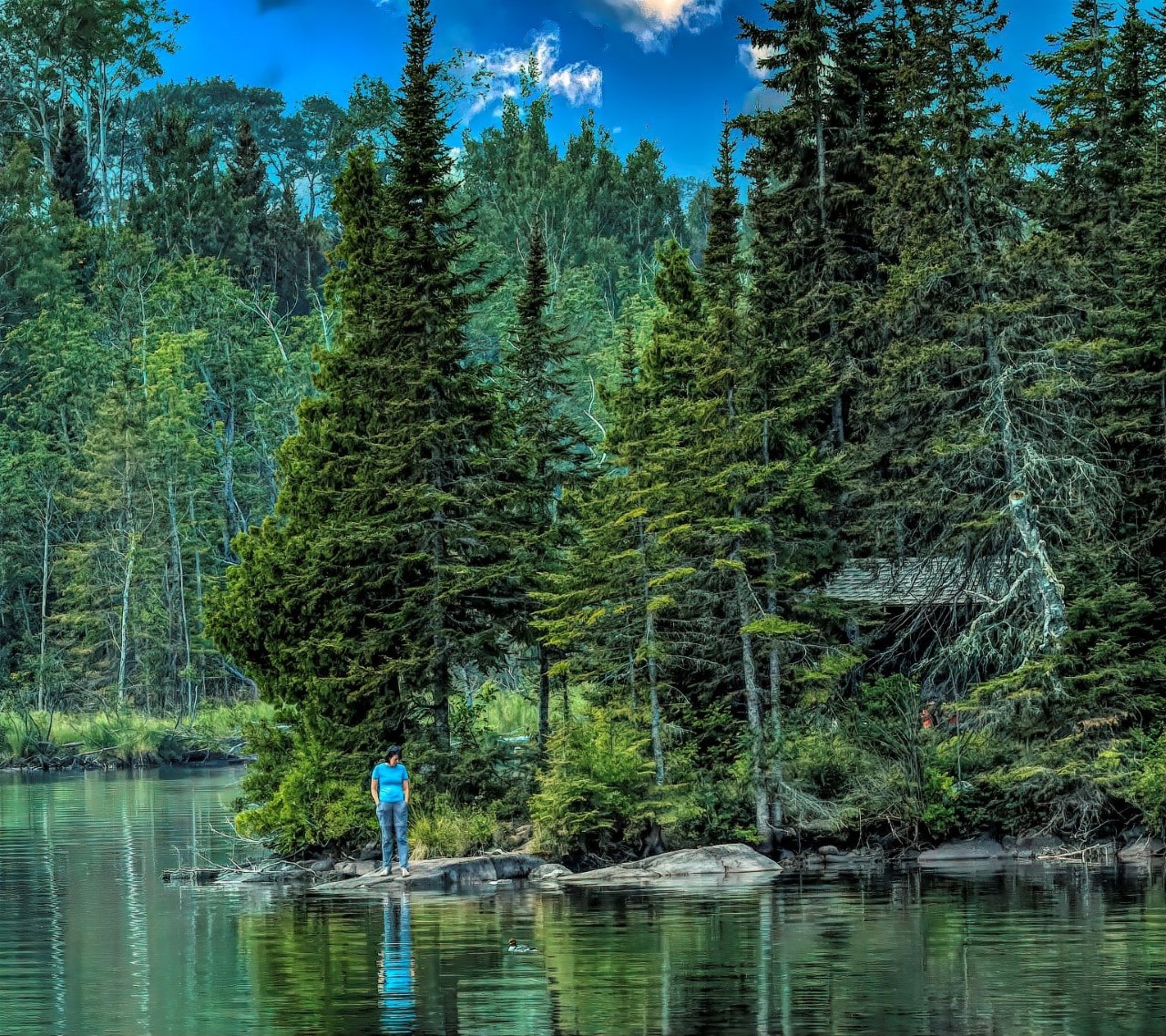 Image from nps.gov
You've heard of Michigan's Lake Superior? Now get ready for Isle Royale National Park! Located on a remote chain of Lake Superior islands, this national park sees fewer people every year than Disneyland gets on a summer day.
The only way to get to this Michigan park is by boat or seaplane but once you get there, there's hiking, kayaking, camping, and scuba diving to look forward to. And the best part? It's far away from the overstimulating sights and sounds of civilization.
So, while you're there it's just you, the wilderness, and those that live there. As you venture through the 850 square miles of submerged land, you could see ravens and an occasional eagle line the sky or if you're lucky, even see a majestic moose!
Search for Michigan travel jobs.
No. 2: Badlands National Park in South Dakota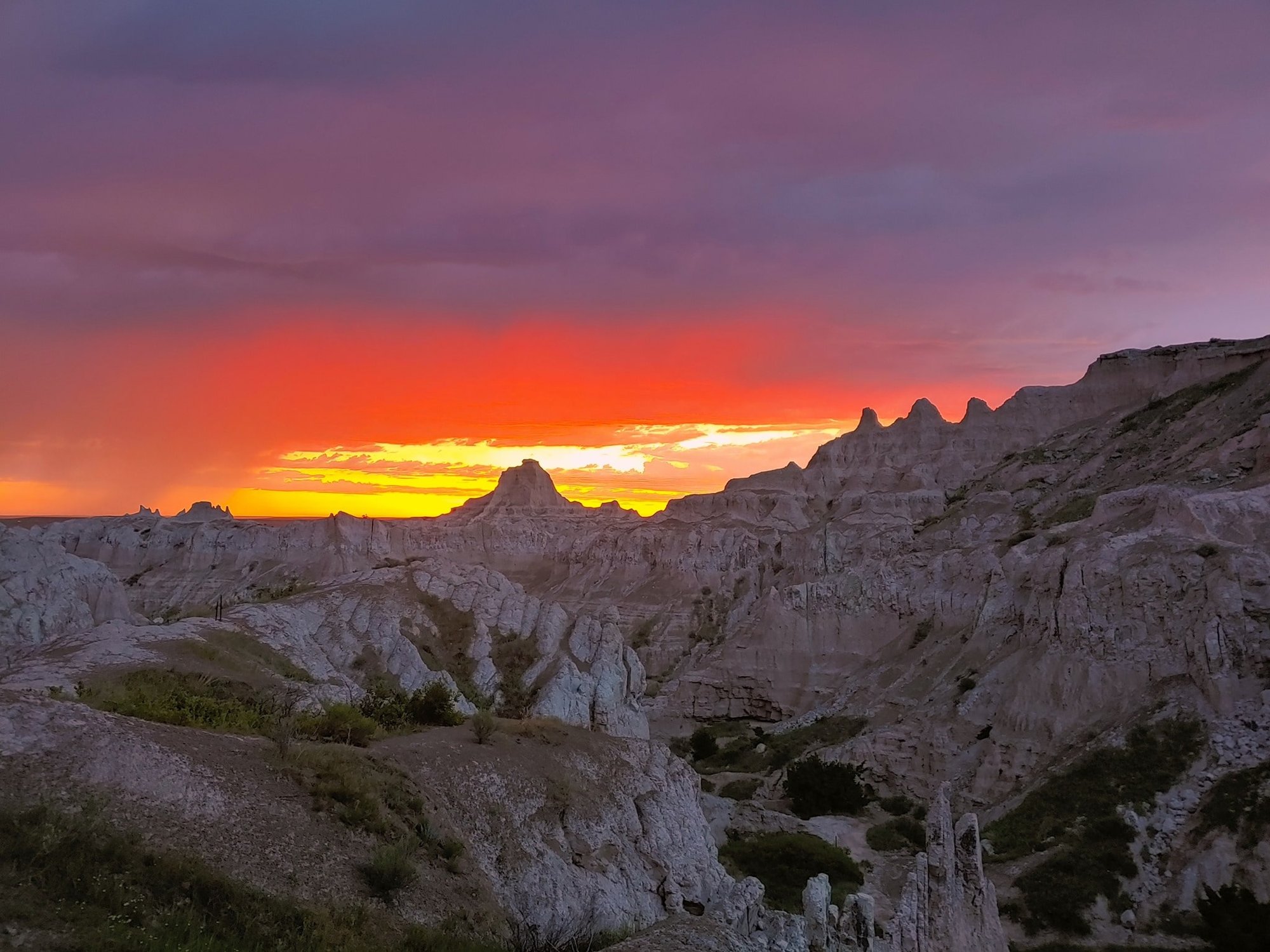 Image from nps.gov
For those of us who dream of living on Mars, the Badlands National Park in South Dakota is the place to be. Full of barren, eroded hills, this national park offers transports you from the South Dakota prairie to an otherworldly landscape you can't get anywhere else.
The Badland's 244,000 acres is complete with a maze of buttes, canyons, pinnacles, spires, and mixed-grass prairies where bison, bighorn sheep, prairie dogs, and black-footed ferrets live. Back in the day, ancient horses and rhinos roamed these lands and today, you can find skeletons of saber-toothed cats and three-toed horses among the fossilized species. Pretty dang cool if you ask me!
Search for South Dakota travel jobs.
No. 3: Cuyahoga Valley National Park in Ohio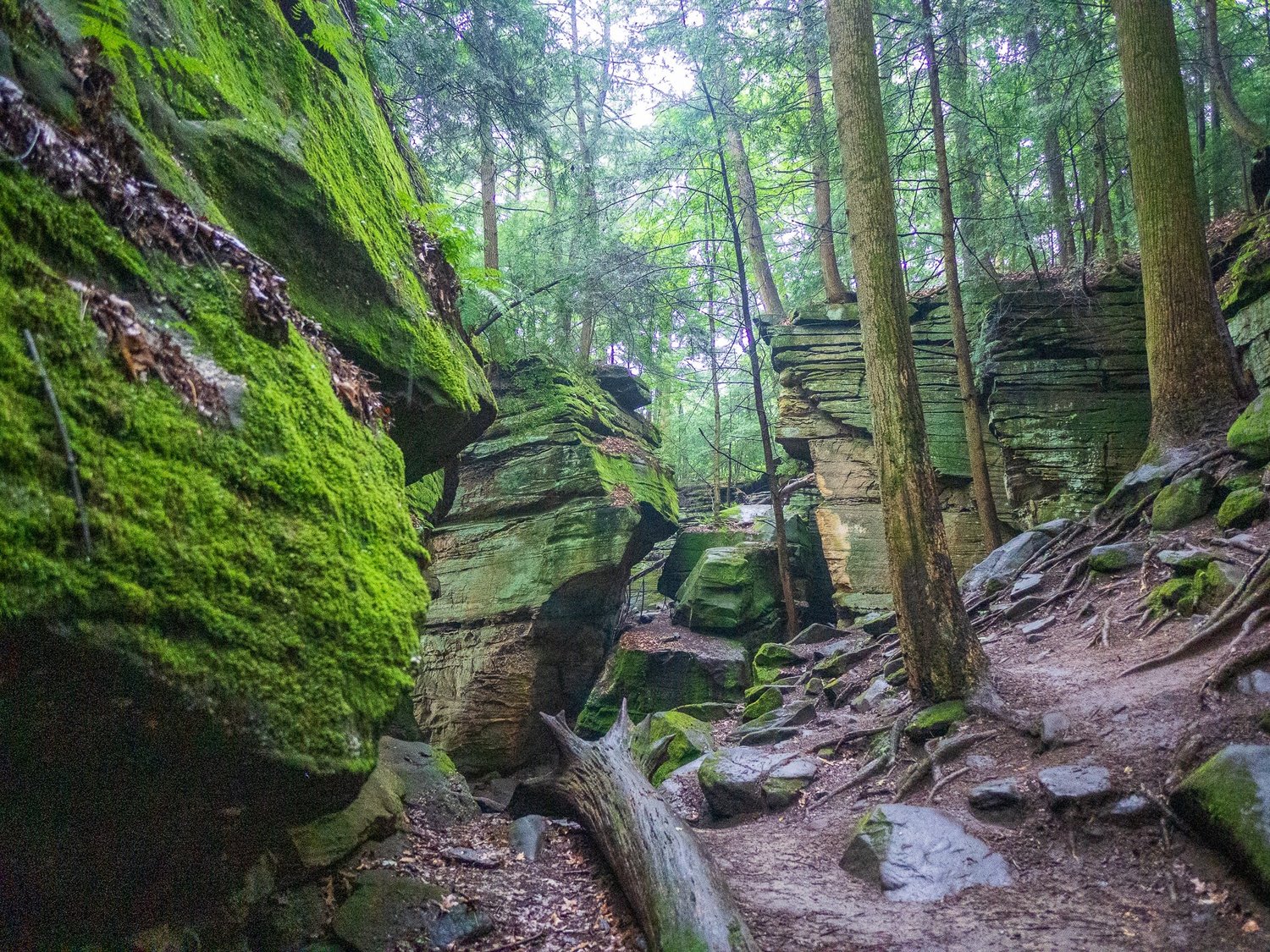 Image from nps.gov
Close to Cleveland? Well, Cuyahoga Valley National Park is only a 30-minute drive from downtown Cleveland and its green oasis is waiting for you with waterfalls, bike trails, scenic railroad, and as a bonus, the Cleveland Orchestra's summer home!
Stretching between Cleveland and Akron, Cuyahoga Valley National Park is Ohio's only national park. Funnily enough, it was first established in 1974 as a national recreation area, but by the year 2000, the area was upgraded to a national park. And when you see the diverse landscapes that vary from marshy wetlands to moss-covered limestone ledges, it's obvious why it was made a national park.
The best part about this national park is it's free! That's right, no entrance fee, no amenity fee. It's just you and the picturesque woodlands, waterfalls, and wildlife. Spread across 50 square miles, this national park is perfect for outdoor activities like hiking and biking. There's even a scenic railroad ride that takes you sightseeing through the park. Whether you're an outdoor adventurer or nature enthusiast, Cuyahoga Valley National Park has something for you.
West Coast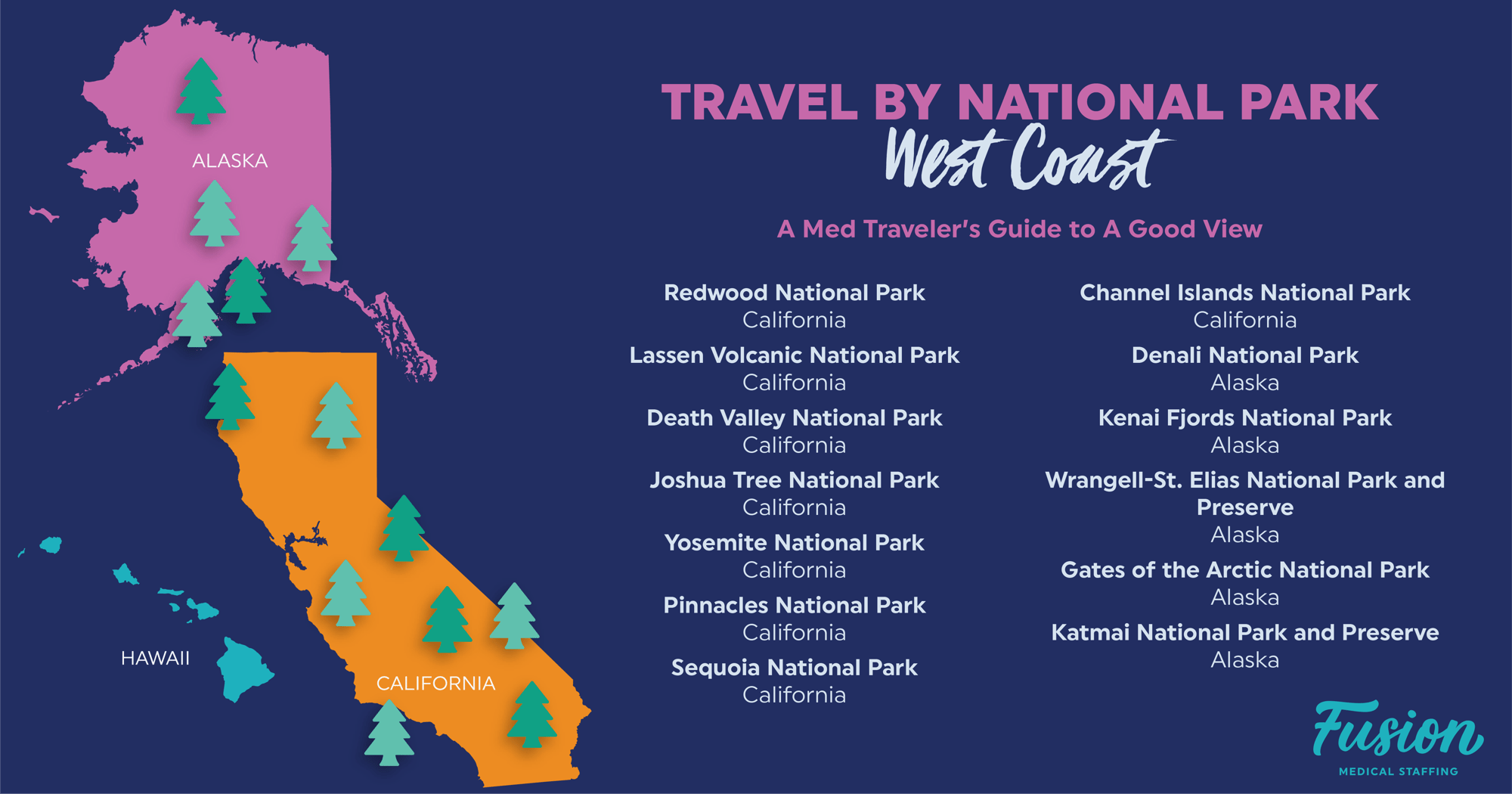 The West Coast has everything you need—from beaches to wine to wildlife, you can have it all. I mean, you can get the perfect trifecta just in California. And while you're there, explore the outdoors in one of California's nine national parks! These are the top three:
No. 1: Redwood National Park in California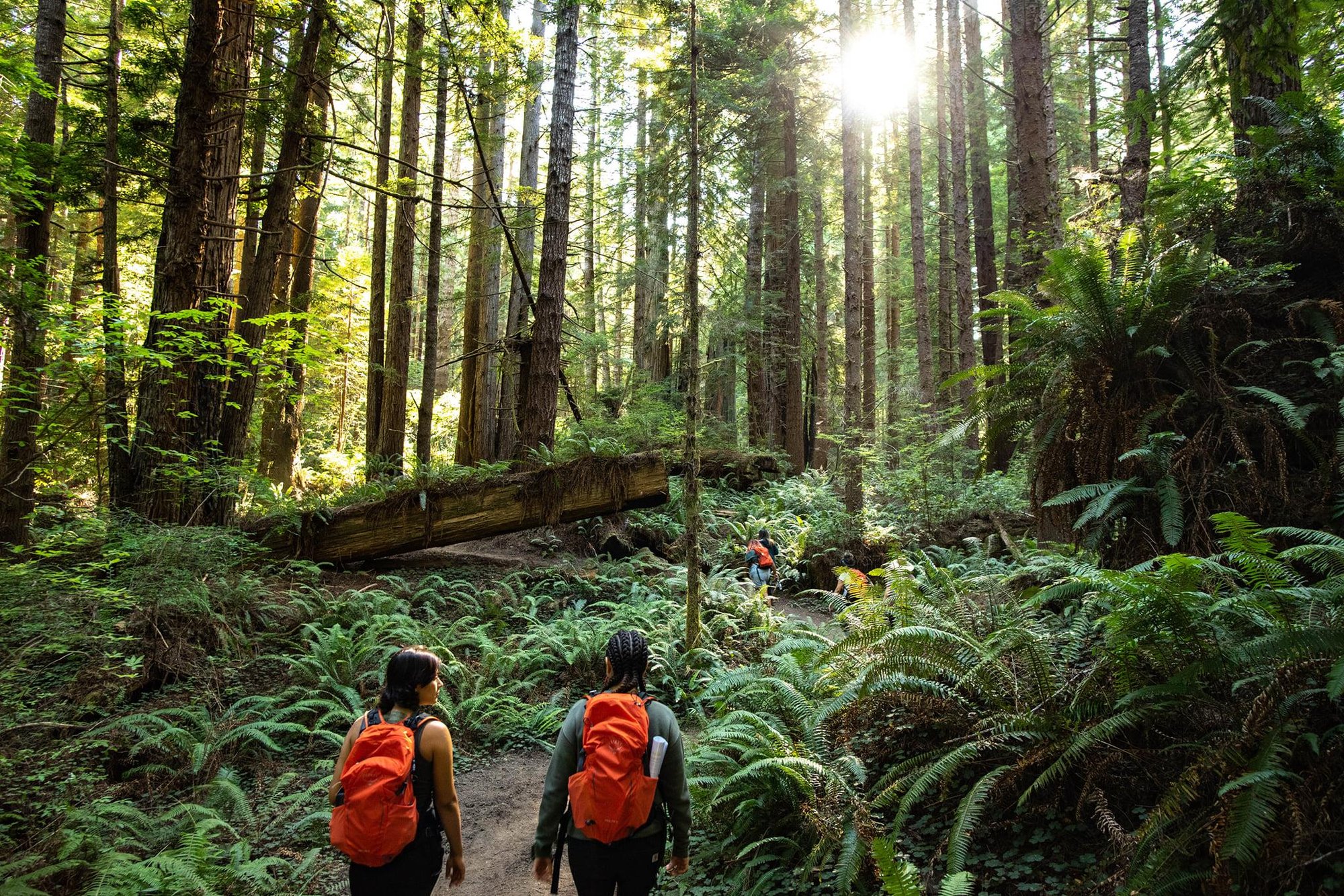 Image from nps.gov
If you're looking to get away from the stressors of everyday life, head up to one of the most remote national parks on the West Coast, Redwood National Park. Sitting halfway between San Francisco, California and Portland, Oregon, Redwood National Park is a UNESCO World Heritage Site worth seeing.
Not only is this site a national park, but it also consists of Jedediah Smith State Park, Prairie Creek Redwoods State Park, and Del Norte Coast State Park. Combined, these parks protect about 45 percent of all remaining old-growth coastal redwood forests in the world, otherwise known as some of the tallest, most voluminous, and oldest trees on the planet.
In addition to these pristine forests are huge expanses of prairie, oak forests, wild rivers and streams, and nearly 40 miles of breathtaking coastline. Abound the forests, coasts, and grasslands live Chinook salmon, Steller's sea lions, black bears, Roosevelt elk, mountain lions, and river otters. So, don't forget your camera while you're venturing through the park!
Search for California travel jobs.
No. 2: Lassen Volcanic National Park in California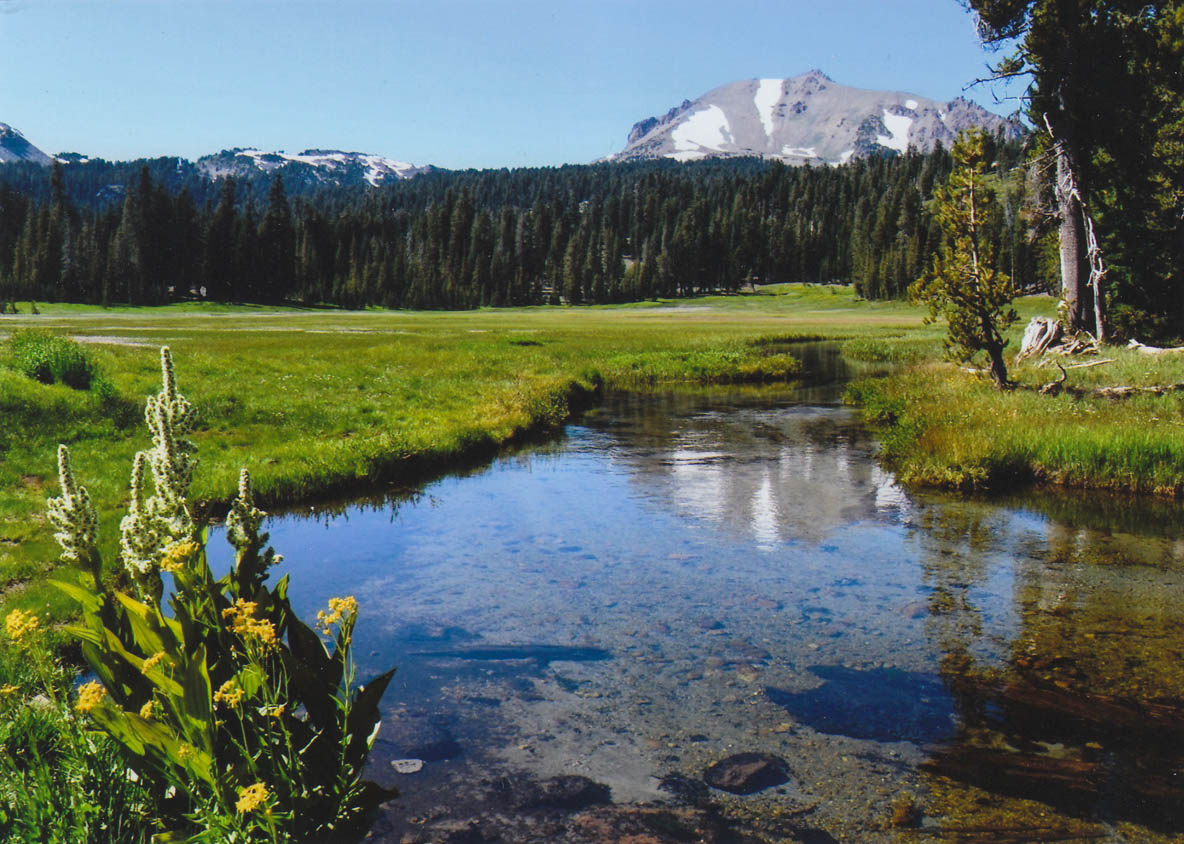 Image from nps.gov
Where the Great Basin Desert meets the Sierra Nevada mountains, and the volcanoes of the Cascade Range lives the Lassen Volcanic National Park.
Full of shimmering lakes, cinder cones, and age-old lava beds, the Lassen Volcanic National Park has unique natural wonders including every existing type of volcano. Of course, the main attraction to this national park is Lassen Peak, one of America's most active volcanoes and the biggest plug dome volcano on the planet. And sprinkled around Lassen Peak are smaller volcanoes, fumaroles, boiling mud pools, pristine lakes, hot springs, and wildflower-filled meadows.
And within these diverse habitats live approximately 300 species of creatures. Below the 7,800-foot level, the park is a mixed forest habitat that's home to black bears, mountain chickadees, long-toed salamanders, and a variety of bats. Above 7,800 feet, the habitat transforms from a coniferous forest to mountain hemlock where you can spot deer mice and various types of chipmunks. The further up the subalpine zone, the more likely you are to see a gray-crowned rosy finch, pika, and golden mantled ground squirrel. Lassen Volcanic National Park is also one of only two known habitats of the rarest mammal in California, the Sierra Nevada red fox.
Make sure you pack your walking shoes because the hiking trails are the best way to experience the best hydrothermal features in Lassen Volcanic National Park. Once you've hit your steps for the day, cool off in Manzanita Lake. Just make sure you check for otters before you dive in!
Search for California travel jobs.
No. 3: Death Valley National Park in California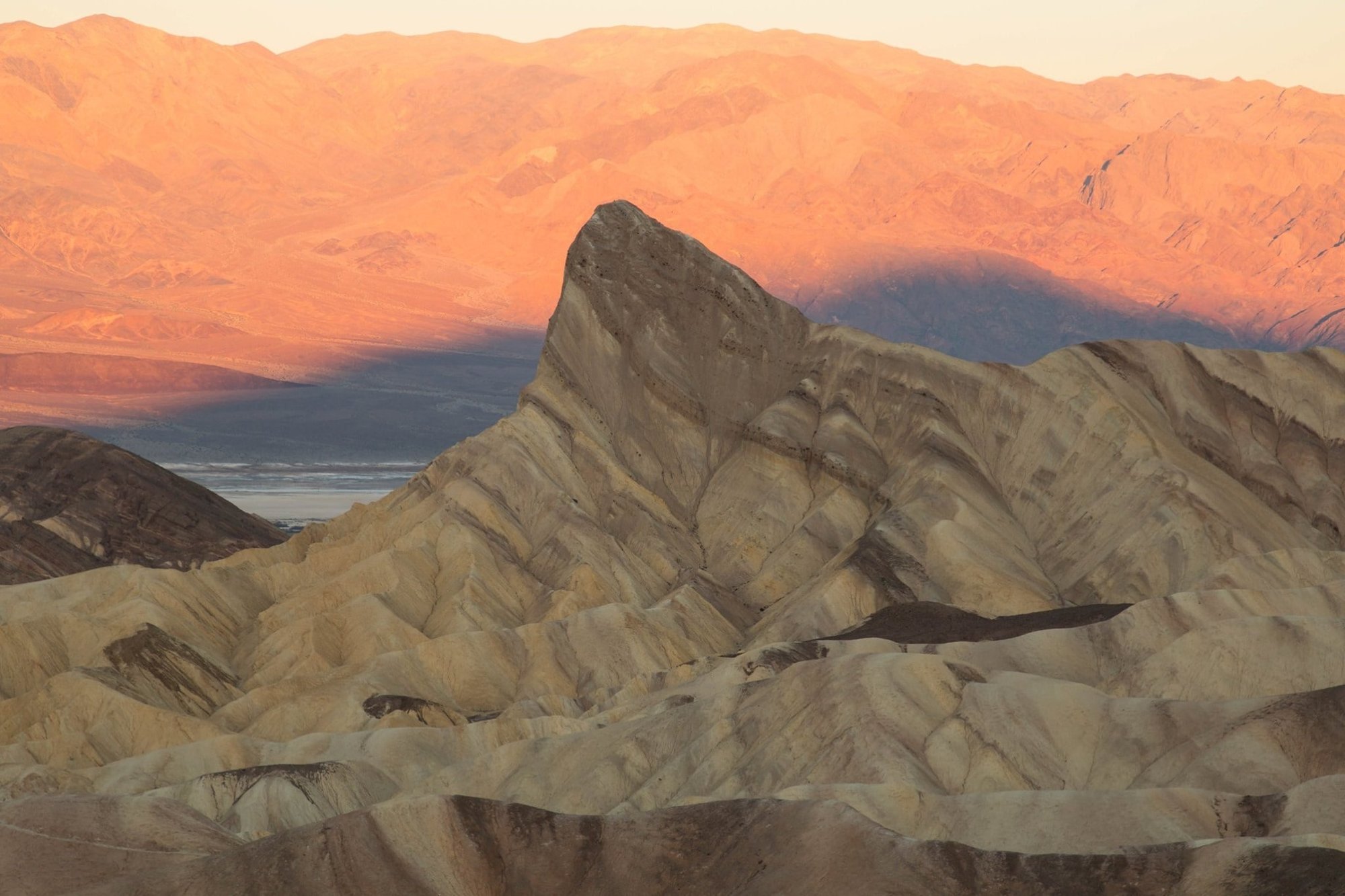 Image from nps.gov
Despite the ghostly name and bare appearance, Death Valley National Park in California is very much alive with human history, geologic wonders, and animals found nowhere else on earth. This national park also holds several records like America's lowest, hottest, and driest national park. The perfect trifecta.
Between bursts of wildflower blooms to ghost towns, historic mining operations, wildlife, and raw natural beauty, Death Valley has what you want. The park was established in 1933 thanks to the Civilian Conservations Corps (CCC) and from then until 1942, 12 CCC companies worked to expand the area by adding trails, buildings, and camps. We also have them to thank for the phone and water service in the Valley. Thanks, CCC!
Back in the day, Death Valley National Park was known as a prosperous mining mecca. In fact, it was all the way up until 2005 when the last mining operation ceased. But when the Valley was first being discovered, it was mined extensively for gold, silver, copper, tungsten, lead, zinc, antimony, and borax. The Keane Wonder Mine, which is now closed, was the most successful of all the mines in the Death Valley region and between 1907 and 1911, roughly $625,000 worth of gold was found there. Talk about gold-diggers.
Spanning about 140 miles long, Death Valley is home to bighorn sheep, mountain lions, and even butterfly species like the Square-spotted Blue, Indra Swallowtail, and Western Pygmy Blue. For the best chances to see the wildlife, hike the park or go on a guided tour!
Search for California travel jobs.
Northeast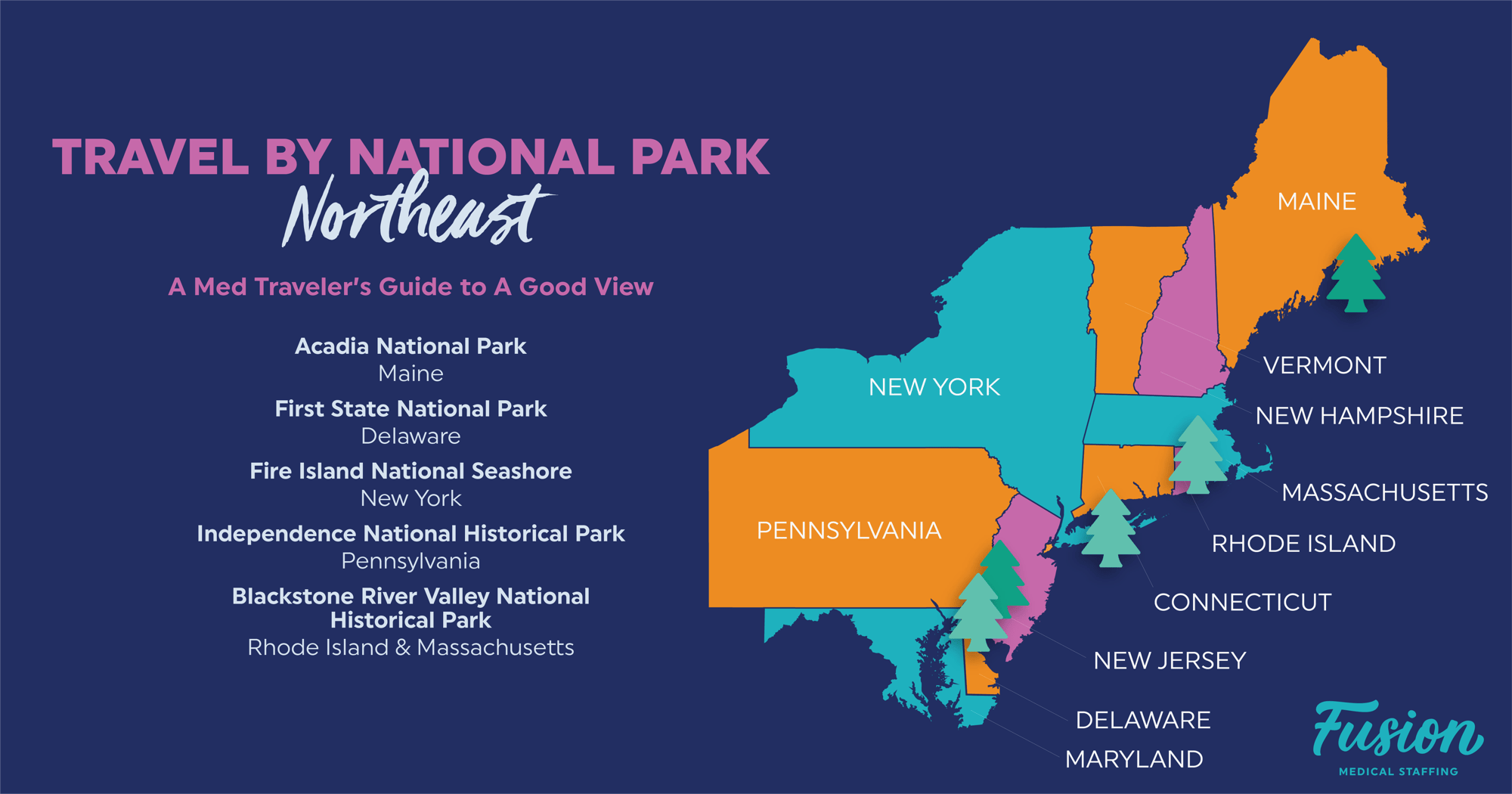 It's no secret the Northeast is overflowing with natural beauty. With rolling mountains and rocky coastlines, the Northeast offers the best of both worlds, which makes for perfect national park locations. In fact, there are 121 national parks spread out across the Northeast region of the country. These are just the top three:
No. 1: Acadia National Park in Maine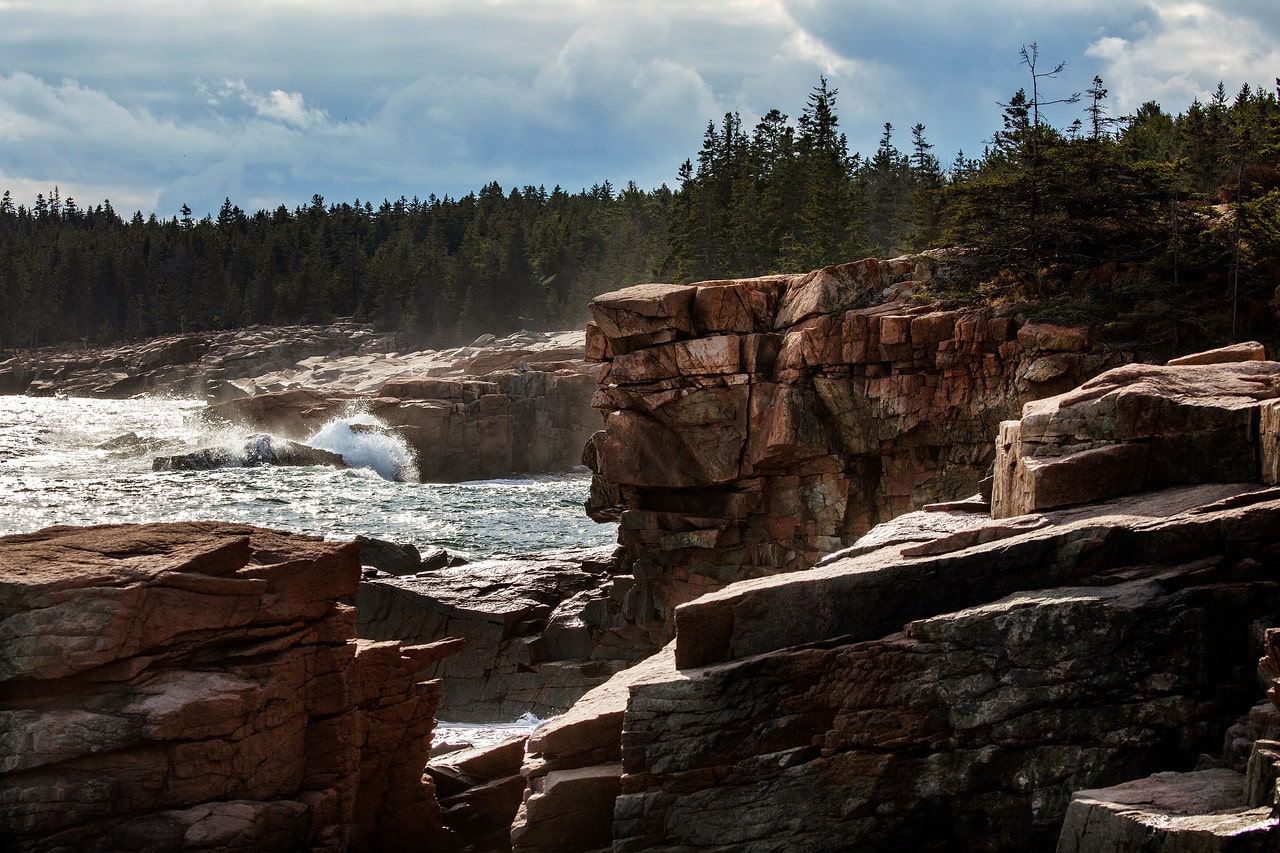 Image from nps.gov
Wanna be the first person in the country to see the sun rise? Then head over to Acadia National Park in Maine! From the atop the summit of Cadillac Mountain, you can have a front-row seat to the sun awakening. Cue the ooh's and ahh's.
With 27 miles of historic motor roads, 158 miles of hiking trails, and 45 miles of carriage roads, it's no surprise this national park is in the top 10 most-visited national parks in the country. Take a step back in history and take the carriage roads by classic horse and carriage, the way John D. Rockefeller, Jr. intended when he built the stone roads between 1913 and 1940.
Drive, bike, or hike through the park and once you've worked up an appetite, stop at the famous Jordan Pond House for popovers and strawberry jam. This restaurant was established in the early 1870s, so it has more than a century's worth of history and memories collected within those walls. Why not add to them?
No. 2: First State National Historical Park in Delaware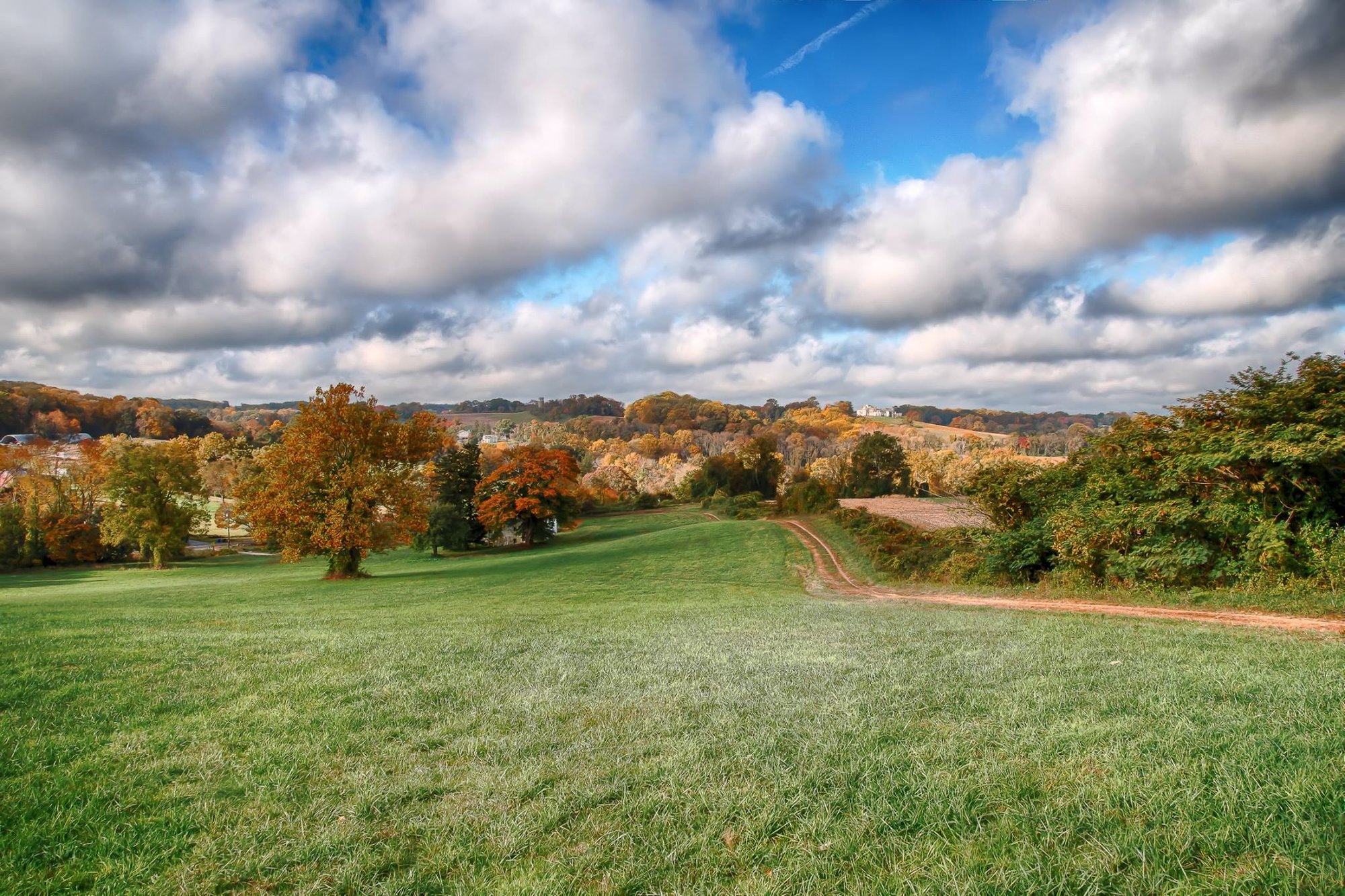 Image from nps.gov
Pop quiz: What was the first state to ratify the Constitution? If you said, "What is Delaware," then you're right on the money!
Delaware was born out of a conflict between three world leaders who all wanted control of the Delaware Valley. From there, the region became known for its diversity in religion, national origin, and independence. Today, First State National Historical Park exists to signify the crucial role Delaware played in the founding of the U.S. And as they say, the rest is history.
Sure, this national historical park is drenched in American history. But it's also the site of the oldest surviving Court House in the nation, a quaint riverside town, Colonial-era neighborhoods, and woodlands of old, shady trees.
First State National Historical Park is unique because it's comprised of six individual, but interconnected sites that are spread out across the state.
Brandywine Valley is made up of more than 18 miles of trails
Fort Christina is a historical site where the Swedes originally landed and established colony
Old Swedes Historic Site is a memorial for those buried in the area
New Castle is the learning center for the town's history
The Green, Dover is the site where Delaware became the first state and where women rallied for and against the 19th Amendment
John Dickinson Plantation tells the story of John Dickinson's involvement in founding the nation
Can't choose between which sites to see? Why not see them all? Plan a day to explore and adventure through this historical park and learn more about the country's origin story.
Search for Delaware travel jobs.
No. 3: Fire Island National Seashore in New York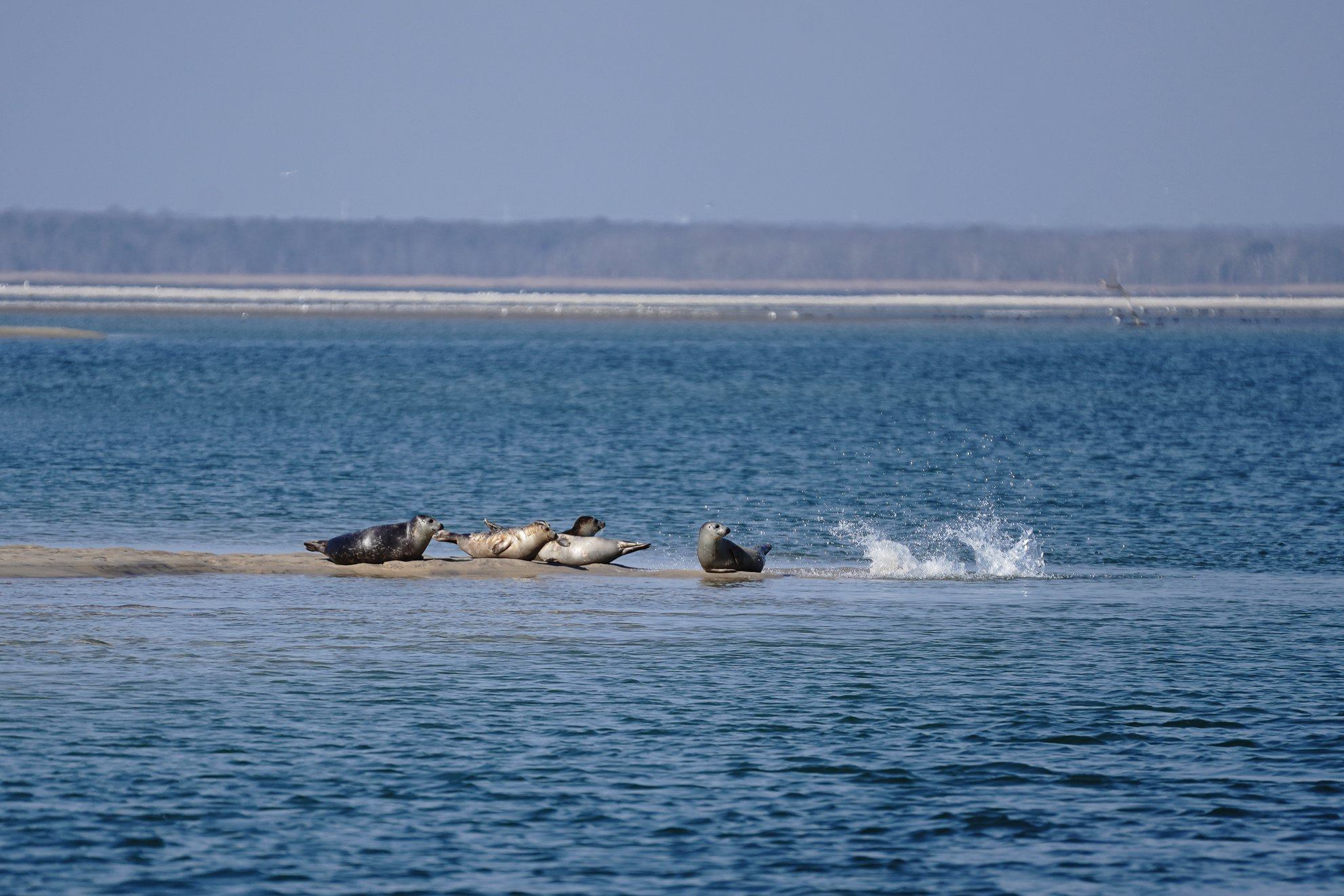 Image from nps.gov
Need a break from the city that never sleeps? Venture an hour east of New York City to find solitude on island beaches at Fire Island National Seashore.
With pristine ocean shores, an ancient maritime forest, and the historic estate of William Floyd, Fire Island National Seashore has many types of relaxation and educational adventures that any kind of explorer can jump on board with. This enchanting seashore features rhythmic waves, high dunes, and diverse species of plants and animals.
Here, you can see monarch butterflies, horseshoe crabs, piping plovers, whales, dolphins, seals, mollusks, white-tailed deer, red foxes, and a range of reptiles! The sandy shores, thicket, forest, and marsh create a diverse natural habitat for these animals, not to mention the island's placement along the Atlantic Flyway, which makes it the perfect stopping point for more than a third of North America's bird species.
Whether you're one for sunbathing, birdwatching, backpacking, or hunting, Fire Island offers countless adventures that are just waiting for you!
Search for New York travel jobs.
Southwest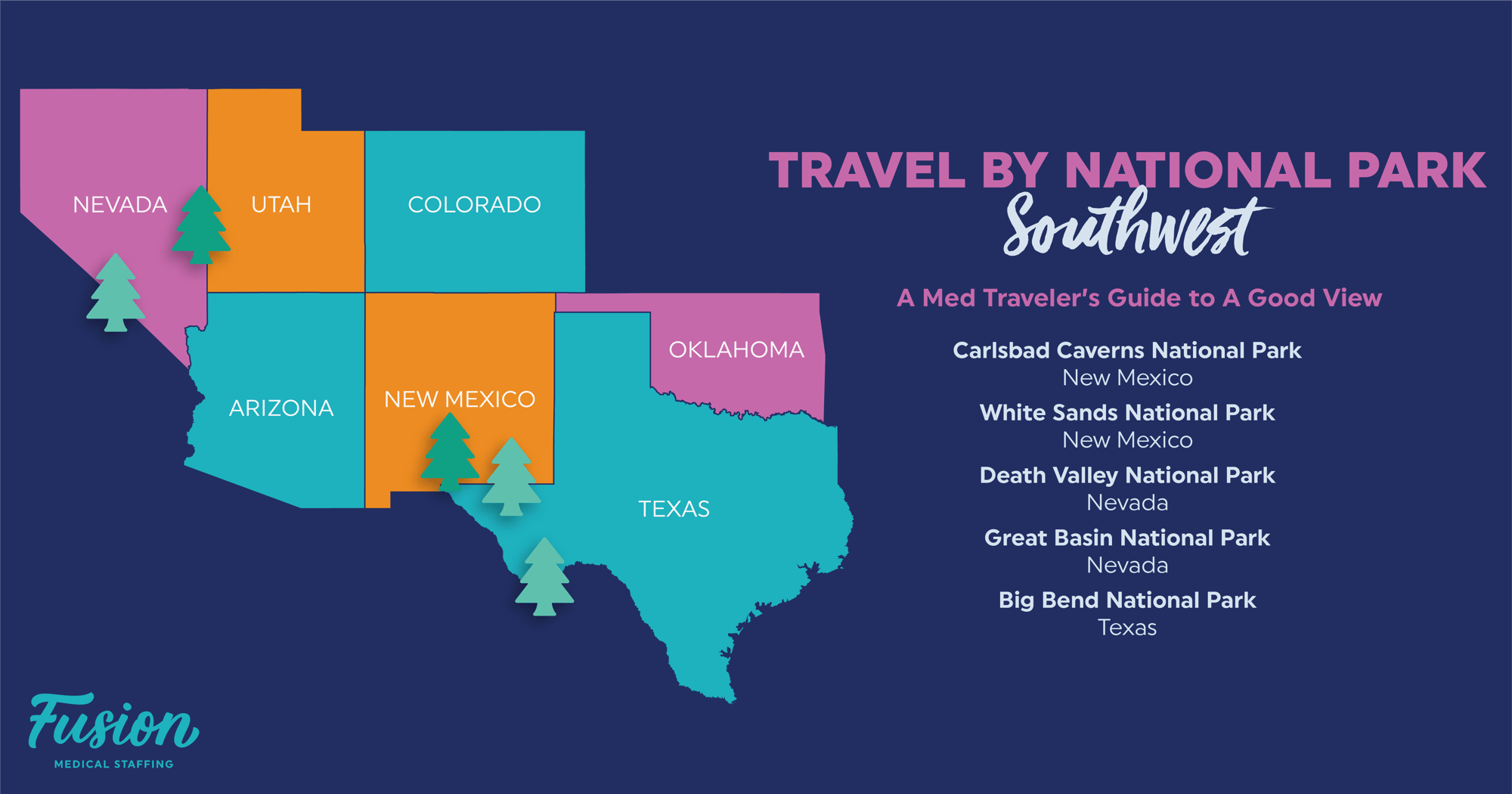 Yeah, the Southwest region of the U.S. is full of arid deserts, red rock landscapes, and rugged mountains, but who said that isn't beautiful? Within the naturally barren landscapes live at least 84 national park service units in this area of the country. We've narrowed it down to the top three:
No. 1: Carlsbad Caverns National Park in New Mexico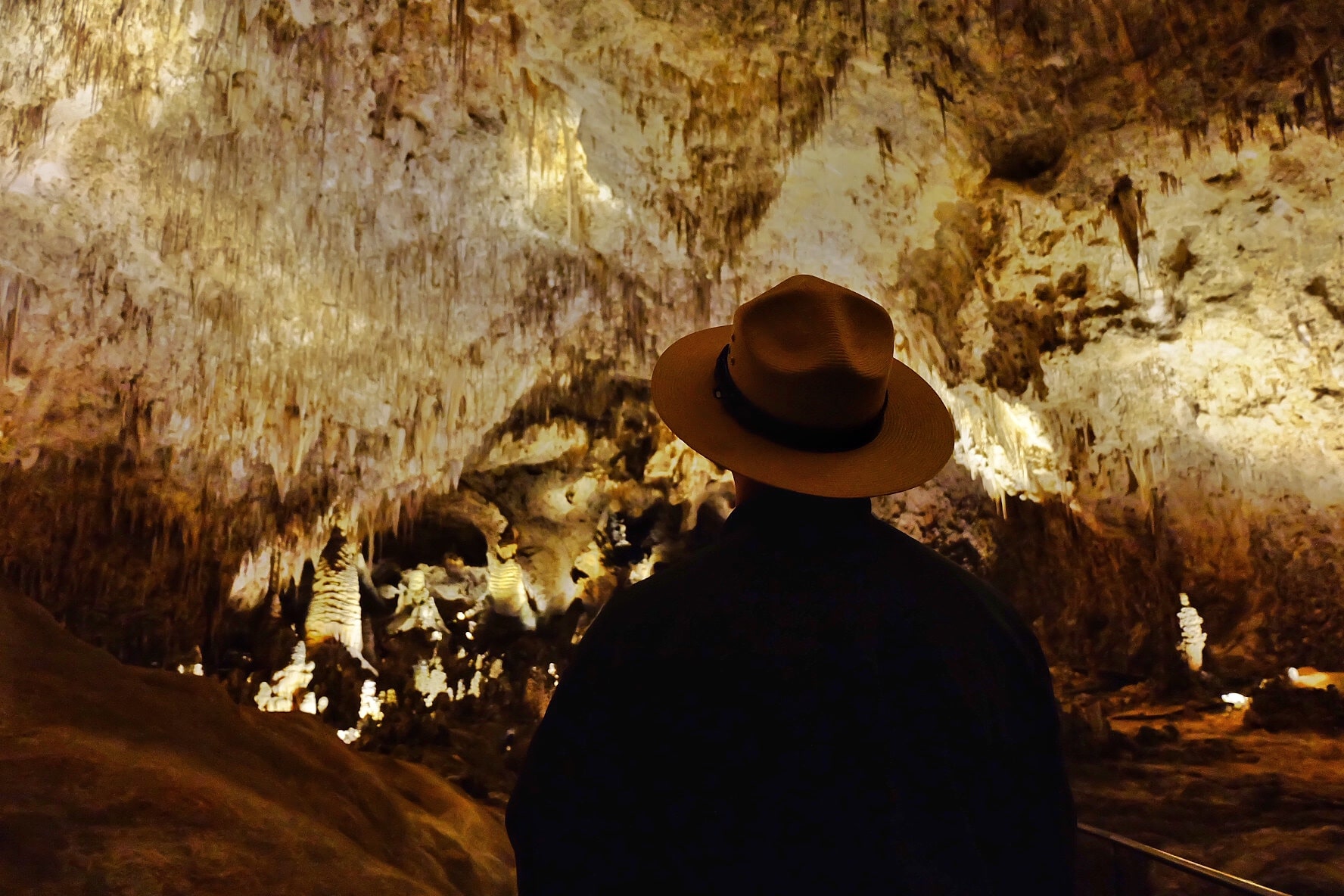 Image from nps.gov
Located in the Guadalupe Mounts in southeastern New Mexico is Carlsbad Caverns National Park. Otherwise known as one of the best preserved and most accessible cave complexes in the world!
They say not to judge a book by its cover and that's true for this national park. As you pass through the Chihuahuan Desert and Guadalupe Mountains, you'll see nature overflowing with prickly pear, chollas, sotols, and agaves. But what you can't see is the beauty of nearly 300 caves that lie beneath the surface, 113 of which are part of the Carlsbad Caverns National Park.
Go deep and explore Lechuguilla Cave, the country's deepest and fourth longest limestone cave at 1,567 feet. Within this cave, you'll find a fantastic array of speleothems, gypsum chandeliers, gypsum hairs and beards, soda straws, hydromagnesite balloons, cave pearls, subaqueous helictites, rusticles, u-loops, and j-loops. When you're done there, venture to Carlsbad Cavern to experience the almost 4,000-foot-long, 625-foot-wide, and 225-foot-high Big Room.
Search for New Mexico travel jobs.
No. 2: White Sands National Park in New Mexico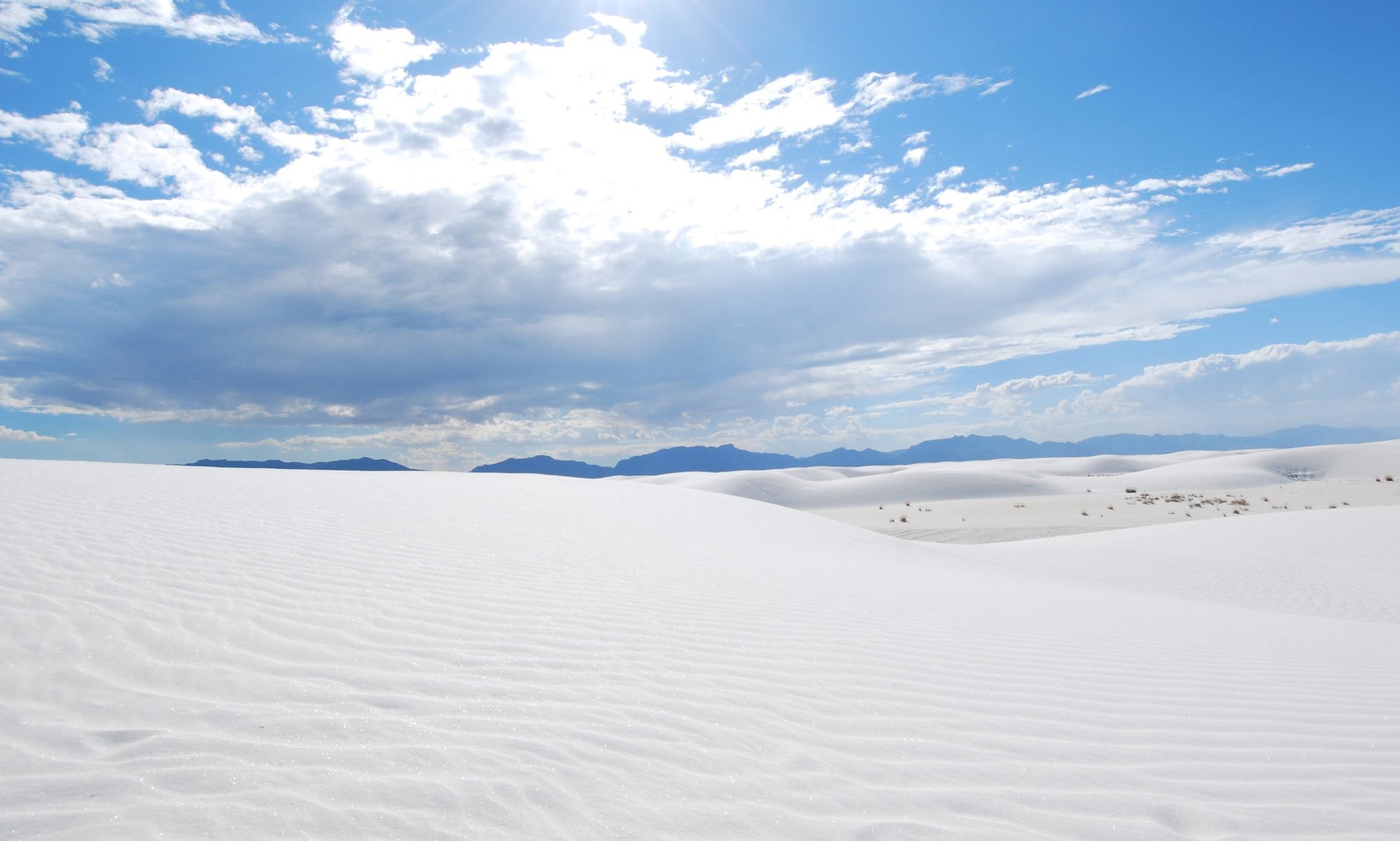 Image from nps.gov
Breathe in. Hold it for a few seconds. Breathe out. And notice your feet sinking in the waving dunes of White Sands National Park.
Rising from the heart of the Tularosa Basin, White Sands National Park is the world's largest gypsum dune field with 275 square miles of sandy desert. Like in the movie "Dune," but in real life! And it's open for all to enjoy. Complete with biking and hiking trails, scenic driving roads, sand sledding and surfing, and more, this New Mexico national park offers a thrill to even the most fearless adventurers.
This impressive gypsum dunefield began 280 million years ago when the Permian Sea blanketed the area and gypsum settled on the sea floor. Today, the dune's formation continues in an endless cycle of erosion and renewal. While the dunes on the northeast move at a rate of up to 30 feet per year, the more stable areas of sand barely move. As the water evaporates, the minerals are left behind to form gypsum deposits that eventually blow with the wind to form these white sand dunes. You know, science.
Search for New Mexico travel jobs.
No. 3: Great Basin National Park in Nevada
You may be familiar with Nevada because of the infamous Las Vegas party town. Now get ready for Great Basin National Park. No, there may not be slot machines or magic shows readily available in this national park, but it is full of wide-open valleys sandwiched between booming mountains with swathes of high deserts and mazes of meandering streams.
Whether you're climbing to the top of the 13,064-foot Wheeler Peak, fishing in the backcountry lakes and streams, or touring the state's largest and most spectacular cave system, this national park gives you plenty of opportunities to appreciate the Silver State's geographical diversity. In addition to camping and hiking, you can also go horseback riding, rock climbing, cross-country skiing, or wildlife viewing. Keep your eyes peeled for water shrews, yellow-bellied marmots, beavers, porcupines, bighorn sheep, ringtail cats, and more!
The real beauty happens when the sun goes down and the sky goes dark. Great Basin National Park offers the darkest skies in the lower 48 states, so when the sun goes down, the stars come out brighter and better than ever.
Search for Nevada travel jobs.
American South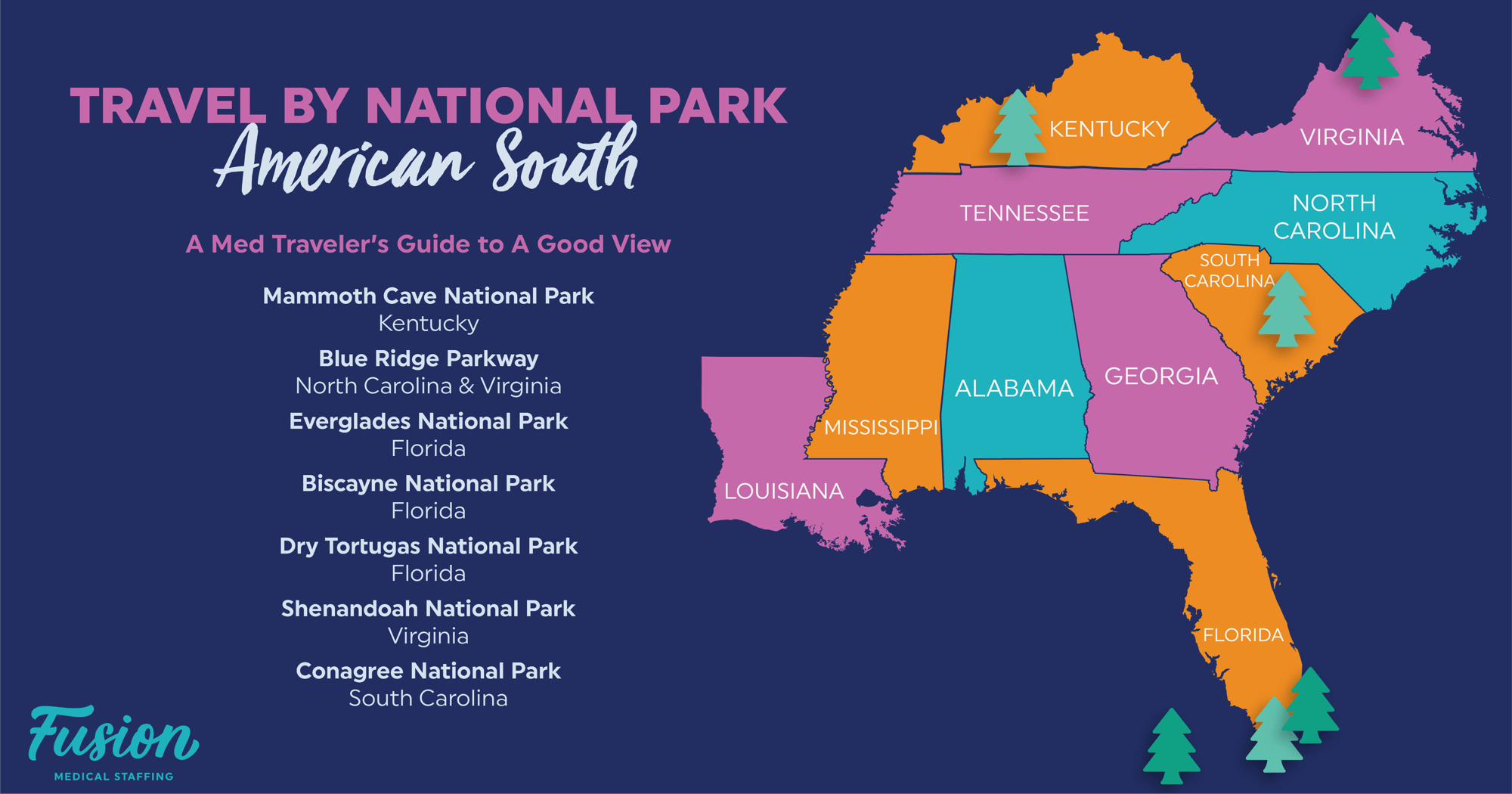 What's not to love about the South? I mean, fried chicken, country music, a Southern drawl, sipping tea from a rocking chair on your front porch. It doesn't get much better than that. Or does it? The South is also home to 10 U.S. national parks. Here's our favorites:
No. 1: Everglades National Park in Florida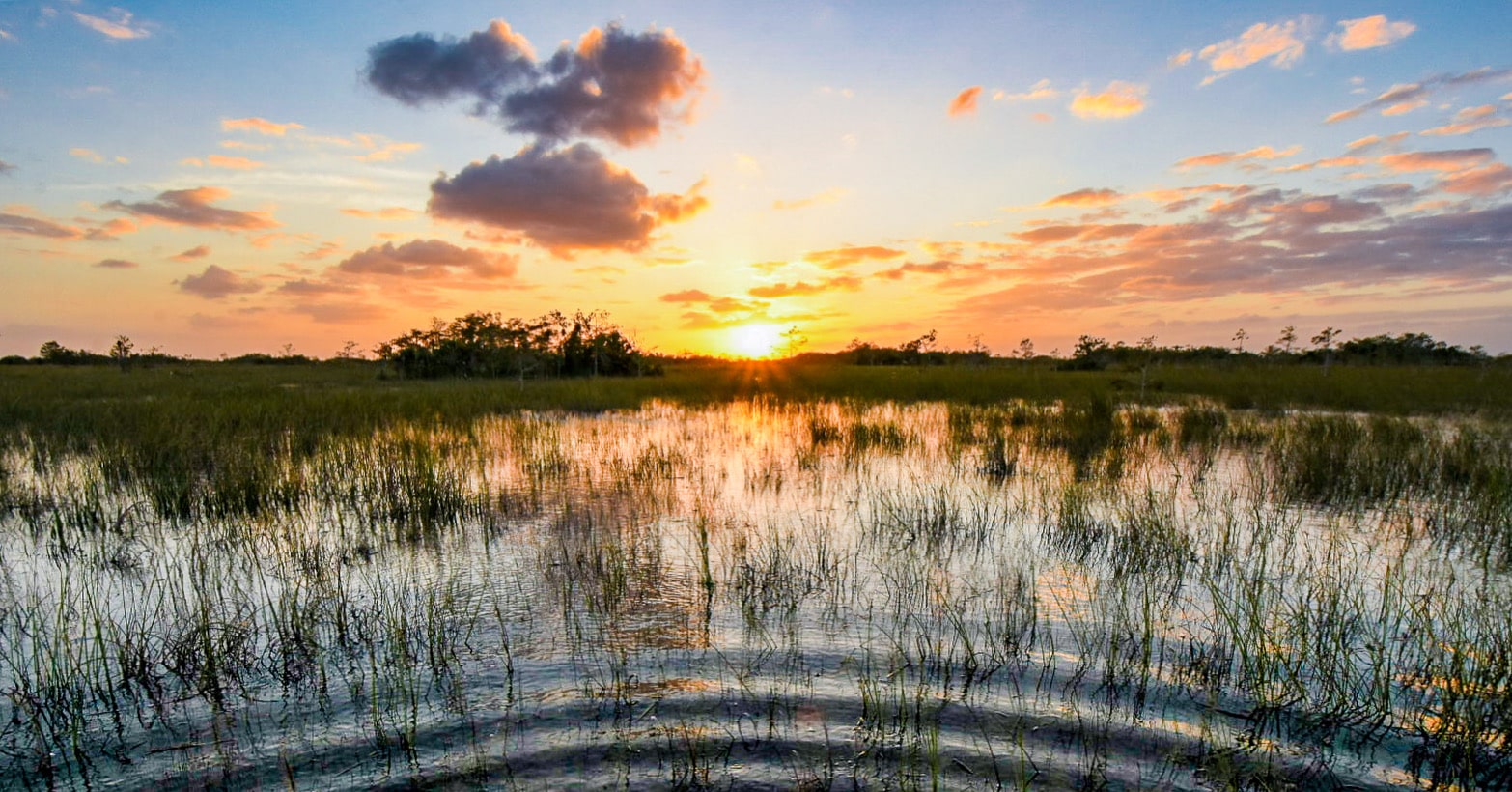 Image from nps.gov
We know and love Florida as the Sunshine State. But are you ready for the unparalleled landscapes found in Everglades National Park?
While Miami is boppin' with tourists, beach babes, and surfers, Everglades National Park is breath of fresh air from the hustle and bustle of the city. Completely immerse yourself in the natural beauty that surrounds you on the 1.5 million acres of tropical and subtropical habitats, from the mangroves to the languid swamplands. Known as "The River of Grass," the Everglades have one of the world's most diverse ecosystems, making it the perfect home to manatees, alligators, crocodiles, turtles, lizards, Florida panthers, and more.
There are three ways to enter this national park:
The main headquarters at the Ernest F. Coe Visitor Center
The Shark Valley Visitor Center
The Gulf Coast Visitor Center
As the third largest park in the lower 48 states, the Everglades span across 2,400 square miles and provides plenty of opportunities for fun. Find a hiking or biking trail that's suited to your level of expertise and get moving! If you'd prefer to be on the water, climb in a canoe or kayak or sign up for a boat tour and get a close-up view of the wildlife and vegetation. If you're feeling lucky, give geocaching a try and see what treasures you can find!
Search for Florida travel jobs.
No. 2: Mammoth Cave National Park in Kentucky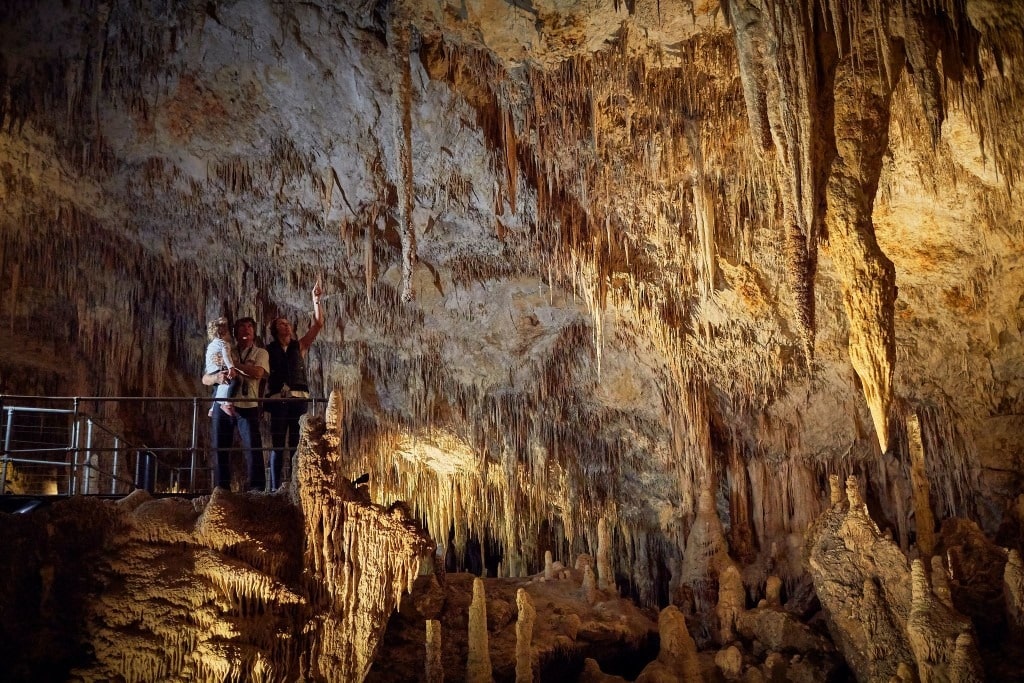 Image from nps.gov
Grab your flashlight and explorer cap, it's time for an adventure! This time, we're going through the world's longest known cave system at Mammoth Cave National Park in Kentucky!
Although the biggest wonder of this national park is Mammoth Cave, this park also protects the scenic river valleys of the Green and Nolin rivers, plus a portion of the hilly country of south-central Kentucky. It's both a World Heritage Site and an International Biosphere Reserve.
The best part about this national park is admission is free! However, there is a fee for camping and cave tours. Of course, you'll want to check out the caves while you're here, but there's also hiking, horseback riding, biking, canoeing, fishing, and scenic driving routes to explore.
Search for Kentucky travel jobs.
No. 3: Blue Ridge Parkway in North Carolina and Virginia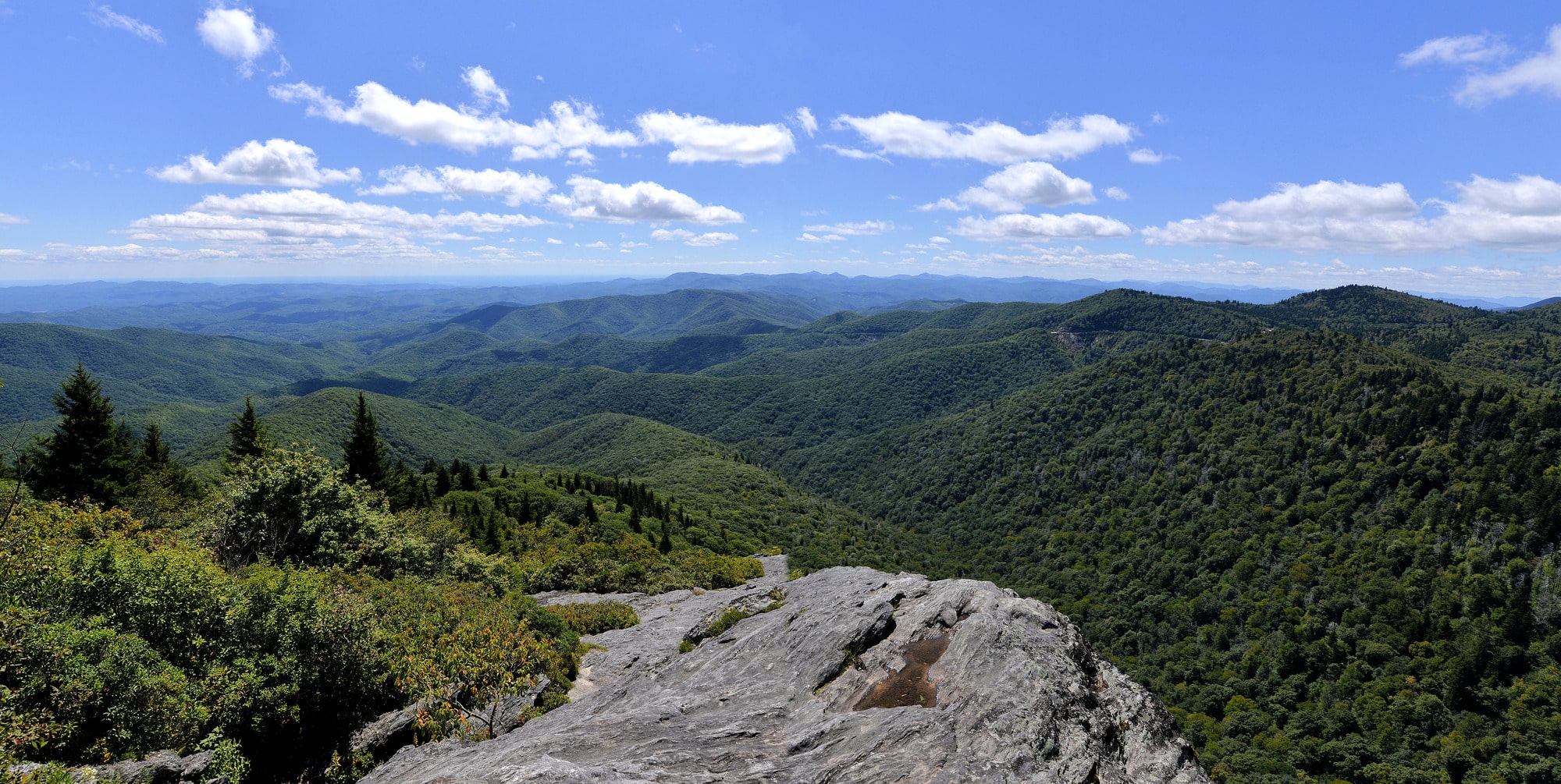 Image from nps.gov
Sometimes you need to crank some tunes and just drive. And the Blue Ridge Parkway in North Carolina and Virginia gives you the perfect opportunity to do just that with 469 miles of some of our country's most awe-inspiring landscapes. That's why it's affectionately known as "America's favorite drive."
Bordered between the Great Smoky Mountains and Shenandoah National Park, Blue Ridge Parkway offers stunning view of Appalachia and encompasses some of the oldest pre-historic and early European settlements. Get lost in the Appalachian culture through visitor center exhibits, restored historic structures, and developed areas.
As you make the scenic drive, check out this road trip playlist to jam out to!
Search for North Carolina travel jobs.
Search for Virginia travel jobs.
Mountain states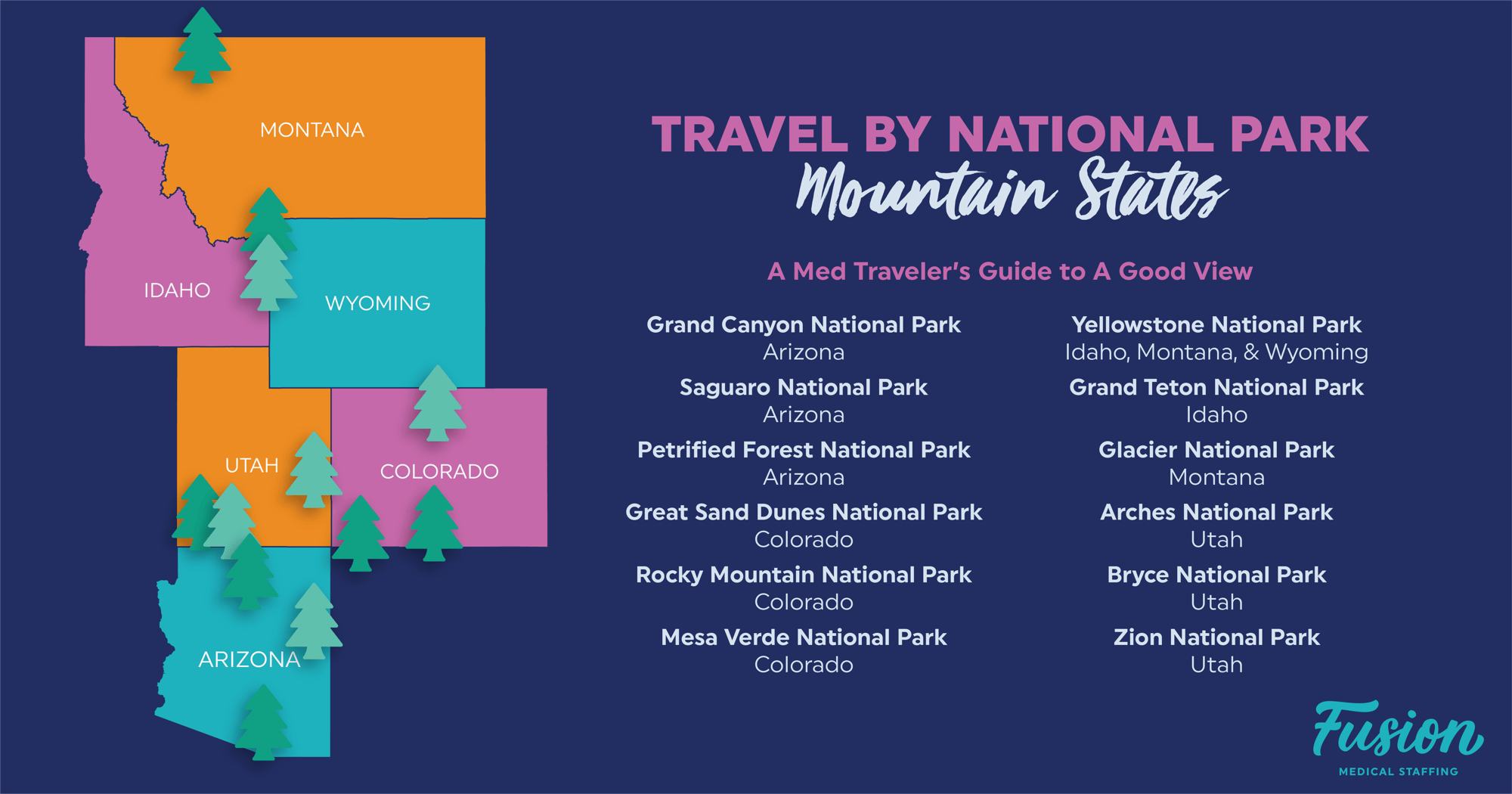 Are you an adventurer who prefers to soak in stunning views from atop a mountain? Then you'll definitely want to cross these national parks off your bucket list. Located within the mountainous states of the U.S., these are the best national parks to visit:
No. 1: Grand Canyon National Park in Arizona
Even if you haven't yet been to the Grand Canyon, I'd bet money that you've at least heard of it. As one of the greatest examples of arid-land erosion in the world, the Grand Canyon is kind of a big deal. And that's reason no. 1 why you should visit!
Reasons no. 2 through a million may vary. From rim-to-rim hiking, donkey rides, and whitewater rafting, the Grand Canyon is a wildly popular national park with millions of visitors every year.
Although the park spans across four states—Arizona, Nevada, Utah, and Colorado—the most accessible and popular areas of the park are the North and South rims. Sitting 7,000 feet above sea level, the South Rim is the more popular option with ranger talks, free hop-on-hop-off shuttles, and concessions. Then, 1,000 feet higher, the North Rim is more remote and adored by hikers, backpack campers, and climbers. While it may be the least busy rim, it's also the hardest to access and it's closed October through May for winter.
"Let this great wonder of nature remain as it now is," said Teddy Roosevelt in 1908 before he declared the area a national park. "You cannot improve on it. But what you can do is keep it for your children, your children's children, and all who came after you, as the one great sight which every American should see."
So don't take our word for it. Take Teddy Roosevelt's!
Search for Arizona travel jobs.
No. 2: Zion National Park in Utah
Ever wonder what life was like way back in the day when pioneers walked the land? It's your lucky day! Now you can walk in their footsteps at Zion National Park, Utah's first national park.
Conveniently positioned in the southwestern corner of Utah near Nevada and Arizona, Zion National Park is easily accessible from Salt Lake City, Las Vegas, or the Grand Canyon. Once you get there, there's plenty to do from backpacking to canyoneering to horseback riding and more. Since this national park gest about 300 days of sunshine a year, it's a great getaway location to soak up Vitamin D, all while enjoying the kaleidoscope of reds, oranges, and pinks of the stunning sandstone.
The must-sees of this national park are Zion Canyon and the natural rock arches. With depths averaging about 2,000 feet, the floor of Zion Canyon is ideal for hikes between the 20- and 30-foot-wide areas known as The Narrows and The Subway. After your hike, cool off with a dip in the Virgin River.
Then, make sure to capture pictures of the two most prominent natural rock arches. Sitting 1,000 feet above the canyon floor is the Crawford Arch, which can be seen from the patio of the park's Human History Museum. The second is the Kolob Arch, which can be enjoyed by those hiking within Kolob Canyon.
Over 232 square miles are high plateaus, a maze of sandstone canyons, and the Virgin River. But wait—there's more! Zion National Park also has 2,000-foot Navajo sandstone cliffs, pine- and juniper-clad slopes, plus seeps, springs, and waterfalls to support lush hanging gardens. It's the 1,000 species of plants that provide food, shelter, and nesting places for Zion's wildlife, including the endangered California condors and threatened Mexican spotted owls.
No. 3: Yellowstone National Park in Idaho, Montana, and Wyoming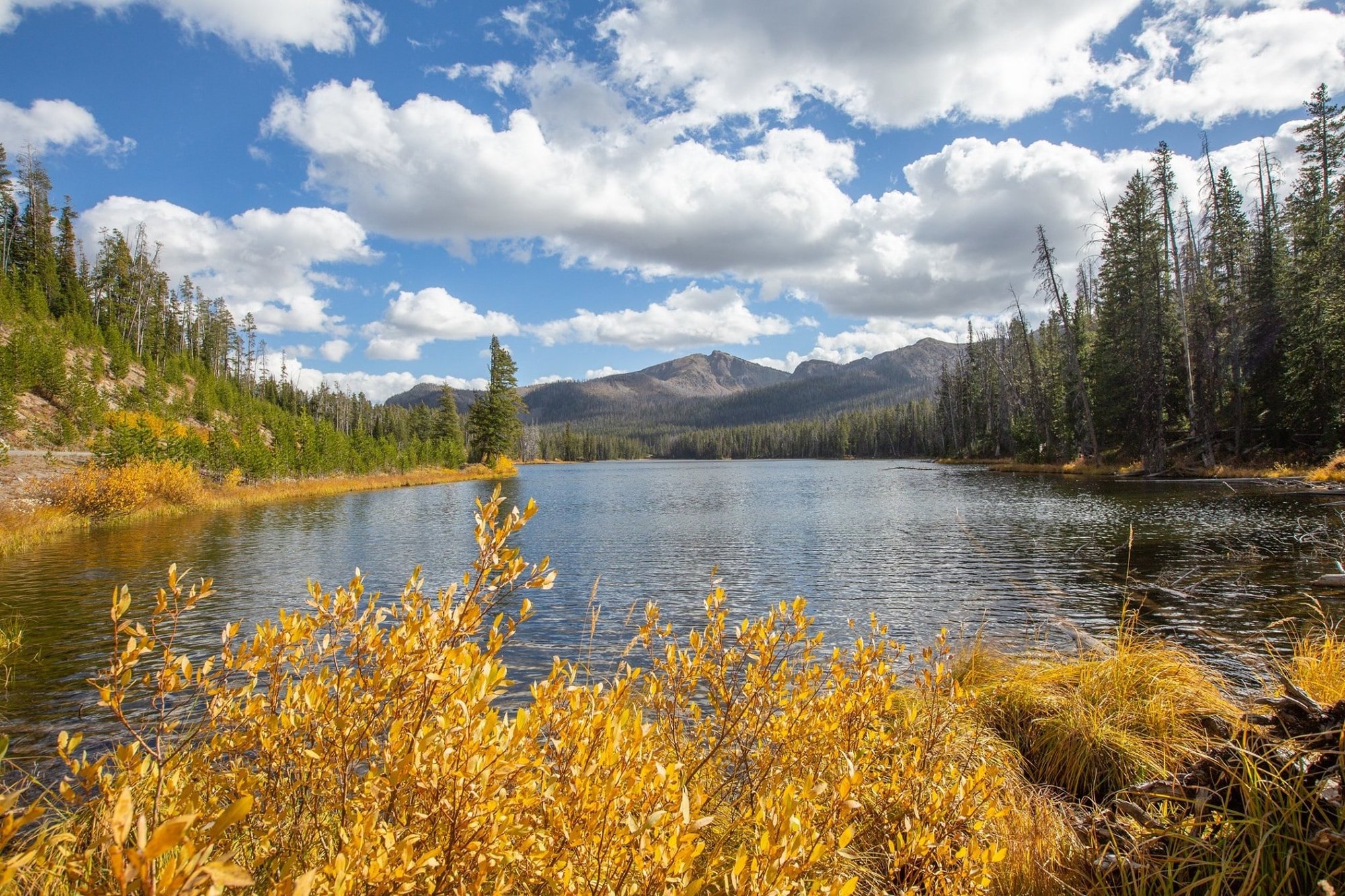 Image from nps.gov
On March 1, 1872, Yellowstone became the country's first national park and it's been setting the standards for national parks ever since. Set across 2.2 million acres, Yellowstone is primarily located in Wyoming, although it does cross into Idaho and Montana, as well, making it one of the largest national parks in the U.S.
Nestled on top of a dormant volcano, Yellowstone National Park is home to more geysers and hot springs than any other place on the globe. Ever heard of Old Faithful? And because roughly 50 percent of the world's hydrothermal features can be found at Yellowstone, the ground looks like it's on fire. As the kids say, that's fire!
If you think that's neat, then get ready for these Yellowstone fun facts:
There are over 10,000 thermal features within the park with more than 300 geysers
The park is one of the world's largest petrified forests
There are over 290 waterfalls throughout Yellowstone
Yellowstone Lake is the largest high-altitude lake in North America
There are over 1,100 species of native plants, 200 species of exotic plants, and 400 species of thermophiles
Yellowstone is home to 7 species of ungulates, two bear species, 67 other mammals, 322 bird species, and 16 species of fish
No matter what time of the year you visit, Yellowstone has something for everyone to enjoy. From skiing and snowshoeing in the winter to hiking and horseback riding in the summer, there's always something to do in this national park.
Search for Montana travel jobs.
Search for Wyoming travel jobs.
Being a medical traveler gives you the professional and personal autonomy you know and love. We're not here to tell you how to travel, but if you're looking for a suggestion, we might throw out traveling by national park. With natural wonders that can't be witnessed anywhere else on earth, the U.S. national parks are just waiting for you to come explore them! If you prefer to travel by car, check out these road trip guides to help you cross off all the national parks from your bucket list!