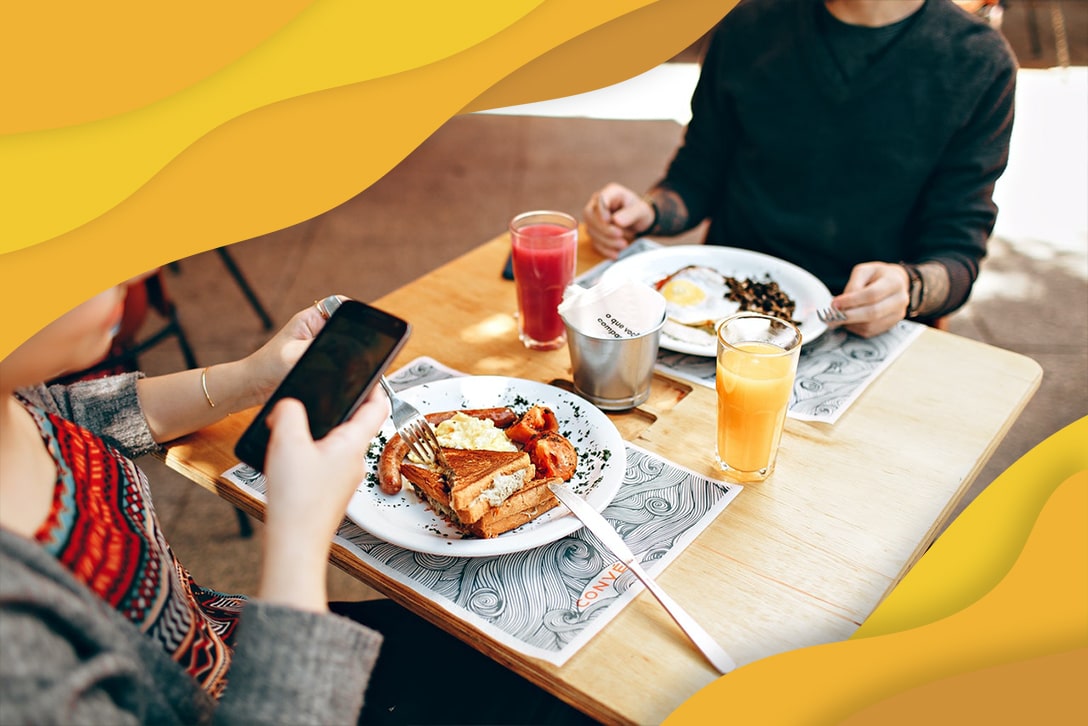 The Midwest is affectionately known as "America's Heartland" because it lies right in the middle of the U.S., kind of like how our hearts are in the middle of our chests. But maybe you know it as "America's breadbasket" because the Midwest is home to many farmers who kindly grow the wheat used to make tasty bread. Whatever you want to call it, the Midwest is like nowhere else in the country. And the only way to know what we mean is to experience for yourself.
Top Places To Eat in the Midwest
Search for med travel jobs in the Midwest! Whether you're a travel nurse, a physical therapist (PT), occupational therapist (OT), rad tech, medical lab scientist (MLS), or another amazing medical professional, Fusion Medical Staffing has jobs in the Midwest for you wherever you want to go. And once you get to your destination, treat yo'self to a night out on the town! Here's a foodie guide to help you navigate your way through the Midwest, just call it part of our Midwestern hospitality. Here's a sneak peek of the cities to explore:
Milwaukee, Wisconsin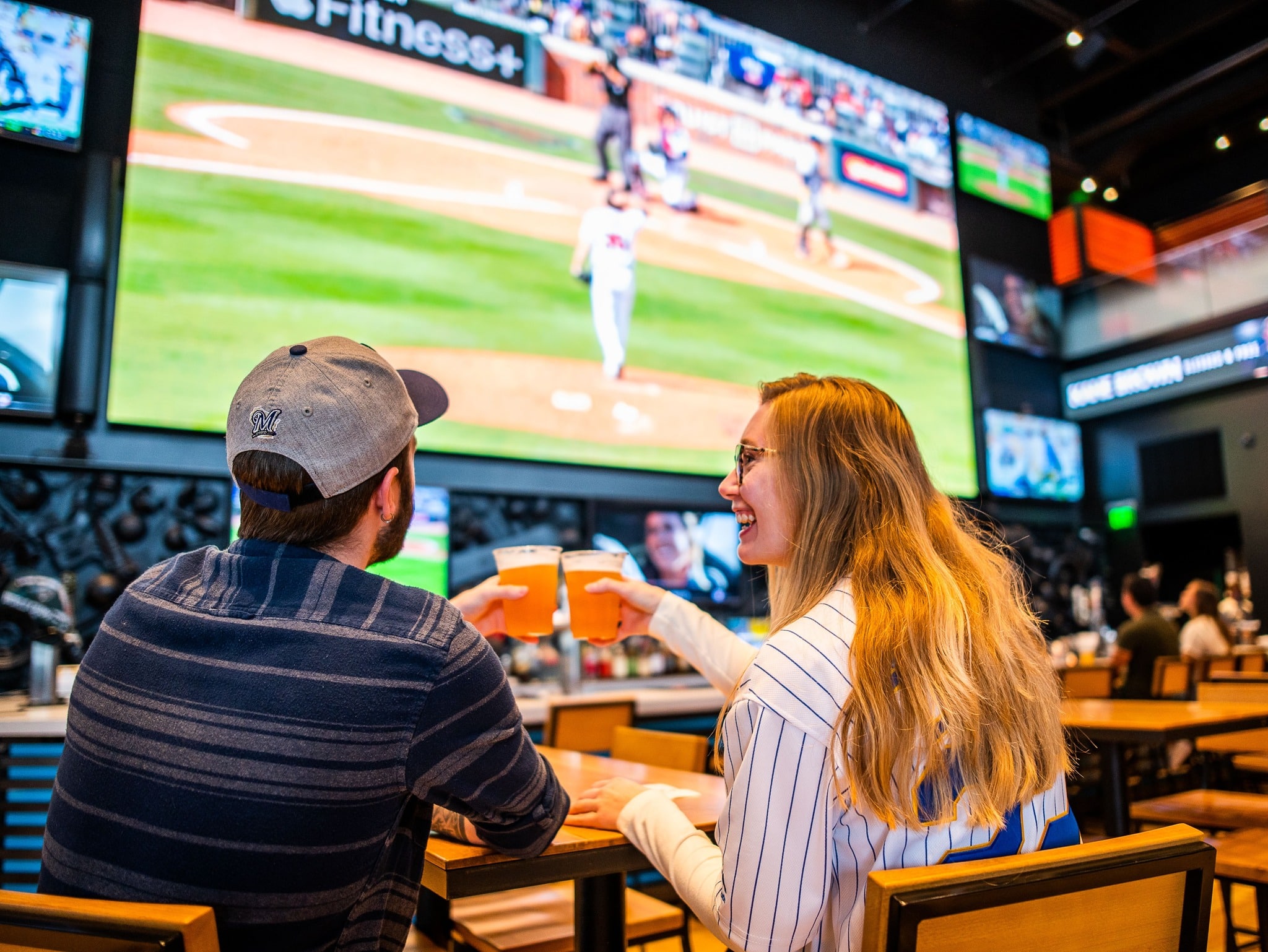 Image from visitmilwaukee.org
Did someone say breweries and baseball? You might know Milwaukee for its famous pubs and the Major League Brewers, but as Billy Mays said, "But wait—there's more!" When you visit one of these Milwaukee eateries, you're sure to delight your tastebuds.
Three Brothers Restaurant
Price: $$ (cash only)
Yelp review: 4.5 stars
Takes reservations
Vegetarian options
There's something about family-made meals that just taste better. Tucked away in the Bay View neighborhood of Milwaukee, Three Brothers Restaurant gets that. According to Eater, when you walk in, it smells like "your grandma's house when she's been cooking all day." Family-owned and operated since 1956, this Midwestern restaurant has deep Eastern European roots. In fact, the menu favors Serbian cuisine like goulash, moussaka, chicken paprikash, and then some with authentic recipes coming from the OG owner who was from Serbia. The family restaurant with all its secret ingredients have been passed down through three generations and now, the restaurant is run by his granddaughter, Milunka, who keeps the long-lived family traditions and more importantly, recipes, alive and well.
Good City Brewing
Price: $$
Yelp review: 3.5 stars
Offers takeout and delivery
Vegetarian options
If you're near downtown Milwaukee, then you have to make a pit stop at Good City Brewing in Deer District. Yes, Milwaukee is known for its breweries and yes, there are loads more where that came from, but Good City is unlike the rest (in the best ways). Offering the usual suspects like porter and pils to one-of-a-kind specials like an imperial stout aged in antique Weller barrels, Good City has something that will make your tastebuds dance.
Of course, you can't drink on an empty stomach! So, as you sip on an ale, order your pub grub faves like a burger topped with Sriracha Russian dressing or go for a 10-inch stone fired pizza. Truly, you can't go wrong with whatever you decide on!
Sherman Phoenix
Price: $$
Yelp review: 5 stars
Offers takeout and delivery
Vegan and vegetarian options
Just like a phoenix, Sherman Phoenix rose from the ashes to become something strong and beautiful. According to Eater, this dining hall is the "beating heart of the Sherman Park neighborhood." Let us explain: the Sherman Phoenix eatery was created after civil unrest in 2016 and now, it's a sprawling collective of small businesses, most of which are owned by people of color.
"Our response to such widespread community devastation was to respond to our neighbors by advancing a hope filled enterprise, now known as the Sherman Phoenix," their website said. "The Sherman Phoenix now hosts 27 tenants and a pure reflection of possibility."
From gourmet popcorn to spring rolls to homemade pizza to buffalo chicken wings, the Sherman Phoenix has something for everyone to whet their appetite. Not only can you fufill your food cravings, but you can also expand your wardrobe, get a fresh haircut, attend a yoga class, and more at this one-stop-shop!
Search for Wisconsin travel jobs.
Cincinnati, Ohio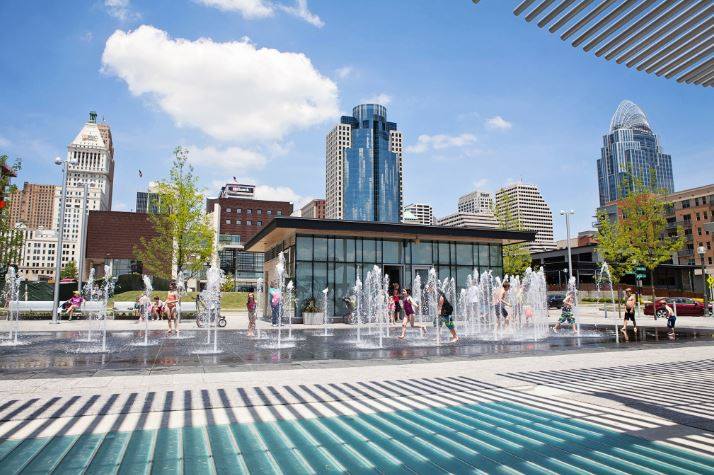 Image from ohio.org
Named by USAToday as one of "six small cities with big food scenes," Cincinnati has much to offer when it comes to satisfying hunger. Whether you're in the mood for arepas and cachapas, fresh Hawaiian poke, or primo American smoked meats, Cincinnati has exactly what you're looking for.
Tortilleria Garcia
Price: $
Yelp review: 4.5 stars
Offers takeout
Vegan and vegetarian options
Growing up in Mexico, Omar Garcia watched his mother and grandmother grind corn from the family farm to make homemade masa for tortillas. Flash-forward and now he lives his dream of following in their footsteps with Tortilleria Garcia. Never made with flour or chemical preservatives, Garcia's tortillas are the star of show! In fact, the carnitas, pollo, carne asada, or al pastor toppings are just an added bonus. Is your mouth watering yet?
Tickle Pickle Restaurant
Price: $$
Yelp review: 4 stars
Offers takeout and delivery
Vegan and vegetarian options
Believe it or not, but this Northside burger joint was originally going to be named "Buns N Roses," but "Tickle Pickle" won in a landslide vote between the staff. But that didn't stop this restaurant from keeping the rock 'n roll theme with burgers with names like Breadzepplin, Meatallica, Slaytar, and obviously, Buns N Roses.
Not only are the burger names A+, but each one is made with 100 percent Angus beef, and topped off with your choice of flavors ranging from jalapeno poppers to bacon, egg, and cheese. Plus, there's an extensive vegan menu for those with special dietary restrictions. From this menu, you can order a mouth-watering black bean or Impossible burgers. Tickle Pickle truly has something for everyone.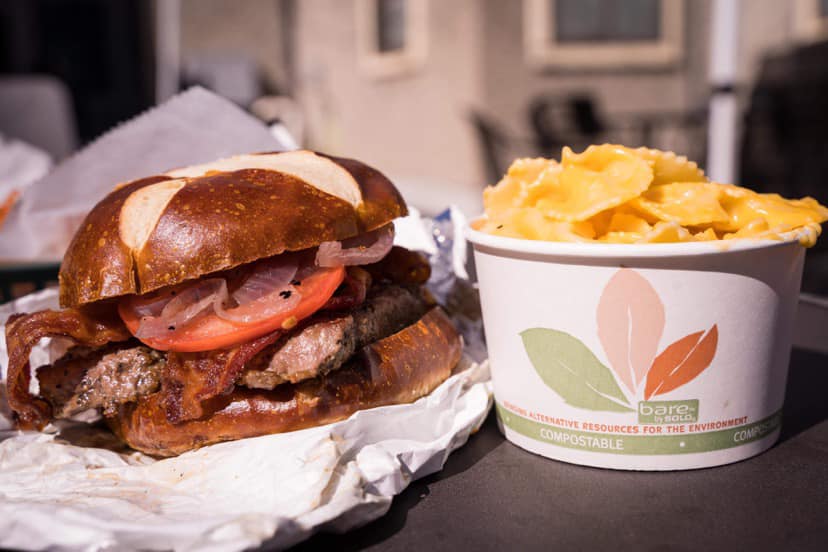 Image from the Tickle Pickle Facebook
Bridges Nepali Cuisine
Price: $$
Yelp review: 5 stars
Takes reservations
Offers takeout and delivery
Vegan and vegetarian options
Born in native Nepal, Ashak Chipalu came to the U.S. to pursue a career in nursing. But once he made his big move, he quickly became nostalgic for the flavors back home, and just like that, Bridges Nepali Cuisine came alive.
What started as casual Nepali cuisine at Findley Market grew into two in-demand restaurants in Northside and downtown Cincinnati. Eater says the goal is to serve a "completely different type of Nepali cuisine," and Chipalu does so by combining classic dishes like momos with more creative options like basmati or brown rice mixed with lentils or yellow peas and topped off with hakku chuala, pork chili, or aloo jhol. Instead of traveling the 7,000+ miles to Nepal, you can venture to one of the Bridges locations to get your Nepali food fix.
Omaha, Nebraska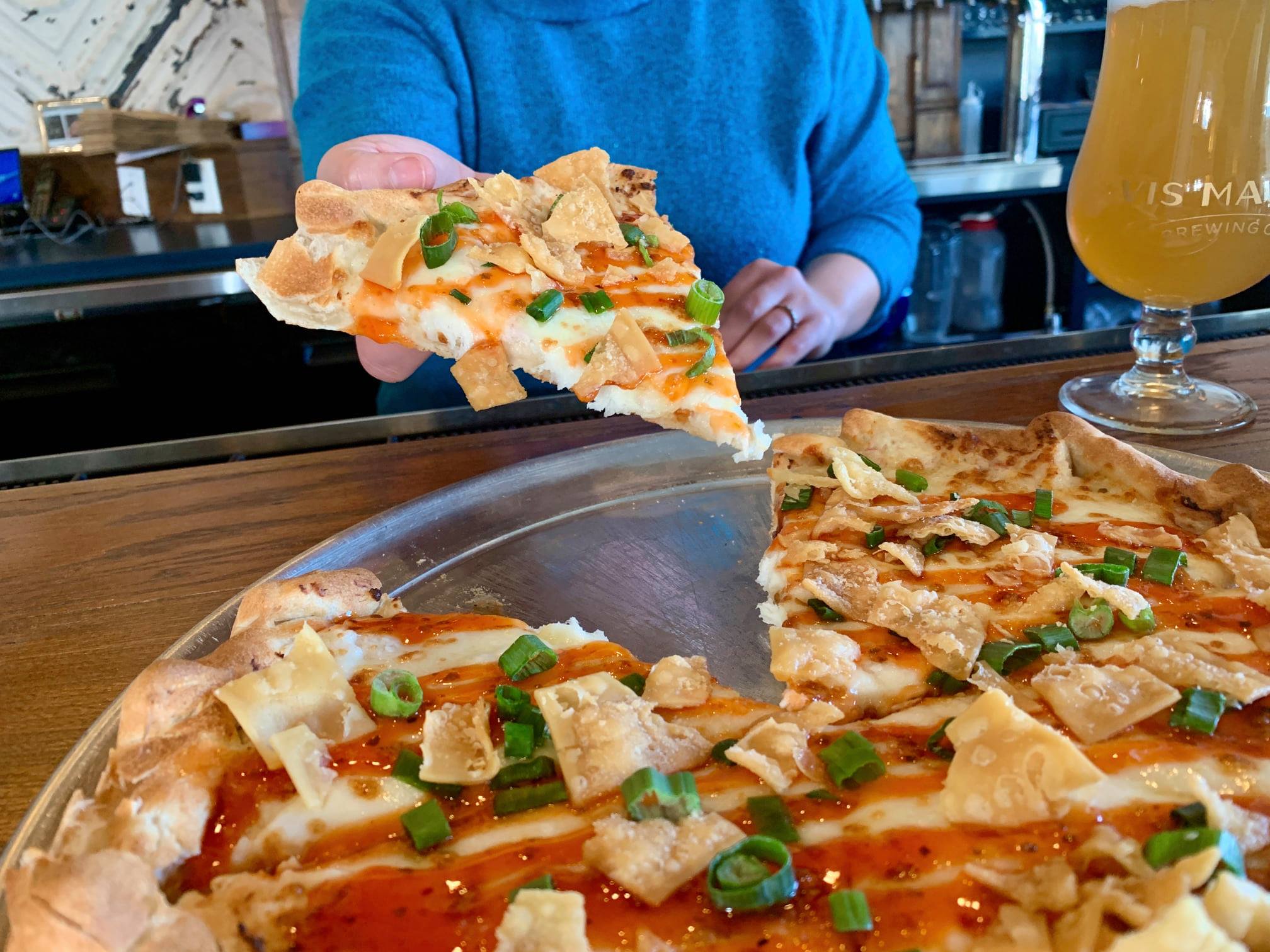 Image from visitomaha.com
Warren Buffett. College World Series (CWS). Fusion Medical Staffing. Omaha is our home-aha and it's one of the best places to live, to work, to drink, to raise kids, and more, not to brag. Oh, and did we mention that Omaha has the most restaurants per capita? Come visit your Fusion fam and while you're at it, treat yourself to a fine dining experience.
Dante
Price: $$
Yelp review: 4 stars
Takes reservations
Offers takeout
Vegan and vegetarian options
Dante isn't your average pizzeria, it's a cool pizzeria. Known citywide for its wood-fired Neapolitan pizza, Dante also serves a wide variety of homemade pastas that will make anyone say, "Mamma Mia." With a modern take on classic Italian cuisine, Dante features ingredient-driven dishes with fresh produce from local farmers and distributors. As an added bonus, ask about the wine list to find the perfect pair for your meal!
Yoshitomo
Price: $$
Yelp review: 4.5 stars
Takes reservations
Offers takeout and delivery
Vegan and vegetarian options
As it turns out, you don't have to be on the coast to enjoy freshly prepared sushi rolls. In fact, all you have to do is travel to Benson for a table at Yoshitomo. This sushi palace is passionate about Japanese ingredients and serves high-quality small shareable plates. With a diverse selection of nigiri, sashimi, maki sushi rolls, Yoshimoto has it all!
Owner and chef Dave "Yoshi" Utterback had always had a deep love for sushi and after working as head chef for another chain sushi joint for nearly 10 years, he decided it was his time to shine.
"I'd started thinking about owning my own restaurant early into my career as a chef," Dave said to BFF Omaha. "I'd left the company and my choice was, again, either go work for somebody else for another 10+ years, or go beg, borrow, and steal (not literally) money to open my own restaurant. Sushiyas (Japanese name for sushi restaurants) in Japan are really part of the community, everyone who frequents them is from that neighborhood. There isn't another neighborhood in the city where the growth and community is organic."
And shine he has! In fact, he has shined so bright that he has a new restaurant making its grand debut this month, Koji! Named after his son, Koji is Yoshitomo's "little brother," said Dave, and it's the only foodie joint in town that offers true Japanese yakitori grilled over binchotan. Can you say mmm?
Salween Thai
Price: $
Yelp review: 4 stars
Takes reservations
Offers takeout and delivery
What started as a standalone restaurant in Midtown is now spread out across the city in four different locations. And thank goodness! Because Salween Thai is one of the most popular takeout and delivery spots in Omaha, according to Eater.
But they're not your usual Americanized Thai food. No, instead, Salween Thai aims to bring traditional Thailand flavors to your Midwestern tastebuds. If you're up for the challenge, pick your dish, decide on a spice level, and prepare to have your mind blown by fresh ingredients and the best authentic Thai food in the city. New to Thai cuisine? Might we suggest the pad Thai or Panang curry or for something warmer and heartier, try the coconut chicken noodle soup or larb. Mmmm.
Search for Nebraska travel jobs.
Chicago, Illinois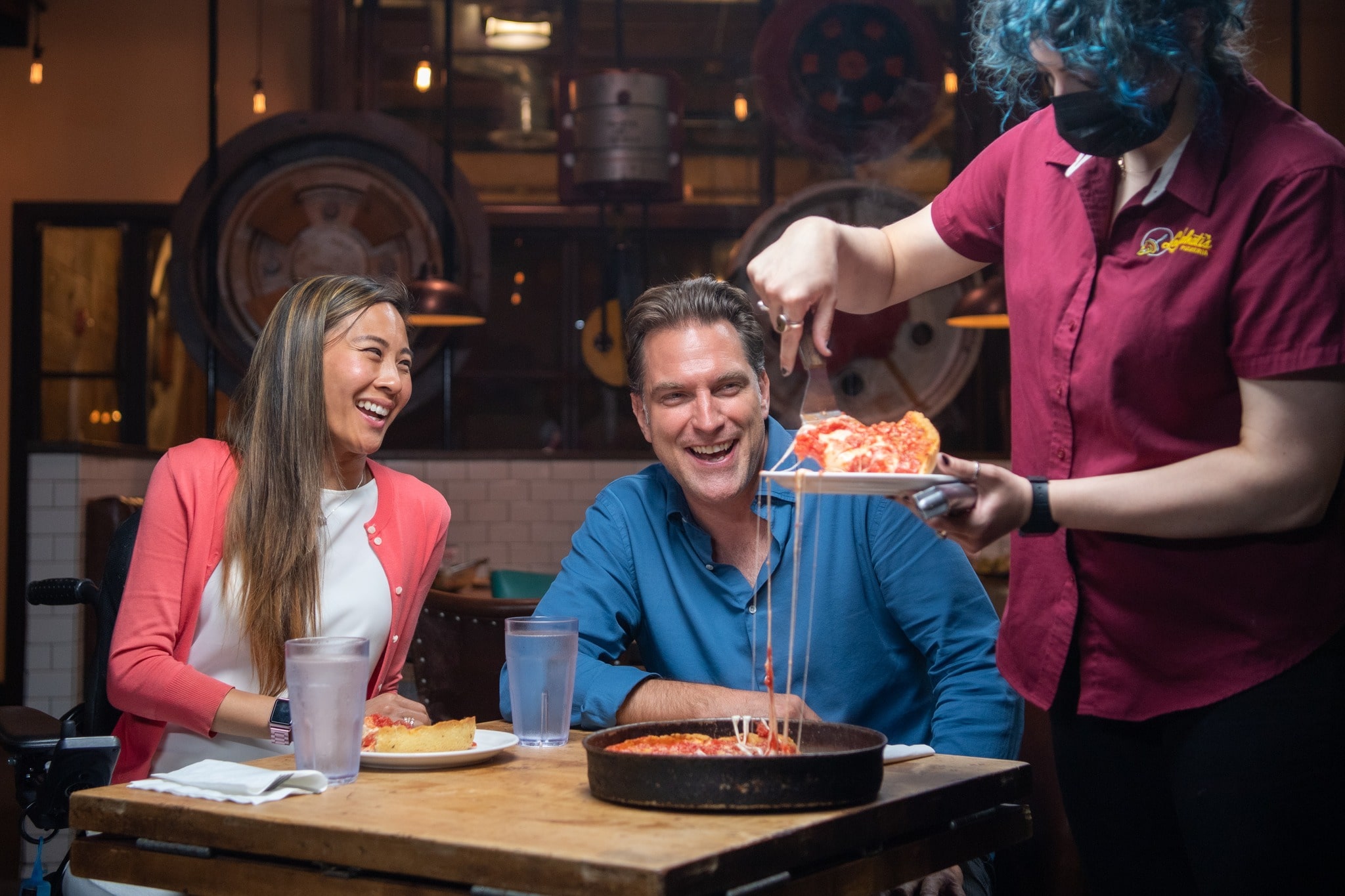 Image from choosechicago.com
In 2017, Chicago was named "the best restaurant city" by Bon Appetit magazine. Five years later and Chicago is still giving the rest of the eateries in the country a run for their money. If you find yourself in the windy city for a med travel assignment, you can find restaurants of all shapes and sizes—from those that serve deep-dish pizzas to beef sandwiches to Chicago-style hot dogs, you can't go wrong with what you eat.
Luella's Southern Kitchen
Price: $$
Yelp review: 4 stars
Takes reservations
Offers takeout and delivery
Vegetarian options
When chef Darnell Reed dreamed of opening a restaurant to honor his late great-grandmother, Luella, he never imagined his Southern creations would be some of the city's best! Flash-forward and here we are with Luella's Southern Kitchen thriving in Chicago's Lincoln Square.
Have a hankering for cream shrimp and grits? Chicken gumbo? Fried chicken and waffles? Whatever Southern dish you're craving, Luella's delivers with love. Not only does Luella's specialize in lunch and dinner meals, but also brunch! So, all you brunch fanatics can get your fix here, too. This casual eatery has something hearty and delectable for any hungry eater.
Honey Butter Fried Chicken
Price: $$
Yelp review: 4 stars
Offers takeout and delivery
Imagine a dinner party with all your BFFs. Now pretend your besties are all professional chefs. That's exactly how Honey Butter Fried Chicken came to be. No, seriously! Back in the day, a pair of good cookin' chefs would throw a series of underground dinner parties for their loved ones to try their latest creations and it was so popular, they decided they ought to share their flavors with the rest of Chicago. And hey, we're not mad about it.
Although fried chicken is a Chicago staple, owners Christine Cikowksi and Josh Kulp saw an opportunity to make a good thing even better. That's why each crisp and skinless piece of meat comes with the restaurant's signature honey butter. Pro tip: Order extra side of honey butter, you'll need it.
The owners also used this opportunity to unroll a championed business model where restaurant employees receive healthcare benefits! So yeah, the prices may be higher than your average counter service eatery, but it goes towards taking care of those who care for you while you're there.
Kasama
Price: $$
Yelp review: 4.5 stars
Offers takeout and delivery
While the coronavirus pandemic deterred most people from opening a new restaurant, it couldn't stop this passionate duo. In 2020, husband-and-wife team, Tim Flores and Genie Kwon, opened Kasama in the East Ukrainian Village neighborhood of Chicago.
While the couple originally opened this part bakery, part restaurant to provide French baked goods like an éclair-shaped croissant topped with Serrano ham or salmon to early-morning guests, it rapidly expanded to feature Filipino lunch specials and a fine dining dinner experience to include a Filipino tasting menu. Here, you can find fan-favorites like kare-kare, pancit, and lumpia with ingredients like foie gras and A5 waygu.
Search for Illinois travel jobs.
Minneapolis, Minnesota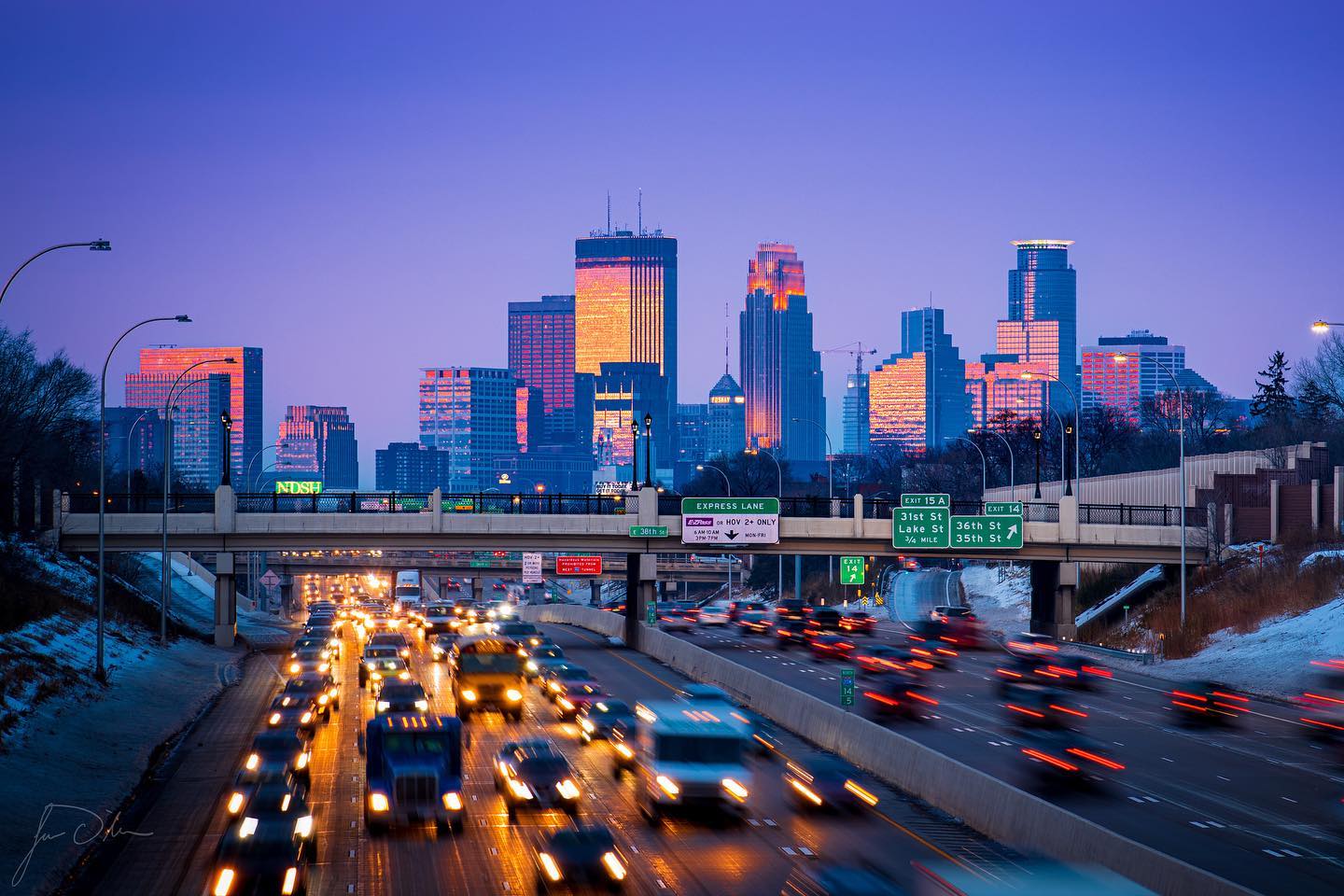 Image from Minneapolis.org
You may be surprised to learn that in addition to San Sebastian, Spain and Buenos Aires, Argentina, Minneapolis, Minnesota is one of the "best food cities in the world," according to top culinary talent from around the globe. But there's only one way to find out for yourself, and that's by visiting Minneapolis!
Hai Hai
Price: $$
Yelp review: 4 stars
Takes reservations
Offers takeout
Vegan and vegetarian options
Who knew paradise could be found in the Midwest? But alas, say "Hai" to paradise when you enter Hai Hai in Minneapolis. As soon as you walk into this Vietnamese eatery, you're immediately drawn in by the rich teal walls, giant tropical greenery, and giant inside-outside bar that remind you of summertime.
Focused on Vietnamese cuisine, Hai Hai's menu is inspired by the foods that chef Christina Nguyen grew up eating at home. And according to Eater's roving food critic, Bill Addison, Hai Hai has a "bombastically colorful banana blossom salad [that] includes fried shallots, peanuts, and sliced watermelon radish for echoes and echoes of crunch."
"Nguyen rejiggers Hanoi's famous dill-scented grilled fish dish, cha ca la vong, by adding rice noodles and her punchy riff on Vietnamese pineapple-shrimp sauce," said Addison. "So much about this place uplifts: The beachy wallpaper prints, the citrus-fueled cocktails, and a confident, effervescent staff. But Nguyen's stirring personal food gives Hai Hai its depth of spirit."
Soul Bowl
Price: $$
Yelp review: 4 stars
Offers takeout and delivery
Vegan and vegetarian options
All food is good for the soul but not all food is soul food, ya feel? Soul food is "basic, down-home cooking with its roots in the rural South," according to The Spruce Eats. Think cornbread, hush puppies, and much more. And no one does soul food better than Soul Bowl.
The brainchild of chef Gerard Klass and Brittney Alise Klass, Soul Bowl was created to bring the people of Minneapolis together through a mutual appreciation for bold and unique flavors. Whether you choose to build your own custom bowl or order something straight from the thoughtfully curated menu, your tastebuds are in for a burst of flavors.
"[Chef Gerard Klass] presents the soul food from his childhood in a flavorful, healthy, and eye-catching way," according to the Soul Bowl website. "Ordering is quick service with build your own options. You can have your bowl right away, just how you want it. Yet, at the center of Soul Bowl is family. Community seating, lawn games, and Grandma's House Service create the togetherness that soul food is all about. It's a soul food experience that's sure to warm your mind, body, and soul."
World Street Kitchen
Price: $
Yelp review: 4 stars
Offers takeout and delivery
Vegan and vegetarian options
Chef Sameh Wadi got his inspiration street food around the world, an already great thing, and elevated it to the extreme with the meals he serves at World Street Kitchen. From ginormous fried chicken sandwiches to bite-sized flavor-packed tacos to curry-stuffed burritos, World Street Kitchen has flavors to "wake even the sleepiest tastebuds," said Eater.
The dream started with two brothers, Sameh and Saed, then blossomed into a popular food truck. Featuring faves from all around the world, the brothers quickly outgrew their food truck and set their roots in Minneapolis. Popular still as a restaurant, World Street Kitchen is known for big, bold flavors and being with people you love.
Search for Minnesota travel jobs.
Detroit, Michigan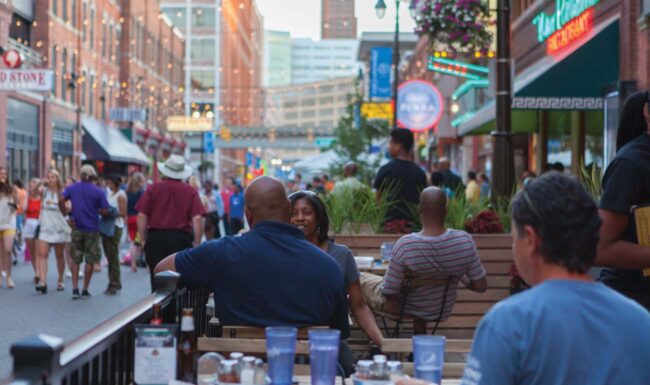 Image from visitdetroit.com
If you work a med travel job in Detroit, get ready to live a little! Detroit is full of thrilling adventures like skydiving, escape rooms, and rollercoasters. Plus, with all its history, this city has a lot to offer history buffs, too! But before you get too far into your Detroit journey, refuel at one of the city's top restaurants. We've taken the liberty of looking them up for you—you're welcome.
Mudgie's Deli and Bar
Price: $$
Yelp review: 4.5 stars
Offers takeout and delivery
Vegan and vegetarian options
Mudgie's Deli and Bar hasn't had it easy with the death of its founder Greg Mudge and a small fire in March 2022 that impacted operations. But the good news is Mudgie's is resilient in the face of adversity, and they won't let a little fire keep them down!
They may not have the capacity for in-house dining, but Mudgie's offers takeout for breakfast and lunch, as well as beer and wine to-go, so that you don't miss out on the deliciousness. No matter what kind of sandwich you order—although we hear The Mayor is a fan fave (salami, turkey, cheddar, banana peppers, romaine lettuce, and chipotle mayo on rye bread)—your sure to have your socks knocked off.
Pietrzyk Pierogi
Price: $$
Yelp review: 4.5 stars
Offers takeout and delivery
For anyone that doesn't speak Polish (me, it's me), here's how you pronounce this next gem: Pi-at-rick Per-oh-gey. Pietrzyk Pierogi. Now that we got that out of the way, let's talk about what really matters: The food.
The owner of this Polish restaurant, Erica Pietrzyk, is known around Detroit for her non-traditional takes on Polish dumplings, and that's exactly what made her eatery so well-loved. Visit for a lunch date and order one of the carryout boats of the classic pierogi, plus more creative creations like pierogis filled with cheeseburger or jalapeno cheese. We guarantee you won't be able to get enough of these delectable dumplings, so hit the retail section of the restaurant before you head out to pick up a package of frozen pierogi, a Polish meal kit, or to pay-it-forward and purchase a meal to help people in need.
Joe Ann's Bar B-Q
Price: $$
Yelp review: 3.5 stars
Offers takeout and delivery
Vegetarian options
Founded by Grace Owens and now run by her daughter, Joe Ann, Joe Ann's Bar B-Q has been perfecting the art of open charcoal pit barbecue since the days when new episodes of "I Love Lucy" were on—since 1951, to be exact.
In fact, their grill was built by hand more than 60 years ago and has been the heart of their delicious BBQ creations ever since. That, and the family's homemade sauce, of course. The whole chicken, tender ribs, pig feet, and fried shrimp are all simply perfectly prepared vessels for Joe Ann's tangy, spicy sauce.
Search for Michigan travel jobs.
You know you're a foodie when you're not afraid to try something new, when your free time plans revolve around food, and when you're always thinking about your next meal (guilty as charged on all accounts over here).
It's one thing to live like the locals and it's another to eat like one. Open yourself up to new experiences, flavors, and cultures as you travel from city to city for medical travel jobs and use this guide to navigate your taste buds through the flavors of the Midwest.
Want to share your foodie adventures? We wanna see too! Tag us on social media!
Got a hankering for more? Check out our other travel guides by restaurant in the Med Traveler's Foodie Guide series!