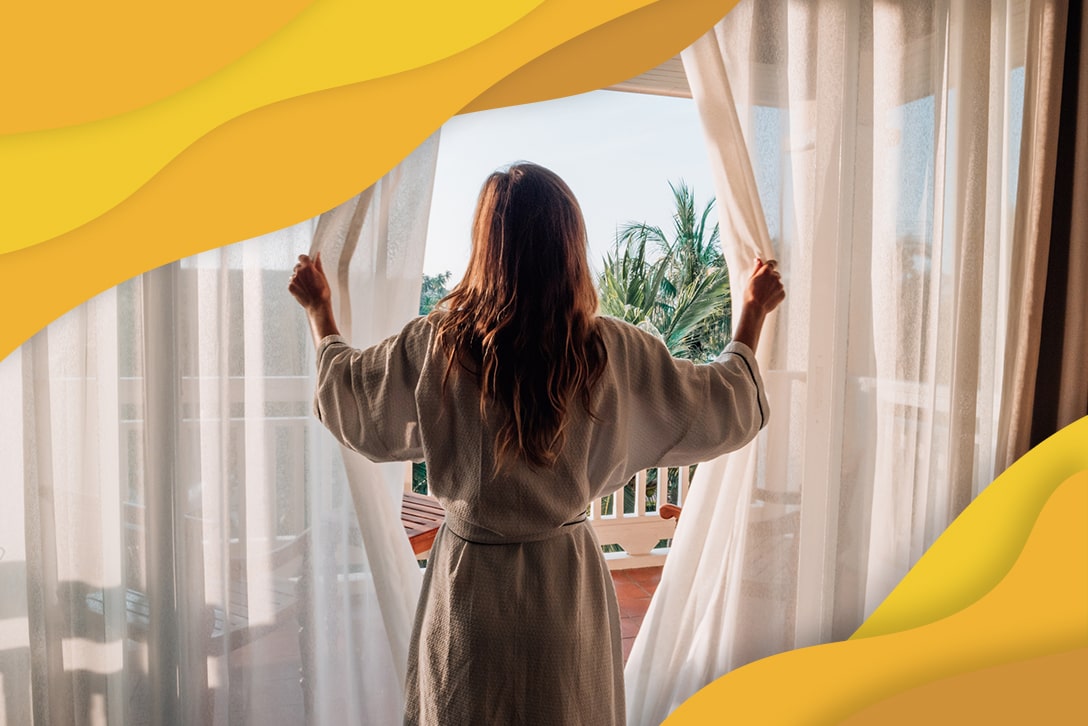 Whether you entrust the housing search to your medical staffing company or take research for your allied or travel nurse assignment into your own hands, you need to know where you're laying your head at night. Finding temporary housing as a medical traveler can get stressful without the right info or resources to navigate. We've broken down the main travel housing concerns, so you can find your temporary home with ease.
Understanding Your Medical Traveler Housing Options
Make a budget
In a perfect world, travel nurses and travel healthcare professionals would be able to find inexpensive housing with all the perks and amenities they want when it comes to their housing preferences. But life is life — it all has a price. So, the best option is to create a realistic budget and go forth in your search!
Not sure how to make a budget to guide you as you're finding housing? Here's the process:
Calculate your net income (including your housing stipend)
Track your spending to find out where your money goes right now
Determine how much you can afford for housing after essentials
Make a plan for what you're spending vs what you want to be spending
Adjust your spending to stay on budget
Review your budget regularly
Using a housing stipend is a good choice if you want more control over where you stay and what you spend. A tax-free housing stipend for travel nurses or other traveling professionals can really help with the cost of living for your traveling medical career.
Keep in mind that the housing stipend amount will depend on where your next travel assignment is. For example, you'll receive a higher stipend if you take travel jobs in major cities like Los Angeles, CA versus a travel job in Des Moines, IA. Plus, if you decide to go with a temporary housing unit that costs more than your stipend, you're responsible for paying the difference. On the flip side, if you move into a home that's less than the housing stipend you receive, you get to pocket the extra cash.
Fusion Medical Staffing has recommended housing options like hotel sites and extended stay companies with negotiated rates to keep costs down and keep you on budget. When you become a Fusion traveler, you get discounted codes to use at places like:
Hotel Engine
WoodSpring Suites
Extended Stay America
Choice Hotels
Wyndham Hotels
Sonesta Suites
IHG
Orbitz
Is furnished housing worth it?
Fully furnished housing can be a lifesaver when you're looking at short-term housing for one allied or travel nurse assignment. Why would you want to sit in a lawn chair in an empty apartment, surrounded by echoing walls? On the other hand, why buy furniture for temporary lodging?
Furnished housing sites are pretty much the norm for medical travelers on assignment these days. Corporate housing options are also a good go-to since they specialize in the types of housing you're looking for. You can also check out vacation rental sites like Airbnb and VRBO
Or, use Fusion Marketplace to find furnished housing through Furnished Finder. With Marketplace, you can find your next travel job and your temporary housing unit in one fell swoop. And now, you can do it all through the Marketplace app!
Depending on what type of travel nurse housing options you find, you may need a bed. Furnished travel nurse housing or hotels will have you all set up and ready, but what about a short-term rental? Or what if you're feeling skeptical about sleeping on someone else's mattress in a vacation rental?
To avoid snoozing on the floor, invest in a good-quality air mattress with a pump. Some of them are very fancy and withstand the durability test of not even having a bedframe. If you need a top-rated air mattress from a more detailed list, check out this Buyer's Guide from The Sleep Judge.
Finding pet-friendly housing
Pets are like family, so naturally, you want to bring your furry travel buddy along. Pet-friendly agency housing for allied and travel nurses is a top request among traveling medical professionals, but just like renting a year-round, permanent home, there can sometimes be restrictions on your canine or feline pal.
The good news is a lot of housing search sites will have a "pet-friendly" filter to search by and offer housing with pets. Additionally, there are some steps you can take to ensure you lock down your pet-friendly housing:
Provide documentation
Gathering a reference letter from a current or past landlord or property owner, submitting proof of a dog training class, and including veterinarian documentation stating that your pet is up-to-date on medical care can all help you acquire pet-friendly travel nurse housing options. Other types of documentation you may need to provide include:
Vaccination paperwork
Veterinary records
Tags and certificates
Proof of microchip
Make sure the space is right for you and your pet
Just because they allow pets doesn't mean it's right for you and your furry friend. Ask yourself how you can make your pet more comfortable in their new environment. Is there a park or walking path nearby for your dog to play? Plenty of sunlight and lookout points for your kitty? Do you have resources for pet sitting, should you need it? Our pets deserve the same amenities and sense of home as we do, so any extra steps you can take to ensure their comfort will help them adjust easier.
Getting your housing deposit back
Read your lease
Lease agreements should outline how soon you need to give notice, and you can ask the landlord or property owner to give you an exact date at the time of move-in, just to be sure there is no discrepancy. This ensures you don't "break your lease" through improper notice.
Some leases will have a page of itemized costs listed to replace items or make repairs, including items like light bulb replacements, batteries for smoke detectors, drip pans for stoves, stain removal, general hourly cleaning, steam carpet cleaning, etc. Use this as a checklist during your last week in the unit.
Fill out the inspection checklist
Fill out your lease's move-in checklist and turn it in within a few days of moving in. Report any issues that need to be addressed and schedule a time with maintenance to resolve them. If there are items that are not handled after you have reported them, make sure to take pictures, so the landlord can't claim you caused the damage and stick you with the cost at move-out. Make a copy of the checklist and photos to keep for yourself, too.
Organize, clean, and repair the property if needed
When it's time to move out, spend a little extra time putting your housing back into its move-in condition. This includes things like patching wall holes if you've put up frames, doing paint touch-ups, cleaning appliances, and general house cleaning. Many leases will have a stipulation stating you must leave the rental property in the same condition you found it. If you don't, you could lose some or all of your deposit.
Request a final walkthrough
Ask the landlord to schedule a walkthrough of the unit, after you have done your repairs and cleaning, but at least a day or two before you move out. If the landlord is unable to meet in person, request a list of any damages or charges, so that you have the opportunity to fix them and leave the property looking marvelous.
Take photos of the property on the day you move out
Document the superb condition in which you left the property. After you have removed all of your personal belongings, take photos of each room and email them to the manager the same day you move out, so you have the date of correspondence and proof of the condition of the property. This way you aren't hit with the bill for someone else's stay.
Leave the keys in the right place
Once you're out of the apartment and ready to hit the road on your way to your next assignment, stop by the leasing office to drop off your keys and leave a forwarding address where you would like to have the deposit mailed. Be sure to get the name of the person with whom you leave your keys. Do not leave the keys in the property unless the landlord tells you to (it could result in the leasing office taking additional rent out of your deposit, and no one wants that).
Know when you're getting your deposit back
Depending on the state, your landlord has between 14 and 60 days to mail your deposit. Private property owners can sometimes take twice as long if they aren't used to state policies. If it's been over 60 days and you still haven't gotten your deposit or the statement, follow up with a phone call, then follow up with an email (outline the facts: how much the landlord owes you, photos you took on your way out, etc.) Also cite the state's security deposit law, this way you can track your correspondence until they get you the information you need.
If you get your deposit back but there are unexpected or unjustifiable deductions, it's your right to ask for pictures and invoices or receipts for the repairs. If they do any major repairs such as replacing the flooring, check to make sure that they depreciate the cost of the replacement.
Consider RV travel
RV travel has been widely popular among professional travelers and travel nurses. There's something liberating about taking your life on the road. Living in a cute home on wheels can save money on housing costs and can be a great way to explore new places at the drop of a hat while staying in your own space.
Imagine waking up every day (or maybe every few weeks) to new scenery outside your window. Small-space living encourages you to get outside and explore, rather than sitting inside and lounging all the time.
RV life isn't for everybody, and there is maintenance to consider when springing for this option instead of your standard brick-and-mortar rental. Check out our two posts, How To Get Your RV Ready For Travel and How To Winterize Your Camper, to learn more about RV upkeep and seasonal maintenance.
You have a lot of decisions ahead after accepting a new assignment, including housing logistics. One of the biggest questions medical staffing companies get is how travel nurses find housing. It can really make or break your medical travel experience over the next 13 weeks, so use all the resources available to help you select the type of housing that works best for you.