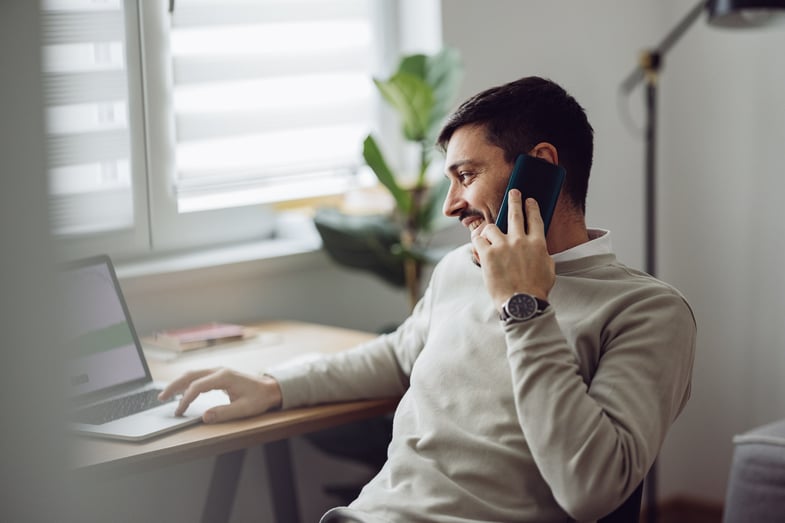 When you embark on your medical travel career journey, you place your trust in a few different baskets—the medical facility, the staffing agency, and most of all, your recruiter. The trust you have in your med travel recruiter can easily make or break your medical travel job. If you've ever worked with a recruiter who wasn't right for you, then you know this from personal experience, and if that's the case, let us save you from the dark side. Our recruiters are truly the best things since sliced bread.
How to Build Trust with Your Recruiter
Has someone ever lost your trust? Or have you ever lost someone else's trust? Either way, it's a big deal and a huge bummer. There's a lot of value placed on trust because it's fundamental to the way we live. Without it, life would suck.
As Russian playwright and short-story writer, Anton Chekhov, said, "You must trust and believe in people, or life becomes impossible."
The importance of trust in a recruiter relationship
Trust is one of those lifelong morals that gets drilled into us as kids. It's a precious concept that can be hard to earn and easy to lose. When it comes to working with others, studies show the more trust between a team, the better the performance. And in the medical travel industry, the trust between you and your recruiter is the glue that keeps the travel process running smoothly.
Recruiters are your personal cheerleaders. As a big part of your traveler journey, recruiters are there to cheer you on, empower you, foster a sense of safety, and offer their two cents, whenever needed.
To make for a successful travel assignment, recruiters need to trust that you won't be a flight risk or trash your agency-provided housing unit. On the flip side, you need to believe that your recruiter has your best interest at heart (and in mind).
As seasoned Fusion recruiter, Ashtyn, said: "Find someone you trust! There are a million recruiters out there, so you have to make sure you have someone who is looking out for your best interest."
Trust works both ways. Let's find out the top five ways you can build trust with your recruiter, plus the top five ways recruiters can build trust with you.
How travelers can build trust with their recruiter
No. 1: Don't leave out the dirty details of your med travel lifestyle
You're probably familiar with the old cliché, "Communication is key." Well, that rings true in the med travel world, too, especially when it comes to travelers and recruiters.
Constant communication is an easy and effective way to a recruiter's heart. Talk to them as often as possible before, during, and after your travel assignment. Make sure they know your travel dreams, career goals, and any specific job needs you may have. You and your recruiter have the potential to take your professional relationship into a wholesome friendship. The only thing standing in the way is your effective communication.
No. 2: Be flexible with assignment locations
Like the Rolling Stones, you can't always get what you want—like the location you want. Built trust with your recruiter by being flexible with where you want to be next. Of course, your recruiter will try their darndest to get you there, but if the stars don't align this time around, don't take it out on your recruiter.
No. 3: Complete the onboarding process
Another simple way to build trust with your recruiter is to fully complete the onboarding process. That means doing the not-so-fun things like filling out paperwork, dotting I's, crossing T's, and all that goes in between.
The most important part about the onboarding process is that it gets done on time. Missed signatures and incomplete paperwork only makes life more complicated for recruiters and yourself. So instead of having them hunt you down or nag you endlessly, just do the dang thing.
No. 4: Show up for your shifts
Prove you're trustworthy and reliable and show up on time for your shifts. Your recruiter worked hard to get you where you are, so repay them by performing your best while on assignment. That means coming to work on time with a positive attitude, ready to conquer the day, and heal patients.
No. 5: Leave your housing unit better than you found it
As a med traveler, you have a couple options for housing. If you decide to let your staffing agency (aka Fusion) find your temporary housing while on an assignment, do as mother says, and make sure you leave the unit better than you found it.
Although we agree you're quite the rock star, not all stars make their names by trashing their hotel suite. In fact, be a model super star for others and take care of your temporary home while you're there.
How recruiters can build trust with their travelers
Now that we know how med travelers can build trust with their recruiters, let's explore the flip side: How recruiters can build trust with their travelers. After all, trust works both ways.
No. 1: Listen to the travelers wants, needs, and desires
It can be a challenge to be a medical staffing recruiter. Not only do recruiters help travelers get to their next medical travel assignment, but recruiters also get them to their next great adventure. But how can recruiters know where their travelers are supposed to be if their traveler never tells them?
Recruiters can easily build trust with their travelers just by listening. Like actually listening, hearing, and caring about what travelers have to say. If a med traveler has hopes and dreams to work an assignment in Alaska, recruiters should hear them out, and do what they can to get them there, even if it doesn't work out in the end. Listening goes a long way to building trust.
No. 2: Provide constant feedback
Another way to easily earn traveler trust is by providing constant feedback on career performance, good or bad. In fact, studies show that continuous feedback in the workplace "boosts the employees to give their best" and holds up morale. Plus, who doesn't love to hear that they're doing a great job?
No. 3: Respect their time
Med travelers have a lot going on—everyone knows that. So, recruiters, be mindful of their time, and don't take it personally if you don't get a response back right away. When you respect the traveler's time, they'll feel more valued and be inspired to work harder for you and the agency.
No. 4: Don't pressure travelers to take a certain job
When it comes to accepting a travel job, remember not to pressure med travelers to say yes to a specific offer, no matter how badly you may want them to take the job. Instead of adding pressure, support the traveler in whatever decision they make, even if it doesn't align with what you would do.
No. 5: Only submit traveler profiles to jobs with their permission
Finally, the golden rule of med travel recruiting: Only submit traveler profiles to job opportunities with traveler permission. There's nothing worse than being blind-sided by someone you thought you could trust, so avoid doing that to your med travelers, and always ask their permission before you send their profile to a medical facility.
Trust is the foundation of any good, healthy relationship. And when it comes to a med travel career, the trust between a traveler and recruiter can make or break the job. Use these 10 tips to take the level of trust between a recruiter and traveler to the next level and graduate from colleagues to friends.