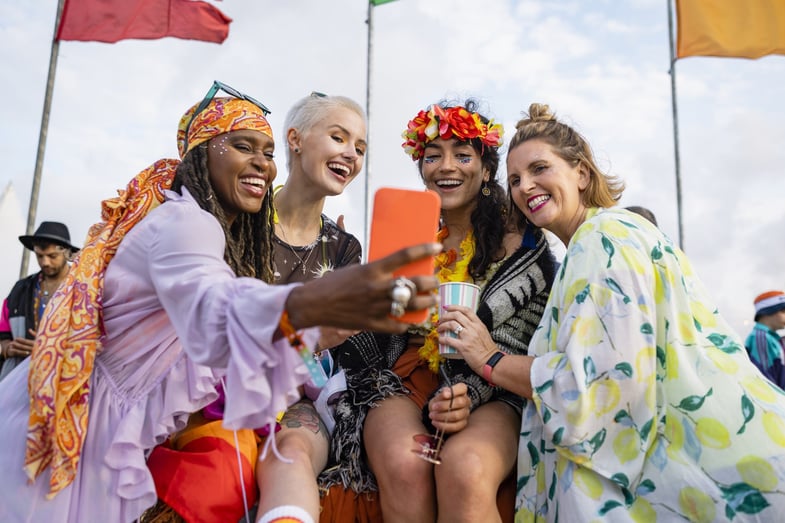 Summer is almost here, which means it's time to take advantage of all the activities and adventures your traveling medical job provides. That means—drum roll, please—festivals!
Yes, festival season is upon us! And if you're reading this, you're probably a festival folk looking for some sweet spots to hang this summer. Does the idea of taking a few days off to munch on some street tacos and funnel cake sound great? How about sitting on a blanket, rocking out to some of your favorite bands while your shoulders get some sun? Yeah! Let's do this.
Your Guide to the Best Summer Festivals in the U.S.
The great thing about festivals is that there are so many different types out there. Whether you're the outdoorsy festival camping type, the air-conditioned stadium type, or just there for the cool vibes, art, and food trucks, this summer is full of music, art, cultural, and foodie celebrations all over the country. There's something for everybody to enjoy!
Shake your tail feather at a music festival
Music festivals and concerts have been around for ages. No, seriously. The very first known music festival was known as the Pythian Games, a precursor of the Olympics, and dates all the way back to sixth century BC in ancient Greece. Can't you just picture it? A gaggle of Greeks in togas getting jiggy with it doing the stanky legg.
Okay, probably not actually the stanky legg we know and love today, but I imagine they went hard with the ancient Greek equivalent. So, when you're ready to shake your tail feather and get your freak on this summer, test your moves at these music festivals!
No. 1: Governors Ball
While a Governors Ball may sound like an upscale, fancy event, it's actually quite the opposite. Held in New York City, the Governors Ball is an annual music festival full of boppin' beats, local art installations, and experiences you can only get from the Big Apple.
This year, big headline performers include Kid Cudi, Halsey, J. Cole, and more! With more than 70 acts across four different stages, the Governors Ball provides a unique 360-degree layout, so you don't miss a thing!
When:

June 9-11

Where:

New York City, New York
Type of music: Hip hop, rock, pop, and electronic

Features:

Four stages and more than 70 musical acts, NYC's best eats, visual arts, and a diverse selection of alcoholic and non-alcoholic beverages
Who's playing: Lizzo, Kendrick Lamar, ODESZA
Search for New York travel jobs
No. 2: Bonnaroo
Self-described as "the most positive place on the planet," the Bonnaroo Music and Arts Festival is a once-in-a-lifetime experience every year. Spread out across 700 acres of Tennessee nature are over 10 performance stages, four campground party barns, and live entertainment that goes hard all night long.
Bonnaroo is an excuse to adventure and dance through nature with your best festival friends. This music festival is jam-packed with more than 150 bands, interactive art installations, mouth-watering meals, and some good, ol'-fashioned human connection.
When: June 14-18
Where: Manchester, Tennessee
Type of music: Indie rock, classic rock, world music, hip hop, jazz, Americana, country, folk, reggae, pop, and alternative

Features:

Relaxing yoga sessions, a water-coloring art station, an annual 5k, droolworthy food, and philanthropic efforts
Who's playing: Foo Fighters, Paramore, GRiZ
Search for Tennessee travel jobs
No. 3: Country Fest
Fine-tune the electric slide and get ready to leave it all on the dance floor—it's almost Country Fest time. For more than 30 years, Country Fest has been the largest 3-day country music and camping festival in the U.S., and it's determined to maintain its top-tier festival status. With more than 7,000 campsites all within walking-distance of the concert grounds, there are plenty of outdoor spaces to reserve for the weekend. If camping isn't really your scene, don't fret—there are nearby hotels that will shuttle you to and from the concert grounds so you can have the best of both worlds.
Legendary country music artists like Taylor Swift, Blake Shelton, Carrie Underwood, Reba McEntire, and more have graced us with their talent in the past. Now this summer, Country Fest goers will be blown away by Florida Georgia Line, Jason Aldean, Lee Brice, and nearly 50 more musical artists. So, pack your cowboy boots and hat, and prepare yourself for the ultimate summer festival experience!
When: June 22-24
Where: Cadott, Wisconsin
Type of music: Country

Features:

Giant yard games, a haven of hammocks, interactive exhibits, several side stages, and four bars each with its own theme, atmosphere, and live music
Who's playing: Zac Brown Band, Brett Eldredge, Dan + Shay
Search for Wisconsin travel jobs
No. 4: Summerfest
Get ready to rock your body at Summerfest, the largest music festival in the country! Held over nine days, this massive musical extravaganza has talented performers in every genre. From country superstars like Jason Aldean and Gabby Barrett to hip hop hotshots like Wiz Khalifa and Lil Wayne to popstars like Halsey and Charli XCX to rockers like Barenaked Ladies and Skillet, Summerfest has an eclectic taste of tunes that all types of music fanatics can enjoy and appreciate.
And when you need a breather from the dance floor, walk around the concert grounds, and window shop (or shop shop) from over 100 different marketplace vendors. Looking for a souvenir to remember the occasion, consider having a caricature done that encompasses your good time!
When: June 22-July 8

Where:

Milwaukee, Wisconsin
Type of music: Rock, hip hop, pop, country, and indie
Features: Affordable entry, scenic lakefront views of Lake Michigan, a designated children's play area, and tons of local shopping attractions
Who's playing: Eric Church, Zach Bryan, Imagine Dragons
Search for Wisconsin travel jobs
No. 5: Electric Forest
During the day, Sherwood Forest may look like an ordinary forest—a maze of vast matured birch and oak trees. But by nightfall, the forest transforms into a magical scene complete with twinkling lights and dancing forest fairies. Okay, the forest fairies are fellow festivalgoers, but that doesn't make them any less magical. In fact, we'd say they enhance the overall experience of Electric Forest.
Created to bring passionate music-lovers together, Electric Forest is "the ultimate festival experience," according to Insomniac Magazine. This annual event combines the natural beauty of Sherwood Forest with gently crafted art pieces and artistically themed scenes to tell a captivating story. Plus, through the Plug-In Program, you can harness your creative powers to help shape the Electric Forest experience for yourself and your fellow party people!
When: June 22-25

Where:

Rothbury, Michigan
Type of music: Electronic

Features:

Sticker design contests, brainery workshops, chapel parties, impromptu "secret" parties, LED candles, and prizes
Who's playing: Illenium, Gryffin, Rez
Search for Michigan travel jobs
No. 6: Global Dance Festival
I think we can all agree that the early 2000s were a wild time. Not only were they the times of Britney Spears and Justin Timberlake's iconic double-denim red carpet outfits, but the early 2000s is also when the Global Dance Festival made its grand debut.
Flash-forward 20+ years later and this dance festival outgrew Red Rocks Amphitheatre and now takes place at Empower Field at Mile High, home of the NFL Denver Broncos, as the largest annual summer music festival in the Rocky Mountains U.S.
If you find yourself at this carnival wonderland, be sure to wear comfy shoes for your dancing feet! This two-day electronic dance music festival is complete with multiple performance stages, state-of-the-art music production, carnival rides, a variety of Denver-renowned food trucks, and playful performers who keep you on your toes the whole weekend.
When: July 21-22

Where:

Denver, Colorado
Type of music: Rock, pop, and electronic
Features: Silent disco, fanciful playground of art installations, circus performers, roaming dancers, and the finest food trucks
Who's playing: Green Velvet, Deorro, Alan Walker
Search for Colorado travel jobs
No. 7: Lollapalooza
La-la-la! I can't hear you over the booty-droppin' beats of Lollapalooza. What started in 1991 as a touring event has snuck its way into the hearts of Chicagoans and musical globetrotters as one of the city's best attractions.
Nine stages. 170+ bands. 100,000+ festivalgoers. All wrapped up with a bow over one long weekend at Grant Park in downtown Chicago. Featuring a wide array of musical talent, your fists are guaranteed to pump, and you won't be able to help yourself from moving to the beat. And when you need to refuel, hit Chow Town for a culinary lineup that includes some of Chicago's local cuisine.
Music Dancing Food Good vibes It doesn't get much better than that.
When:

August 3-6

Where:

Chicago, Illinois
Type of music: Hip hop, techno, and alternative rock

Features:

The Windy City's fave foodie restaurants, luxurious spa treatments, views of the Chicago skyline and shores of Lake Michigan, and a designated kid's zone
Who's playing: Lena Del Rey, Billie Eilish, Red Hot Chili Peppers
Search for Illinois travel jobs

Cultural festivals are a fun and unique way to lean into our culture, whether our own or another's, and gain a better appreciation and understanding of what it all means. Celebrate different cultural customs and traditions and get sucked into what cultural festivals have to offer.
No. 1: Essence Festival of Culture
The Essence Festival of Culture started in 1995 to celebrate Essence Magazine's 25th anniversary, and although it was meant as a one-time event, the festival surpassed all expectations and was adopted as an annual celebration. Known as "the party with a purpose," this cultural fest promotes and honors health and wellness, spirituality, beauty and style, food, community and culture, entertainment, entrepreneurship, and so much more within the Black community.
This cultural event takes place over Fourth of July weekend in New Orleans and has designated activities for both the day and night. When the sun is up, head to the Convention Center for live cooking classes, creative vendor booths, Q&A with community activists, and more! The best part? This part of Essence is free and open to everyone!
Then, when the night falls, the Convention Center closes, and the Superdome awakens. This is where you'll see top headliners like Kevin Hart, Nicki Minaj, and Janet Jackson, along with some of the best talent in R&B, hip hop, funk, gospel, and soul. Make sure to register in advance for this part of the festival!
When: June 29-July 3
Where: New Orleans, Louisiana
Features: Unforgettable entertainment, inspirational speakers, surprise pop ups, and educational panels
Who's performing: Gucci Mane, Ludacris, Lil Jon
Search for Louisiana travel jobs
No. 2: Cheyenne Frontier Days
Fun fact: The first rodeos in the U.S. date back to the late-1800s. Nowadays, you can find them every summer in Cheyenne, Wyoming at Cheyenne Frontier Days—also known as the largest outdoor rodeo in the world.
Adorned by locals as "The Daddy of 'em All," this Western cultural fest began as a cowboy roundup in 1897 with bronco busting and pony races. Over the past 126 years, Cheyenne Frontier Days evolved into a 10-day cultural festival of Wild West appreciation. Featuring the world's best PRCA rodeo action, the Grand Parade of floats, marching bands, antique carriages, and horses, plus night shows with top-level talent, this festival is nonstop fun.
When: July 21-30
Where: Cheyenne, Wyoming
Features: Professional bull riders, rodeo clowns, high-level competition, steer wrestling, and barrel racing
Who's performing: Tim McGraw, Five Finger Death Punch, Carly Pearce
Search for Wyoming travel jobs
No. 3: Sturgis Motorcycle Rally
Who could've known that when Clarence "Pappy" Hoel bought an Indian Motorcycle franchise and started a motorcycle club in the peak of the Great Depression that it would ignite the most famous motorcycle gathering in the world? The answer: Not Pappy. But thanks to him, we now have the Sturgis Motorcycle Rally. Thanks, Pappy!
The Sturgis Motorcycle Rally brings motorcycle enthusiasts together in the Black Hills from all across the U.S., Canada, and other parts of the world. In 2015, nearly 800,000 people attended this cultural fest, including families! Which makes sense because of all of the events and activities like motocross races, drag races, souvenir shopping, custom tattooing, plus all the natural beauty of the Black Hills.
When: August 4-13
Where: Sturgis, South Dakota
Features: Pub crawl, legendary golf tournament, 5k race, tattoo contest, and beard and mustache contest
Who's performing: ZZ Top, Lynyrd Skynyrd, Limp Bizkit
Search for South Dakota travel jobs
No. 4: Fantasy Fest
If you've ever been to Key West, then you know this Florida destination has its own unique culture and vibe to it. So much so that there's nine days in October dedicated to celebrating the Key West culture—this is what we call Fantasy Fest.
Believe it or not, but back in the 70s, this part of Florida had a hard time attracting tourists in the late-summer months. So, a group of local businesspeople took matters into their own hands and decided to throw a parade. From there, Fantasy Fest grew into the premier masking and costuming extravaganza and encompasses more than 60 parties, costumed marches, street fairs, glamorous balls, and of course, the show-stopping parade. Bringing in roughly 75,000 festivalgoers, Fantasy Fest spotlights local businesses, restaurants, and bars to show off the imaginative and resourceful spirit that defines the Keys.
When: October 20-29
Where: Key West, Florida
Features: Parades, a masquerade march, body painting, stunning sunsets, free pepper tasting bar, karaoke, and Rocky Horror Picture Show
Search for Florida travel jobs
Feed your fabulous face
Correct me if I'm wrong, but one of the best parts of any event is the food. Think about it: Whether you're at a wedding, baby shower, graduation party, or festival, the food you get to enjoy is a prime highlight. So, when it comes down to it, don't you think food should have its own time to shine? We do, too. And we're in luck! These are some of the greatest foodie festivals taking place this summer:

No. 1: New Orleans Wine and Food Experience
Oenophile (noun): A connoisseur of wines
Foodie (noun): A person with a particular interest in food
Do you self-identify as a foodie? What about an oenophile? A gourmand? Same, same, and same. Very few things beat a nice glass of wine after a tough day. Pair that with charcuterie board staples like grapes or gourmet cheese and you've got yourself a delicious combination that will make your tastebuds shimmer. Now imagine six full days of that. It can all be yours at the New Orleans Wine and Food Experience.
Named by USA Today's 10Best as one of the best general food festivals and the best wine festival, the New Orleans Wine and Food Experience has evolved into one of the most celebrated culinary events in the nation. This year marks the 30th anniversary, which means the event will be bigger and better than ever! But how? With various food and wine tastings, educational sessions, cooking lessons, burlesque, drag, and more!
When: June 7-11
Where: New Orleans, Louisiana
Features: Grand wine tastings, Cajun caviar, charcuterie board building workshop, burlesque, and brunch
Search for Louisiana travel jobs
No. 2: Taste of Chicago
What's better than good food? Good food + good people + good music + good vibes. So much goodness in one place. That's what it's like to be at Taste of Chicago.
A summer tradition for more than 40 years, this free foodie fest fills you up on all Chicago classics from city specialties to international cuisine to chef-inspired art creations. When you get there, stock up on tickets and use them to but samples from multiple restaurants, food trucks, and other food vendors at the event.
In addition to food favorites, Tate of Chicago features live performances by a diverse mix of music artists. Previous headliners have included Janelle Monae, Jeff Tweedy, Billy Idol, Jennifer Hudson, and more. TBD for this year's performers, but if one thing's for sure, it'll be good!
When: September 8-10
Where: Chicago, Illinois
Features: Free admission, pop-ups, lakefront views, live performances, and dozens of local foodie faves
Search for Illinois travel jobs
No. 3: Maine Lobster Festival
Once upon a time, lobsters were so plentiful and undesirable by the upper class that whatever couldn't be sold to the working and lower class would be used as fish bait and fertilizer. Then, somewhere around the 1860s during the Civil War, canning was widely used to preserve food and ration it to soldiers, and as it turns out, cooked lobster is incredibly easy to can (so we've been told). Just like that, lobster grew in popularity as a hearty and delicious meal.
Knowing this, in 1947 a group of Mainers used their combined brain power to come up with the idea to host the very first Maine Lobster Festival. Being directly on the coast, an annual marine festival seemed appropriate and 75 years later, Mainers and foodies from all over the world seem to agree.
Taking place the first weekend of August each year, the Maine Lobster Festival is five days of feasting, cooking contests, and other family-fun activities for all ages to enjoy. On average, each festival uses about 20,000 pounds of lobster and if that's not enough for you, then hit the arts and crafts area to sample wild honey, gourmet jams and salsas, and more.
What makes this foodie festival special is that it's also a 501(c)3 nonprofit organization. Since its inception, this fest has donated all proceeds back to the community and has raised more than half a million dollars to Midcoast Maine food pantries, high school sports teams, community service groups, local emergency services, and college scholarships for graduating high school seniors. When you attend this food celebration, you're not just treating yourself to a delicious delicacy, but you're also helping to make the community a better place for all.
When: August 2-6
Where: Rockland, Maine
Features: Free admission, international lobster race, seafood cooking contest, arts and crafts, and a big parade
No. 4: Picklesburgh Festival
You'll never guess what you'll find at the Picklesburgh Festival. Spoiler alert: It's pickles!
Now you may be asking yourself "what's the big dill?"
And to that, we'd ask:
Have you ever tried a pickle-stuffed pretzel?
Have your tastebuds been graced with pickle beer or pickle cocktails?
Are you familiar with tahini pickle ice cream?
Have you given pickle-flavored Oreos a shot?
Do you own pickle-inspired jewelry?
If you answered "no" to any of the above questions, then you must go to Picklesburgh this year and dill-ight your tastebuds! Although the 2022 dates are TBD, historically, this foodie fest has taken place in late-August, so keep a couple weekends open in your schedule to plan accordingly. I mean, there's a reason it was named no. 1 on USA Today's 10Best Specialty Food Festivals. Find out why for yourself!
When: July 21-23
Where: Pittsburgh, Pennsylvania
Features: Pickles, pickles, and more pickles
Search for Pennsylvania travel jobs
No. 5: National Buffalo Wing Festival
Are you more of a bone-in or bone-out kind of wing-lover? Whatever you prefer, you can get your fix at the National Buffalo Wing Festival.
Celebrating its 20th anniversary, this wing festival has drawn in 985,000 people from across the globe and raised $365,000 in charitable contributions since its inception. With 5 million wings (or 357 tons of wings) consumed over two decades, the National Buffalo Wing Festival knows what its doing.
In addition to the mountains of chicken wings available, this foodie festival also features wing eating contests, musical entertainment, a 5k race, a Ninja Warrior Challenge obstacle course, cooking competitions, and of course, a beauty pageant. Have a little one to bring along? They'll get a kick out of the Baby Wing Contest!
When: September 2-3
Where: Buffalo, New York
Features: Eating competitions for those brave enough to compete, Miss Buffalo crowning, live music, a 5k race, and a Ninja Warrior Challenge
Search for New York travel jobs
No. 6: Q in the Lou
How many people do you think 18,000+ pounds of meat would feed? Answer: 30,000 hungry bellies, give or take a few. There's only one place you'll find this much delicious meat: Q in the Lou.
Since 2015, BBQ fanatics have gathered together to showcase and enjoy mouthwatering cuts of meat. From barbecued pork chops, ribs, butts, and more. You could say it's a carnivore's carnival!
"All our pit masters are barbecue grandstandians—most of them many, many times over," said production director for Q in the Lou, Marc Mendolia. "These are titans of the barbecue industry that will cook up some of the best barbecue our consumers have ever had. This is just a fun event. It's a relaxed event that you can come and take your time at, sit in the grass, and have some barbecue with your kids and just really get to know these pit masters."
Q in the Lou combines comradery with educational cooking techniques and family-friendly activities. Although entrance into the event is free, food and drinks come at a cost. Instead of buying everything individually, consider getting a Pit Pass! With this, you can avoid long lines, get free drinks, and help yourself to lots of meat.
When: TBD
Where: Louis, Missouri
Features: Free admission, live musical tunes, rib eating contests, and a real-life game of Operation on a pig
Who's performing: Lamar Harris, Dave Grelle's Playadors, Guilty Pleasures, and Nick Sizemore
Search for Missouri travel jobs
Like what you're reading? You may also like: Best Summer Places to Take an Assignment for Adrenaline Junkies
Appreciate an artist's work
Have you ever seen a work of art—maybe a piece of pottery, a comprehensive painting, or a stunning set of jewelry—and found yourself in utter awe? Yeah, same. It's a pretty cool feeling when an object can give you butterflies in your stomach. And according to lots of research, art has tons of positive psychological effects on us, too. For example, art engages your creative mind and helps you imagine a more hopeful future, it activates the reward center of our brains, and it lowers stress. To sum it up, art is good for us in more ways than one.
No. 1: Park Forest Fine Art Fair
Are you in the market for a stylish new pair of earrings? Do you need an eye-catching textured painting? What about a nice 3D sculpture to display—a nice conversation starter? There's one place you'll find everything you're looking for and that's at the Park Forest Fine Art Fair.
With more than 80 featured artists, this interactive art festival brings talent from all across the country, coming from as far as Florida and Arizona. As attendees walk around the park and take in the artwork, guests are encouraged to participate in the People's Choice Award, which allows festivalgoers to rank their fave art pieces! Winning artists receive varied prices like cash gifts and vendor prizes. Don't miss out on the "second-oldest juried art fair in the Chicagoland area."
When: September 16-17
Where: Park Forest, Illinois
Features: Arts and crafts for kids, live music performances, prize winners, food trucks, and an eclectic display of various works of art
Search for Illinois travel jobs
No. 2: Plaza Art Fair
Did you know that the Kansas City Plaza was the first planned suburban shopping center? True story! Today, it's the home to one of Kansas City's best events, the Plaza Art Fair!
Towards the end of every summer, the Plaza Art Fair is held in KC's Plaza, where more than 250 artists come to display and sell their prized possessions…er, their artwork. And more than 250,000 festivalgoers show up in support. No matter if you're looking for paintings, metal work, glassware, jewelry, textiles, or sculptures, this art festival has it all!
When: September 22-24
Where: Kansas City, Missouri
Features: Free admission, music concerts, award-winning food booths, and unique artwork
Search for Missouri travel jobs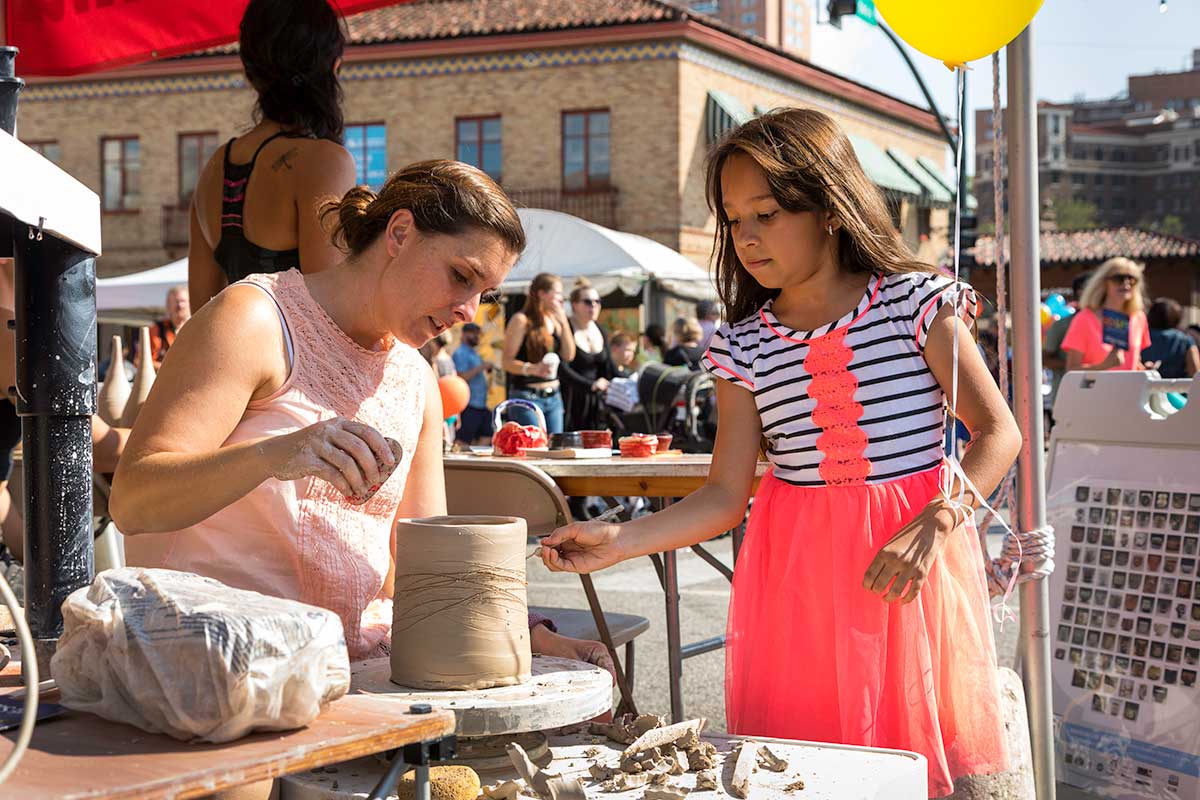 Image from PlazaArtFair.com
No. 3: St. James Court Art Show
You may have heard the stereotype about starving artists. Ya know, the old wives' tale that says artists make little money and can't afford to pay their bills, right? Well, that was the harsh reality for Malcom Bird back in 1957. So, to help get himself and his community back on its feet, he started the St. James Court Art Show!
"Although we are indebted to Malcom for many things, the Art Show is foremost because we all know without this money-making event, we could not have undertaken and completed the expensive projects that have made it possible for us to preserve this landmark," declared the Walking Tour and Cooking Guide of St. James Court.
Now, with more than 600 participating artists and craftspeople from around the U.S., this art festival is spread out across four-square blocks among the country's largest collection of Victorian homes in the heart of historic Old Louisville. So, while you're soaking in all the talented artists, take a second to appreciate the artistic beauty of the historic homes.
When: October 6-8
Where: Louisville, Kentucky
Features: A wide range of artwork, six outdoor sections to peruse, and a $5,000 prize for "Best of Show"
Search for Kentucky travel jobs
No. 4: Bayou City Art Festival
In case you didn't know, Houston is internationally recognized as a "performing and visual arts mecca," so it's no surprise that they also host one of the top 10 ranked outdoor art festivals in the country—aka, the Bayou City Art Festival.
Located in downtown Houston, this art show is two full days of talent, beauty, and inspiration with artists traveling from 31 states, plus Canada. Among the hundreds of art displays are musical performances, food trucks, craft beer and wine, plus an "Active Imagination Zone" where kiddos can play and let their minds run wild!
When: October 14-15
Where: Houston, Texas
Features: Live musical entertainment, mixed-media art, wine tastings, tabletop games, giant bubbles, and a photo booth
The festival season is just getting started, and there's plenty of outdoor entertainment and summer concerts to keep your dance party going! A new medical traveler assignment could give you new opportunities for summer festivals too! If you're picking your new medical traveler location based on proximity to festivals…I mean, who are we to judge? Search for something new and let us know where you'd like to go. Then, check out one (or more) of these summer festivals to give yourself a brain break from your normal routine. Whether you find one in your neck of the woods, or start a quick road trip, get ready to be inspired!