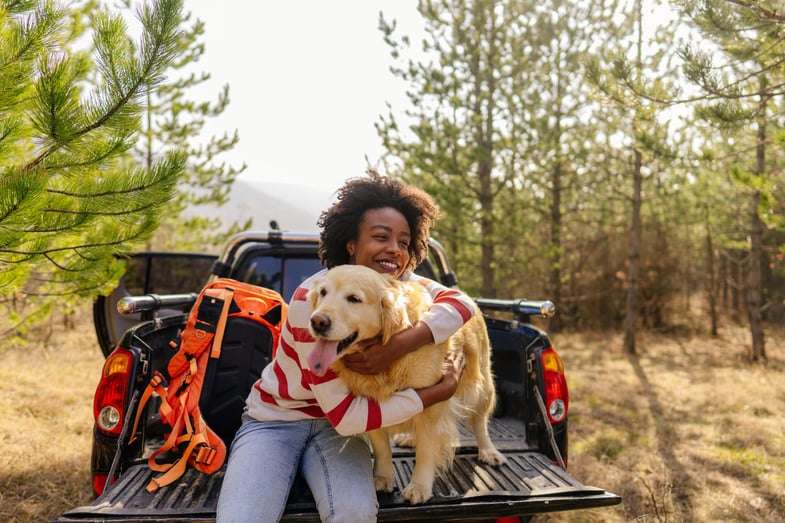 We know how important your furry friends are. I mean, out of 43.3 million U.S. households with pets, the majority of pet-owners admit that they think of their pets as family (myself included). So, Fusion wants to make sure bringing your pet on your next travel assignment is as easy as possible, whether you rely on us to find your housing or you take charge and make your own arrangements. That's why we did some research on the best ways to travel with pets and reached out to the true experts (our travelers!) for some real-life hacks. Here's what we learned:
Hacks for Traveling with Pets
Hacks for flying with pets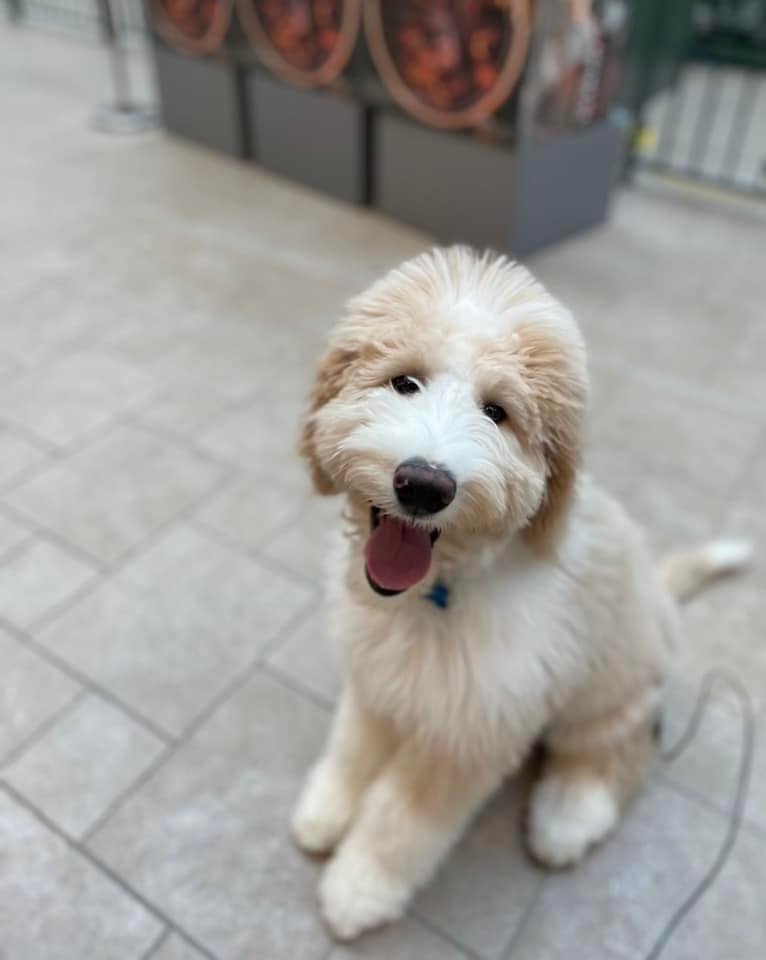 Photo from Fusion Traveler Facebook group
Flying with a pet might seem like a lot of work, but it's surprisingly doable! If flying is the best way for you and your little pal to get from point A to point B, consider these hacks:
No. 1: Book your flight ASAP
Here's the dirty little secret when it comes to flying with pets: Book early. While we feel like all animals should fly VIP in first-class, many airlines limit the number of pets that are allowed per plane. Something about needing enough room for human passengers? Beats us.
But, booking early will definitely ensure your pet gets a spot on the flight. How you get your pet on the plane will depend on what airline you fly, but most airlines allow small dogs, cats, and believe it or not, household birds to fly in the cabin with you. The only stipulation is they must be in an approved pet carrier that fits under the seat in front of you. Not sure what counts as an "approved" pet carrier? Here's the criteria:
Your pet can stand up and turn around comfortable in the crate
The carrier has a waterproof bottom
At least two sides of the carrier have mesh ventilation
Your pet must be fully enclosed within the crate
No. 2: Book a direct flight
Some airlines may also have a pet fee to bring your fur baby on the plane. For example, Delta and United both charge a $125 one-way fee to travel with your pet anywhere within the U.S., Canada, or Puerto Rico. So, do yourself and your pet a favor and in addition to booking early, book a direct flight.
Think about it: Dealing with layovers is already stressful enough for you. Imagine your pet having to embark and disembark on each layover. Plus, moving your pet from one plane to the next could cause unneeded stress on them (and you!), make them more fearful, and increase the likelihood of losing them in the shuffle of it all, especially if your pet is in the cargo hold. Direct flights, even if they are a bit pricier, could be your best bet to a happy travel situation.
Here's the thing about bringing a pet as carry-on, it only works if your pet fits under the seat. If you're like me and have a big dog (or chonky cat), they may have to travel in the cargo area. Before you get on board with this travel method, do some research to make sure the journey won't be too much for your sweet little love. Things to think about:
Rapid acceleration
Pressure changes
Breathing problems
Overheating
Before you start packing, make sure you have everything you need to fly with your pet. This is what you'll need:

An airline-approved pet carrier


Your pet's vaccination paperwork


Your pet's veterinary records


Your pet's tags and vet certificate


Proof of a microchip

Hacks for driving with pets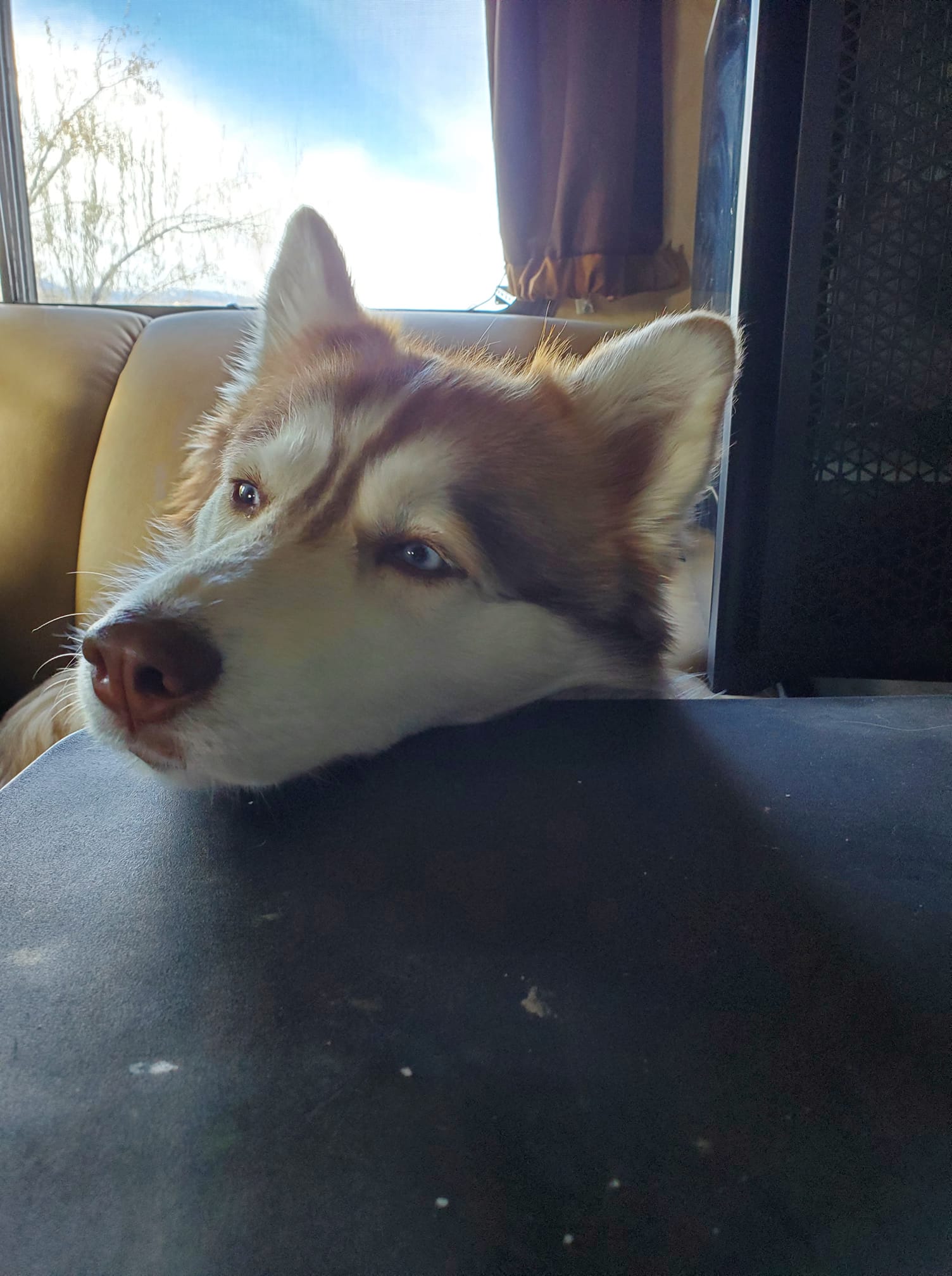 Photo from Fusion Traveler Facebook group
Of course, flying isn't always the best option for everyone or their pet. Luckily, there are other ways to get to your next med travel assignment. Might we suggest an old-fashioned road trip?
If hitting the open road with your best furry friend sounds like an adventure you want to take, make sure you and your pet are prepared for the journey. Here's how:
No. 1: Keep your pet restrained during the drive
Sure, it sounds fun and dandy to have your pet on your lap or riding passenger. Now, take a second to really consider how unsafe that is. I think we can all agree that while you're behind the wheel, you need to be focused on the road and not on the sights your pet is obsessing over.
To help reduce distractions and enhance your pet's safety, they should travel in the backseat. The safest way to drive with your little love is with a pet carrier that's been anchored to the seat by seatbelt or another strap. Similar to flying, your pet's carrier should be big enough that they can move around comfortably. That way, they're not bound to one position and can get up and stretch, when needed.
Alternatively, you can invest in a pet seatbelt. Yes, specific seatbelts made for your pet are a thing, and they're doggone awesome! There hasn't been much official research into whether pet seatbelts protect them in the event of a car crash, but the good news is there are a few dog seatbelts and harnesses that have been certified by Child Protective Services (CPS) standards, which are used to test child car seats!
No. 2: Make lots of pit stops
Your pet might love car rides, but road trips are next level. Make lots of pit stops along the way to give your pet a chance to stretch their legs, run around, drink water, eat, go potty, and play. We know you may just want to get to your location and relax but remember that your pet's routine is being disrupted and they might need time to adjust.
No. 3: Don't leave your pet alone
Crank "I'll Be There for You" by The Rembrandts and remind your pet that they're your no. 1. As your best travel buddy, you shouldn't leave your dog, cat, or other pet alone in the car. Especially if temperatures are lower than 35 degrees Fahrenheit or higher than 70 degrees Fahrenheit because then it's a safety concern.
Alone in a parked car, without proper air circulation and only recycled hot air to breathe, it's harder for your pet to regulate their temperature and breathing. Look what happens when veterinarian, Dr. Ernie Ward, hangs out in a parked car. Spoiler alert: Even though all four windows are cracked at least an inch, the car quickly reaches a scorching 117 degrees Fahrenheit within only 30 minutes.
Leaving your pet alone in a parked car, even for five minutes, can have serious consequences. Worst-case scenario, your pet is put in danger. In addition, you could wind up with broken windows because a good Samaritan wanted to help your pet or, in some states, you could face expensive fines or jail time. So just don't do it, ya know?
Hacks for general pet travel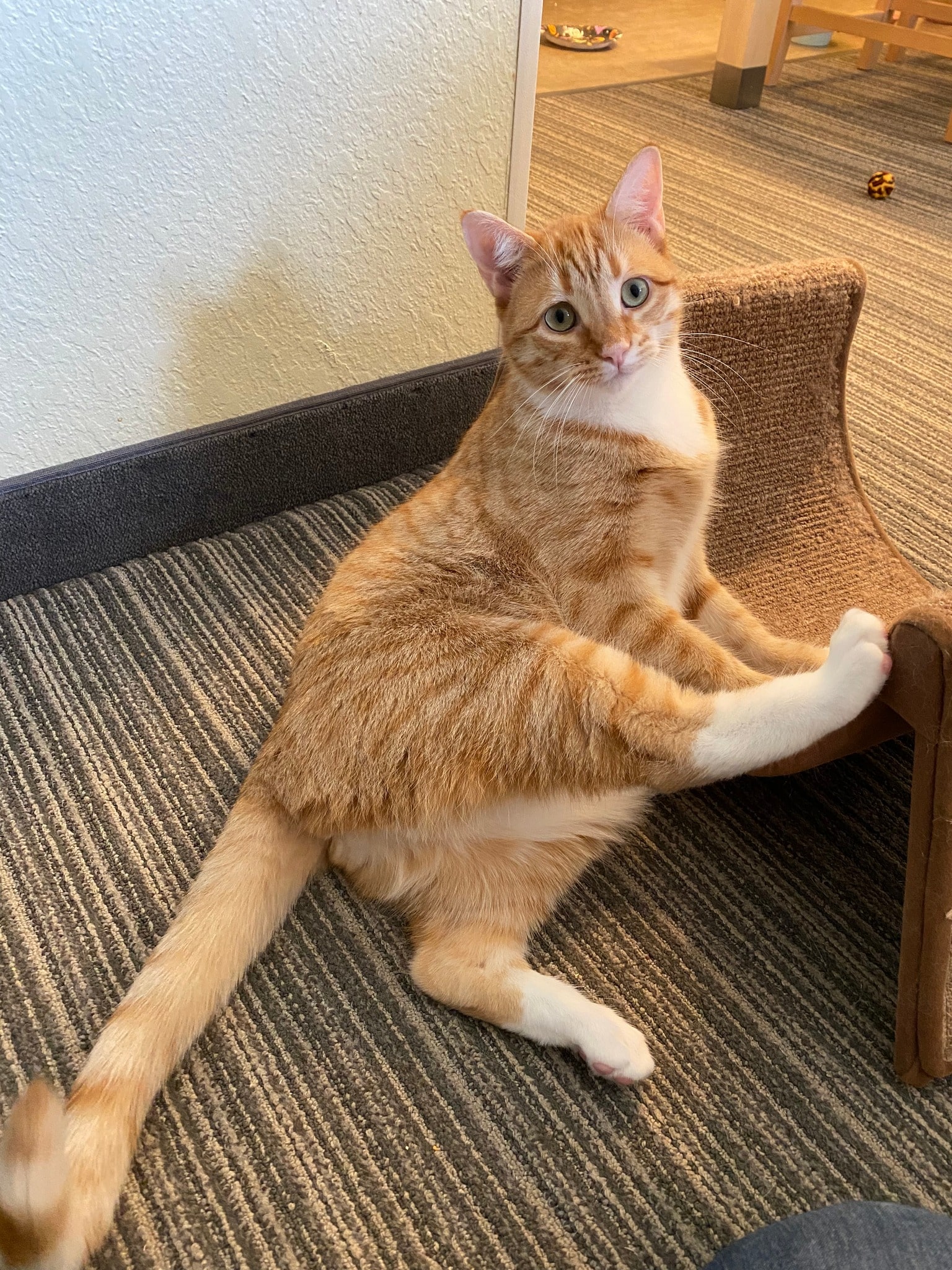 Photo from Fusion Traveler Facebook group
Whether you're traveling 20 miles or 2,000 miles to your next travel job, give your pet the adventure of a lifetime! And the best part? You can do so without increasing your own stress or anxiety.
No. 1: Manage your pet's anxiety
While traveling with your pet, you'll want to find a way to keep them calm. Imagine how stressful traveling is for you. Now think about how difficult it must be for your pet. Especially if they haven't quite gotten used to your 13-week job assignments.
To help keep your furry friend calm during the ride, whether plane or car, be sure to take them for a walk or play with and exercise them. Walking and playing will get some of their energy out, which makes it more likely that your pet will fall asleep during your travels.
Smell association is another good tactic to use. Try giving your pet something that smells like you. You know, like one of your towels, blankets, or t-shirts. Veterinarian, Dr. Gary Richter, said your smell on the item may "give your pet some comfort" during the unfamiliar aspects of a trip.
Another idea would be to buy your pet their very own thundershirt. Not only is it a cool name, but the thundershirt has a great purpose: To help lower your pet's anxiety. A thundershirt is a pet jacket or shirt that hugs them to provide gentle pressure in times of stress. Similarly, a thundercap goes over your pet's head to reduce their sightline and decrease overstimulation.
While some animals don't mind being dressed up, other pets may not like it all. In fact, it could increase their discomfort. In that case, there are CBD and other type of stress- and anxiety-related natural pet supplements that you can experiment with. Just make sure that you check with your vet first and give your pet a dose of the supplement while you're home to see how they react and what the effect is.
Change can be pretty scary to a pet, so be patient with them and try to soothe their fear as much as possible. Every pet is different so it could be a combination of these things that provide comfort, or it could be something totally off the beaten path. What matters is you find what works best for you and your little travel buddy.
No. 2: Keep a pet travel checklist
When you're bringing your pet with you on assignment, it can make things a little tricky no matter what method of travel. Luckily, it's totally doable with the right gear! Before you hit the road or the sky, create a checklist of must-haves to pack. Think things like:
Veterinarian-prescribed sedation meds
Water and food bowls, obvi
Treats and food
(Pro tip: Pack these in a nice rubber container that seals up AND fits well in a packed bag)
Leash with waste bags
Toys to entertain them
Pet carpet cleaner and sanitizer
Paper towels
Baby wipes
Pet paperwork
Bed and blankets
Travel carrier and kennel
A travel checklist will help reduce your stress and ensure you have everything you need for your pet while you're away from home.
No. 3: Rehearse the move
If your pet has never traveled with you like this before, they're going to have no idea what's happening once the big travel day happens. Get them ready by taking them on short trips in the car and increasing the minutes gradually each time. When you get them used to the carrier or pet seatbelt, the trip routine, and the travel plan in general, they will be that much more prepped and used to it once you finally take the plunge.
Hacks for pet-friendly housing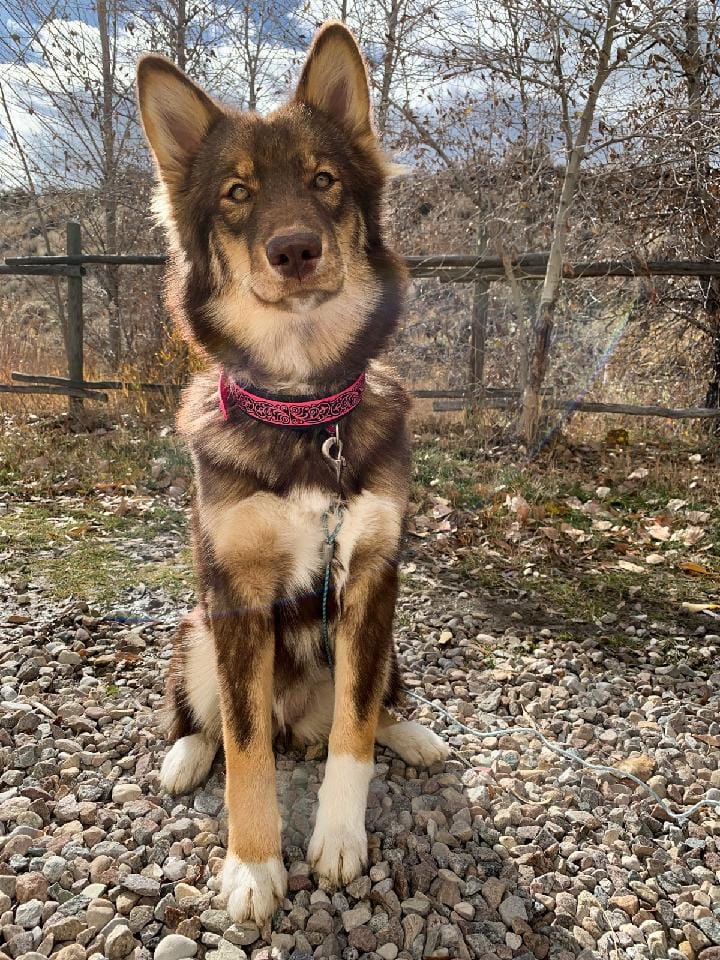 Photo from Fusion Traveler Facebook group
When it comes to finding pet-friendly temporary housing, it can feel like you're taking a long ride on the struggle bus. I mean, finding housing for an assignment is tough enough and now your options are more limited. Luckily, with a little persistence and let's face it, a little extra cash, you'll find the perfect temp housing unit for you and your little travel buddy.
No. 1: Research your options
Before you pack your pet's toys or sign a rental contract, do some research so you know what's out there. If you're road tripping to your travel job, check out hotels or Airbnbs along the way to see if they're pet-friendly. Make sure to read the fine print, though! Every temp housing unit has their own pet policies. See if there's:
A limit on the number of pets
Weight restrictions
Breed restrictions
An additional pet fee or deposit
"My kitties are in Rhode Island with me smelling the ocean for the first time," said Fusion traveler, Christina. "Finding housing was a little harder, but well worth it! Just be ready to pay for extra cleaning and broken blinds. Well worth it to have my girls with me."
Don't worry—finding pet-friendly housing isn't as scary as it sounds! There are tons of housing options out there for you. All you have to do is a little research ahead of time! Here are some helpful housing resources to get you going:
No. 2: Have a plan for your pet when you arrive
Once you've found the perfect housing accommodations for you and your furry pal, brainstorm a plan for what you'll do when you get there. Obviously, unpack, lounge, and relax. But when it's time to start your travel job, what will you do with your little buddy? Can they stay home alone while you work your shift? Do you need to find a pet-sitter or walker to come and release some energy while you're gone?
Try Rover! Rover is a pet care service that offers sitters, walkers, and day care for your furry friend. Simply select the service you're in need of, enter your location, and a few details about your pet and bada-bing, bada-boom! You can have a trusted pet-sitter over in no time.
Hacks for pet-owners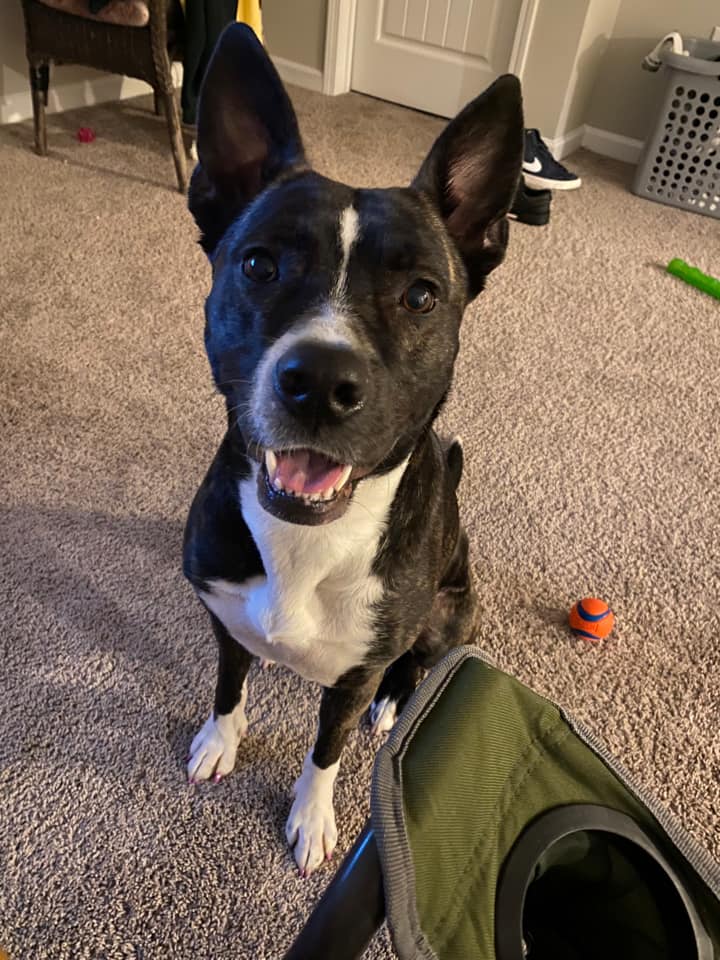 Photo from Fusion Traveler Facebook group
As a pet parent, you only want the best for your furry babes and leaving them behind while you're on a med travel assignment isn't an option. Instead, use these hacks to keep your pet safe while you're away from home:
No. 1: Make sure they're chipped
In the unfortunate case of your pet getting loose or running away, make sure they're micro-chipped and the information is up to date with the latest contact information of how to reach you. Sometimes new environments can make a pet anxious, and they bolt. Because you're in a new place, pets may find it hard to make their way back if they get lost. A microchip can help ensure your friend gets returned safely to you.
If you're bringing your cat and they like to be outdoors, keep them inside for your travel assignments. The new locale makes it hard for cats to navigate their surroundings; none of it is familiar to them and they could end up lost. And no one wants that.
No. 2: Find a local vet
Some travelers like to find a new vet at each location they travel to. Here's a pro tip from several medical travelers who use the PetSmart Health Plan, which allows owners to access their pet's records anywhere they travel.
"It makes finding a new vet in your new city that much easier, without having to explain your pet's medical history each time you head to a new travel assignment," said Fusion traveler Rachel. "Be sure to keep their tags or microchip information up to date with your new location, too."
No. 3: Consider pet insurance
Accidents and illness can happen no matter if you're traveling or not. Having pet insurance can help cover unexpected costs, which can be a lifesaver when you're already budgeting your money for travel. Pet insurance can also help with lifelong medications or treatments your pet may need, which also helps you plan your expenses.
No. 4: Don't be afraid to share the adventure
Bringing a pet on a travel assignment requires a bit of organization, and even more of it if you want to take them along on hikes or explorations. If they're the type of pet to want in on the action, don't leave them out of it. Let them discover the beach with you or take them camping. A new city can be exciting for both of you and a little extra pre-planning can ensure a fun, interactive adventure for you and your pet!
There's no doubt that pets enhance your life! Your life as a traveling medical professional doesn't have to be put on hold because you're a pet parent. Equally, you don't have to say goodbye every time you take a new assignment. Instead, live the best of both worlds and bring them along for the ride!