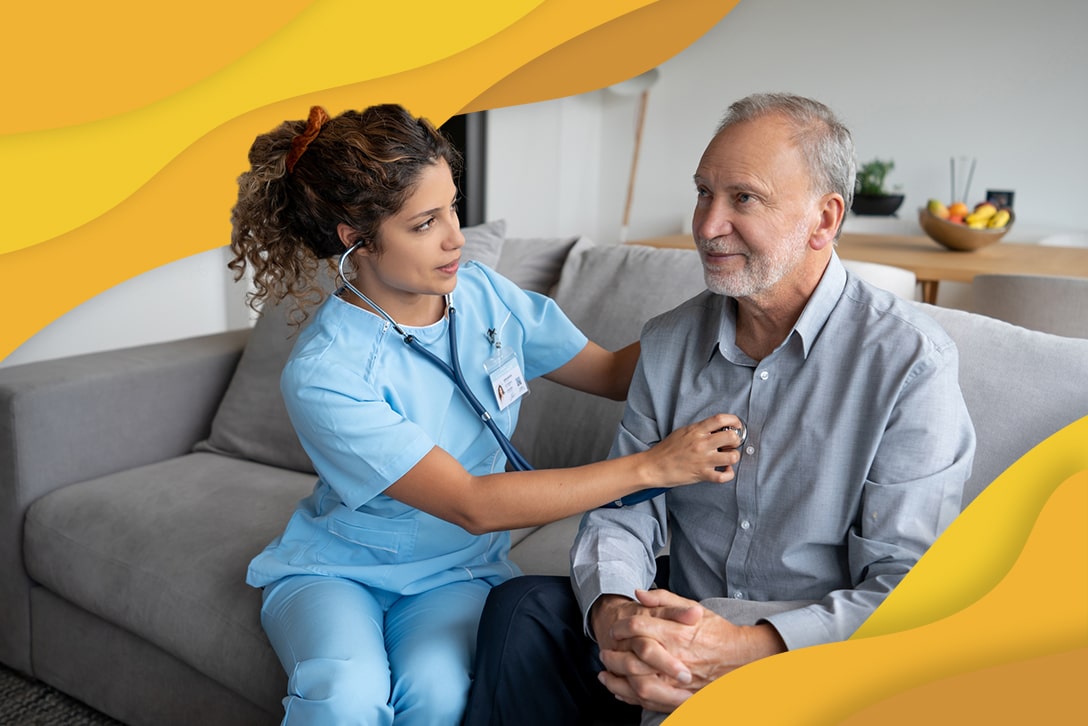 You want more opportunities, advancement, a higher salary, and personal fulfillment in your travel cardiovascular career. So, what's next for you? You can make it happen! Here's a to-do list of how you can increase your opportunities in your medical career.
5 Ways To Advance Your Travel Cardiovascular Career
Become a mentor
One way to advance your career as a cardio professional is to share your wealth of knowledge through a mentorship program. Mentoring uses resources to improve both parties' skills, develop leadership roles, and create meaningful and lasting relationships among peers. As a mentor or a mentee, you get the opportunity to pinpoint strengths and weaknesses in your career and work on developing those skills.
"Mentorship programs can really be a good resource when it comes to clinical-based questions," said Fusion's student outreach coordinator, Melanie. "Plus, it's nice to meet other med professionals!"
Helping others in your field reach their full potential is both rewarding to you and beneficial to your field. Becoming a cardiovascular mentor can also help you build your personal and professional network.
Explore different cardio specialties
If you want to expand your cardiovascular career, consider looking up different specialties that pique your interest. Perhaps changing your specialty is exactly what you need!
Doing some quick research to see what else is out there in the cardiovascular field can give you access to an abundance of information. And you know what they say, the more you know! These are the top in-demand traveling cardiovascular specialties:
🩺 Respiratory therapist
Search for travel respiratory therapy jobs
🩺 EKG technician
Search for travel EKG tech jobs
🩺 Medical sonographer
Search for travel sonographer jobs
When looking at ways to advance your career as a cardiovascular healthcare professional, look for specialties that will continue to be on the rise in the next five years, like respiratory therapy. According to the U.S. Bureau of Labor Statistics, the career outlook for a respiratory therapist is expected to grow by 14% between 2021 and 2031. Overall, the cardiopulmonary profession is boomin' and these heart experts are increasing in demand each year, regardless of specialty.
Get involved with memberships
Another way to educate yourself is by simply getting involved with other like-minded cardio professionals. If that's the vibe you're looking for, consider signing up for subscription or membership programs.
Memberships and subscriptions are a great way to network with other cardiovascular professionals. They may have tips and tricks to help you advance in your field, or they can help you cope with the physical and mental fatigue that seems inevitable when you're hard at work.
To get started, explore these memberships for cardiovascular professionals like yourself:
Read more about cardiovascular care
Looking for more information on your industry? There are many publications you can subscribe to stay up to date on what's happening in the world of cardiovascular care. A good rule of thumb is to read publications and professional research articles from the perspective of both a professional and a patient.
These are our top recommendations:
📖 Journal of the American College of Cardiology
From these journals, you can find cardiovascular articles that focus on the use of artificial intelligence, what heart palpitations are, how air pollution impacts heart health, and more. Sign up for these online publications to find out more about cardiac care.
Continue professional education and training
With more education comes more opportunities for advancement. If that's your goal, you can advance your cardio career by enrolling in professional training and online continuing education units (CEUs).
Not only do CEUs help you stay licensed and certified so you can work and travel, but they also help you grow your expertise and open doors for career advancement. Research shows that a skilled medical professional that's always up to date with the latest health care developments has a huge competitive advantage for growth.
Want that to be you? Check out online CEU courses through the Commission for Nursing Education Accreditation (CNEA), the American College of Cardiology (ACC), or the Alliance of Cardiovascular Professionals (ACVP).
Being a cardiovascular professional requires a specific set of skills to help patients overcome cardiac conditions. And working as a traveling cardio professional allows you to work where you want while getting the most out of your career. Take your cardiovascular profession even further and use these tips to get to the next level of your career.