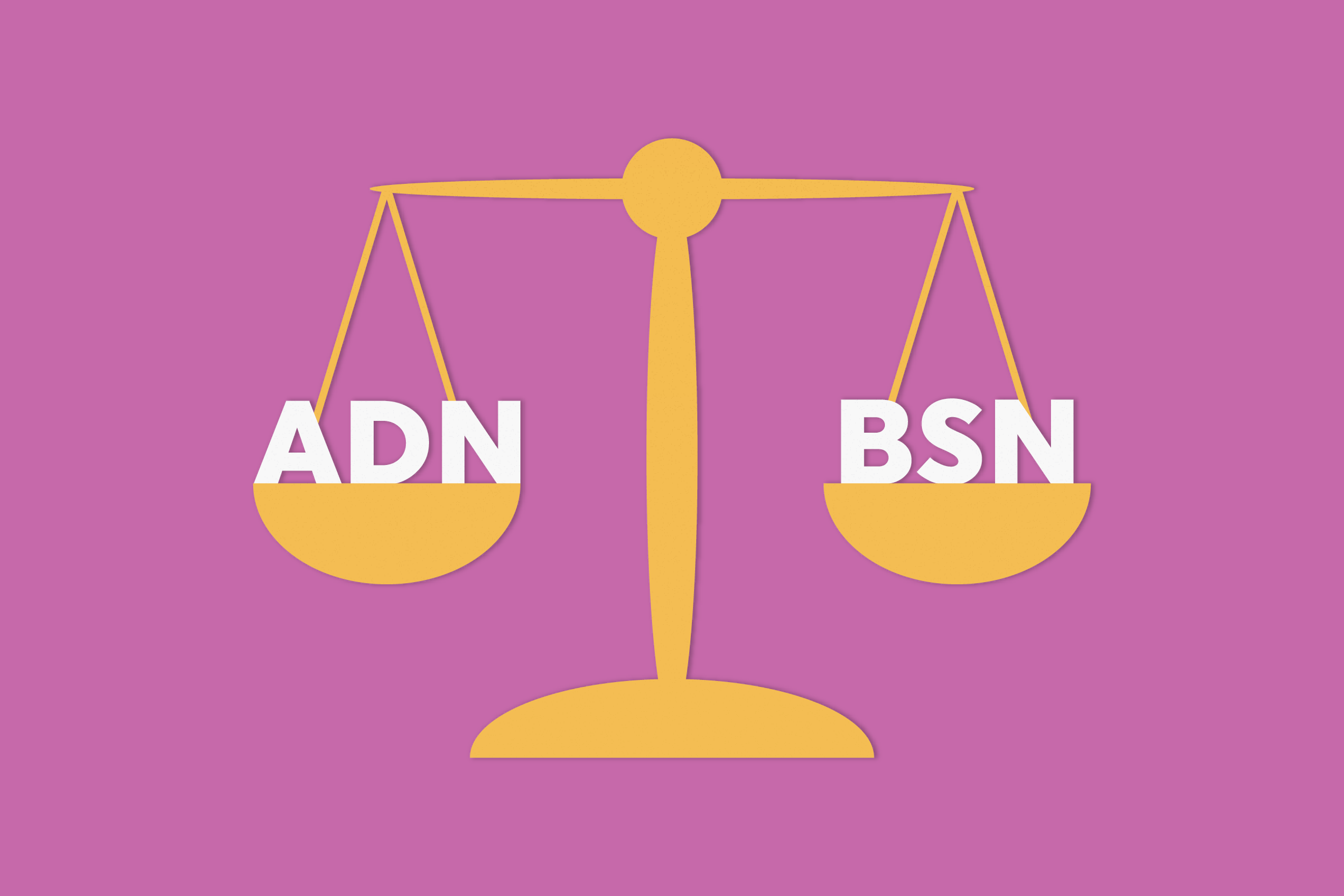 While there are many different types of nurses, all registered nurses have one thing in common: they have to get a degree in nursing before they can start practicing their skills IRL. What type of degree, however, is up to you. The two most common types of degrees in nursing are an associate degree in nursing (ADN) and a Bachelor of Science in Nursing (BSN). Let's find out which is right for you.

ADN vs BSN: Which Nursing Degree Is Right For You?
Differences between an ADN and a BSN
What is an ADN?
An associate degree in nursing is a two-year nursing program that prepares students for entry-level positions as RNs. Typically, the curriculum in an ADN program includes coursework in nursing theory and practice, as well as medical terminology, anatomy and physiology, psychology, pharmacology, nutrition, and other related topics.
Additionally, ADN programs provide hands-on clinical experience to help prepare nursing students for the realities of working with patients in a variety of healthcare settings. Once you graduate with your associate degree in nursing, you can get licensed through the National Council Licensure Examination (NCLEX) and start collecting experience as a nurse.
What's a BSN?
A Bachelor of Science in Nursing is a degree program designed to provide nursing students with the knowledge and skills needed to become professional nurses.
"The difference between an associate degree and a BSN program is the level of bigger-picture training that you get with a BSN and the level of evidence-based practice and theory," said Sarah Wells, MSN, RN, CEN, CNL. "An important aspect of the BSN is the segment on leadership. It addresses how nurses can lead, not necessarily from an administrative level as a director or manager, but the idea of leading from the bedside. How can I lead my patient's care by giving better communication and better insight and education, with my team, and my patient, and my patient's loved ones?"
The BSN curriculum includes anatomy, physiology, pharmacology, nutrition, medical terminology, patient assessment, and care planning courses. In addition to these core courses, nursing students also learn about health promotion and disease prevention strategies, as well as ethical issues related to nursing practice.
Most BSN programs take four years of full-time study at an accredited college or university to complete. After graduation, you're free to take the NCLEX and get licensed as a registered nurse.
ADN vs BSN: salary and job outlook
Although most nurses start with similar salaries regardless of the type of nursing degree, the potential for advancement and higher pay is ultimately greater for nurses with a bachelor's degree. Plus, completing a higher level of education can give you exclusive access to more nursing specialties and job opportunities. According to the U.S. Bureau of Labor Statistics, the median annual wage for all RNs is approximately $77,600. However, you may earn even more depending on your level of education and experience, as well as your nursing specialty. Pro tip: travel nursing is another way to increase your nursing salary!
Like what you're reading? You may also like: Answers to Travel Nursing FAQs
Regardless of your degree, the demand for registered nurses has never been higher. With an aging population and the need for more healthcare professionals, there is a growing need for qualified nurses across the country. Between 2021 and 2031, the U.S. Bureau of Labor Statistics projects a 6% job growth for registered nurses, opening more than 200,000 RN jobs each year.
Benefits of an associate degree in nursing
An associate degree in nursing is a great way to enter the nursing field and begin a rewarding career. These are some of the benefits of getting an ADN.
🩺 Lower cost and time commitment
🩺 Access to resources that can help further career advancement
🩺 Ability to specialize in certain areas of nursing
An ADN can provide you with the foundation needed to thrive in your nursing career. Plus, an ADN can prepare you for a wide variety of roles within nursing, including patient care, health education, and administrative support.
Benefits of a bachelor's degree in nursing
A Bachelor of Science in Nursing is an advanced degree for nurses that can open up a world of career possibilities. Along with the knowledge, skills, and expertise gained through a BSN program, you can benefit from these outcomes:
🩺 Increased responsibility on the job
🩺 Access to higher-level positions and greater career advancement opportunities
🩺 Ability to become a leader in your field and shape the future of nursing
A BSN can be your ticket to success as a nurse. Whether you're seeking more job security or a competitive salary, a BSN can help you make your mark in nursing.
Frequently asked questions
What jobs can you get with an ADN vs BSN?
When it comes to career opportunities, your options will depend on what degree you have: an ADN or a BSN. JSYK, you may have more job options if you have a Bachelor of Science in Nursing.
ADN nurses are often limited to entry-level nursing roles like staff nurses or licensed vocational nurses/licensed practical nurses. On the other hand, a BSN allows you to take on more advanced nursing roles like nurse practitioner, clinical nurse specialist, certified registered nurse anesthetist, advanced practice registered nurse, and other nursing professional pathways.
What kind of nursing degree do you need to become a travel nurse?
Have a desire to be a travel nurse? You're in luck! You can become a professional travel nurse with Fusion Medical Staffing no matter what kind of nursing degree you have.
To start travel nursing, you need at least an ADN. Additionally, you'll also need to complete a year of clinical experience before you can hit the road and travel the U.S. Once you have all the credentials (like getting your compact nursing license) and experience necessary to travel nurse, you can search for specific opportunities on job boards like Fusion Marketplace. Alternatively, you can contact Fusion Medical Staffing directly to chat with a recruiter and learn more about the travel process.
Can you go from an ADN to a BSN?
If you already have an associate degree in nursing, completing a BSN can be an important step toward career advancement. And the good news is there are nursing programs made specifically for nurses like you who want to go from an ADN to a BSN.
An ADN to BSN bridge program offers a unique opportunity for you to combine your existing experience with a new education in order to advance your career while still maintaining your current level of work hours and responsibility. These programs offer specialized courses in evidence-based practice, health promotion, leadership and management, and critical thinking. Whether you're looking to further your career or just stay ahead of the curve, an ADN to BSN bridge program is a great way to do it.
Ultimately, the decision of whether to pursue a BSN or an ADN is a personal one that depends on your individual nursing career goals. No matter which nursing program you go with, you can begin a career in travel nursing and make a positive impact on the lives of others across the country.