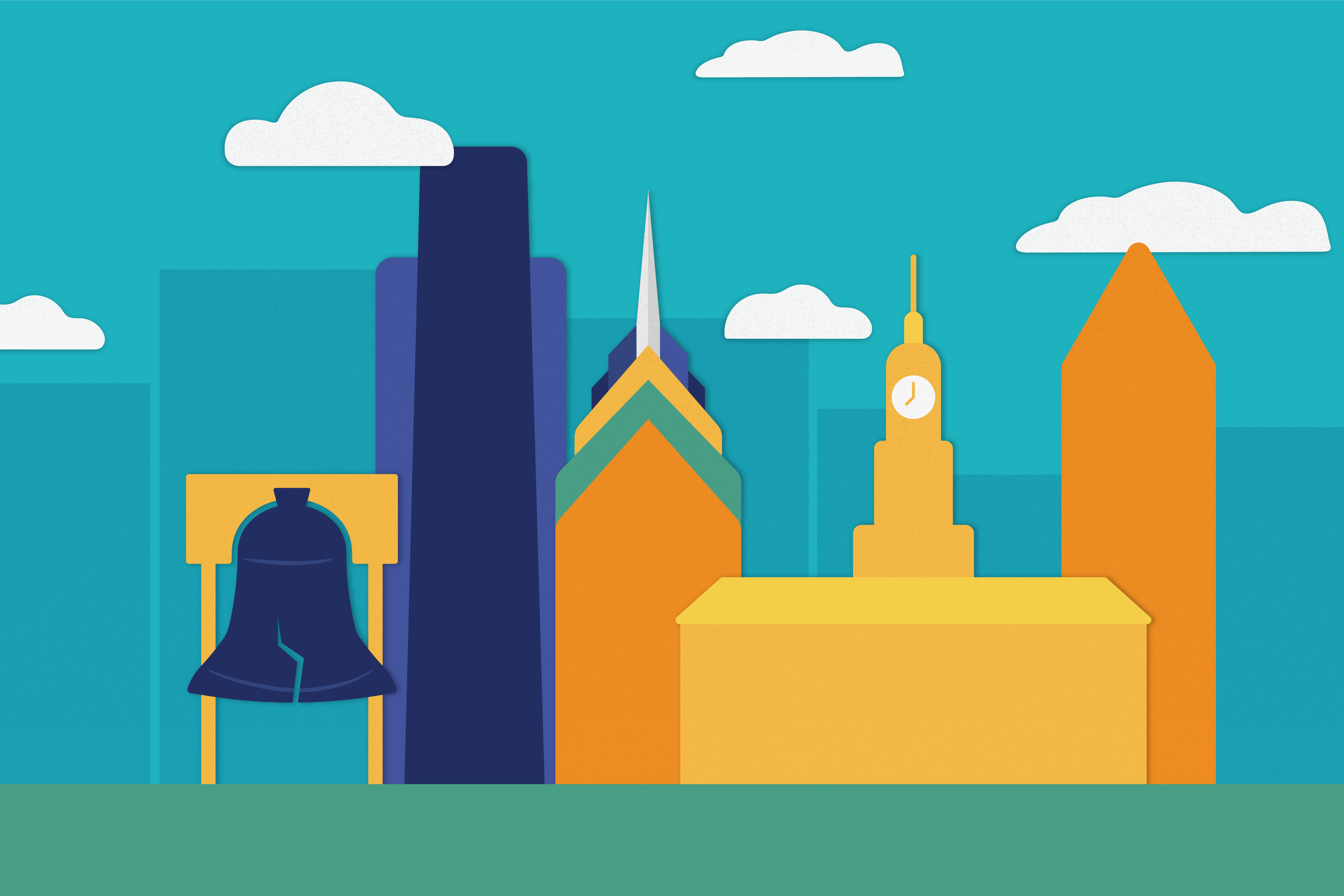 Did you know that Philadelphia, PA is often considered the "birthplace of America?" Also affectionately known as Philly, the City of Brotherly Love, the City That Loves You Back, the City of Neighborhoods, and the Cradle of Liberty, this legendary location is a top choice among travel nurses and allied health travelers.
Interested in a Philadelphia healthcare travel job? Use this city guide to help plan your move and make the most out of your time in the City That Loves You Back.
Philadelphia City Guide for Healthcare Travelers
When to take a healthcare travel job in Philly
Wondering when it's the best time to visit Philadelphia? Since Pennsylvania experiences all four seasons, the answer could depend on what kind of weather you most enjoy. Here's the best time to take a healthcare travel job in Philly based on weather preferences.
❄️ January to March: temperatures range from 30 F to 45 F
🍃 April to June: temperatures range from 50 F to 75 F
☀️ July to September: temperatures range from 80 F to 70 F
🍂 September to December: temperatures range from 70 F to 35 F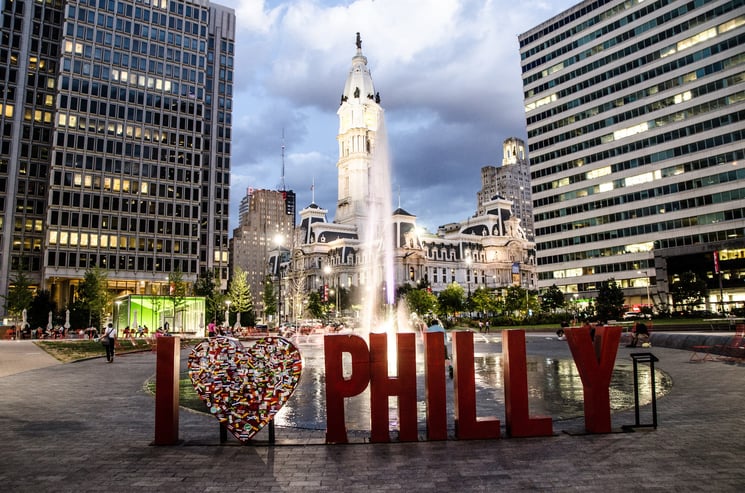 Philadelphia travel nurse salary
There are many benefits to working a travel nursing job or allied health travel job in Philly. One of those perks is the salary. According to data from Indeed, travel nurses working in the Philadelphia area can expect to make an average of $2,415 per week. Of course, travel nurse pay can vary depending on your medical experience, nursing specialty, and the healthcare facility you work in.
In addition to your base pay, you may also be eligible for a tax-free stipend for housing and meals, as well as reimbursement for mileage and continuing education units (CEUs). Find out more about how travel nurse pay works before you search for your next travel job in Philadelphia.
Cost of living in Philadelphia
Philadelphia, PA is an exciting destination with a rich cultural heritage and plenty of job opportunities for healthcare travelers like you! But before you shimmy on over to Philly, consider the cost of living.
The cost of living in this big city is slightly higher than the national average. However, it's still relatively affordable compared to other major cities on the east coast. Housing costs can vary widely depending on the neighborhood, with the average rent for a one-bedroom apartment hovering around $1,400 per month.
Lucky for you, travel nursing stipends and allied health traveler stipends can help balance out the cost of living. By receiving those additional funds, you can live comfortably in a city like Philadelphia without breaking the bank.
Best neighborhoods to live in Philadelphia
When it comes to choosing a neighborhood in a new city, there are some things to consider. Budget, safety, and accessibility to the hospital or medical facility you're working in, just to name a few. Check each factor off your list when you check out these top Philly neighborhoods.
University City
You don't have to be from West Philadelphia (born and raised) to live there as a travel nurse or allied health traveler. Looking for a new 'hood? University City in West Philly could be the one for you.
A vibrant and diverse neighborhood, University City is home to some of the most prestigious academic institutions in the U.S., as well as top medical facilities like the Children's Hospital of Philadelphia and the Hospital of the University of Pennsylvania. The neighborhood boasts an eclectic mix of restaurants, cafes, shops, and cultural attractions, making it a popular destination for residents and visitors alike.
If University City fits your fancy, you'll also be close to the Philadelphia Museum of Art and lots of green spaces, including Clark Park and the Schuylkill River Trail. With its lively atmosphere, rich history, and strong sense of community, the University City neighborhood is a top-notch area to live, work, and play.
Old City
Also known as Center City, Old City is a neighborhood in Central Philadelphia overflowing with history. From Independence Hall to The Liberty Bell to the Betsy Ross House, this historical district has many local attractions to explore.
Not only is the Center City neighborhood dripping in historical landmarks, but it's also known for its charming cobblestone streets, beautiful architecture, and lively arts scene. With numerous museums and galleries showcasing everything from contemporary art to the history of the American Revolution, there's a little something for everyone in Old City.
Fishtown
Back in the day, this North Philadelphia neighborhood was crawling with a proliferation of fishermen, hence the name, Fishtown. Nowadays, this North Philly region is booming in the arts, culture, foodie, and entertainment communities.
Love live music? Gambling enthusiast? Pizza connoisseur? Fishtown may be the place for you. Here, you have easy access to music venues like the Filmore, the Foundry, and Kung Fu Necktie, plus the Rivers Casino and two famous pizza joints — Pizza Brain, which features the world's first museum of pizza culture, and Pizzeria Beddia, named "best pizza in America" by Bon Appétit magazine.
As an added bonus, Fishtown is a short drive from downtown Philly where you can find top-ranked hospitals and medical facilities that are constantly looking for talented travel nurses and allied health travelers.
Conshohocken
If you're in the market for a neighborhood that has it all, look no further than Conshohocken, aka Conshy. Nestled in the heart of Montgomery County with a population of under 10,000, Conshohocken feels like a small town with all the amenities of a big city.
Close to the Schuylkill River, you can easily escape to the Schuylkill River Trail for a scenic walk, run, or bike ride. Or if you're looking for a night out on the town, strut along the neighborhood's main street for dining and shopping. Whether you want to chill on your days off or live it up, Conshohocken could be the neck of the woods for you.
Northern Liberties
Traveling with a pet? Then you need a pet-friendly city and neighborhood. Northern Liberties, or NoLibs, is exactly that (and more).
While this North Philly neighborhood has an eclectic mix of restaurants, coffee shops, bars, and retail shops, the main attraction of NoLibs is the 35,000-square-foot dog-friendly outdoor oasis, Piazza Pod Park. This unique venue features a variety of food and drink vendors housed in repurposed shipping containers, offering a delicious array of culinary options. You'll also find a green lawn for R&R and outdoor games, plus a dog park for furry friends and a stage for live music and events. Travel nurses and allied health travelers who live in Northern Liberties will enjoy the diverse community, convenient location, and endless entertainment options.
Fairmont
Want a neighborhood with outdoor green space? ✔️ Historical sites? ✔️ Bopping food scene? ✔️ Safe for solo healthcare travelers and healthcare travelers with a family? ✔️ Fairmont has it all.
Not only is Fairmont close to several major Philadelphia medical institutions (think: Temple University Hospital, Hahnemann University Hospital, and Penn Presbyterian Medical Center), but it's also full of things to do outside of work. Visit the Philadelphia Zoo, aka the nation's first zoo, or stroll through Fairmont Park for your choice of fun-filled activities. Fairmont's mix of old-world charm and modern conveniences makes it a great place to live.
Passyunk Square
Passyunk Square in South Philadelphia is a prime neighborhood for travel nurses and allied health travelers. You'll appreciate the convenience of living in a neighborhood with easy access to public transportation, major highways, and several world-class hospitals within close proximity.
This quaint neighborhood boasts a wide range of housing options to suit every taste and budget, from classic row homes to upgraded apartments. When you want to get outside and feel the sun on your skin, you can walk to Columbus Square Park to unwind. Its friendly and welcoming community, lively nightlife, and impressive food scene make Passyunk Square the perfect place to call home during your travels.
How to get around Philadelphia
Philadelphia is a big and bustling city; you may be wondering about the best ways to get around. Luckily, Philly has a multitude of transportation options that make it easy to navigate your way through the streets like a local.
Related: Driving vs Flying: Should You Drive or Fly to Your Medical Travel Job?
Whether you have your own car or not, one transportation option is the SEPTA system, which includes buses, trolleys, and subways that can take you all around the city and its suburbs. SEPTA also offers a convenient app that allows you to plan your trips and purchase tickets right from your phone.
Another, more eco-friendly, option is Philly's bike-sharing program, Indego. With over 130 stations sprinkled across Philadelphia, you're sure to find some wheels in no time that will get you where you need to go. Whether you'd prefer to drive your own vehicle or take advantage of public transportation systems, there are many ways to comfortably get around Philadelphia.
Things to do in Philadelphia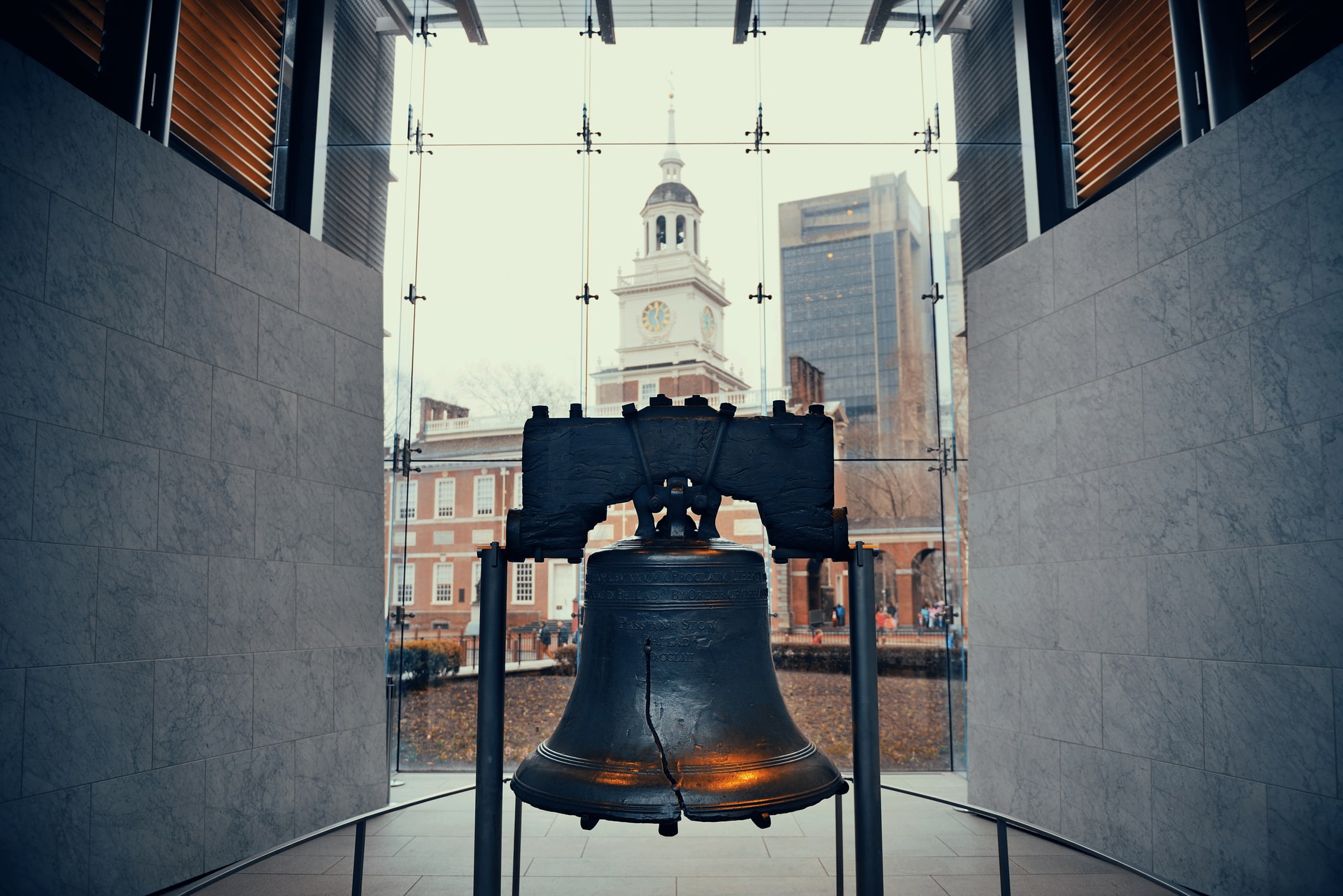 Visit the Liberty Bell
Seeing the Liberty Bell IRL is an absolute must for anyone interested in American history. The bell, which was cast in London in 1752 and originally called the State House Bell, holds great significance as a symbol of American independence. Its famous crack occurred shortly after its arrival in Philadelphia and only adds to its mystique and allure.
Housed at the Independence National Historical Park, you can also explore other important landmarks, such as Independence Hall and the Benjamin Franklin Museum. Visit Philadelphia and while you're working your healthcare travel job, take advantage of the unique opportunity to see one of the country's most iconic symbols of freedom up close and personal.
Check out the Barnes Foundation
The best thing about artwork is that it can be admired on so many different levels and from multiple perspectives. If you're an art appreciator, spend a day off work at the Barnes Foundation.
Known for its stunning collection of Impressionist, Post-Impressionist, and early modern art, this Philadelphia museum features collections of works by Pablo Picasso, Pierre-Auguste Renoir, Vincent Van Gogh, and Amedeo Modigliani.
The Foundation also includes collections of African sculptures, Pennsylvania German furniture, and Native American pottery for a diverse museum experience. Offering more than 4,000 works of art on display, museum visitors can become immersed in a world of beauty and creativity.
Experience the Eastern State Penitentiary
Ready to walk the (prison) halls of the past? Once home to some of the most notorious criminals in the country, the Eastern State Penitentiary is now a decommissioned prison dedicated to educating visitors on the history of American criminal justice reform.
Popular for being the first to house Al Capone, the Eastern State Penitentiary is also known for its haunted reputation. According to many visitors and employees, eerie and unexplained phenomena plague the prison walls and the prison's dark history adds to the spooky atmosphere. Whether you're a skeptic or a believer, don't miss out on the chance to walk the halls of this fascinating (and potentially haunted) piece of America's past.
Use your hands at the Please Touch Museum
While most museums strongly frown upon touching the displays, the Please Touch Museum encourages you to use your hands to experience every exhibit. Unleash your inner child and explore the wonders of art, science, and history.
From a giant replica of the State of Liberty's torch to a fully restored 1908 carousel, there is something on display that's sure to bring a smile to your face. The Please Touch Museum is perfect for kids and adults alike, so whether you're going alone or taking the whole gang, you're sure to have an educational experience that's genuinely fun.
Best restaurants and bars
Suraya
When you're craving a kaleidoscope of textures and flavors, head to Suraya. This Lebanese eatery is known for using fresh, locally sourced ingredients to create food dishes that are appealing to the eye and the stomach.
The restaurant's cozy ambiance and attentive staff make for a warm and welcoming dining experience, so it's no wonder that Suraya is one of the best restaurants on the east coast. In the mood for a romantic date? Or a casual brunch? Suraya is the place to be.
Vedge
Well-known for its innovative, plant-based cuisine that's sure to impress even the most discerning foodie, Vedge is a top choice when you need to refuel after a long day of work. The outstanding restaurant menu features a wide variety of meals that showcase seasonal vegetables and fruits, including signature dishes like the rutabaga fondue and the smoked eggplant braciola. From small plates to medium plates to more composed dishes, the shifting menu at Vedge delivers high-quality vegan- and vegetarian-friendly meals with every visit.
South Philly Barbacoa
If you love trying new and authentic foods while on a travel nursing assignment or allied health travel job, then put South Philly Barbacoa at the top of your list. This cozy and welcoming eatery is renowned for its mouthwatering barbacoa, a traditional Mexican dish of slow-cooked meat.
The restaurant's owner, Cristina Martinez, is a James Beard Award finalist and has received widespread acclaim for her skillful and unique preparation of barbacoa. At South Philly Barbacoa, the meat is cooked in agave leaves and served with freshly made tortillas, cilantro, and onions. And that's what makes this restaurant one of the local favorites.
Sally Philadelphia
Get a taste of Italy without leaving the country at Sally Philadelphia. With sourdough pizzas made from scratch with the highest quality ingredients and cooked to perfection in a wood-fired oven, Sally Philadelphia isn't your normal pizza place.
The thing that really sets Sally's apart from other pizzerias is its commitment to using only the freshest and most delicious toppings, like locally sourced veggies and artisanal meats. Not only will the pizza pies make your tastebuds dance, but the extensive beer and wine list perfectly complements the flavors. Don't miss out on a slice from Sally's while you're working a medical travel job in Philly.
Rich cultural heritage. ✔️ Vibrant economy. ✔️ Good food. ✔️ Wide range of healthcare facilities. ✔️ Philadelphia, PA has it all. Search for Philadelphia healthcare travel jobs and start your adventure in the City of Brotherly Love!