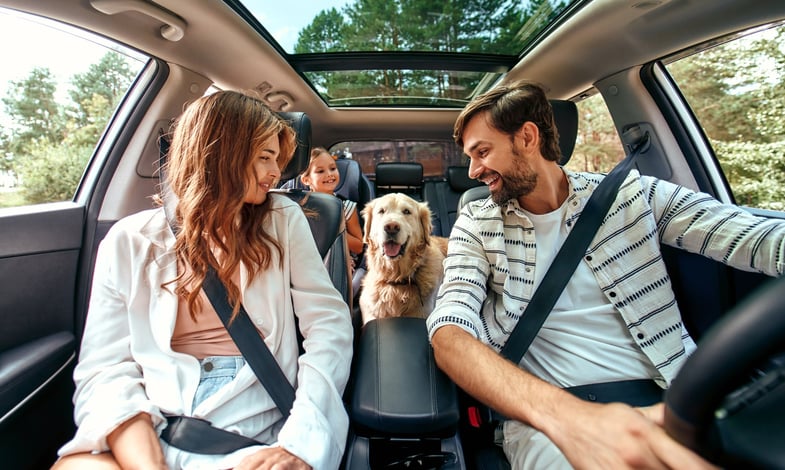 Ever thought about bringing your family along on a travel nursing assignment? From spouses and significant others to children to pets, you're allowed to bring whomever you want with you on your travel adventures. Here's everything you need to know about travel nursing with a family.
Travel Nursing with a Family: Everything You Need to Know
Can you be a traveling nurse with a family?
If you've ever wondered how to be a travel nurse with a family, you're not the only one. It's actually a travel nursing FAQ that Fusion Medical Staffing travel nursing recruiters hear often! There are lots of ways to travel nurse with family. For example, many nurses choose to only take travel assignments during school breaks so that their kids can come and not miss school. Others may decide to work travel nursing jobs in locations that are within driving distance from home so they can see family on their days off. And some travel nurses successfully bring their partners, kids, and pets along on every assignment, all year round.
It's up to you to decide how you travel nurse with family and no matter what you decide, Fusion Medical Staffing is here to help.
Travel nursing with spouse
Did you know that traveling as a couple is good for you and your relationship? According to a survey from the U.S. Travel Association, couples in a romantic relationship report traveling together makes them significantly more satisfied in their relationship, communicate better, enjoy more romance, and spend more quality time together. When it comes to travel nursing with a spouse, these are the pros and cons.
Pros to travel nursing with a significant other
Experience new places together
As a travel nurse, you have the chance to explore new cities and towns around the country. And your significant other can too, even if they're not a fellow medical traveler! Travel nursing with a spouse is a great way for you and your partner to experience different cultures and environments with your travel nursing contracts. Traveling as a couple and exploring new places together can strengthen your relationship, all while building memories that last a lifetime.
Financial stability
Another perk to traveling as a couple is the opportunity to save more money. Typically, travel registered nurses make more than permanently staffed nurses because they accrue more expenses while traveling. For example, in addition to the hourly wage, travel nursing pay packages usually include the option for a housing stipend, travel and meal stipends, and sign-on or completion bonuses.
Travel nursing stipends are meant to cover the cost of temporary housing, meals, and travel expenses that occur while on the job. That way, you and your partner pay less (or nothing at all!) for lodging, food, mileage, and other travel costs.
If your partner is also a medical traveler, they're entitled to the same benefits. That means that you both get the option for travel nurse housing, travel, and meal stipends, but only one of you has to use them while the other can pocket the cash. This makes it easier to enjoy life on the road without feeling like you're sacrificing too much financially.
Cons to travel nursing with a significant other
Finding employment opportunities
A possible downside to travel nursing as a couple is finding employment opportunities for your significant other. Chances are, if your spouse or partner is a fellow medical traveler, this may not be as difficult. However, if your significant other works outside the realm of healthcare travel, you may run into some employment hiccups.
The good news is, there are loads of jobs that your spouse can do while on the road. As of 2022, 16% of U.S. companies are fully remote. A remote job is a position where you can work outside of the typical office environment — all you need is an internet connection. From copywriting to virtual assisting to web design, there are many remote job options available for you. (Psst: Fusion Medical Staffing is often hiring corporate employees, and we offer remote job options! Check them out here.)
Instead of working remotely, your spouse can find local jobs at each new location you travel to. Popular travel nurse spouse jobs include substitute teaching, driving for a ride-sharing service like Uber or Lyft, and babysitting or nannying.
Spousal loneliness
Travel nursing with a spouse can be a great opportunity for couples to experience different parts of the country while still earning a living. On the other hand, travel nurse spouses may find themselves feeling lonely being in an unfamiliar place without additional family and friends nearby. This sense of isolation can be intensified when you're away working long hours at the hospital or medical facility.
To help curb feelings of loneliness, travel nurse spouses are encouraged to engage in hobbies and activities that they enjoy outside of work. Studies show that taking up a hobby can greatly improve a person's mental health and well-being. Common hobbies include reading, writing, listening to music, knitting, cooking and baking, and hiking.
Travel nursing with kids
It can be hard to leave your kids behind while you work a weeks-long travel nursing assignment away from home. So, why not bring them along instead? According to child experts, traveling is one of the most valuable things you can do for your children. Not only will your kids learn more about different people and cultures, but they'll also develop skills and characteristics that they'll use throughout their lives. These are the pros and cons of travel nursing with kids.
Pros to travel nursing with kids
Increased learning opportunities
Travel nursing with kids is an excellent way to provide them with increased learning opportunities. With each new location, your kids are exposed to different cuisines, cultures, and traditions that will help mold them into more adaptable adults who embrace diversity. Plus, on your days off, you and your entire family can visit historic sites, museums, and other important landmarks in each travel nursing location to gain additional insight into different parts of the country. Travel nursing with kids widens their perspectives, teaches them adaptability, and increases their capacity for empathy and cultural sensitivity — a win-win-win.
Spending more time together as a family
One of the major selling points to travel nursing with kids is the chance to spend more time together as a family. Research shows that quality family time has ample benefits for children and parents.
👨‍👩‍👦 It builds children's self-esteem
👨‍👩‍👦 It strengthens the family bond
👨‍👩‍👦 It fosters positive behaviors
👨‍👩‍👦 It encourages healthy communication
👨‍👩‍👦 It can increase your child's academic performance
Travel nursing with kids also helps reduce feelings of separation and loneliness, which will help with their emotional and mental development. Take advantage of this unique opportunity to bond with your family in an environment far from home when you travel nurse with kids.
Cons to travel nursing with kids
Challenges with schooling
When it comes to travel nursing with school-aged kids, you have two options for their education. One option is enrolling them in local schools where you're working your travel nursing job. The other option is home-schooling or remote learning.
To enroll your child in a local school, make sure to have all your records in order. That includes proof of residency, medical records, a birth certificate, and previous school records. While it's not required, it can also be helpful to bring a copy of your child's current coursework to help keep them on track with the curriculum.
If local education isn't the right move for you and your family, consider home-schooling or remote learning. The way online learning works is students work from home to follow a set curriculum and submit assignments to teachers through an online portal. Recently, remote learning has become more popular in families across the U.S. since its spike in 2020-2021.
Leaving friends behind
Moving away and leaving friends and family behind can be hard for anyone, especially your children. Travel nursing with kids requires them to say goodbye to their friends, teachers, and their familiar surroundings, which can be difficult for kids at a certain age. However, there are steps you can take to help make the moving process easier for them (and for yourself!).
According to the Child Mind Institute, it can be beneficial to have a conversation with your children before relocating about what the move will be like and what challenges could come up. That way, you can problem-solve in advance together. Another suggestion is to involve your kids in the move, so they feel like they have some type of control over the situation. For example, invite your children to help pack or think about how they want to design their new room.
3 things to consider when travel nursing with a family
Before you pick your travel nursing assignment and pack your bags, there are a few things to consider when travel nursing with a family. They are transportation, housing, and childcare or education.
Transportation
Whether you're traveling across the country or just a few hours away from home, getting around can be tricky. Luckily, there are several transportation methods available to make your travel nursing journey easier and more enjoyable for you and your family. With careful planning and research into the best transportation solutions for your needs, you can make your experience travel nursing with a family as stress-free as possible. Some popular transportation options for travel nursing with a family include:
🚗 Renting a car (✨ pro tip: ✨ check out travel nursing rental car discounts)
🚙 Driving the family car
🚎 Travel nursing in an RV (✨ pro tip: ✨ find out what you need to do to get your RV ready for travel)
🚂 Taking a train
✈️ Booking a flight
No matter what transportation method you choose, make sure it's financially and realistically practical for you and your family. To make the trip even easier, come up with a plan for how to keep your kids entertained along the way. From movies to video games and apps to books to arts and crafts, there are lots of ways to keep your children happy and entertained on long trips no matter how old they are.
Housing
It's important to understand your medical travel housing options when travel nursing with family. Typically, you have two options when it comes to travel nursing housing. You can either accept a tax-free housing stipend or you can go with agency-provided housing. It's up to you to decide what works best for you and your family.
You may have different housing needs when travel nursing with a family than if you were traveling solo. For example, you may need pet-friendly housing, or more than one bedroom so your kids have their own room. Regardless of the housing option you choose, you may wind up paying for part of the cost out of pocket to ensure there's enough space for your partner, children, and pets.
If you pay more for housing than the travel nursing housing stipend allows, you can ask your recruiter if you can divert a portion of your taxable wage to the stipend to avoid paying taxes. If not, save your lease agreement and travel nursing contract so you can prove that you paid more than what you received for housing and deduct the difference from your income taxes.
When deciding which is right for you, the housing stipend or agency-provided housing, consider these questions to help make your decision:
🏡 Do you need pet-friendly housing?
🏡 How many bedrooms do you need?
🏡 How big of a space do you need?
🏡 Do you need a place that's already fully furnished?
Here's a secret: you can avoid the headache of finding temporary lodging with each assignment and travel nurse with a family in an RV or opt for travel nursing van life. Either way, you're still eligible to receive the housing stipend as long as you have a tax home — you can learn more about tax homes in this medical traveler tax guide. Instead of using the stipend to cover a lease, you can use it to maintain your mobile lifestyle and pocket what's left over.
Reliable childcare
It can be tough to find reliable childcare when you travel nurse with a family. Unless your partner is available to be a full-time caretaker or you have the support of friends and family, you may rely on local daycares, babysitters, or nannies to help keep an eye on your little ones. No matter what type of childcare works for you and your family, it's a good idea to have a plan in place before signing your travel contract.
"It's important to plan ahead when traveling with a child," said Fusion Medical Staffing travel nurse Kylee. "[The first thing I do is] research valuable resources for my family and me in that particular area before deciding on an assignment. These resources include daycare, school, and housing. For previous assignments, I've used Care.com because they provide background checks. Schools and other educational needs can be found simply by researching the specific area and/or surrounding areas of your assignment."
Travel nurse with a family with Fusion Medical Staffing
Ready to start travel nursing with your family? Fusion Medical Staffing makes it easier on you by offering one-of-a-kind benefits. Travel nursing with Fusion Medical Staffing not only provides access to high-paying jobs across the country, but it also gives you benefits for the whole family.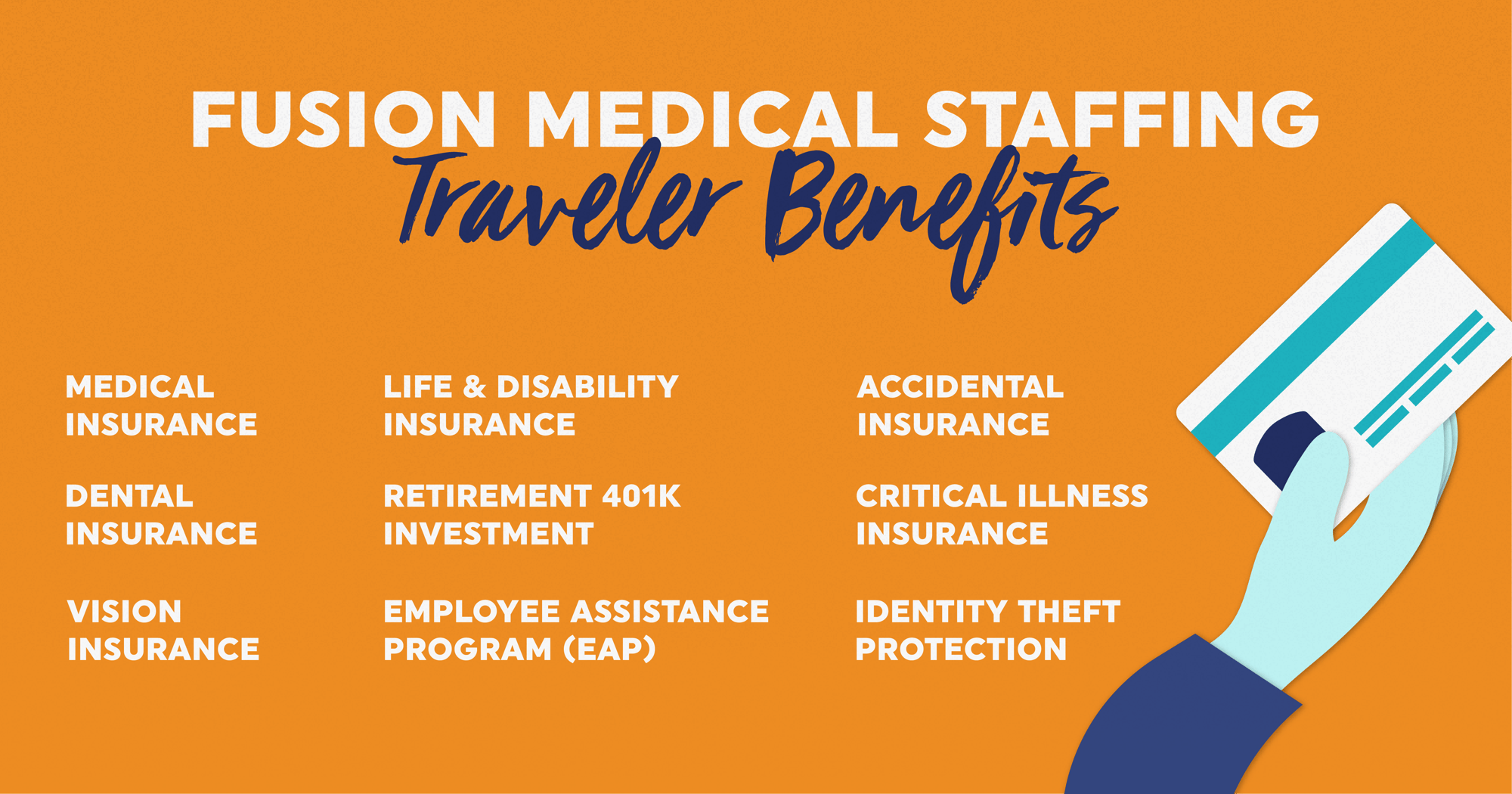 When you travel with Fusion Medical Staffing, your spouse, domestic partner, and children are also covered. From medical, dental, and vision insurance to mental, financial, physical, and social support through an employee assistance program (EAP), Fusion Medical Staffing has what you need for peace of mind while you're working a travel nurse job.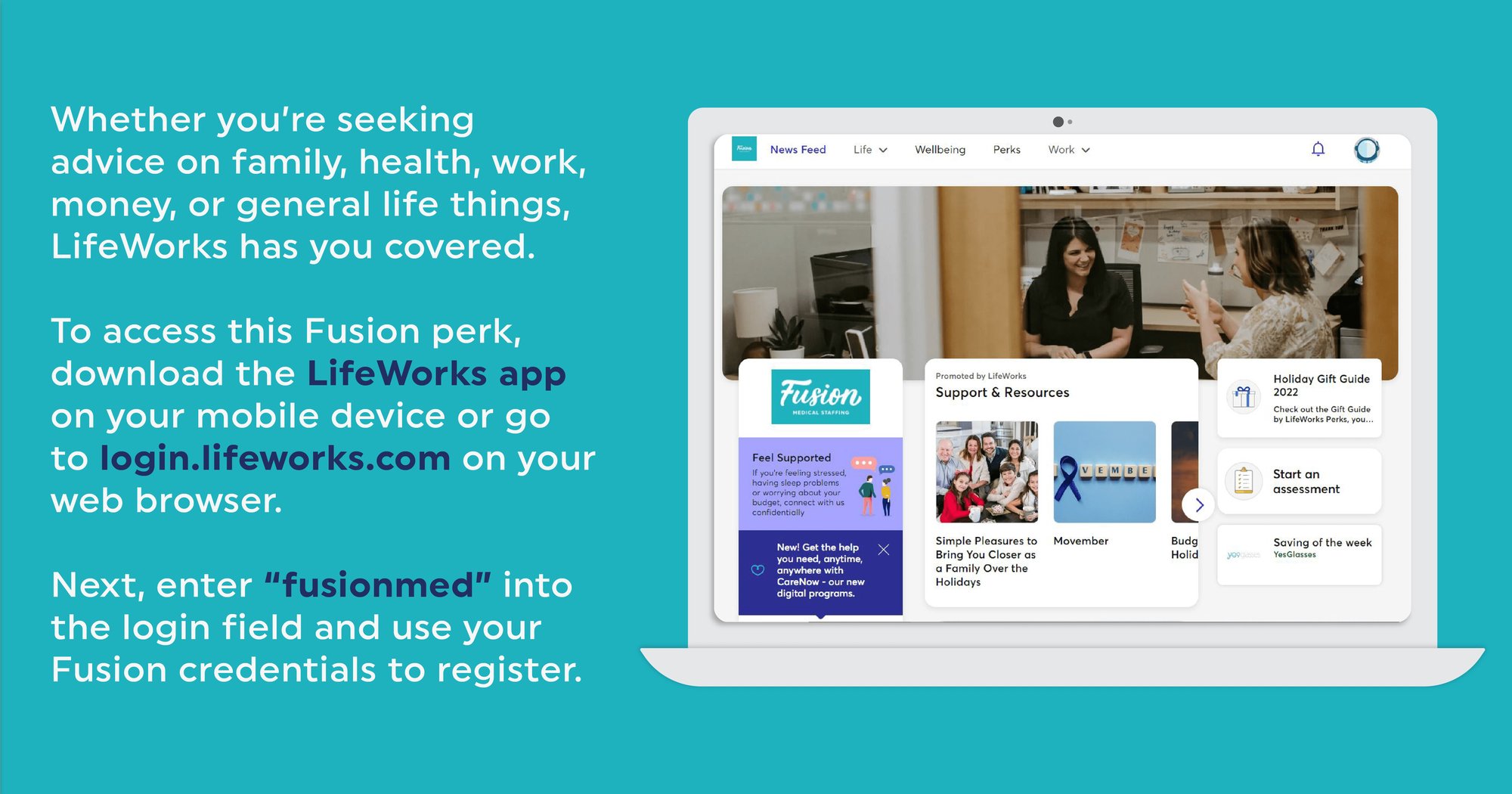 "As a family, we have been able to see so much of this beautiful country that we live in," said Fusion Medical Staffing travel nurse Angela. "We are so blessed to have this opportunity to get to experience it as a family. It's almost like getting paid to be on a family vacation. Our children have a very close relationship with us and we don't feel like we're missing out on anything because we're together."
Frequently asked questions
Can you bring your pets on a travel nursing job?
Pets are part of the family, too. Chances are, they just want to be part of the fun. Just like you can bring your spouse, significant other, and kids along on your travel nursing assignment, you can also bring your cat, dog, goldfish, or any other pet. Of course, travel nursing with a pet comes with its own set of pros and cons.
The obvious pro is that you get to have your beloved pet with you while you travel the country. On the downside, finding pet-friendly housing can be a challenge depending on the location where you're working your travel nursing job. Here's a guide to help you find pet-friendly housing no matter where you are, plus some hacks for traveling with pets.
Can you be a travel nurse as a single mom?
Did you know that nearly 10.5 million American adults are single parents? If you're one of them, you may be wondering if you can travel nurse as a single mom. The good news is you absolutely can! Travel nursing as a single mom is a great way to provide for your family while experiencing new locations around the U.S. With the right balance of work and exploration, travel nursing as a single mom can be a rewarding experience for you and your kids.
Can travel nurses work close to home?
Instead of bringing your family with you on your travel nursing assignments, you may want to work closer to home so you can have the best of both worlds. While this may be an option, there are a few factors to consider.
You may have heard of the 50-mile rule, also known as the radius rule. This rule states that a travel nurse must work at least 50 miles away from their tax home in order to receive tax-free stipends for housing, travel, and meals. Most people think the Internal Revenue Service (IRS) is behind this rule, but typically, it's established by travel nursing staffing agencies or healthcare facilities.
According to IRS Publication 463, you can accept tax-free stipends if "you need to sleep or rest to meet the demands of your work while away from home." However, the reimbursements are only supposed to be paid when you're away from your tax home for work. If you're returning home on your days off and not incurring expenses, you may run into issues receiving your stipend. Seek professional advice from a tax adviser with experience on this topic if you're unsure about travel nurse stipend requirements.
Another thing to keep in mind is that local travel nursing can severely limit your job options. The more flexible you are, the more travel nursing job opportunities you'll have available to you, and vice versa. With help from a travel nursing recruiter, you can find the right job that fits your needs, as well as your family's needs.
Now that you know everything there is to know about travel nursing with a family, you can share your travel adventures with the people you love the most. What are you waiting for? Search for travel nursing jobs and decide where you and your family will go next!