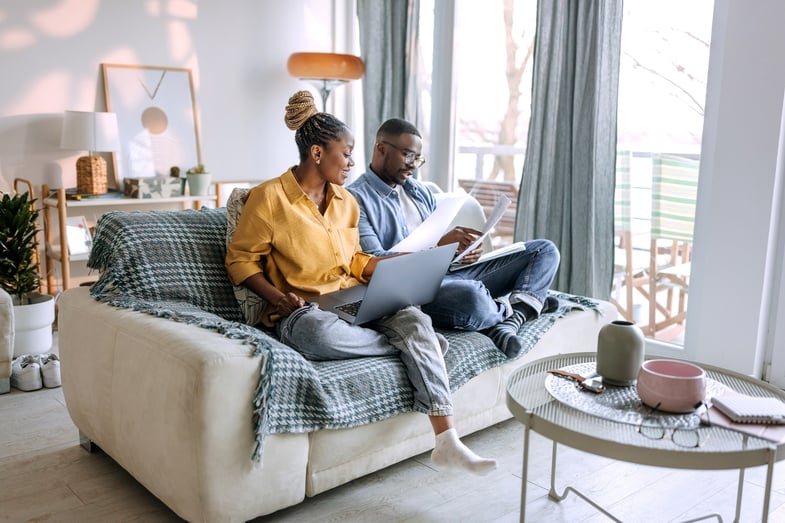 A common travel nursing frequently asked question is: can travel nurses bring their spouse or partner? And the answer is: yes! Living your best medical travel life should be rewarding for both you and your romantic partner.
But unless your spouse is also a travel nurse or allied health traveler, it can be difficult for them to find a job as you move from place to place for a travel assignment. So, what kinds of things can your partner do for work while you're travel nursing? These are our suggestions.
What Jobs Can My Spouse Do While We Travel Nurse?
Travel nurse spouse remote job opportunities
One employment option for travel nurse spouses is working remote jobs. Remote jobs allow your partner to complete their work outside of an office environment using a computer and internet connection. The major benefit to remote jobs is that your partner or travel nurse spouse won't have to find a new job every 13 or so weeks when you move onto another travel nursing assignment or allied health travel job.
Luckily, there are loads of options out there as remote jobs become more widely available. In the last few years, more and more companies are offering virtual versions of standard positions, so you might be able to find some options in fields that don't immediately spring to mind. But if you're searching for jobs that are traditionally great fits for remote workers, here are a few to check out!
Freelancer
You've probably heard of freelance work in one industry or another — and there are a lot of industries that utilize freelancers. Freelancing is a type of self-employment opportunity where people offer their services on a contract or project basis. As freelancers, workers have the freedom and flexibility to set their own hours and work from wherever they want. Another perk is that many freelance opportunities don't require any specific credentials, such as a college degree or certification.
Freelancing also offers many opportunities for creative expression and exploration, so your spouse can tap into their creative side while making money. These are the most common freelancing jobs for travel nurse spouses:
💼 Freelance photographer
💼 Freelance copywriter or freelance writer
💼 Freelance graphic designer
💼 Freelance web designer
Virtual assistant
Does your travel nurse spouse have a unique knack for organization, customer service, and data entry? Then maybe they should consider a job as a virtual assistant. The specific responsibilities of a virtual assistant vary depending on the employer, but typically, these professionals help with tasks like research, calendar organization, and scheduling appointments.
The great thing about virtual assistant jobs is that they can be found in many industries including marketing agencies, legal firms, accounting offices, and even real estate companies. Plus, most virtual assistant positions don't require a degree, just administrative training and computer skills. If your spouse is interested in providing valuable assistance for professionals or businesses of all sizes from anywhere in the country, a job as a virtual assistant could be the right fit for them.
Data analyst
If your spouse or partner has a passion for problem-solving, a data analyst position could be exactly what they're looking for. A data analyst is a professional who specializes in gathering, analyzing, and interpreting large amounts of data to uncover valuable insights and business trends. They use their knowledge of statistics, databases, and other analytical tools to interpret the data collected from various sources, depending on the industry. Requirements for this position will depend on the employment company, but in general, a bachelor's degree in computer science, statistics, or information systems can be helpful.
The special thing about data analysts is that they help companies make informed decisions based on the information they provide. By applying a variety of techniques, data analysts can identify patterns that may not be obvious at first glance. With their expertise, businesses are able to optimize operations, reduce costs, and improve customer satisfaction levels.
Customer service representative
There's nothing better than the feeling you get when you call a customer service line and the person on the other end of the phone is helpful, optimistic, and reassuring. Sound like your partner? Point them in the direction of customer service representative jobs.
Customer service reps play a key role in any company or organization because they're the ones providing helpful and friendly support directly to customers. To be a customer service rep, it's important to have advanced communication skills, plus the knowledge and skills necessary to resolve issues quickly. While most companies only require a high school diploma for customer service jobs, others may prefer employees to have an associate or bachelor's degree.
Travel nursing recruiter
As a travel nurse, you already know how instrumental travel nurse recruiters are to the healthcare travel industry. But can you see your partner thriving in this position? Here's what they should know.
Although some medical staffing companies prefer travel recruiters to have nursing experience, others simply require a high school diploma, GED, or experience in the field. Travel nurse recruiters are responsible for connecting nurses with hospitals and other medical facilities that have staffing needs. These recruiters work closely with potential candidates to make sure they find travel nursing jobs that fit what you're looking for.
They also provide support during the recruitment process, like helping applicants complete paperwork, arrange interviews, negotiate wages, and double-check all necessary qualifications are met before a travel contract is signed. By acting as a bridge between employers and healthcare professionals looking for travel opportunities across the country, travel nurse recruiters make it possible for experienced nurses to continue their career growth on their own terms.
Search for Fusion Medical Staffing remote corporate jobs
Travel nurse spouse local job opportunities
If remote work isn't the right fit for your travel nurse spouse, local jobs are an alternative option. Local jobs allow your partner to get out of the house and physically go to work wherever you're living at the time. Of course, the types of job opportunities will depend on where you are, but you and your spouse are bound to find a good fit for your situation with one of these ideas!
Seasonal positions
Working seasonal positions is a great way for your partner to make money and gain new experiences without having to earn a specific degree or certification. Not only that, but seasonal positions can be a fun and rewarding job experience that allow your spouse to explore different job roles, locations, or industries without making any long-term commitments. Whether it's working in retail during the holidays or picking up shifts in a local café, there are many local job opportunities available no matter where you are in the country.
Ride-share driver
Does your travel nurse spouse have at least a year of driving experience? ✔️ Does your spouse have a current and valid driver's license? ✔️ Does your partner have a four-door car in great condition? ✔️
If you answered yes to these questions, then good news: your travel nurse spouse could be a ride-share driver with companies like Uber or Lyft.
Being a ride-share driver is a great way to meet new people, make a few extra bucks, and explore the sights of your city from a unique perspective. As a driver, your spouse will be in control of where they go and when, which allows enhanced flexibility that you can't find at other jobs. Plus, there are Uber driver job opportunities and Lyft driver job opportunities in hundreds of cities across the U.S.
Food delivery driver
Regardless of where you're working a travel nursing job, people have to eat. So, your spouse is likely to find food delivery job opportunities no matter where you are! These are the typical requirements to be a food delivery driver:
✅ Must be at least 18 years old
✅ Must have a valid driver's license
✅ Must have a reliable vehicle with auto insurance coverage
As a food delivery driver, your partner can work flexible hours that fit their schedule, meet new people, and experience different parts of the city while making money. And as a bonus, they could get additional tips for super speedy service. Additionally, there's always something new to try with all the different food delivery services like Grubhub, Uber Eats, and Postmates, as well as local restaurants and eateries.
Pet sitter
Would your travel nurse partner rather hang out with animals over humans? Well, they can as a professional pet sitter, and get paid for it. There are varying prerequisites to becoming a pet sitter, depending on if you work for an agency like Rover or if you have your own side hustle at home (here are some pro tips for finding pet-friendly housing). It's generally appreciated if professional dog or cat sitters have experience working as a pet sitter, are certified in pet CPR and first aid, and have the ability to care for animals of various sizes and breeds. Most pet sitters are responsible for feeding and exercising, as well as giving medications or grooming depending on the specific needs of the animal.
If your spouse has a passion for animals, pet sitting may be the job they've been looking for. Your travel nursing partner might jump at the chance to shower pets with love and attention while their owners are away.
Babysitter or nanny
Perfect for individuals who love kids of all ages, babysitting or nannying can be a fulfilling job option for travel nurse spouses. To become a nanny or babysitter, it's encouraged for candidates to earn a babysitting certification from the American Red Cross.
Not only do these child caretaker positions offer flexible hours that fit around your spouse's schedule, but they also provide the opportunity to form meaningful connections with both the family and the children. Plus, if you and your partner have kids, there's a chance your spouse could include them in their childcare services. To find babysitter and nanny jobs near you, use trusted childcare websites like Care.com, SeekingSitters.com, and eNannySource.com.
It can be tough to leave your spouse behind while you travel nurse across the country. So instead, bring them along and travel nurse with your family! If your partner can't work remotely in their current position, explore these alternative job opportunities. Whatever you and your travel nurse spouse decide to do, the important thing is that you make a plan, stick together, and enjoy your travel lives to the fullest.