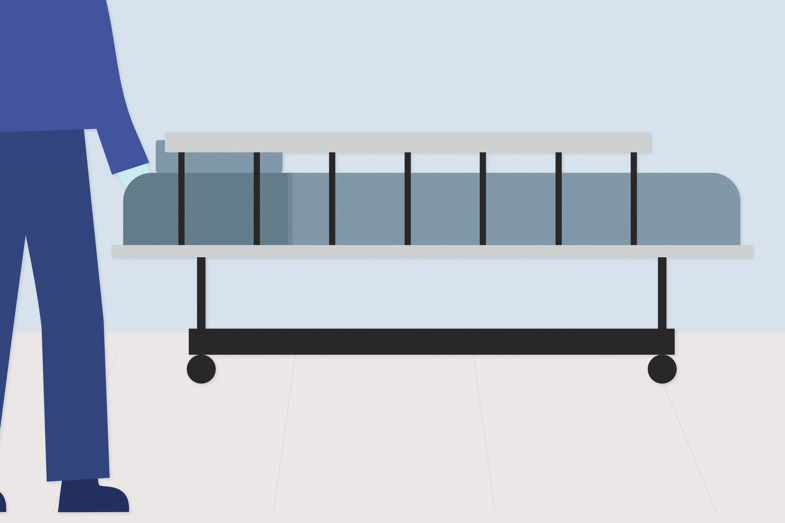 Chances are you've heard the terms progressive care unit (PCU) and intensive care unit (ICU). But what do they mean? Whether you're a registered nurse (RN), physical therapist, or another medical professional, knowing the difference between the PCU and ICU is probably important to your career. Here's what you need to know.
PCU vs ICU: What's the Difference?
What is a progressive care unit?
Also known as a step-down unit or telemetry unit depending on the hospital or medical facility, a progressive care unit is a hospital department that's designed to cater to patients who require a special level of medical attention. Oftentimes, the PCU acts as a bridge between the ICU and the medical-surgical unit to provide vigilant monitoring to patients as they recover from cardiac problems and other critical conditions.
What does a PCU nurse do?
So, now that you know what a progressive care unit is, let's explore what a PCU registered nurse does. PCU nurses are the lifeline for patients who are critical, but stable. Equipped with advanced clinical skills, PCU nurses closely monitor patients' health, administer necessary medications, and perform minor medical procedures.
PCU nurses are more than caregivers — they're also patient advocates, educators, and emotional pillars. These registered nurses play a pivotal role in helping PCU patients understand their health conditions and empowering them toward a healthier life post-hospitalization.
Related: Med-Surg Nursing Overview
PCU nurse job outlook
Interested in gaining experience in the progressive care unit? Now could be your time to shine! According to data from Zippia, the job market for PCU nurses is expected to grow 12% between 2018 and 2028. As hospitals and healthcare facilities continue to grow and the general population ages, the demand for highly skilled PCU nurses is on the rise.
PCU nurse career facts
Job outlook: 👍 👍
Average U.S. salary: $71,768
Education requirements: bachelor's degree
What is an intensive care unit?
An intensive care unit is a specialized department within a hospital or medical facility that serves patients with severe or life-threatening illnesses or injuries. While in the ICU, patients receive round-the-clock care from a highly trained medical team, including ICU nurses and doctors, who closely monitor patient vital signs, provide necessary treatments, and administer high-level life support when required. The ICU is a critical area of a hospital that uses advanced equipment and practices to care for critically ill patients.
What does an ICU nurse do?
Want to be involved in the fast-paced action on the frontline? A career as an ICU nurse may be the move for you.
Responsible for treating injured and critically ill patients, ICU nurses, or critical care nurses, are dedicated to saving lives and improving patient outcomes. Their duties include executing complex assessments, establishing intensive care plans, administering treatment, and supporting patients through their recovery journey.
ICU nurse job outlook
To say the job outlook for critical care nurses like ICU RNs is promising would be an understatement. Zippia data expects a 12% increase in ICU nurse jobs between 2018 and 2028, making it one of the most in-demand nursing specialties, along with PCU nurses.
The major reason behind the dramatic job growth projections is because of the ongoing healthcare needs of an aging population. With advancing age, the body goes through changes that may escalate the susceptibility to diseases and the need for intensive care.
ICU nurse career facts
Job outlook: 👍 👍
Average U.S. salary: $81,579
Education requirements: bachelor's degree
The differences between PCU and ICU
Levels of care
While both the progressive care and intensive care units are integral components of a hospital's critical care services, they each serve different medical needs. The intensive care unit is specifically for patients with severe and life-threatening illnesses that require constant, close monitoring and support from specialized medical equipment and treatments.
The ICU is where patients go who have had major surgeries, traumatic injuries, or are experiencing organ failure. Common conditions treated in the ICU include heart attacks, strokes, pneumonia, surgical complications, burns, and other kinds of trauma.
Then there's the PCU. Think of the progressive care unit as a step down from the ICU (hence why it's sometimes called a step-down unit 😉). Patients in the PCU have graduated from intensive care after recovering from severe illness or surgery but still require frequent care and monitoring.
Nurse-to-patient ratios
Aside from the levels of care provided, another difference between the PCU and ICU is the nurse-to-patient ratios. Typically, progressive care units have higher nurse-to-patient ratios because patients are less critical, generally stable, and transitioning from intensive care.
On the other hand, ICU RNs may see a lower nurse-to-patient ratio since these patients need close monitoring and constant intensive care. While PCU patients still require skilled nursing care, patients in the ICU require may more intense and immediate care.
Medical care teams
Another thing that sets an ICU apart from a PCU is the medical professionals working in the unit. The ICU may have more multidisciplinary care teams including RNs, physical therapists, pharmacists, dieticians, and respiratory therapists who work together to provide critical care for patients with multiple medical, surgical, and trauma conditions.
Frequently asked questions
What certifications are recommended for nurses in the ICU or PCU?
The type of registered nurse certification that you need depends on your specialty. For critical care nurses, common certifications include Critical Care Nursing Certification (CCRN) for adults, pediatrics, and neonatal patients, Progressive Care Nursing Certification (PCCN), Cardiac Medicine certification (CMC), and Cardiac Surgery certification (CSC).
What nursing skills do I need to work in a critical care unit?
Nursing in a critical care unit demands a unique blend of skills. Most importantly, you must be highly knowledgeable in patient assessment and in administering complex interventions. To work in a critical care unit, you'll also need an extensive understanding of life-supporting technologies like mechanical ventilators and heart monitors and be able to interpret data from these devices to make rapid, life-saving decisions.
Emotional intelligence and critical thinking skills are also key for critical care nurses. It's part of your job to assist patients and families during life-changing moments, so you must be able to effectively communicate, empathize, and connect with those you serve. The good news is it's worth it. Find out why with Gabby Harrington, RN.
How long do patients generally stay in the PCU?
The length of time patients spend in the PCU can vary based on their individual health conditions and recovery progress. According to a study conducted by the National Library of Medicine, the average hospital length of stay is seven days with a median of three days spent in the PCU.
Looking to make a positive impact in the lives of others? Working in a department like the progressive care or intensive care unit allows you to do exactly that and pick up new tips and tricks along the way. Regardless of which hospital floor you work on, both the ICU and PCU embrace the true essence of healthcare, offering compassionate care, continuous learning, and collaborative treatment.
Ready to start your medical travel journey? Connect with a Fusion Medical Staffing recruiter to be matched with a travel job that checks all your boxes.