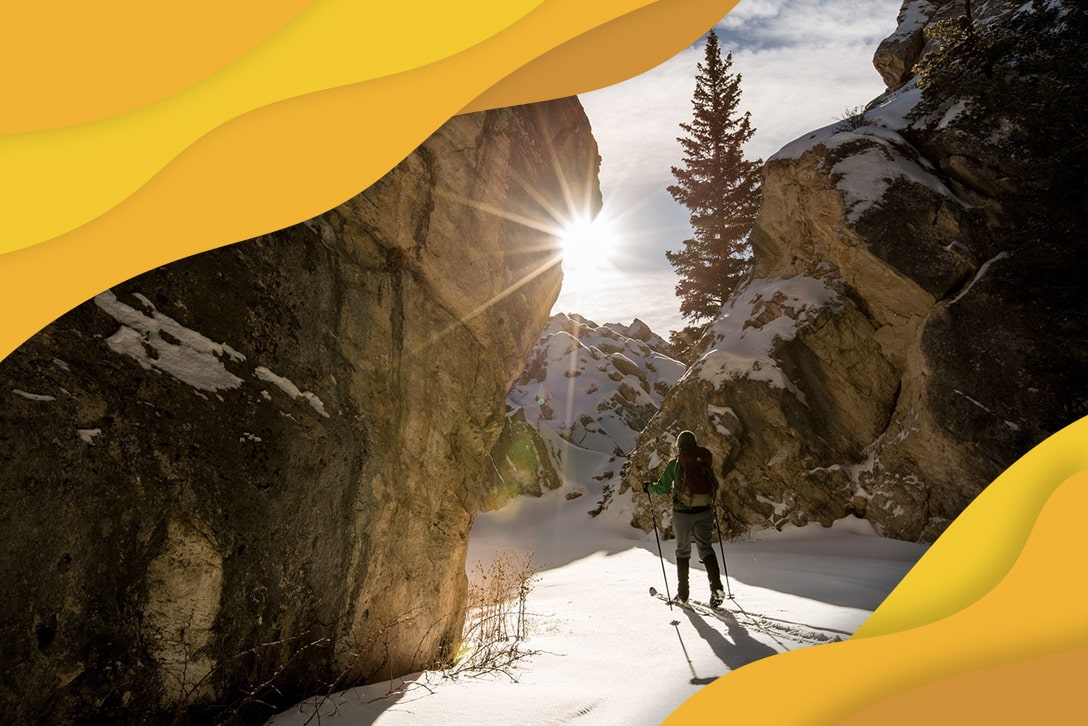 If the snowy winter months are good for anything, it's skiing. There's nothing that gets your adrenaline flowing like the feeling of catching wind down a snowcapped mountainside. The crisp chill of the winter air grazes your cheeks as you soar downhill with a nice, comforting mug of hot cocoa on your mind.
Until you've experienced it for yourself, it's impossible to understand the exhilarating thrill and sense of freedom that encapsulates you when you strap on your skis. Now that ski time has finally rolled around again, it's time to take your skills to the slopes. Who said you can't combine your love of skiing and your medical care job?
The Top 8 Ski Towns for Med Travelers
You know, your timing could not be better. Around this time of the year, the demand for cool as heck med workers (dat you!) skyrockets because of common winter illnesses and winter sport injuries. So, take your mad medical skills, and head out to one of these top eight ski towns!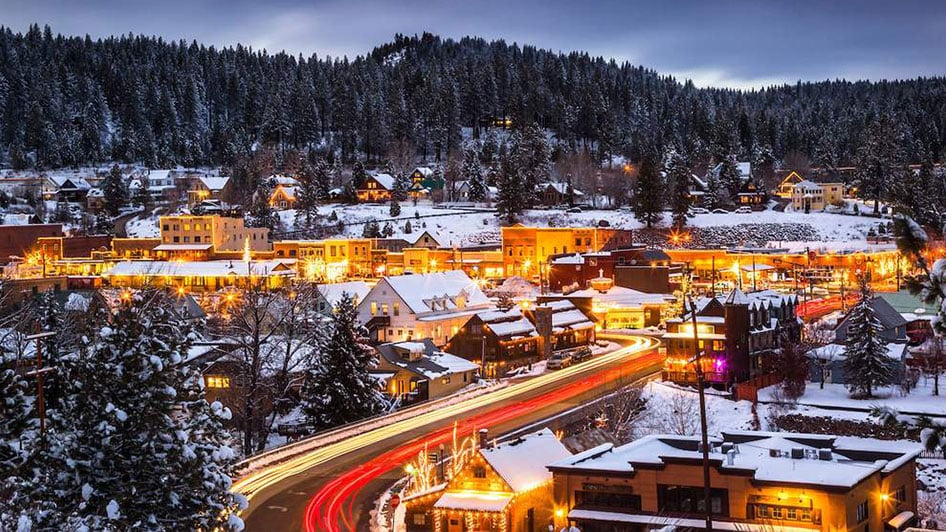 No. 1: Truckee, California
California is usually known for sand beaches and Disneyland. But have you ever been to Truckee for the love of skiing? If not, pack your bags now, because you won't want to miss this top ski town.
If geography wasn't your strong-suit in school, Truckee is near Lake Tahoe—less than a half-an-hour drive, to be exact. So, you're guaranteed breath-taking scenery regardless if you choose the downhill slope or the cross-country ski summit.
As the only hill area in the region that provides instructions to kiddos as young as 3 years old, the Tahoe Donner Downhill Ski Resort is the perfect place for skiers who want to hit the slopes and make memories with loved ones. This summit features wide-open bowls, uncrowded slopes, and gentle terrain for any-level skier to enjoy.
If a more challenging summit piques your interest, check out the Cross-Country Ski Center at the Tahoe Doner Resort. Voted the "best cross-country center in North Lake Tahoe and Truckee" for five years running and named "sixth best cross-country ski resort in North America" by USA Today, the center spans over 2,800 acres in the Sierra Nevada Mountains. This summit has more than 100 kilometers of cross-country ski and snowshoe trails for you to meander through to enjoy the tranquility of the babbling creeks. Plus, there is a fleet of "state-of-the-art grooming machines" to help you prepare for the trails each day. What's not to love?
Search for California travel jobs.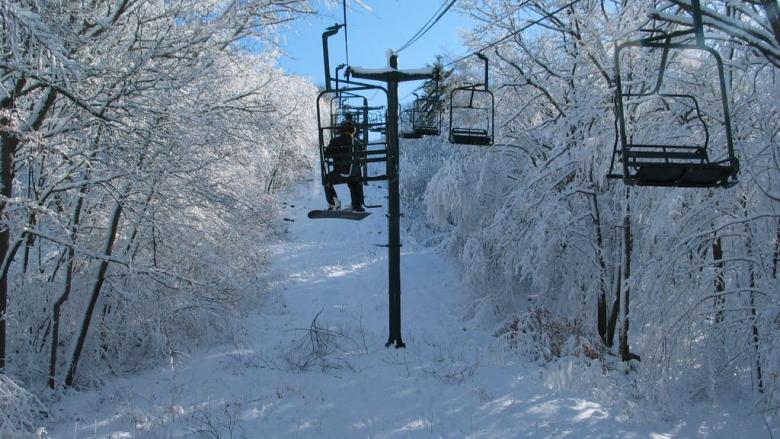 No. 2: Boston, Massachusetts
If you're into nature, adventure, and history, The Blue Hills Ski Area is the place for you, especially if you're working an assignment in or near Boston. Full of antiquity and noteworthy American history, the spirit of this ski lodge dates all the way back to 1798 when a three-story building was built to create a resort with fine dining, exquisite balls and parties, summer boarding, and spectacular views from an observation deck.
Although that brick and wood building was taken down in 1885, the site has served as a military lookout during the Revolutionary War, a meteorological observatory (that's still in use today, BTW), and now a ski slope for winter adventurers like you.
Once you've visited this ski mountain, you can proudly (and accurately) brag that you've been to the highest land on the Atlantic coast from Boston to the Florida Keys! The Blue Hills feature an elevation of 635 feet, 60 acres of land, 16 trails, four lifts, and one terrain park, making it perfect for all ages and levels.
When you're ready for a break from the slopes, venture out to one of the nearby towns—Canton, Dedham, or Norwood—to eat at charming restaurants and browse through one-of-a-kind shops for travel souvenirs!
Search for Massachusetts travel jobs.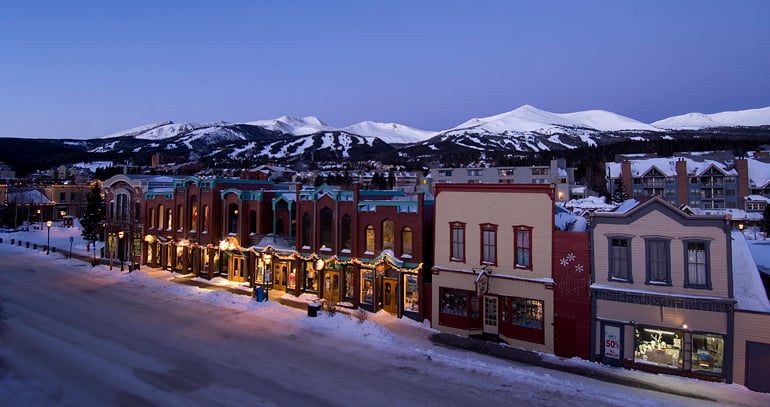 No. 3: Breckenridge, Colorado
Obviously, Breckenridge is on the list. It is Colorado's "largest historic district" after all. Breck, as the locals call it, is full of "stories, legends, and characters" from the Gold Rush-era. This modern-day tourist hot spot started in the 1850s as a gold-rush base camp and now, Breckenridge is the place for the hip and cool kids with its "western hospitality" and "Victorian architecture."
Plus, Breckenridge is home to an alpine ski resort you won't want to miss out on. You may have heard of it—the Breckenridge Ski Resort. Here, you can ski on nearly 3,000 acres of terrain with options for all levels of experience and includes 11 magic carpets, four T-bars, one gondola, and various lifts that hold between two and six skiers. The complimentary Summit Stage bus service makes it easy for you to mountain hop between Copper Mountain and Keystone so you can ski to your heart's content.
If your skis get tired, hang them up and visit the namesake brewery and distillery in the Breckenridge Nordic Center or order a drink from the Gold Pan Saloon. Then you can tell your friends and family back home that you've had a pint from the bar with the longest continuous liquor license west of the Mississippi.
While you're there, see what Breckenridge has to offer when it comes to snowmobiling and dogsledding or travel to the nearby city of Boulder for a winter hike or an unforgettable meal. Honestly, you can't really go wrong with what you do during the winter months in Colorado. Just make sure to bundle up!
Search for Colorado travel jobs.

No. 4: Sun Valley, Idaho
Idaho is where you can find Sun Valley Ski Resort, and that's where you'll want to go for a ski adventure if you're working a winter assignment near Boise. The best part about Sun Valley Ski Resort is there are virtually no lift lines for the slopes on Bald and Dollar mountains, so you don't have to sweat long line times in-between ski runs.
If you're a beginner or need to dust off the cobwebs, head over to Dollar Mountain to practice the basics before you glide down the 3,400-foot vertical drop on Bald Mountain. When the ski day is done, check out the winter sleigh ride or try to stay upright on an Olympic ice-skating rink. Then, get ready for more fun!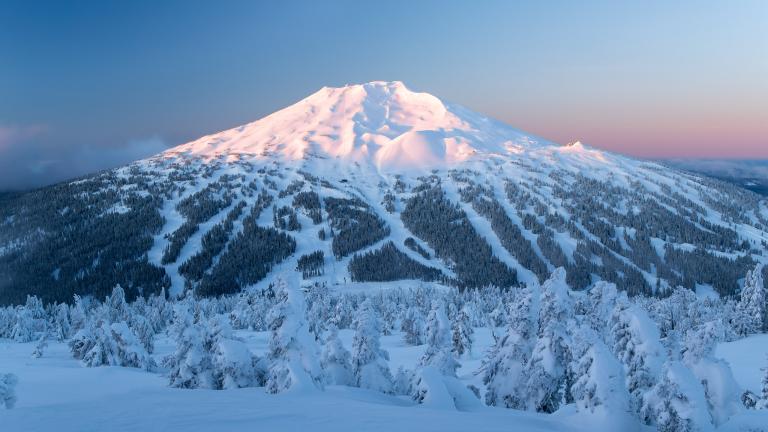 No. 5: Bend, Oregon
Bend is for those of us that appreciate the brilliance of beer. Wait? Beer + skiing? Is that a good mix? We wouldn't advise doing both at the same time, but if you ask us, there's nothing wrong with an ice-cold brew after you're done with the slopes.
Bend used to be a logging town, and now, with over two dozen breweries along the Bend Ale Trail, it's a "lager town." Don't worry, there's porter, and IPA, and other craft beers to enjoy, too.
For those who aren't big on beer, Bend is still a great place to be. Nicely nestled between the peaks of the Cascade Mountains and the desert plateaus, Bend is an "international mecca for outdoor adventurers and families."
Plus, Bend is only a short drive away from Mt. Bachelor so when you're ready to get your skiing on, you can get up, and go. With over 4,300 acres of lift-accessible terrain, Mt. Bachelor is not your average mountain. In fact, it's the 6th largest ski resort in all the U.S.—so prepare to cross that one off your bucket list.
Search for Oregon travel jobs.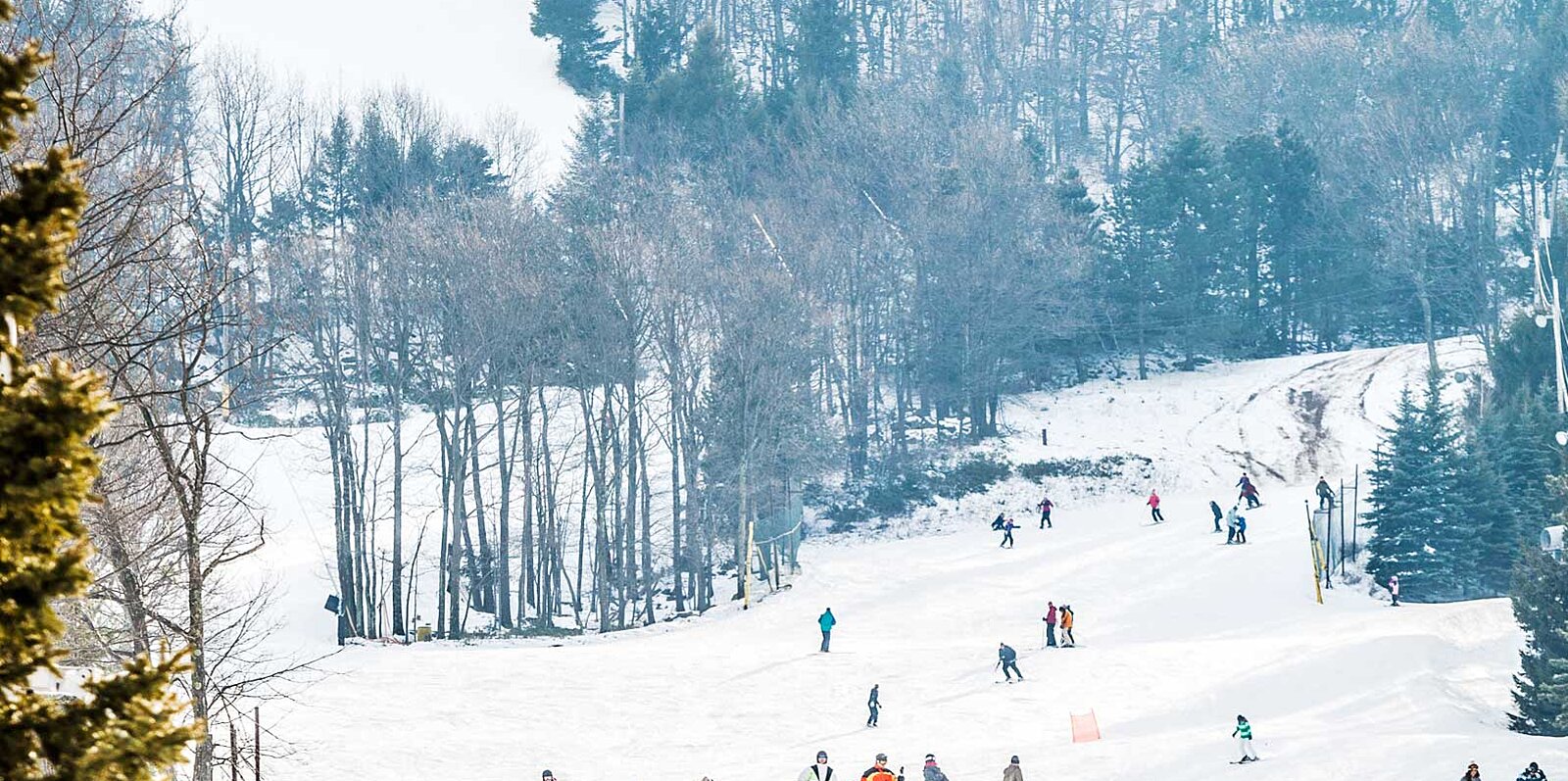 No. 6: The Poconos, Pennsylvania
You've probably heard of the Poconos. It used to be the "honeymoon capital of the world" back in the day and now it's where you can find Great Wolf Lodge and no. 1 Indy car racing fans. For med travelers looking for some fun on a day off, the Poconos also features mountainous ski slopes for skiers of all levels of expertise.
The history of the Poconos Mountains dates back to 1946 when they welcomed the first commercial ski area in Pennsylvania. Since then, the Poconos have been a "bonafide" ski destination with groomed beginner slopes and double black diamonds, plus terrain parks where you can test your skills.
If you're looking for a nice, relaxing winter getaway and you're nearby, take a trip to the Poconos and enjoy a weekend encompassed in serenity, scenic beauty, and calmness as you connect with nature…and your skis.
Search for Pennsylvania travel jobs.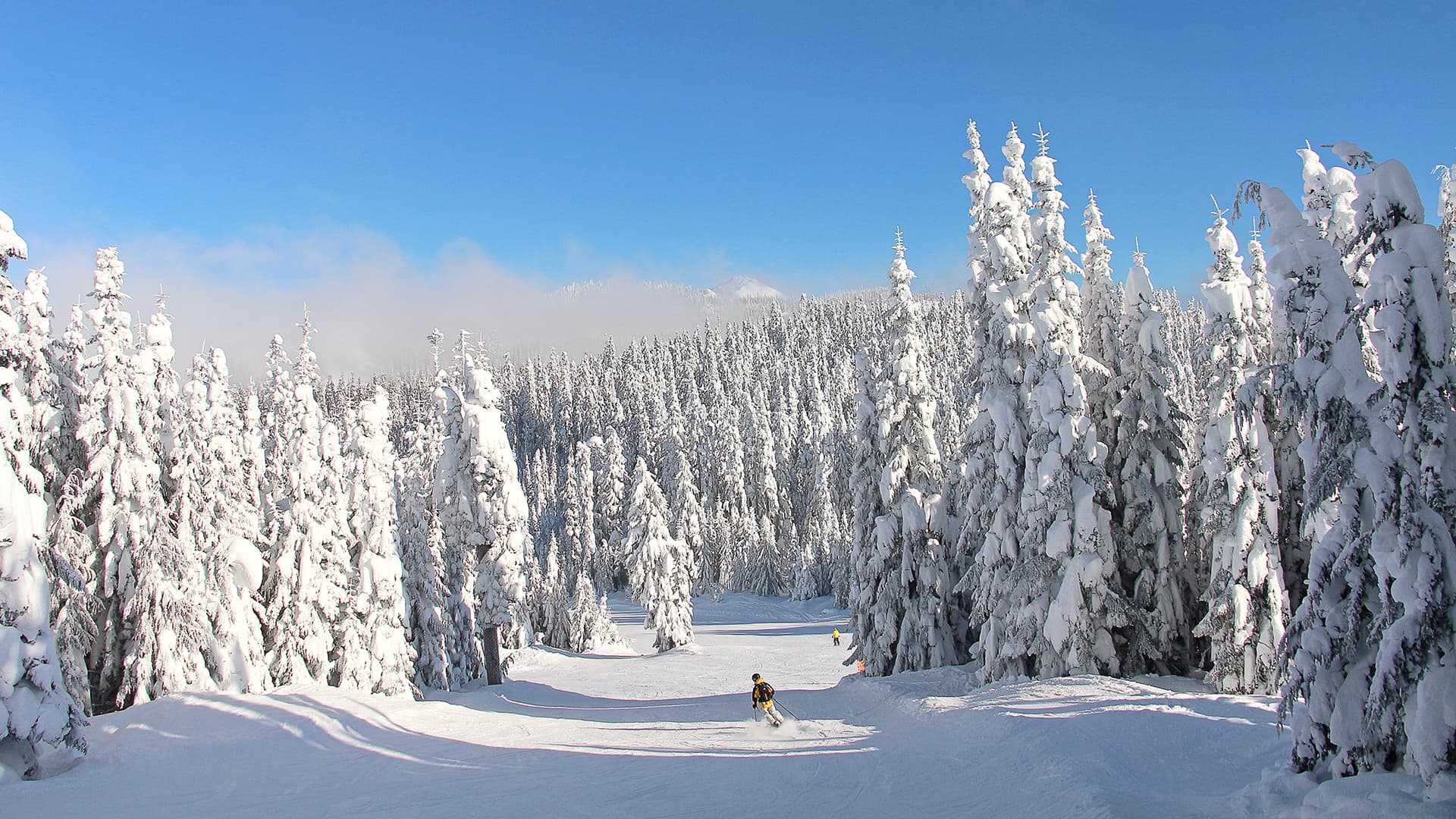 No. 7: Snoqualmie, Washington
Snow tubing, Nordic skiing, snowshoeing—what more do you need? If you're close to Seattle, head over to The Summit at Snoqualmie for almost 2,000 acres of skiable terrain over four mountain areas right in the heart of the Cascades. Not only does this resort offer ski slopes for all experience levels ranging from beginner to expert, but it also features 20 lanes of snow tubing, 600 acres of night skiing terrain, two terrain parks, and 50 kilometers of snowshoe trails.
Less than hour outside of Seattle, Snoqualmie is home to one of the state's most popular natural attractions: Snoqualmie Falls. This 270-foot waterfall has made its mark on the city's history, pop culture, and surrounding communities with viewing platforms, float trips, and another resort by the spray.
If none of the beautiful outdoors fit your fancy, hop aboard the Northwest Railway Museum for an educational tour of multiple locomotive sites throughout the city. Or spend a day treating yourself at a local spa.
Search for Washington travel jobs.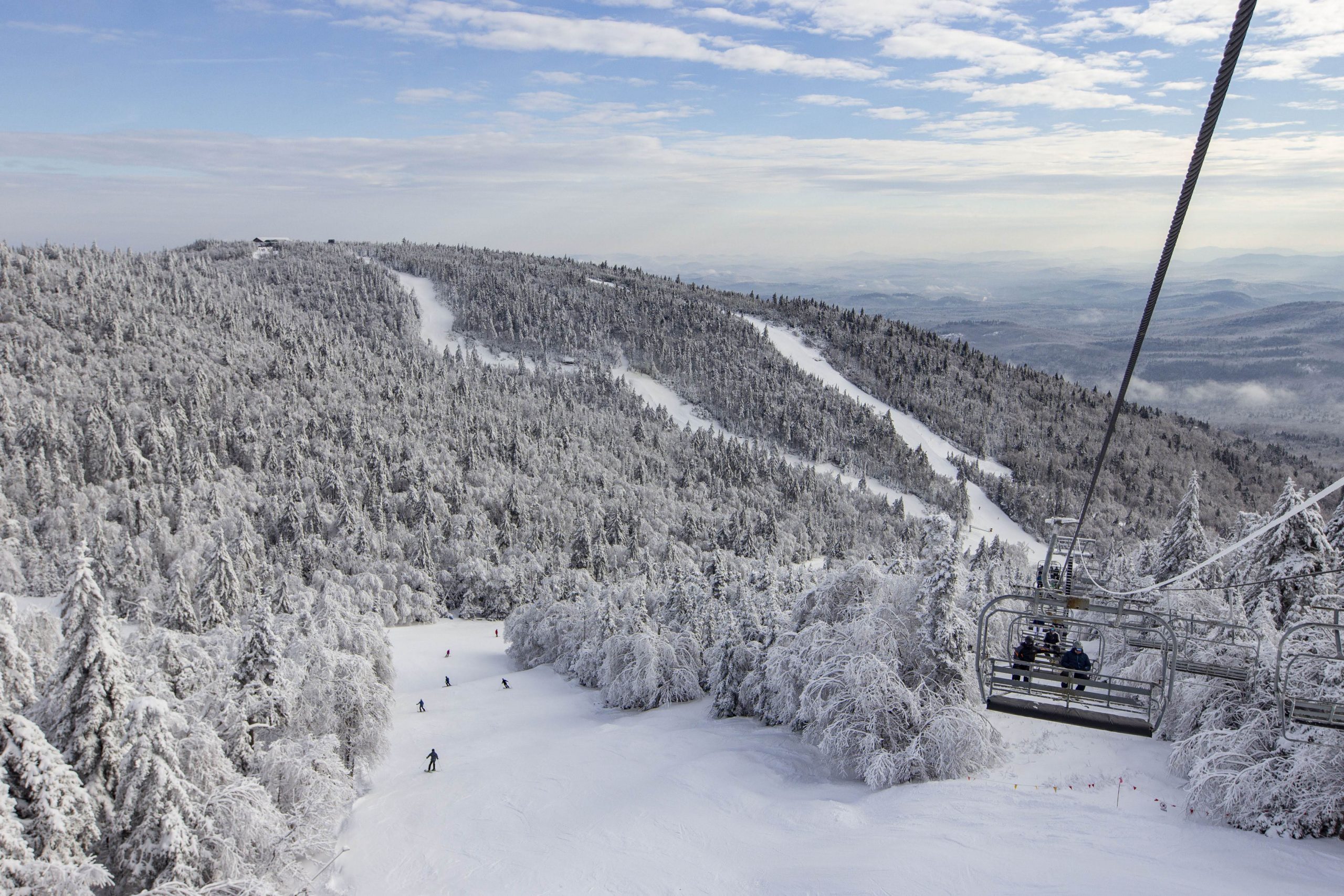 No. 8: North Creek, New York
We all know and love New York for Central Park (or Central Perk for our "Friends" fans) and the Broadway shows, but have you ever been to Gore Mountain in North Creek, New York? Just a hop and skip away from the big apple, Gore Mountain is an alpine ski resort that lives within the Adirondack Mountains. And it's perfect for med travelers like you who are looking for something fun to do on a day off work.
Head on up to Gore's ski bowl for alpine skiing and snowboarding, "freestyle fun," cross-country skiing and snowshoeing, plus more! When the sun goes down, you can continue your ski adventure during twilight skiing and enjoy the beauty of the mountain under the stars.
With 14 lifts, 110 trails, four peaks, and seven mountain areas across 42 miles and 439 acres, you'll love spending your days off exploring New York's biggest mountain. Before you head back to your assignment, treat yourself to a delicious meal from one of the mountain's fine dining establishments and pick out some local Adirondack goods to bring home.
Search for New York travel jobs.
Winter is the ideal season for cozy sweaters, snow fun, and medical travelers. As more and more folk venture to top ski towns around the country for fun winter activities and tourism attractions, the more med travelers are needed in those areas. No, it's not because these destinations are full of accident-prone skiers, but because the more people there are in one place, the more likely it is for an accident to happen or an illness to spread. That's simply the math of it.
So, when you're looking for your next travel job placement this ski season, talk to your recruiter about these top eight ski destinations, and find out where you and your medical skills can make the biggest impact.