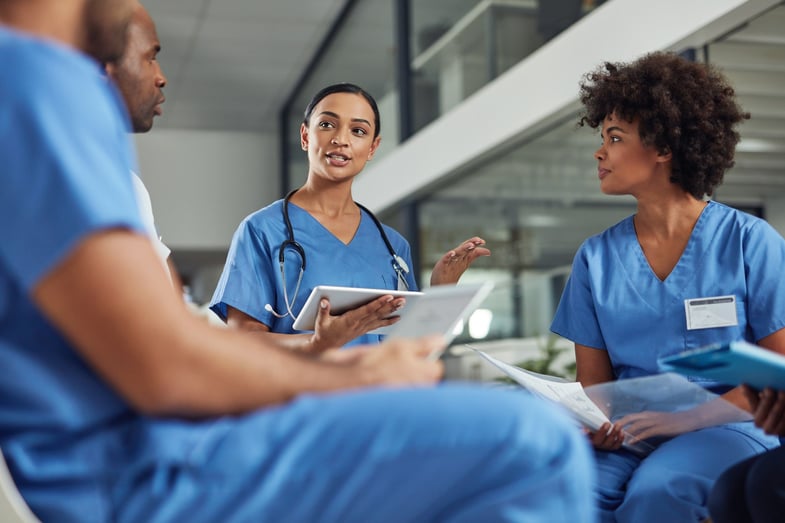 Are you ready to jump into an allied healthcare career? Your timing couldn't be better. Allied health careers are more in demand than ever before. If they aren't a doctor, a nurse, or a pharmacist, they're probably in an allied health role. But which one is right for you? Let's find out.
What Allied Health Career Is Right for You?
Allied health professions are part of a wide umbrella that includes technicians, therapists, technologists, and more. These roles make up 60% of all healthcare jobs in the United States, and can look completely different from one another.
While the specific duties will vary, allied health professionals work to prevent, diagnose, and treat diseases and disorders. Additionally, they apply scientific principles and evidence-based practices to best care for patients. You'll find these medical professionals in clinics, hospitals, rehabilitation centers, and other health care facilities.
The diversity in allied careers means that no matter your preferences, you'll be able to find yourself a niche. Give it a shot with our handy-dandy quiz!
Not convinced? Check out the fastest-growing allied health careers to help narrow down the best fit for you, separated by therapy and tech careers:
Travel therapy jobs
Physical Therapist (PT)
If you're fascinated by the way the human body moves, then a career as a PT may be for you. PTs are movement experts who use prescribed exercises, hands-on care, and education to improve patients' range of motion and quality of life.
Working with a wide range of ages, PTs help patients who suffer from cardiopulmonary conditions like chronic obstructive pulmonary disease (COPD) and cystic fibrosis; carpal tunnel and trigger finger; musculoskeletal dysfunction, such as back pain and rotator cuff tears; neurological conditions like stroke, spinal cord injuries, Parkinson's disease, multiple sclerosis (MS), vestibular dysfunction, and traumatic brain injuries; cerebral palsy and muscular dystrophy; sports-related injuries like concussions and tennis elbow; and skin conditions or injuries, such as burns, wound care, and diabetic ulcers.
These allied health travelers work in a variety of health settings, including hospitals, private practices, outpatient clinics, home health, schools, sports and fitness facilities, and nursing homes. Interested? Check out reasons to become a PT and find out what you need to do to work your way up the physical therapy ladder.
Physical therapy career facts
Job outlook

:

👍👍
Average U.S. salary: $95,620
Education requirements: Doctorate degree
Patient interaction: ✔️
Occupational Therapist (OT)
Many people wonder what the difference is between PTs and OTs. Here it is: PTs focus on body movement, whereas OTs focus on a more holistic approach of healing to include physical, mental, and emotional conditions. OTs help people regain and improve their skills so they can independently participate in daily activities like brushing their teeth, dressing, and toileting.
Like physical therapists, OTs work with clients of all ages and work with people who need help with fine motor skills; struggle with autism, attention deficits, self-regulating emotions, or learning disabilities; have trouble eating; are recovering from surgery, stroke, or a traumatic injury; have poor sight; are recovering from a fall and want to remain at home; have memory problems or dementia; and need adaptations in their home.
Most commonly, OTs work in hospitals and rehabilitation centers. However, you can also find them in elementary and secondary schools, home health services, and nursing care facilities.
Want to learn more about life as an OT? Take a detailed look into an OT career with Fusion traveler Rachel Annino.
Occupational therapy career facts
Job outlook

:

👍👍
Average U.S. salary: $85,570
Education requirements: Master's degree
Patient interaction: ✔️
Speech-Language Pathologist (SLP)
Words are hard. If you've stuttered, stumbled over your words, couldn't quite get the right speech sound out, or struggled with social communication, then maybe you get it. Luckily, there are communication experts like speech-language pathologists to help with these things (and more).
For example, people may see an SLP for saying sounds, forming words and phrases, and to better share their thoughts; reading, writing, and spelling; controlling their voice and talking to different people; stuttering; improving memory, attention, problem-solving, organization, and other cognitive skills; and feeding and swallowing.
SLPs work with patients of all ages, from babies to adults. They can also be found in a wide range of medical settings, such as private practices, physician's offices, hospitals, schools, colleges/universities, and rehab facilities.
SLP career facts
Job outlook

:

👍👍👍
Average U.S. salary: $79,060
Education requirements: Master's degree
Patient interaction: ✔️
Certified Occupational Therapy Assistant (COTA)
COTAs work with OTs to help patients regain mobility so they can independently engage in activities of daily living, from eating to showering to cleaning.
COTAs may also assess patients to determine pain levels, vitals, range of motion, muscle strength, coordination, and sensory processing skills. Using this information, COTAs will work with OTs to create an individualized treatment plan to best treat the patient.
COTA career facts
Job outlook

:

👍👍👍
Average U.S. salary: $61,520
Education requirements: Associate degree
Patient interaction: ✔️
Physical Therapy Assistant (PTA)
Like PTs, PTAs are movement experts who help patients regain mobility and manage pain. However, PTAs provide patient care under the direction and supervision of a physical therapist. So, what do physical therapist assistants do?
PTAs provide patient care, obtain data related to the treatments, and work alongside PTs to customize care. As a PTA, you may examine individuals and come up with a treatment plan to help improve their mobility, reduce pain, restore function, and prevent disability.
A perk to being a PTA is you have options to advance your career. When you're ready, use this guide to advance your career from PTA to PT.
PTA career facts
Job outlook

:

👍👍👍
Average U.S. salary: $49,180
Education requirements: Associate degree
Patient interaction: ✔️
Medical tech travel jobs
Diagnostic Medical Sonographer
Are you interested in seeing what's going on inside the human body? If the thought gives you goosebumps, you should consider a career as a travel diagnostic medical sonographer. What's sonography?
Sonography is the field of ultrasound technology that uses ultrasounds to monitor, diagnose, and treat diseases in the soft tissues and organs of the body. As a sonographer, you may work with a diverse range of patients to identify and diagnose abnormalities, chronic conditions, and other medical issues. Other responsibilities may include:
Prepping patients for medical procedures
Prepping and maintaining imaging equipment
Operating ultrasound equipment
Analyzing and interpreting images to determine a diagnosis
Recording results in patient files
This allied health career offers opportunities for specialization. For example, you could specialize in a certain part of the body, such as the abdomen, breasts, musculoskeletal system, nervous system, and female reproductive system. Options, you have options.
Sonographer career facts
Job outlook

:

👍👍
Average U.S. salary: $77,740
Education requirements: Associate degree
Patient interaction: Limited
Magnetic Resonance Imaging (MRI) Tech
If MRI machines get your gears going, you'd enjoy a career as an MRI technologist. MRI techs are, you guessed it, skilled in operating MRI machines. The machine uses a magnetic field and radio waves to create images of a patient's organs, tissue, and bones. Oftentimes, MRIs are used to identify various health conditions, such as brain aneurysms, tumors, and injuries (including strokes); spinal tumors, injuries, and spinal cord conditions; pinched nerves; and MS.
While MRI techs may not do the patient diagnostics, they do operate the machinery that helps determine what's wrong. That means that they inject the dye that allows images to show on the scan, position the patient in the machine, and provide instructions and comfort during the MRI. Once the technologist has the images, they're passed along to a radiologist for interpretation.
Oftentimes, MRI techs work in hospitals. However, they can work in any health care setting that has access to the imaging machine. That may include clinics, radiology centers, and outpatient care facilities.
MRI tech career facts
Average U.S. salary: $77,360
Education requirements: Associate degree
Patient interaction: Limited
Computed Tomography (CT) Tech
You know how MRI techs work with MRI machines? Same situation with CT technologists and CT scanners.
These allied health travelers use CT scanners to look at a person's insides. More specifically, this procedure produces images of a patient's internal organs and tissues to help diagnose medical conditions. These scans help diagnose vascular diseases, bone injuries, soft tissue damage, tumors, skeletal diseases; brain injuries; and internal injuries.
As a traveling CT tech, you would travel to different hospitals, clinics, labs, and outpatient centers to help conduct CT scans. In addition to prepping the equipment, CT techs administer the contrast materials and position patients for the scanner.
CT tech career facts
Job outlook

:

👍
Average U.S. salary: $61,980
Education requirements: Associate degree
Patient interaction: Limited
Medical lab technician (MLT)
If you're more of a behind-the-scenes kind of person, then perhaps you should consider a career as a traveling MLT. These lab techs help patients and other medical professionals connect the dots to diagnose, treat, and manage ailments and illnesses. Although they don't often work directly with patients, MLTs are a vital part of patient care and recovery.
Here's what you might do as an MLT:
Analyze bodily fluids, such as blood, urine, or tissue samples
Examine blood samples for transfusions to identify blood type and compatibility
Calibrate and sterilize lab equipment
Enter patient information into medical history file
Typically, traveling MLTs will travel to hospitals, medical and diagnostic labs, or physicians' offices. With some experience under your belt, you can advance your career in the lab and become a medical lab scientist (MLS). Find out the difference between an MLT and MLS with Fusion traveler Norma Bivona, MLS.
MLT career facts
Job outlook

:

👍
Average U.S. salary: $57,800
Education requirements: Associate degree
Patient interaction: ❌
So, you're not sure what you want to be when you grow up. But you know that you a career in allied health is right for you. Now all you have to do is use this guide to figure out which travel allied health career is right for you and take the plunge. Fusion Medical Staffing is here when you're ready.