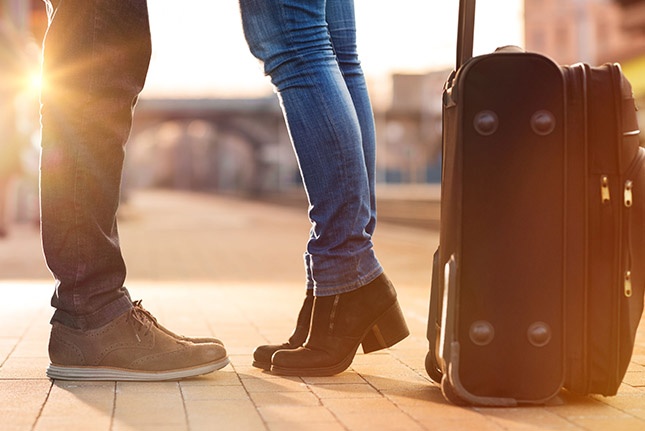 Living your best travel life is rewarding for both you and your partner. But unless your spouse is also a traveling medical professional, it can be difficult to keep a job going as you move from place to place for an assignment. So what kinds of things can your partner do to work while you travel and still experience all the great things travel life has to offer?
Work remotely.
Hey, good news! Your spouse might not have to up and quit their current job to go travel with you! Is your partner currently employed at a company that allows offsite work? Depending on the distance, the work responsibilities, and case-by-case circumstances, talking to their current employer about working remotely or working from home could be a great option for both of you to enjoy your jobs and experience travel life together.
Take a leave of absence.
If your partner can't work remotely while you travel, they could look into a leave of absence with their current employer. Some companies allow employees to take extended time off. So, while they're on a leave of absence from their job back home, they can enjoy travel life with you or look for temp jobs in the area.
Use temp job resources.
There are a ton of great resources out there for searching for a temporary job. Temp job agencies and local employment agencies can help your partner find work in the area you're traveling to. Additionally, they can look online at job search sites like Zip Recruiter, Indeed, Monster, Snag A Job, Career Builder, and LinkedIn. These sites have a search tab that narrows job inquiries to temporary or contracted positions. Plus, LinkedIn hosts a variety of job recruiters with their Premium account services. Most recently, LinkedIn can even sync up to a Microsoft Word resume to give job hunters more ways to find what they're looking for. Learn more about how that works with this video.
Drum up some freelance work.
Many companies offer contract jobs or freelance work. Some of the top freelance jobs in demand right now are writers, interpreters, web developers, designers, teachers, contractors, marketers, and coders. But there's plenty more too! If your spouse's area of expertise qualifies for steady freelance work, they might want to consider this enticing option.
Start a side hustle.
In the same line as freelance work is the ever popular "side hustle"—a job or way to make money in addition to a standard full-time career. This can be anything from passion projects, to hobbies, to crafts that can be sold, adding some extra cash to you and your spouse's funds. And who knows, a side hustle could lead to a small business, and before you know it, you and your partner are living that travel life and business owner life. Isn't that sweet?
It can definitely take two to tango and navigate this exciting travel life. Whatever you and your partner decide to do, the important thing is that you make a plan, stick together, and enjoy your work and travel lives to the fullest.
Want more stories about couples who work and travel together? Check out our post about couples who travel, and get the inside scoop on some of the challenges and rewards of being a traveling couple.