When the scorching summer days start to shorten and the vibrant greenery transforms into an awe-inspiring mosaic of reds, oranges, and yellows, you know autumn is peeking out from right around the corner. Whether you're looking for your next allied health or travel nursing job, or for a fall getaway between assignments, you may find exactly what you need in one of these underrated U.S. fall destinations.
6 Underrated Fall Destinations for Healthcare Travelers
Asheville, NC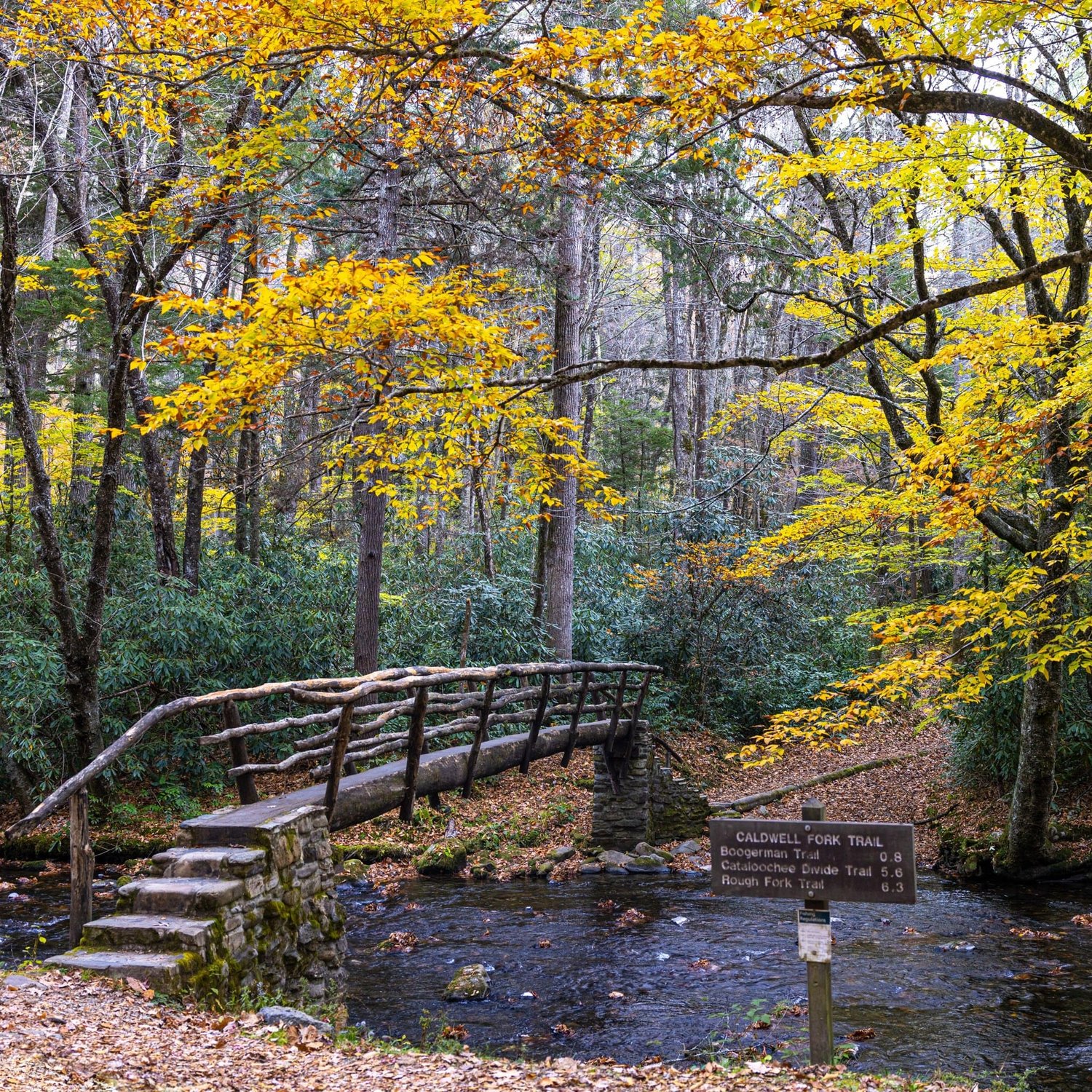 Iconic local brews from craft breweries. ✅Unbeatable mountain views. ✅Award-winning Southern restaurants. ✅ Asheville checks off the important boxes.
Nestled within the Blue Ridge Mountains, Asheville is a charming destination that's complete with breathtaking natural beauty, especially in the fall. As the city becomes awash with striking hues of scarlet and gold, the Blue Ridge Mountains turn into a stunning autumnal backdrop.
But you won't only find mesmerizing scenic views in Asheville during the fall. The autumn season also offers the perfect temperatures to explore the city's outdoor activities, whether you're trekking through colorful hiking trails or rafting down the rivers surrounded by fall foliage. These are some of our favorite things to do in Asheville in the fall:
Witness the historic Biltmore Estate in all its autumnal glory
Zipline your way down from the top of a mountain
Tour the impressive North Carolina Arboretum
With dazzling scenery, a friendly community, and loads to do on your days off, Asheville is a top choice for allied health travelers and travel nurses alike. Search jobs near Asheville and take advantage of the balance between tranquil living and urban excitement.
Search for North Carolina travel jobs
Greenville, SC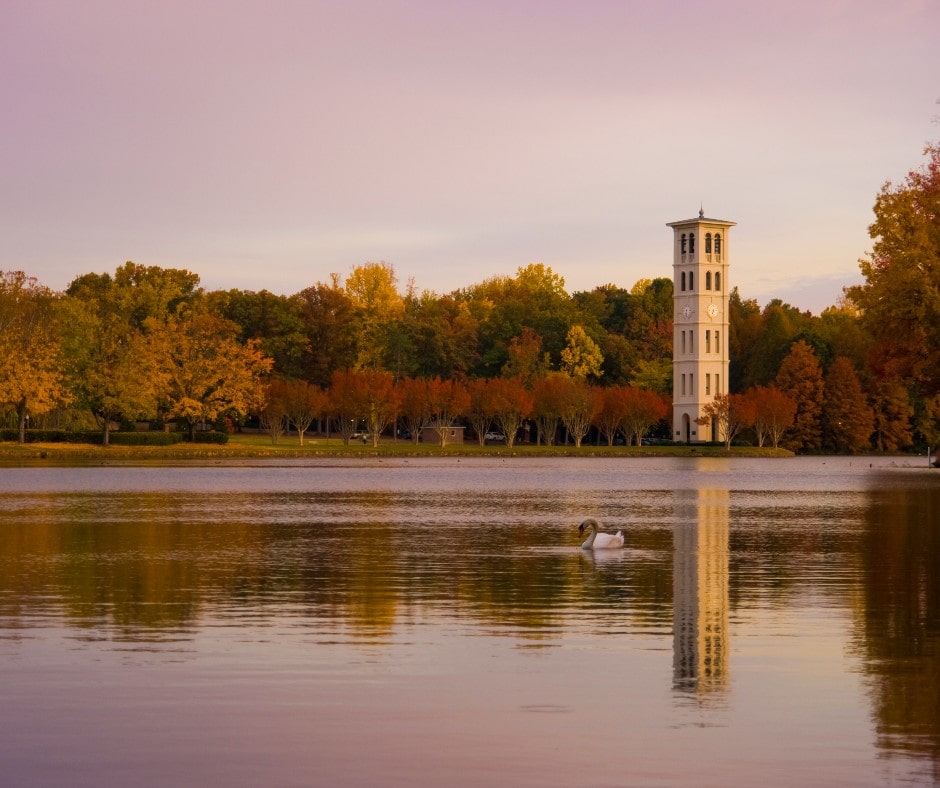 If you've never heard of Greenville, South Carolina, you're in for a treat. Named the #3 small city in the U.S. by Condé Naste Traveler readers in 2018, Greenville is renowned for its award-winning downtown, high-caliber entertainment, and affordable cost of living.
While Greenville has much to offer, the best time of the year to visit is undoubtedly the fall. The city becomes painted in rich autumn colors as the seasons change, creating a picture-perfect landscape that's ideal for spending time outside. These are the top fall activities you won't want to sleep on in Greenville:
Immerse yourself in the mid-October Fall for Greenville festival
Stop by a pumpkin patch and hand-pick your own veggies
Put your ghostbusting skills to the test on a haunted ghost tour
With equal parts green spaces and city living, Greenville has a little something for everyone. And since it's home to several state-of-the-art hospitals and health centers, healthcare professionals like you can easily find continuous learning and professional development opportunities without sacrificing a healthy work-life balance.
Search for South Carolina travel jobs
Taos, NM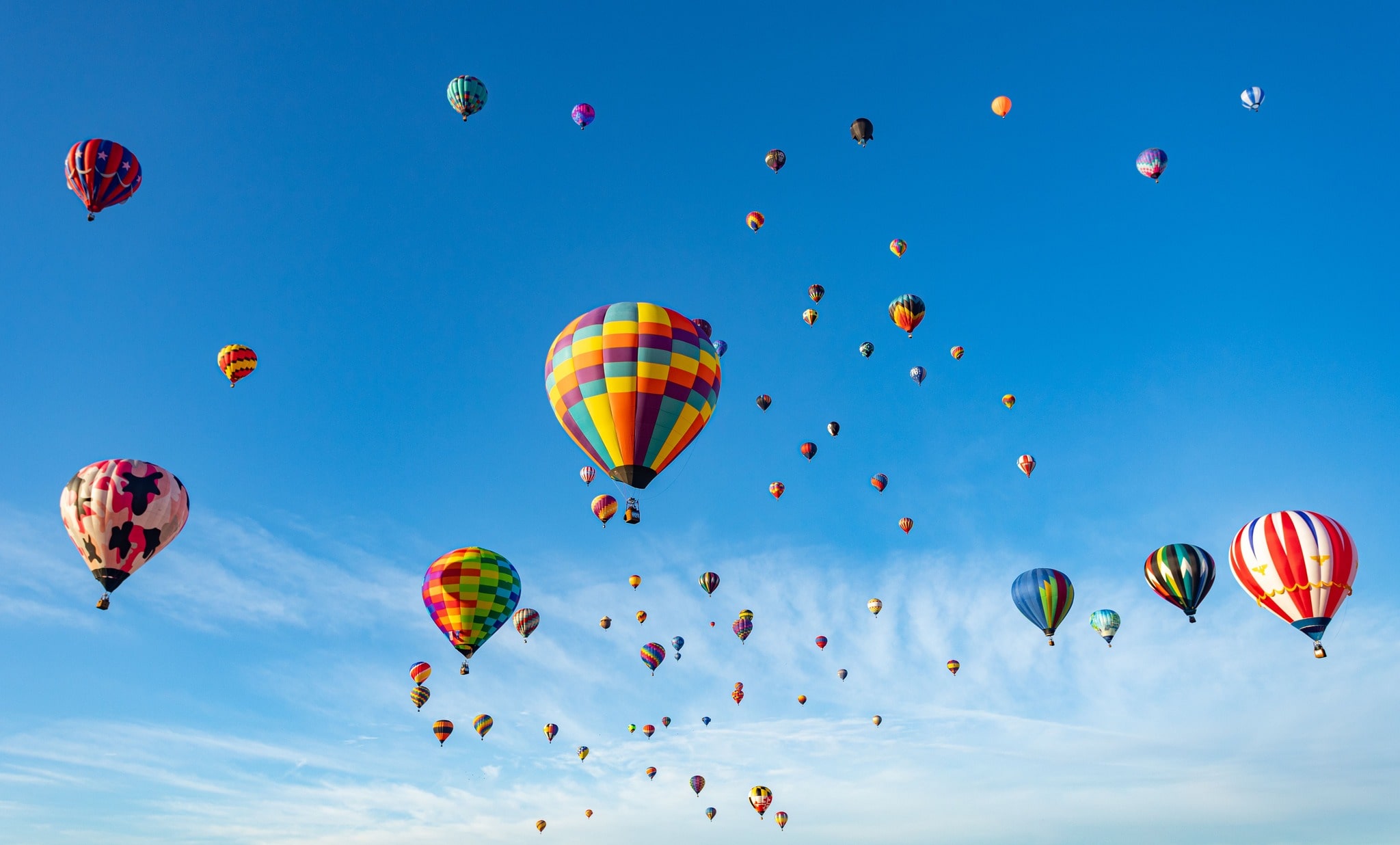 History buff? Nature enthusiast? Art aficionado? Taos, New Mexico has it all. Wondering when is the best time to go to Taos? In the fall!
Visiting Taos in the fall is a magical experience that captivates every sense. As the weather cools, the landscape turns into a tapestry of colorful foliage that lures you to the outdoors. Whether you're taking a leisurely walk amid the golden aspens or going for an exhilarating bike ride down mountain trails blanketed in fallen leaves, you're in for an unforgettable adventure. Other things you won't want to miss out on include:
Visit Taos Pueblo, a UNESCO World Heritage Site
Savor authentic New Mexican cuisine
Attend the annual Taos Mountain Balloon Rally
Working as a travel nurse or allied health traveler in Taos offers a rewarding and fulfilling experience, both professionally and personally. In addition to the city's natural beauty and effervescent cultural scene, you'll get the chance to engage with a diverse patient population and expand your skill set.
Search for New Mexico travel jobs
Sedona, AZ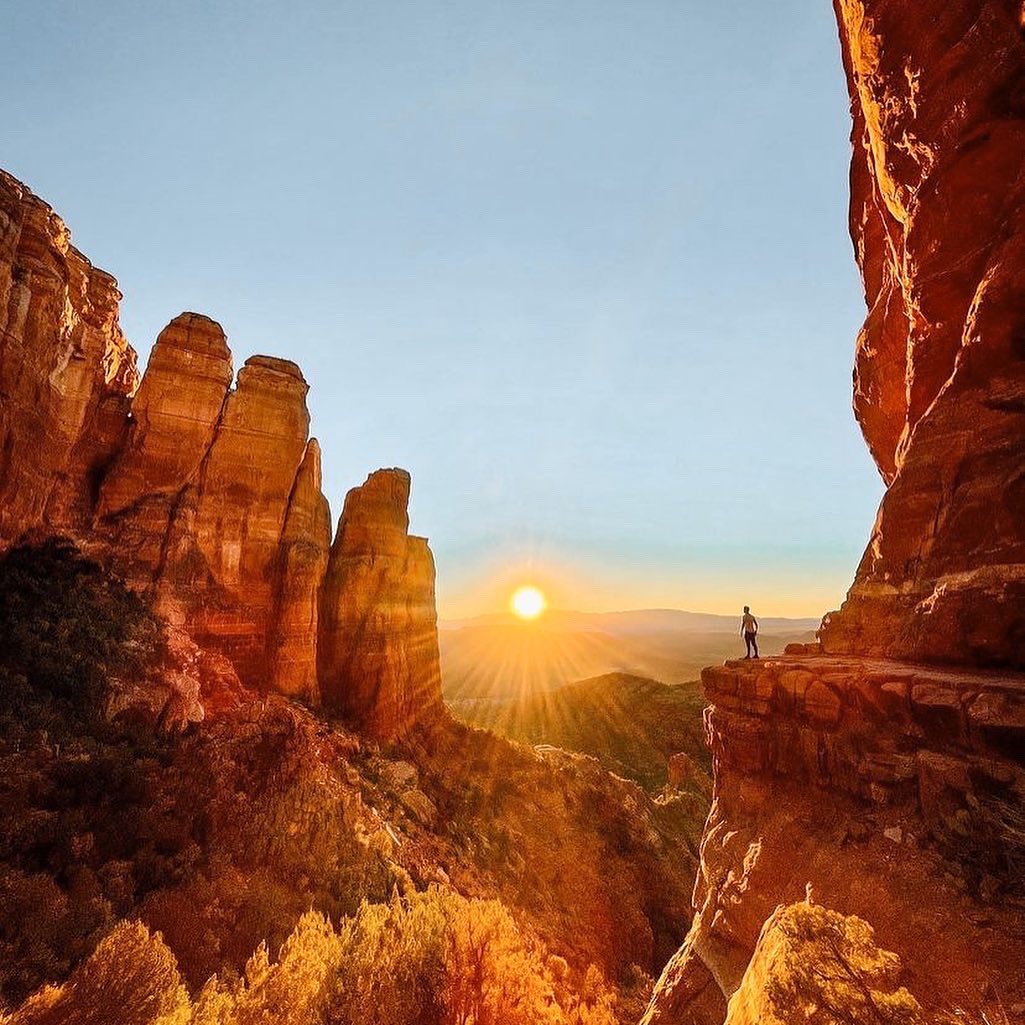 In the market for rejuvenation, spirituality, and a higher purpose? Head to Sedona! Internationally known as a spiritual mecca, Sedona is the place to be for people from all walks of life to nourish their minds, bodies, and souls. And there's no better time to do so than the fall.
The autumn season adds a tapestry of colors to the already sensational landscape, as the fall foliage changes into a palette of anthocyanidin pigments. Once the swelting summer heat subsides, you'll notice the streets of Sedona swarming with folks taking advantage of the cooler weather. Here are some ways you can do that, too!
Hop on a guided Jeep tour around the red rocks
Join the Verde Valley Wine Trail and get a taste of the best wineries in the city
Collect handmade crafts, art, jewelry, and more from the Tlaquepaque Arts and Crafts Village
One of the best parts about Sedona in the fall is provides a serene landscape that can greatly contribute to a stress-free environment, which is exactly what you need as a registered nurse or allied health professional.
Search for Arizona travel jobs
Kansas City, MO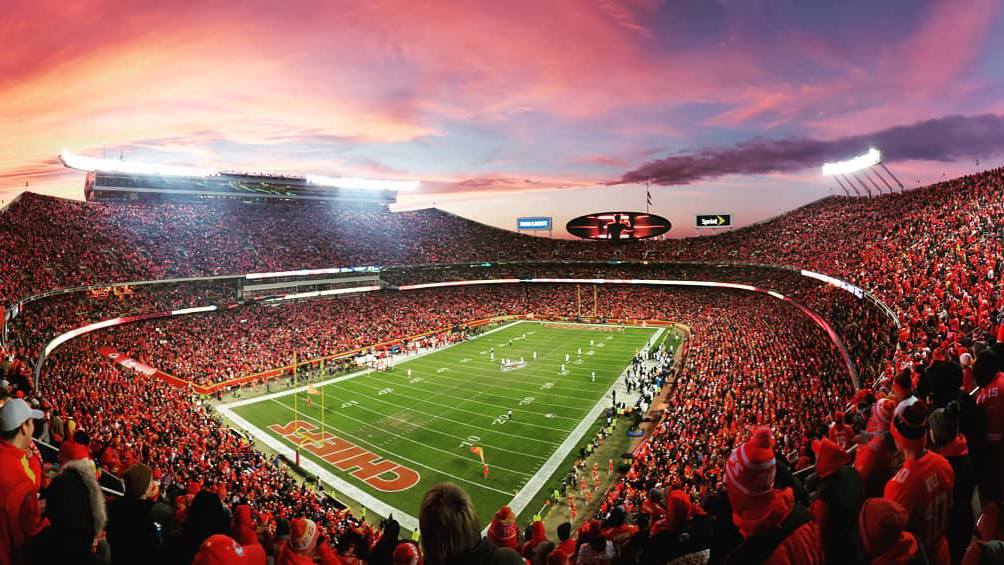 You may know Kansas City, or KC, for its famous barbeque. But did you know that KC is much more than classic Midwestern fare? In addition to gastronomic delight, KC is also known for its jazz music, sports scene, and historical landmarks.
Wondering how to make the most of your time in KC? Visit in the fall. The city comes to life as marvelous shades of ginger and amber rain down from the trees and cover the streets. From local farmers' markets to hayrides to fall festivals, KC is sure to enchant you. Tickle yourself pink with these KC autumn highlights:
Start spooky season on the right foot at a haunted house (pro tip: you can't go wrong with the old 1930s movie theater, Macabre Cinema)
Tailgate and rally at a Kansas City Chiefs football game
Monster hunt at Worlds of Fun
Not only is KC a must-visit U.S. fall destination, but it's also a prime job location for healthcare professionals. The city's commitment to health and wellness creates a thriving environment for travel nurses and allied health professionals to work in. Add the rich culture, friendly community, and assortment of recreational activities, and you've found the whole package.
Search for Missouri travel jobs
Jackson Hole, WY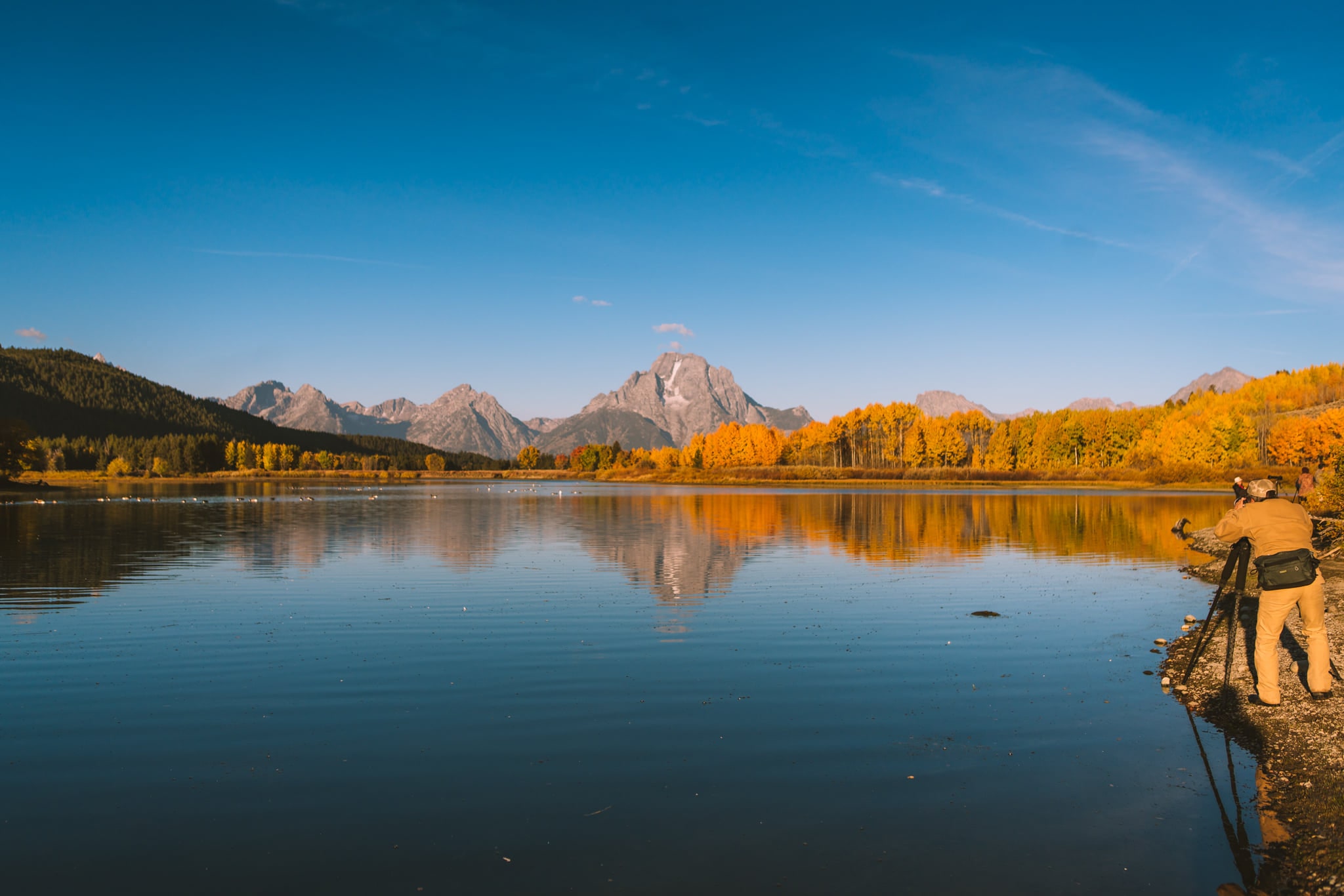 In search of the right blend of Old West vibes and modern hospitality? Look no further than Jackson Hole, Wyoming.
Located amidst the astounding natural splendor of the Teton mountain range, it doesn't get much better than Jackson Hole in the fall. When the lush greenery gives way to a spectacular kaleidoscope of autumn colors, the town becomes less crowded with fewer tourists, allowing you to really live like a local while you're there.
With unrivaled opportunities for outdoor fall activities like skiing and wildlife exploration, this mountainous town is a haven for adventure enthusiasts. Lose yourself in these top autumn attractions:
Go leaf peeping in Grand Teton National Park
Listen to the elk bugle
Reel in a big catch on Jackson Lake
If you want to work in a location that values your contribution to patient care, plus gives you an enriched lifestyle, Jackson Hole may be the place for you. Whether you're seeking tranquility in nature or an adrenaline-packed escapade, Jackson Hole won't disappoint.
Search for Wyoming travel jobs
As a travel nurse or allied health traveler, you have the unique luxury of working in different locations throughout the country, including these hidden gems. Revel in the wonders of autumn and enjoy the perfect combination of picturesque nature, cultural exposure, and thrilling experiences each of these underrated fall destinations has to offer.