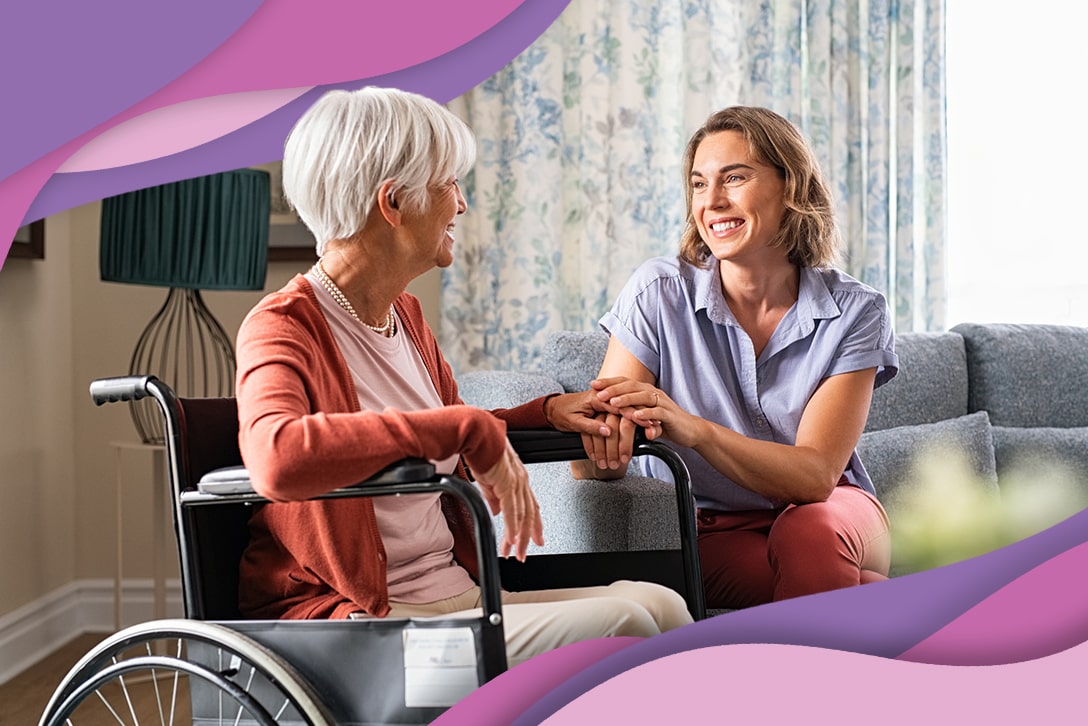 You may have heard over the past few years that there has been a real boom in home health care jobs. And you'd be right! Although home health care has been around since the mid-1800s, it recently regained popularity and now nearly 90% of Americans over the age of 65 would prefer to age in place within the comfort of their own home, according to a 2021 report by the National Conference of State Legislatures and the American Association of Retired Persons (AARP) Public Policy Institute.
Home Health Jobs in Rural Communities
Think about it: If given the choice, would you opt for at-home health care or in-patient facility care? There's no right or wrong answer, it's all about personal preference. But when you look at the numbers, the data shows that most Americans want to stay in their homes for as long as possible.
"They want to be at home around their things, in their castle," said Lori Yount, vice president of operations of CareBuilders at Home. "The benefit of home health care is that we enable people to stay at home and age in place independently for as long as they want."
For Americans living in rural communities across the country, home health care is even more popular. Why? Let's find out and learn why home health care is on the rise, how home health impacts rural areas, answers to common FAQs, and more. Ready, set, read!
Why home health is on the rise
To understand why home health care is on the rise in the U.S., we must first know what home health is. At its most basic level, home health care is exactly what it sounds like: Health care provided at a patient's home! However, the type and level of health care varies based on a patient's individual needs. For example, a patient recovering from surgery may need wound care assistance, whereas an individual with more chronic needs may require help with tasks of daily living such as eating, dressing, or bathing.
So, why is home health care on the rise? Well, like most things in life, the answer is complicated and multi-tiered. One of the contributing factors to the rise in home health care is the growing population of rapidly aging adults who require more frequent assistance and care. Believe it or not, Americans aged 65 and up (you know, Baby Boomers) account for 16.5% of the nation's total population and that number is expected to increase to 20% by 2050. Plus, studies show that 80% of Baby Boomers have at least one chronic condition and 68% have two or more. And naturally, as we age, we require more helping hands, as is the circle of life.
Of course, another major contributor is the infamous coronavirus, aka COVID-19. You don't need us to relay the intense effects of COVID or tell you how medical professionals in departments across the globe were overwhelmed and overworked with COVID patients—we know you know. But as hospitals and clinics were riddled with COVID patients, many people with less chronic needs chose to stay home and receive care, whether through home health care services or medical telehealth.
When it comes to rural health care, an aging population, increase in chronic ailments, and COVID-19 surely play a part in the rise of home health care, but they're not the only factors. Since many rural areas don't have a hospital or even a doctor's office nearby, that leaves home health care as the prime option for those living in rural communities, especially for those in the Baby Boomer generation.
"Demand for home health care workers is growing at unprecedented rates," said Adam Seth Litwin, who teaches industrial and labor relations at Cornell University. "Because people are living longer and living longer with chronic diseases."
Twenty years ago, it was common for elderly folk to choose to move to a nursing home, assisted living facility, or long-term care unit. In fact, in 2000, 1.5 million Americans did. But nowadays, more and more Americans are opting to age in place and receive care from within their own home.
Like what you're reading? You may also like: How to Get Certified in Home Health Care
Answers to rural home health care FAQs
Working in rural home health can be an adjustment from the usual hustle and bustle of city life. So, naturally, you may have some questions before you dive in head-first. Just in case, here are some answers to three common home health care frequently asked questions (FAQs).
Question no. 1: Why are home health services especially important for rural populations?
Answer: Access to home health care services is crucial to a patient's health and well being, but especially so for families living in rural America. According to a survey by the South Carolina Rural Health Research Center, rural home health patients are more likely than their city neighbors to:
Be severely ill or in fragile condition
Have more risk factors for hospitalization
Need respiratory treatments and therapies
Have a surgical wound that requires treatment
Whether a patient is in need of post-acute care or long-term treatment, home health customizes care services to provide exactly what the individual patient needs. As a result, home health can help avoid hospitalization, keep treatment costs to a minimum, and allow the patient to remain comfortably in their home.
Question no. 2: To what extent are home health services available in rural communities?
Answer: As you know, access to home health services is wildly important for rural residents. But how accessible is home health to rural communities, really?
According to the Medicare Payment Advisory Commission's March 2022 report, 99% of Medicare beneficiaries live in a zip code with at least one home health agency, 98% with two or more, and 87% with five or more. What that means is that the largest population of people who benefit from home health care have access to at least one option within their zip code.
And it's everyday heroes like you that keep this care option open for those who need it most. Guess what? You're in luck! There's a wicked need for medical professionals in home health and rural areas. I mean, Fusion Medical Staffing alone has nearly 700 home health job openings throughout the country. One of them could be your next travel assignment.
Question no. 3: Who provides rural home health care?
Answer: Medical professionals who are certified in home health can provide rural home health care services to patients in need. Here's a list of careers to consider if you're interested in dipping your toe in the home health care water:
Home care aide (HCA): HCAs work under the supervision of a nurse to provide at-home care for individuals who are ill, injured, or disabled. Services include assisting patients with bathing, dressing, eating, grooming, moving from place-to-place, toileting, and cleaning up.


Licensed practical nurse (LPN): Also known as licensed vocational nurses (LVNs), these specialty nurses work alongside registered nurses (RNs) to monitor health signs, refresh bandages, administer medications and injections, and more.



Registered nurse (

RN

):

RNs perform a wide variety of medical tasks for patients, such as administering medications, providing wound care, developing health treatment plans, and more. Aside from providing medical care to patients, RNs also help train and further develop HCAs and LPNs/LVNs.



Physical therapist (

PT

):

PTs are movement experts who help patients enhance their movement ability, reduce/manage pain, restore function, and prevent disability.



Occupational therapist (

OT

):

Similar to PTs, OTs use movement to help heal and treat patients. The difference is OTs focus on helping patients regain their ability to engage in tasks of daily living like walking from place-to-place, dressing, eating, bathing, and more.



Speech-language pathologist (

SLP

):

SLPs are communication gurus who work with patients of all ages and in all stages of life to help them with speech sounds, language, literacy, social communication, voice, fluency, cognitive communication, feeding, and swallowing.
No matter what your medical specialty or expertise, a career in rural home health could be the right move for you! According to recent data, about 71% of licensed medical professionals have at least considered a shift to home health care. What about you?
Search for home health travel jobs.

Rural home health care jobs
Make your mark on rural America—they need you. Now that we know why home health care is on the rise, we can take action and provide aid to those in need. We're not in the business of telling people what to do. That said, we will happily help you weigh your options, if that's something you need! So, if you're not sure that rural home health is the right career path for you, take this quiz and find out for sure.
Okay, so you took the quiz, and you're still not convinced of the results. Hey, that happens! Perhaps knowing some of the benefits of working in rural home health care could help make your decision a little easier. Here they are:
Take advantage of a more chill pace of life
Satisfy your bank account with more affordable housing options
Relish in more privacy
Practice with enhanced professional autonomy
Challenge yourself with something new
Make deeper connections with patients
An opportunity to make a big difference in the lives of others
"People go to medical school for all kinds of different reasons," said David Schmitz, MD, chair of the Department of Family and Community Medicine at the University of North Dakota and past president of the National Rural Health Association. "But if the reason is to make a real difference, there are very few opportunities that offer as many ways to make a real difference as rural medicine. You just won't know that until you actually practice it."
As a professional medical traveler, you have the freedom and ability to choose when you work, how you work, and where you work. So, consider a job in rural home health care and see for yourself the differences you can make to improve the lives of others in the community.