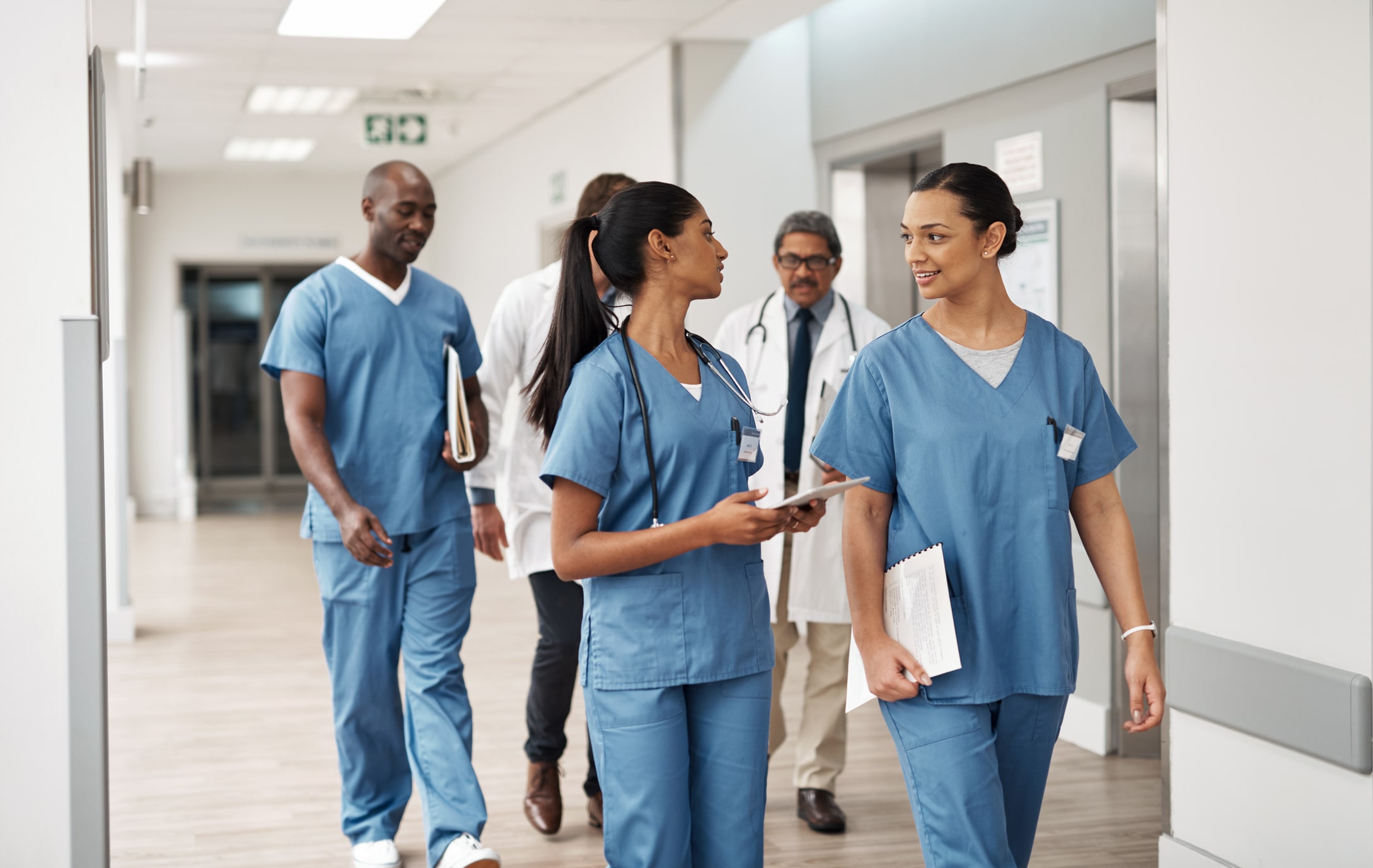 When you embark on the road towards a travel nursing career, it can be overwhelming with options. Just like there are all kinds of different occupations, there are all kinds of nurses, too—registered nurses (RNs), emergency room (ER) nurses, neonatal intensive care unit (NICU) nurses, and more. If you want to get your feet wet in the nursing field, perhaps you should consider a job as a certified nursing assistant (CNA) or licensed practical nurse (LPN).
The Difference Between LPNs and CNAs
Before you dive into the deep end of the nursing wave pool with no life jacket, it's important to understand the unique differences between licensed practical nurses (LPNs) and certified nursing assistants (CNAs). While there is overlap between the two nursing professions and they share many of the same duties, LPNs and CNAs differ in other facets, such as education, licensing and certification, salary, job duties, and work environments. Find out all the key differences between LPNs and CNAs, and as a bonus, you may discover which nursing occupation is best for you.
LPN vs. CNA
Let's explore LPNs and CNAs to understand the core differences between these two types of important nurses. First, let's chat CNAs.
A certified nursing assistant, also known as a Nursing Assistant, Patient Care Assistant (PCA), or Nurse's Aide, provides basic patient care while helping patients perform activities of daily living like dressing, eating, personal hygiene, and more. Plus, under the supervision of an LPN or registered nurse (RN), CNAs assist the healthcare team with a limited scope of medical care ranging from taking vital signs to helping with a medical procedure. You may find CNAs:
Helping patients bathe and dress
Serving meals and recording patient food and drink intake
Collaborating with other healthcare workers, caregivers, nurses, and doctors
And then there's LPNs or licensed vocational nurses (LVNs) if you're in California or Texas. These nursing professionals have similar tasks to a certified nursing assistant, but LPNs work under the supervision of RNs and other health care professionals such as physicians to perform basic medical procedures that are a bit more complex, such as:
Inserting catheters
Collecting patient samples, like blood or urine
Caring for patients' ventilators or tracheostomy tubes
Whether CNA or LPN, both nursing professionals are essential to assisting patients and the medical care team. Not only that, but each nursing career provides greater meaning and purpose as you build connections with patients and watch as they improve and grow.
Now that we've checked off "LPN vs CNA" job responsibilities from our list, let's make our way down to the core differences between these nursing professions: Education, licensing and certification, money, job duties, and work environment.
Round 1: Education
Of course, before you can start applying for travel nursing jobs, or any nursing jobs, you must first complete the educational and training program requirements. Now I know what you're thinking—something like: "Um excuse me, I already graduated, sooo…" And you're right! But to become the nursing badass you were destined to be, you'll have to hit the books. On the bright side, the education requirements to become a certified nursing assistant or licensed practical nurse aren't nearly as grueling as they might seem! You've got this, friend.
How to become a CNA
So, you wanna be a CNA? Well, you're in luck! We're going to tell you how to get started. You've already earned a high school diploma or GED, you say? You're already halfway there!
Since you already have your high school diploma or GED, it's time for you to jump straight into exploring CNA training programs. The training time depends on the location which you live or train in, but typically, a CNA training program lasts for four to 12 weeks. While in a CNA training program, you'll learn:
Anatomy and physiology
Nutrition
Infection control
Communication and teamwork
Patient's rights
Delivery of personal care
Workplace safety
Vital signs and measurements
Patient range of motion exercise
When it comes to CNA training, the most important thing is to find a state-approved program because each state has different standards. Many times, you can find state- and Accreditation Commission for Education in Nursing (ACEN) or Collegiate Nursing Education (CCNE)-approved CNA training programs in hospitals, assisted living facilities, community colleges, and vocational schools.
View CNA requirements by state
How to become an LPN
Similar to CNAs, LPNs require a high school diploma or GED, as well as training from an accredited practical nursing program. Unlike CNAs, LPN programs are a bit lengthier at one year and include both coursework and clinical practice application, like IRL. While going through LPN programs to become a licensed practical nurse, you'll pick up some knowledge about:
Anatomy and physiology
Biology
Chemistry
Psychology
Medical terminology
Physical education
Pharmacology
Emergency medical technology
Nutrition
Human growth and development
Before you officially enroll in an LPN program, double-check it's state-approved, as well as accredited by the ACEN. Some programs will be one or the other, but the secret to success is to find the ones with both.
View LPN requirements by state
Round 2: Licensing and certification
Congratulations! If you're reading this, it means you made it through the CNA and LPN educational requirements, whether in real life or just in this blog. Either way, go you!
After the educational training comes the nitty gritty of licensing and certifications. And yes, they do differ for CNAs vs LPNs. Let's take a look.
CNA licensing and certification
So, you've completed your CNA training—now what? Now it's time to get certified. Wondering how to get certified as a CNA? Here's how.
First, you must pass a competency exam. And this isn't your average pass or fail exam, this is the test that will determine your fate as a CNA. But don't worry! Your training has prepared you for this very moment. On the exam, you can expect a written and oral portion.
The written part of the exam is full of multiple-choice questions on things like medical terminology, anatomy, physiology, and the responsibilities of a CNA. Then, the other part of the exam will be administered one-on-one with an RN or other medical practitioner. During this section, the proctor will choose a skill, like recording a pulse or practicing proper hand washing procedures, from a list and ask you to demonstrate them.
Further CNA certification requirements vary by state and may include a background check or a specific number of training hours. But once you pass the competency exam and complete any other state requirements, you can start living your life as the CNA you've always dreamed of being. The world is your oyster.
FYI: Most states require continuing education (CE) for CNAs, so be ready to update and improve your nursing expertise every two or so years. The best part? The cost of most CEs will be covered by the staffing agency you choose to work with (like Fusion Medical Staffing! Hint, hint. Wink, wink).
LPN licensing and certification
If you're an aspiring LPN, then you're probably eager to jump into the licensing and certifications required to start your travel nursing career. In that spirit, we won't make you wait any longer, and instead, we'll get straight to the good stuff.
After you complete an accredited and state-approved LPN training program, it's time to let your knowledge shine through the National Council Licensure Examination for Practical Nurses (NCLEX-PN). The good news is this licensing is required by all states, so you're going to need it no matter where you decide to travel and work.
Now, it may sound intimidating, but the NCLEX-PN has nothing on you. This exam is compiled of 85 to 205 questions that evaluates your knowledge on physiological integrity, psychological integrity, health promotion and maintenance, as well as safe and effective care environments.
The fun doesn't stop once the NCLEX-PN is in your rearview mirror. In fact, there may be additional certifications you want to pursue to help advance your nursing career. For example:
Would Care Certification (WCC)
Advanced Cardiac Life Support (ACLS)
Pediatric Advanced Life Support (PALS)
IV Therapy
Basic Life Support (BLS)
Certified Peritoneal Dialysis Nurse (CPDN)
Certified Hemodialysis Nurse (CN)
Pharmacology (NCP)
Developmental Disabilities (DDC)
Gerontology (GC)
Urology (CUA)
Long-term care (LTC)
Transplant Coordinator (CCTC & CPTC)
Certified Clinical Research Coordinator (CRC)
Certified Clinical Research Associate (CRA)
Registered Cardiovascular Invasive Specialist (RCIS)
Like CNAs, many states require LPNs to keep up with CE courses to ensure your nursing skills and practices are current and up to date. Don't worry—we know it's a lot to keep track of, so just reach out to your recruiter when you have questions about updating your CEs!
Round 3: The money!
Most people know that travel nurses tend to make more than their perm staff counterparts. But what does that pay breakdown look like when comparing two types of nurses: CNAs and LPNs? Let's find out!
CNA salary by state
You may have caught on by now that a lot of the details when it comes to nursing careers are dependent on the state you work in. To help clear things up a bit, we created this chart to show the average annual salary for a CNA in each U.S. state. You're welcome.
| | |
| --- | --- |
| State | Average annual CNA salary |
| Alabama | $23,022 |
| Alaska | $40,566 |
| Arizona | $32,733 |
| Arkansas | $25,352 |
| California | $37,088 |
| Colorado | $35,813 |
| Connecticut | $32,648 |
| Delaware | $34,215 |
| Florida | $30,400 |
| Georgia | $24,431 |
| Hawaii | $38,944 |
| Idaho | $29,831 |
| Illinois | $30,568 |
| Indiana | $31,172 |
| Iowa | $33,259 |
| Kansas | $28,999 |
| Kentucky | $30,346 |
| Louisiana | $22,938 |
| Maine | $34,832 |
| Maryland | $29,766 |
| Massachusetts | $35,566 |
| Michigan | $31,151 |
| Minnesota | $35,339 |
| Mississippi | $23,008 |
| Missouri | $27,657 |
| Montana | $33,844 |
| Nebraska | $35,131 |
| Nevada | $30,572 |
| New Hampshire | $37,187 |
| New Jersey | $33,912 |
| New Mexico | $32,413 |
| New York | $35,916 |
| North Carolina | $25,481 |
| North Dakota | $36,758 |
| Ohio | $27,284 |
| Oklahoma | $27,137 |
| Oregon | $37,634 |
| Pennsylvania | $33,914 |
| Rhode Island | $33,739 |
| South Carolina | $25,163 |
| South Dakota | $39,012 |
| Tennessee | $27,547 |
| Texas | $26,299 |
| Utah | $29,186 |
| Vermont | $39,349 |
| Virginia | $27,456 |
| Washington | $37,155 |
| West Virginia | $32,003 |
| Wisconsin | $34,464 |
| Wyoming | $33,355 |
LPN salary by state
Yep, just like CNAs, the median annual salary for LPNs varies greatly by state. Want to know which state has the highest salary for LPNs? Take a look at the chart below.
| | |
| --- | --- |
| State | Average annual LPN salary |
| Alabama | $40,680 |
| Alaska | $67,620 |
| Arizona | $55,820 |
| Arkansas | $41,760 |
| California | $64,090 |
| Colorado | $54,310 |
| Connecticut | $58,430 |
| Delaware | $53,920 |
| Florida | $46,710 |
| Georgia | $44,690 |
| Hawaii | $54,160 |
| Idaho | $48,640 |
| Illinois | $54,580 |
| Indiana | $47,890 |
| Iowa | $45,860 |
| Kansas | $45,050 |
| Kentucky | $44,160 |
| Louisiana | $41,920 |
| Maine | $48,390 |
| Maryland | $56,220 |
| Massachusetts | $60,400 |
| Michigan | $52,220 |
| Minnesota | $49,840 |
| Mississippi | $40,340 |
| Missouri | $44,490 |
| Montana | $46,010 |
| Nebraska | $45,710 |
| Nevada | $59,700 |
| New Hampshire | $56,400 |
| New Jersey | $57,590 |
| New Mexico | $50,480 |
| New York | $51,300 |
| North Carolina | $47,120 |
| North Dakota | $48,060 |
| Ohio | $46,590 |
| Oklahoma | $43,250 |
| Oregon | $57,320 |
| Pennsylvania | $50,250 |
| Rhode Island | $59,090 |
| South Carolina | $43,630 |
| South Dakota | $39,420 |
| Tennessee | $42,330 |
| Texas | $48,380 |
| Utah | $47,550 |
| Vermont | $51,240 |
| Virginia | $47,410 |
| Washington | $59,780 |
| West Virginia | $38,940 |
| Wisconsin | $48,070 |
| Wyoming | $48,980 |

As a vital part of a patient's nursing team in many healthcare settings, certified nursing assistants and licensed practical nurses share a number of responsibilities in basic patient care like monitoring patient vitals and assisting with medical procedures. And then there are the tasks that are specific to CNAs and those that are unique to LPNs.
CNA job duties
We've already learned that CNAs work under the supervision of a registered nurse or LPN to help assist patients and meet their care needs. As a CNA, you'll largely focus on providing basic patient care, which includes:
Answering patient call lights
Communicating health status with the patient and their family
Wound care
Assisting with medical procedures
Helping patients eat
Repositioning bedridden patients
Emptying and supplying bedpans
Transferring patients to wheelchairs, beds, and other locations
Recording vital signs
Arguably, the most important role of a CNA is to build positive patient relationships. Since CNAs spend nearly all of their time with patients, it's crucial that CNAs foster a positive and supportive environment for each individual. And let us be the first to say, this effort doesn't go unnoticed. In fact, patients appreciate it!
LPN job duties
While CNAs perform basic-level patient care, LPNs offer more extensive health care, under the supervision of an RN. More complex LPN tasks may include:
Recording vital signs
Changing dressing
Feeding patients through gastronomy or nasogastric tubes
Administering medication
Executing nursing care plans, as set forth by an RN
Assisting with tests and medical procedures
Recording patient health histories
In addition to their patient duties, LPNs may supervise CNAs and other nursing aides. Alongside RNs and fellow LPNs, these nursing professionals work their magic through more in-depth hands-on patient health care to ensure each individual is taken care of in the best way for them.
Round 5: Work environment
Hang tight, we almost know all there is to know about CNAs and LPNs. Before we reach the end of our journey, we must first discuss the working environments of both nursing profession. Spoiler alert: There's some overlap.
CNA work environments
You already know that CNAs are major players in the nursing game. But where can you find them? Where do CNAs work? What type of medical settings hire CNAs? We're here to answer all your questions, and then some.
As a CNA, you go wherever the patient is. That means that you may work in a wide variety of medical facilities in the healthcare system. Here's a list of some of the working environments you may find yourself in as a CNA:
Assisted living facility
Hospitals
Nursing homes
Physicians' offices
Outpatient centers
Correctional facilities
Schools
Where you practice your CNA skills will depend on the individual patient and their needs. That said, hospitals are the most popular work environments for CNAs and here, you could find these nursing professions in nearly any department, like oncology or pediatrics. Really, where you go as a CNA is up to you, and there is no wrong choice.
LPN work environments
Now, as an LPN, you can also work in a variety of medical settings. The major difference between LPN and CNA workplaces is LPNs will work in a facility where medical treatment can be administered. That would include:
Assisted living facilities
Residential care facilities
Physicians' offices
Hospitals
Home health care facilities
According to the U.S. Bureau of Labor Statistics, the most common medical setting for LPNs are residential care settings. Usually, residential care facilities, or care homes, are group homes with 20 or fewer residents where each individual can receive personal care with medical staff available around the clock. And if a residential care setting isn't what you're looking for, then consider one of the other many work environments for LPNs.
Round 6: Job outlook
ICYMI, you're a winner no matter what nursing career path you decide to explore. Nurses, in general, are expected to remain in demand through the next decade, and then some. In fact, a recent study found that more than one in six hospitals have reported "critical nursing shortages" and as of March 2022, almost every U.S. state had taken executive action to address the nursing care shortage.
So, as the nursing shortage persists because of an aging workforce and population, amongst other reasons, one way for you to make a difference is by embarking on a nursing career and using your powers for good. To help you narrow down which nursing career is best for you, take a gander at the job prospects for CNAs and LPNs.
CNA job outlook
Like most other nursing specialties, the CNA job outlook is shining bright like a diamond. While the average U.S. job growth is 7%, CNAs are expected to see a job growth of 8% from 2020 to 2030, according to the U.S. Bureau of Labor Statistics. Throughout that time, roughly 193,000 new CNA jobs are expected to become available each year within the decade. In other words, you're in a sweet spot for CNA jobs.
LPN job outlook
Employment as an LPN is also quite promising. According to the U.S. Bureau of Labor Statistics, LPNs are expected to see a job growth of 9% between 2020 and 2030, which is a few percentages over the nation's average. Between that decade, experts predict more than 60,000 LPN jobs becoming available. Who knows? One of those openings could be the perfect job for you!
To say there are a lot of nursing career options would be a sheer understatement. Don't overwhelm yourself with all the possibilities and start your travel nursing career as a CNA or LPN/LVN! No matter which career option is the best for you, you can feel good knowing that you provide essential, hands-on health care to patients in need.