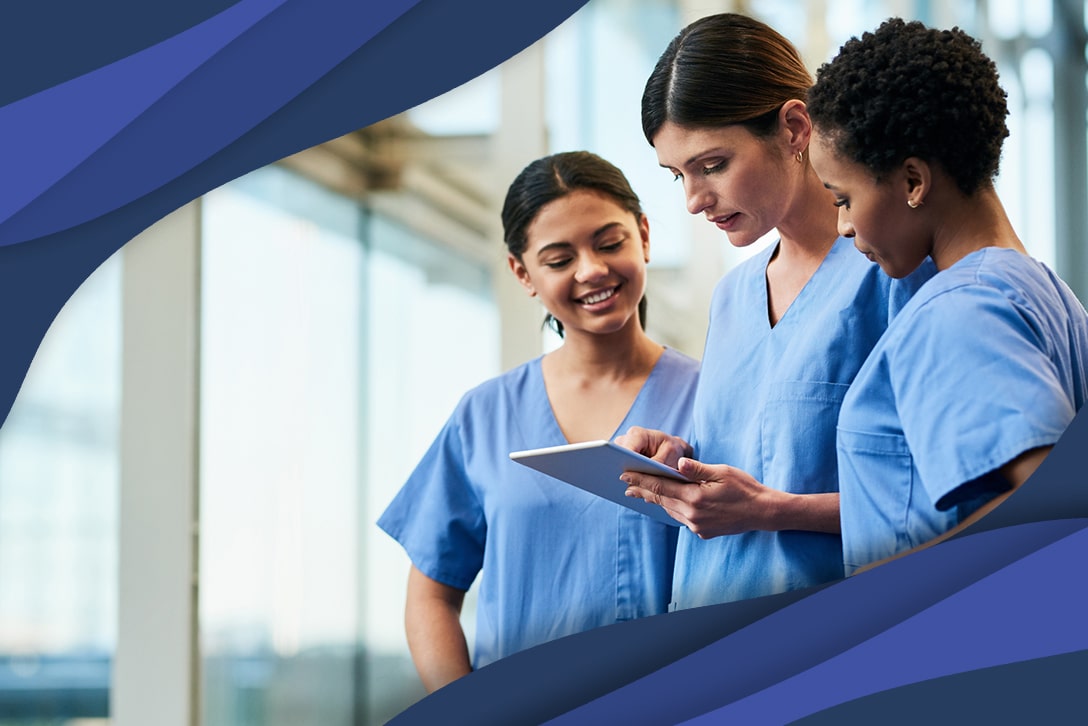 So here you are — ready to embark on an adventure of a lifetime as a professional allied health traveler. But have you checked off all the necessary requirements? One major requirement you need before traveling is gaining real-life experience in your healthcare specialty. How much experience is required will depend on your allied health profession, but here's what you can expect for the fastest-growing allied health careers.
How Much Experience Do I Need to Apply for Allied Health Travel Jobs?
Experience requirements for allied health travel jobs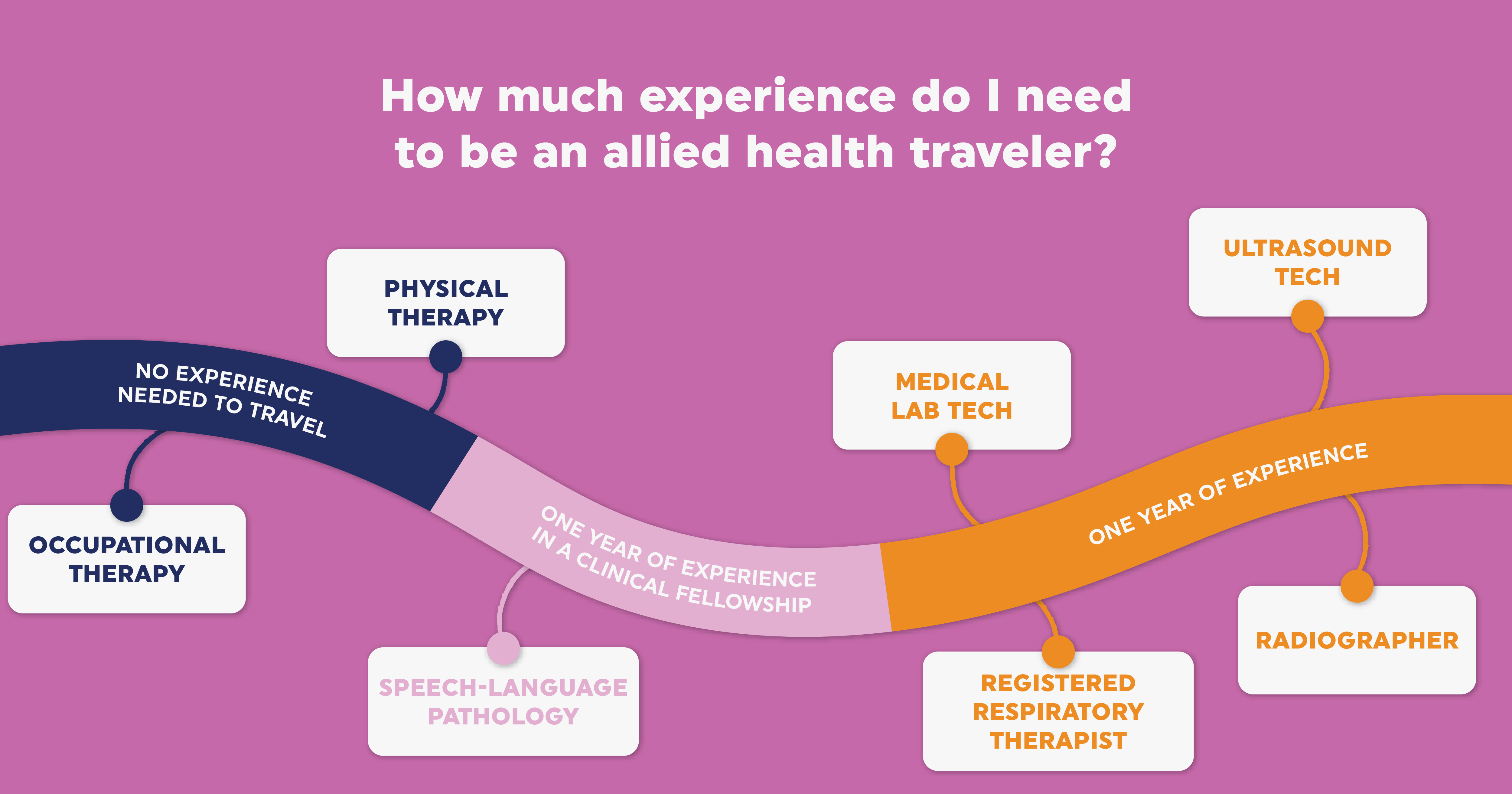 Each allied health career has its own set of regulations and requirements to complete before travel is an option. Not only will you need to have the right training and education for your allied health job, but you'll also need a certain amount of experience to start traveling.
Travel therapy
If you're a therapy professional interested in medical travel, look no further than Fusion Medical Staffing. The best part about being a therapy traveler with Fusion Medical Staffing is the mentorship program that allows you to work with an experienced traveler to help you get acclimated to a traveler's lifestyle. Meet the Fusion Medical Staffing therapy mentors and learn how much experience is needed to work with them as a traveling physical therapist, occupational therapist, or speech-language pathologist.
How to become a traveling physical therapist (PT)
Looking to expand your physical therapy career? Have you ever thought about taking your PT career on the road and becoming a traveling physical therapist? If yes, this one's for you.
Becoming a traveling physical therapy professional requires you to check a lot of the same boxes as becoming a staff physical therapy assistant (PTA) or staff PT (at least at first). Before you can work as any kind of physical therapist, you have to have the right level of education (spoiler alert: you need an associate degree to be a PTA and a doctoral degree in physical therapy to be a PT), plus your PT license and certifications. The same thing applies to becoming a traveling physical therapy professional.
Once you meet the necessary requirements, you can start traveling as a PT right away! Here are some tips on new grad travel.
Like what you're reading? You may also like: Top High-Paying Allied Health Jobs
How to become a traveling occupational therapist (OT)
Are you a certified occupational therapy assistant (OTA) looking to expand your career, or an OT ready for a new challenge? Think about becoming a traveling occupational therapist.
Becoming a traveling OT is a career for those who want to make a difference in the lives of others across the country. To start traveling as an OT, you must have graduated with either an associate degree if you're an OTA or a master's degree if you're an OT. Then, once you have your OT license and certifications, you can hit the road and start your adventure as a traveling OT professional. Find out more about what it's like to be a traveling OT with Fusion Medical Staffing traveler Rachel, OT.
How to become a traveling speech-language pathologist (SLP)
Did you know that speech-language pathologists are in high demand? According to the U.S. Bureau of Labor Statistics, SLPs have an expected job growth of 21% between 2021 and 2031. As a traveling speech-language pathologist, you can expand your reach and help even more people. So are you ready to launch your career as a travel SLP?
If you want to be a travel SLP, you'll have to complete speech-language pathology education, certification, and licensing requirements. When you have your master's degree from an accredited institution, the next thing to check off your to-do list is a clinical fellowship year, also known as a CFY. A CFY helps you transition from being a therapy student to being a therapy professional and requires a minimum of 1,260 hours and 36 weeks of full-time SLP experience.
After your CFY, you can get certified and apply for state licensure so you can officially practice your unique set of skills and start traveling the country.
Travel registered respiratory therapist (RRT)
There are loads of reasons to start traveling as a respiratory therapist — the freedom to explore new destinations across the country, the opportunity to help others in need, the chance to earn a top-tier salary. What's yours?
To start traveling as an RRT, you need the right combination of education and experience. First, you'll need a degree in respiratory therapy from an accredited institution. From there, it's time to get certified by the National Board for Respiratory Care (NBRC) and get licensed in the state you want to work in. Next, you'll need at least a year of experience as an RRT or a certified respiratory therapist (CRT), plus gain additional certifications related to your specialty.
With the right qualifications and clinical experience, becoming a traveling respiratory therapist can open up many doors for professional growth and personal satisfaction.
Travel medical lab tech
Want an exciting and rewarding career in healthcare? Consider expanding your medical lab career and becoming a traveling medical lab technician. Not only will you get to experience new places, but you'll also provide essential patient care services to those who need it most. Here's what you have to do to start your new life as a professional traveling medical lab tech.
First things first, if you don't already have your associate degree in lab technology, you'll need to cross that off your bucket list. While it's not required by some employers, it's a good idea to complete a post-secondary program in medical lab technician training to become certified by the American Society for Clinical Pathology (ASCP). Then, gain at least a year or more of real-life experience in the lab to increase your knowledge. That way, you'll be well prepared when you start providing medical services to patients across the country.
Travel radiographer
A career as a radiographer, also known as a radiologic technologist, allows you to diagnose patients and provide life-saving care. Ever thought about taking those skills across the country?
The first step in becoming a traveling radiographer is getting at least an associate degree. Once you've completed your education, some states may require you to attend a program to get certified by the Joint Review Committee on Education in Radiologic Technology before you can start using X-ray technology to diagnose and treat patients. Once you meet the requirements of becoming a radiographer, you need at least one year of experience under your belt before you can start traveling professionally.
Travel ultrasound tech
Ultrasound technicians, aka diagnostic medical sonographers, help diagnose and manage a wide range of medical conditions from blood clots to pregnancy to cancer. Sound like something you're interested in?
Becoming an ultrasound tech requires you to have at least an associate degree, but that's not all. You'll also have to graduate from an accredited sonography program from a school that's accredited by the Commission on Accreditation of Allied Health Education Programs (CAAHEP). During this time, you'll gain experience with patients and practice what you learned in school. You can grow your career as a diagnostic medical sonographer by, you guessed it, traveling!
After you meet the education and training requirements, you'll need at least one year of experience working with patients before you can start traveling. From there, the world is your oyster.
What is allied health travel?
Ever wondered what allied health travel really means? Allied health professionals are healthcare workers who provide medical services related to the diagnosis, treatment, and prevention of illnesses and injuries in a variety of settings. You can find these professionals in hospitals, clinics, long-term care (LTC) facilities, rehabilitation centers, home health, and other medical facilities.
Traveling allied health professionals fill short-term staffing needs at healthcare facilities across the country. Typically, travel jobs last for around 13 weeks, so you can work in multiple different settings in a year. Plus, allied health travel jobs allow you to develop a deeper understanding of different cultures and customs while providing meaningful services to those in need. If you're looking for a way to broaden your horizons while continuing to work in the healthcare field, allied health travel jobs could be the right fit for you. Wondering what allied health career is right for you? Find out here!
Working as a traveling allied health professional can be a life-changing career choice, for both you and the patients you serve, but it requires specialized knowledge and experience. To qualify for allied health travel jobs, it's important that you have the necessary education and skills that allow you to hit the ground running with every new assignment. If you're ready to take the leap into healthcare travel, search for allied health travel jobs and start traveling with Fusion Medical Staffing.