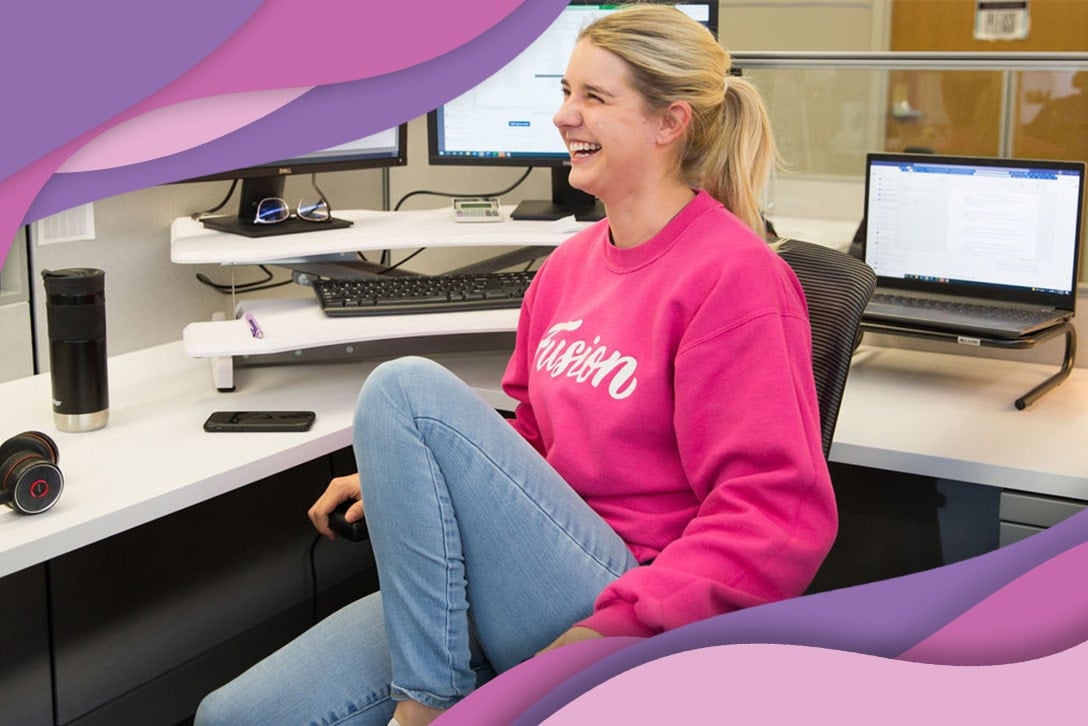 In today's world, there are many medical travel agencies to choose from, and you deserve the best. Although we're not usually ones to toot our own horns, toot-toot! Because you're looking at the best. Hey, hi, hello—it's us, Fusion Medical Staffing.
Top 5 Reasons Med Travelers Love Fusion
Not only do we think we're the best, but so do our travelers! We asked current Fusion travelers what they love most about being part of the Fusion fam, and they did not disappoint. In fact, we're quite flattered! These are the top five reasons why med travelers love being a part of the Fusion fam:
No. 1: Reliable reputation
Imagine this. It's the year 2009. 3D movies are popular. Single Ladies by Beyonce is playing in the clubs. You're dying for a velvet tracksuit—oh, just me? Anyway, picture a heatless, barebones basement in the middle of the Midwest. Can you see it? That's where Fusion was born.
Since 2009, Fusion has grown into the company that you know and love today. With each year came a Fusion milestone:
An office outside of the basement in 2010
Getting joint commission certified in 2011
A new lab division in 2012
Winning first place in the Best Places to Work in Omaha in 2014
And then again in 2015 (plus one of Inc. 5000's Fastest Growing Companies and Entrepreneur's Top Company Culture)
The Fusion fam doubling in size in 2016
Our fearless leader, Sam Wageman, was featured in Midland Journal's 40 Under 40 for the second time in 2017
Becoming one of the top ten Blue Pipes Travel Nursing Companies in 2018
Ten years in, several awards won, and 2019 brought even more like the Staffing Industry Analysis' Best Staffing Firms to Work for and Inc.5000's Top Private Companies
Securing a spot in Inc.'s Best Workplaces in 2020
And then again in 2021, and then some
Stay tuned for what's to come in 2022
Fusion has been around for years, making its mark on the medical travel industry and on the overall community. Back in the basement days, the leaders of Fusion made a promise to impact the lives of everyone they touched through Fusion. Now, 12 years later, Fusion has built a reputation doing just that.
No. 2: Rockstar recruiters
Not to brag, but Fusion has the absolute best recruiters in the med travel industry. And our travelers know it!
"Recruiters make travel agencies great agencies," said med traveler, Monica. "Without recruiters like mine, a travel agency ain't it."
Fusion recruiters add to the company culture and redefine what it means to be a good support system. Day or night, rain or shine, good news or bad, your Fusion recruiter is there for you however you need them. And unlike other agencies where it can feel like you're playing hot potato with recruiters, at Fusion, you keep the same one throughout your travel journey. Because who are we to mess with perfection?
"For four years, I've had the best recruiter," said med traveler, Celeste. "No matter where he has sent me, no matter what contracts we've fulfilled together, he has always been in my corner and on my side. He has been fair, and he's been honest. When you're hundreds of miles away from home, it blesses your heart to know that someone has your back."
Your Fusion recruiter is your biggest cheerleader, unofficial therapist, and closest confidant. They're here to help you blossom into the medical professional you've always dreamed of being. And they're pretty dang great at it, if we do say so ourselves.
"My recruiter is the best," said Amanda. "Always available and quick to respond and always helpful. Even while on vacation, he took my call! He even offered to do a drive by of a rental I was looking at when I had a contract in Omaha."
And look! Just in case you needed more proof, Fusion recruiters even made it into our Google reviews:
"After a ton of research on other agencies and talking with other recruiters, I landed on Fusion and haven't looked back," said traveler, Megan. "My recruiter is responsive, friendly, and so helpful. The pay packages are competitive with plenty of jobs to pick from, the benefits are excellent, and most importantly, they genuinely have your back."
"Fusion is a great company to work with," said Kue. "My recruiter made my experience smooth. She is very responsive and always kept me in the loop. She goes above and beyond her duties to make sure I'm ready for my traveling adventure."
"My recruiter at Fusion has been the absolute best recruiter I've had the joy of working with," said med traveler, Richard. "She's top-notch, helpful, positive, responsive, and always has a smile in her voice. She frequently checks in to see how I'm doing and is always ahead of the game in keeping things flowing and keeping me on track, which I need! Could not say enough good things about her if I wrote a book!"
No. 3: Total transparency
What's better than a staffing company with a long-lasting reputation and rockstar recruiters? Answer: A med travel agency with a long-lasting reputation, rockstar recruiters, and total transparency (and then some).
You wouldn't buy a pair of jeans without trying them on first. Or maybe you would. In that case, you're very brave. But the point is you should know what you're getting into before you become fully invested. And that's why Fusion gives you initial transparency into the travel job, so you can decide for yourself if it's the job you're looking for.
Not only will your recruiter give you the 4-1-1 on a travel job, but so will the Fusion jobsite. Within each job posting, you'll find the important information you need to decide if it's the job for you. When you travel with Fusion, you get a sneak peek into the job type, the assignment location, the weekly hours you can expect to work, plus the travel job weekly pay. Here's what an average job posting looks like with Fusion: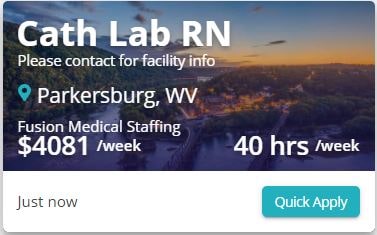 As Fusion traveler, Carissa, said, "Transparency is so huge!" And Fusion works hard to ensure you have all the details you need to make the right career move for you. If there's anything you need to know that's not included in the job posting, don't be afraid to ask your recruiter! They'll give it to you straight and tell you all you need to know.
No. 4: Bangin' benefits
Everyone knows that life is far less stressful when you're covered. So, that's why Fusion makes sure all members of the Fusion fam—including you, dear traveler—are protected mentally, physically, financially, and professionally.
Adulting is hard enough as it is, we get it. That's why we're here to help make your life easier by making sure you're covered in every way possible.
"Fusion has assignments everywhere," said med traveler, Kate. "Plus, great benefits like paid time-off, employer match on your 401k, and good insurance."
Here's a glimpse of what you can look forward to as a Fusion Med Staffing traveler:
A weekly, tax-free per diem to help cover the cost of transportation, meals, and other travel expenses
Weekly direct deposit because ain't nobody got time to go to the bank
401k retirement fund company match to help take care of future you, too
Professional liability insurance, ya know, to CYA (or cover ya butt)
Certification reimbursement because you should be rewarded for your knowledge—knowledge is power after all
Short-term disability just in case something happens that prevents you from being able to work
Worker's comp insurance because we value your safety
Health, dental, and vision insurance for obvious reasons
But wait—that's not all! Fusion Med Staffing also offers an employee assistance program (EAP) that gives our travelers access to free 24/7 professional and confidential phone counseling. Your mental health plays a big role in your overall wellbeing, and we know that. We want you to be the best you that you can be, and we're here to offer support, love, and care along your med travel journey.
No. 5: The family feel
If there's one thing to know about Fusion Med Staffing, it's that the people that make up the company aren't just colleagues or travelers—they're family. From day one, we made a promise to improve the lives of everyone we touch, and one of the ways we do so is by treating everyone as family.
"Fusion is more than a company," said long-time traveler, Norma. "It's family! I love the things they do for the community and how they always take care of their travelers."
"You all take care of us and make us feel important and look out for our best interests," fellow traveler, Teresa, agreed. "I love the transparency and how you're all concerned with how we feel about you so you can grow, as well as help us grow."
Through thick and thin, in hell or high water, in sickness or in health, your Fusion family is there for you. No matter who you are, whether it's your very first assignment or your 300th travel job, we've got your back, front, and both sides covered.
"Fusion helped me take the plunge," said traveler, Sandra. "I was nervous, but I was definitely given the guidance and reassurance I needed! Thank you so much because I'm finally back in love with my profession!"
Being a professional medical traveler can bring you a meaningful, fulfilling life. But being a professional med traveler with Fusion will guarantee a life full of adventure, encouragement, and satisfaction as you're surrounded by people who care about you and your future. Interested in taking the plunge? Join the Fusion family!